Currys' gaming PC deals currently include the Acer Nitro N50 RTX 3060 gaming PC for one of the most competitive rates we've ever come across for a machine of this level and build.
The Acer Nitro N50 is available today for only £899 (was £1,099) (opens in new tab) meaning you can save a whopping £200 off the RRP of an already-competitive RTX 3060 PC - this takes it into incredibly aggressive territory. This particular model features an 11th generation i5 CPU, as well as a 256GB SSD and 1TB HDD along with the all-star entry-level Ampere video card.
This is a rate that we rarely see for RTX 3060 gaming PCs of this spec, with models in this price range usually running far older CPUs and offering up less storage. It's far more typical for RTX 3060 PCs to sell for around the £950 - £1,000 mark. What's more, seeing as this machine is made by Acer itself, you're benefiting from the manufacturer's build quality and reputation over a lesser-known custom build.
For more options, we're also bringing you the best cheap gaming PC deals as well as the best cheap gaming laptop deals for an encompassing view of the hardware on the budget end of the spectrum. Alternatively, should you want a little more power under the hood, we recommend our picks for the best RTX 3070 PC deals, too.
Today's best RTX 3060 gaming PC deal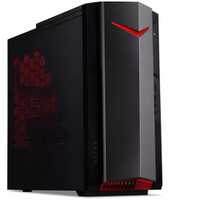 (opens in new tab)
Acer Nitro N50 (RTX 3060) | £1,099 £899 at Currys (opens in new tab)
Save £200 - This is a truly spectacular price on the Acer Nitro N50 RTX 3060 PC which takes an already competitive rate into very tempting territory. We rarely see machines of this spec for the asking price, especially from a trusted manufacturer such as Acer. Features: Intel Core i5-11400F, RTX 3060, 16GB RAM, 256GB SSD + 1TB HDD.

More of today's best gaming PC deals
And if you're wanting to cast a wider net in your search for your next machine then our price comparison technology has your back with the best gaming PC deals on all our favourite models.
---
Gear up for the RTX 3060 PC with the best gaming keyboards, best gaming monitors, and best gaming mouse on the market.