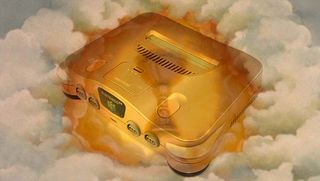 Priceless (or just extremely expensive)
Limited edition consoles are some of the most manipulative products imaginable. They have been known to inspire sin within us--the envy of those who have what we do not, the avarice of obtaining such a pricey item, the vain pride of showing it off to your buddies. And yet, every time we see systems with rare, alternative designs--say, a Pokemon embossed 3DS XL or a one-of-a-kind Xbox--our eyes light up, and our wallets tremble.
It got us thinking--with all the console colors out there, how rare can these limited editions possibly get? Obscenely rare, as it turns out. We've perused countless limited edition consoles, seeking out those that are hardest to find. We chose to (mostly) exclude airbrushed systems, which just look kind of ugly; impractical (and boring) gold-plated consoles; and custom designs made exclusively for high-paid athletes, because screw them. That said, get ready to drool at the prospect of owning some of these systems--just try not to get too depressed knowing that these may elude your grasp until the end of days.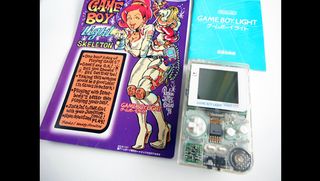 Famitsu Skeleton Game Boy Light
Remember when Nintendo liked to use scandalous double entendres on their packaging? Neither do we--which makes it all the more surprising how the cardstock that this special Game Boy came on has lines like "Playing with somebody's better than playing with yourself" and "Jack in! To that girl with your junction-cable!" Innuendo aside, this see-through handheld lives up to its Skeleton name nicely, with white buttons and glow-in-the-dark properties.
If you've never heard of a Game Boy Light, that's because they were a Japanese exclusive: what we know as a Game Boy Pocket, but with much-needed backlighting added in. This limited edition was offered through wildly popular Japanese gaming mag Weekly Famitsu, who distributed 5,000 via mail order or special event sales.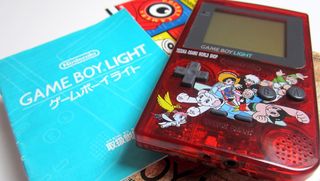 Osamu Tezuka Game Boy Light
Feast your eyes on another gorgeous Game Boy Light--only, this one is a lot more family friendly. This limited edition handheld was made in honor of Osamu Tezuka, the legendary cartoonist and godfather of manga who created such timeless classics as Astro Boy, Jungle Emperor (aka Kimba the White Lion), and Black Jack. Those iconic characters and more can be seen bursting from the middle of this Game Boy, and really pop thanks to the transparent red casing.
We're not saying that we hate Nintendo's guts for not selling this or any other Game Boy Light outside of Japan, butOK, yes, that is what we're saying. To think of how much money we would've saved on those dopey Worm Light accessories--but it's too late for savings now, since this limited edition is going for almost $300 on eBay.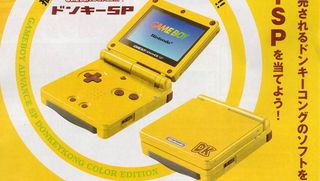 Donkey Kong GBA SPDK
This bright yellow handheld is definitely eye-catching, with a color combo that evokes the Kong's beloved bananas. We're not sure if the brown D-pad and buttons symbolize DK's fur coat, the stems of a banana bunch, or the auburn hue of DKC's iconic barrels--but no matter how you interpret it, this is the GBA that Donkey Kong fans dream of.
Unfortunately for them, only 1,000 of these were produced, so you should expect to pay a grand or more to peel the plastic off this costly banana. That said, there's no swankier way to play DK King of Swing than with this fruit-colored handheld.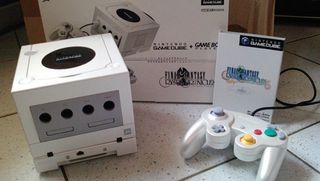 Final Fantasy Crystal Chronicles GameCube
Crystal Chronicles was already something of an oddity: an action RPG that was a far cry from traditional FF, with a bizarre emphasis on cable connectivity with the Game Boy Advance. Bundle the game with a milky white GameCube, and do a production run of a mere 150 units to achieve ultimate obscurity.
Like so many items on this list, the FFCC GC (say that three times fast) was only available in Japan--if you can call such a scarce unit count, mixed with the fact that they weren't for sale, availability at all. At least you get an added bonus in the bundle: an identically colored Game Boy Player. But finding three other friends with Nintendo GameCube-Game Boy Advance link cables is probably just as difficult as procuring this incredibly elusive console itself.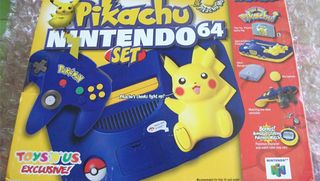 Pikachu N64
Pokmon branding is just a part of life at this point. Backpacks, lunchboxes, watches, whatever--if it had a surface large enough for an image, you can bet that Pikachu or Charizard would be stamped on there for all to see. But no Pokmaniac's life could be complete without this blue N64, which had the adorable electric-type critter grafted right onto the console. Hopefully you were a Toys 'R' Us kid, because that was the only place to find one of these.
The blue-and-yellow color scheme is nice and all, but it's the details that really push this limited edition over the top. The Power switch is now a Pokball, and Pikachu's adorable right foot acts as the Reset button. Better yet, his cheeks light up when the system is on. It's almost enough cuteness to make you forget about the $500-or-more price tag.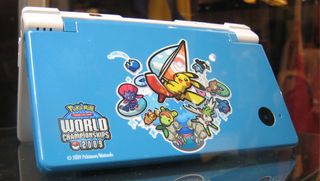 Pokmon Championships 2009 DSi
Here's another instance of Pokmon-covered console goodness--but acquiring this one wasn't as simple as a trek to the local Toys 'R' Us. It's been tradition to offer limited editions of Nintendo's handhelds at the Pokmon World Championships, usually as prizes to those that place highly in the on-site tournaments.
For instance, if you want this special DSi, you have two options. A) Go back in time to 2009 and be the best Pokmon master in the world. Or B) Beat up someone who was, then steal their property. Even with your undeserved prize and the blood of an innocent on your hands, seeing Pikachu and friends sailing through a summer paradise will absolutely warm the heart.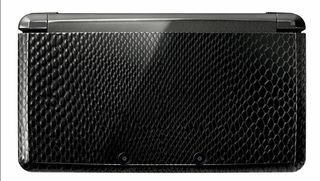 Metal Gear Solid Snake Eater 3D Premium Package 3DS
Take a moment. Just look at that 3DS. Really look at it. Admire its gorgeous majesty. Wonder, as we do, if that snakeskin design is a palpable texture or just an optical illusion. Realize that, even if you have no intention of playing Snake Eater with a cramped grip on the 3DS, you must own one of these. Then plummet into depression when you find out that acquiring this bundle will cost you around $599 US dollars.
Konami is no stranger to teaming up with Nintendo to create limited editions; they previously collaborated on the relatively plain silver GameCube packaged with MGS: Twin Snakes. But we think they really outdid themselves with this 3DS model; something about the minimalist-yet-iconic design is just too cool.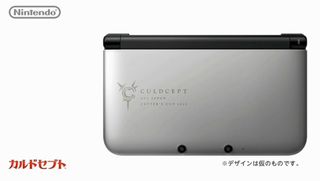 Culdcept Edition 3DS LL
To own this handheld is to be the best Culdcept player in the known universe. That's because this lustrous, silver LL (the Japanese equivalent to the 3DS XL) is the only one of its kind, awarded to the winner of a nationwide Culdcept 3DS championship. If you're not familiar with the Culdcept series, it's essentially a complex fantasy version of Monopoly, with Magic: The Gathering-style cards thrown into the mix. Similarly, if you aren't intimately familiar with the ins and outs of Culdcept, then your chances of owning this are actually zero.
Of course, the winner had to already own a 3DS to even play the game and climb to the top of the heap, but that's beside the point. What matters is that every time you turn this handheld on, you're reminded that you alone stand above all other Culdcept players.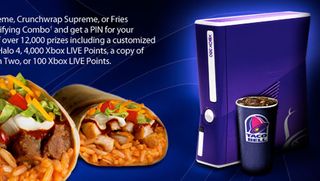 Taco Bell Xbox 360 Slim
Apparently, Microsoft isn't opposed to living mas from time to time. If you wanted the chance to win one of these white-and-purple Slims, you were going to have to eat an obscene amount of Taco Bell: the only way to get an instant-win code was to order a variety of Mexican fast-food items, all ending with the Supreme suffix. But before you go making jokes about American obesity, you should know that this contest was a promotion limited to Canada.
We're definitely down with the color scheme on this 360--but stupid Taco Bell had to go and ruin it by emblazoning the side of the console with that dopey bell logo. Not to worry--we'll never own one, as it's theorized that only three were given away as part of the 12,000 prizes that you had an infinitesimal chance of winning.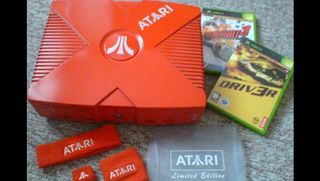 Atari Xbox
We wonder if, when Atari died (aka declared bankruptcy) in early 2013, the retro company begged "Bury me with my Xbox." Lime green Dew U Xboxes are for commonfolk--the true mark of classic Xbox rarity is this garish, one-of-a-kind orange model. Despite the fact that it looks like someone dipped a regular ol' Xbox in carrot-colored paint, this is no doubt the rarest version of the console in existence.
Atari gave it away at the Leipzig Games Convention all the way back in 2004, though we don't know if the winner did anything to rightfully earn this rarity. As if that wasn't prize enough, he (or she) even received some kickin' Atari-branded sweatbands, because hey, why not?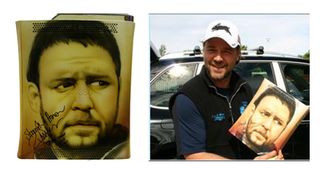 Russell Crowe Xbox 360
Imagine if, every time you glanced at your Xbox 360, it shouted "Are you not entertained?!" This custom-made 360 is as close as you could ever get to living out that magnificent fantasy. That's because it's got Russell Crowe's mug airbrushed right onto the side of it, complete with a signature from the Oscar-winning actor himself. This was one of 31 custom-painted 360s that were auctioned off to benefit the Make-A-Wish Foundation in Australia. And yes, all of them were painted with the same not-quite-right interpretation of celebrity likenesses.
All the designs were modeled after Australian celebs; this particular model garnered $1005 at auction in 2007, though it's likely worth ten times that by now. But we feel like we've already received the best gift of all: the above picture of Crowe posing with his portrait on a 360. Just look at how happy he is.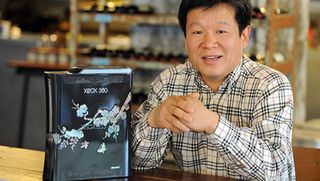 Mother-Of-Pearl Xbox 360
When Bill Gates himself commissions an Xbox design specifically with you in mind, it means that you're kind of a big deal. Like, "President of South Korea" status. Gates gave this sleek custom console to former South Korean president Lee Myung-bak as a gift during a face-to-face meeting. This custom-made 360 comes emblazoned with rainbow, Abalone-looking floral designs in the style of traditional Korean jewelry.
Microsoft apparently commissioned 100 of these, but we only know of three lucky owners: Gates himself, the aforementioned Myung-bak, and the design's creator, artist Kim Young-jun (pictured above). So yeah--unless you're a head of state or a close friend of Bill "Good Guy" Gates, you're not getting one of these.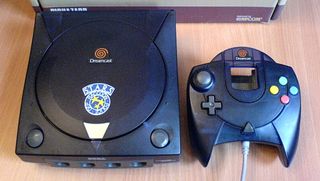 S.T.A.R.S. Dreamcast
It's common knowledge that, if you own one of these spiffy Japan-only Dreamcasts, you are required by law to shout "I'm a member of S.T.A.R.S.!" upon entering a room. In 2000, to commemorate the success of the Resident Evil/BioHazard franchise and the release of CODE: Veronica, Sega produced a pair of limited edition Dreamcasts. There was a translucent pinkish-red Claire model, of which 1800 were produced, and the solid blue S.T.A.R.S. version you see above, which had an absurdly scant unit count of 200.
These would be the crown jewel in the collections of any hardcore fans of the Redfield siblings and the Racoon City PD. It'll take a lot of luck--and money--to find one these days, but they are out there; Sega distributed them via Dreamcast Direct (think Club Nintendo, but with Sega) and contests in popular Japanese gaming mag Famitsu.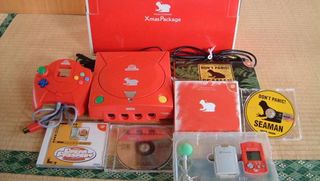 Seaman Christmas Dreamcast
Seaman was a downright bizarre pet owning simulator, featuring some of the most horrific, onscreen reproductive processes imaginable. You might not think much of it, beyond repulsions at the thought of fish with human faces. But in Japan, Seaman's existence led to the creation of not one, but two limited edition Dreamcasts. If that wasn't weird enough, this festive-looking Dreamcast somehow makes a link between monstrous human-fish hybrids and the holiday cheer of Christmas.
Finding one of these consoles in the box (good luck, as only 850 were produced) is like a two-for-one collector's deal. That's because this Dreamcast came packaged with the Christmas Seaman version of the game, which was only on sale for a mere 10 days. In it, you could receive a special Christmas message from a Santa-hat-wearing manfish. If that's a thing you've ever wanted.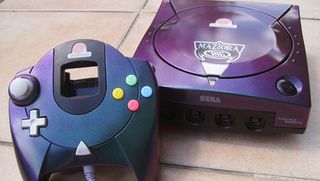 Maziora Dreamcast
This is basically as close as we'll ever come to a Dreamcast mood ring. Maziora is but one of many names for ChromaFlair, a pigment used primarily to paint cars. What's fascinating about this special coating is that it can seemingly change color before your eyes, depending on the viewing angle and light source. We imagine that seeing one of the Maziora Dreamcasts in person is mind-boggling, because your brain could register it as being green, purple, blue, or gold. That's insane.
Sadly, that'll probably never happen--it's estimated that only 500 were made, many of which were given to actual racecar drivers as prizes. Sure, we could just spray-paint an ordinary Dreamcast with pearlescent coating, but it just wouldn't be the same.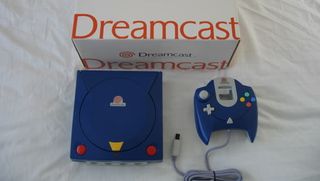 Gundam RX-78 Custom Edition Dreamcast
If you're a collector of all things Gundam, then you're probably leading a very hard life. We don't mean that as a dig--it's just that so many consoles have had Gundam-related limited edition runs, all of which seem to be made in mercilessly small quantities. Take this Dreamcast, for instance: only 78 of these beauties were produced, colored in the same style as the chestpiece for the instantly recognizable RX-78 Gundam model.
Your only hopes of acquiring one involve murdering your wallet; this extremely limited console has been auctioned off at prices ranging from $2,000 to $9,000 bucks. For that much moolah, you might as well buy and build hundreds of miniature Gundam models instead.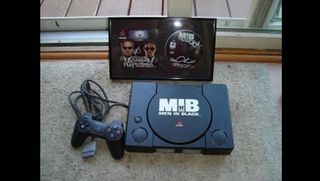 Men In Black PlayStation
The good guys dress in black; remember that, just in case we come face to face and make contact. We must've been hit with a Neuralyzer at some point, because we have absolutely no memory of any Men In Black-branded PlayStation games (or, more likely, it was crappy and entirely forgettable). But the movie tie-in led to the creation of an elusive curiosity for Sony console collectors: an all-black PlayStation with the MIB logo on the lid of the disc tray.
It's unclear how many of these are out in the wild, but suffice it to say that they are extremely difficult to find. Much like any real-life sightings of an extraterrestrial, nobody would believe you even if you did see one.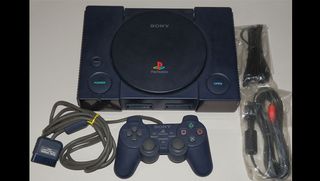 10 Million Model PlayStation
How do you celebrate the sale of 10,000,000 PlayStation consoles? Make another model! Also known as the Midnight Blue PS1, this highly elusive limited edition was given away in 1998 to commemorate the smashing success of Sony's 32-bit console. It's been said that only 100 of these were given out for each region, so essentially there was less than a 0.01% chance that anyone in the existing PS1 install base would win one.
To up the rarity ante even further, Sony also made a golden PS1 to celebrate their 10-million-sold landmark. We imagine that if you somehow find it and pick it up without the proper counterweight, a giant boulder will come crashing down on top of you.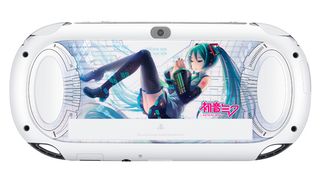 Hatsune Miku Project DIVA PS Vita
You don't have to exist as a physical being to become a pop sensation overseas. Whereas we have Beyonce and Taylor Swift, the Vocaloid synthesizer program produced the pigtailed, anthropomorphic mascot Hatsune Miku, who quickly became a cultural icon in Japan. To hype up the release of her handheld rhythm game, Sony and Sega teamed up to create this enviable, crystal white PS Vita as a bundle with Project DIVA.
There's no denying that this Vita is gorgeous, with custom artwork on the front and back panels. But you've got to love this virtual idol with all your heart to get your hands on this limited edition system, considering that they're being auctioned for over $1000 on eBay.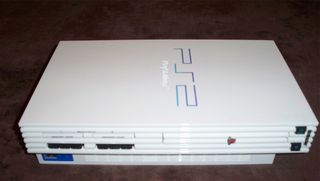 Snow White PlayStation 2
Despite the name, this PS2 has nothing to do with Disney properties. Rather, this all-white PS2, whose color is also known as Ceramic, is part of an elusive bunch of albino consoles--because figuring out if you're buying the real thing is insanely difficult. It appears identical in nearly every way to the white, classic PS2 model which was bundled with Gran Turismo 4 Prologue. The key difference is in the gloss, which has a reflective, mirror-like finish. Have fun trying to discern that with only grainy eBay photos as reference.
It should be noted that this is the "fatty" version of the PS2; while still rare, the slim version of the white PS2 is easier to acquire by comparison. Either way, you're going to spend a lot if you want to display one of these in your own home.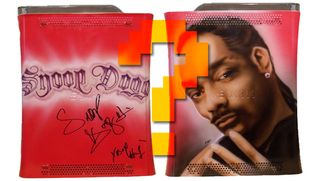 You will never get this