Released late last year, Marvel's Midnight Suns is the XCOM studio's take on the ubiquitous superhero universe. Unlike other recent MCU games like Marvel's Avengers and Guardians of the Galaxy, it ended up being really good. "Simply put, there's a lot here, and if you like the sound of a superhero game that encourages you to stop and smell the flowers before they get burnt to a crisp by Iron Man's lasers, you should remain spellbound for the dozens of hours it takes to see Midnight Suns through," so reads our review.
If you've been smelling the proverbial flowers instead of buying Marvel's Midnight Suns, now may be a good time for that to change. Amazon is currently selling both PS5 and Xbox versions of the expansive action strategy game for more than 50% off. In other words, the RRP of AU$109.95 has come down to AU$49.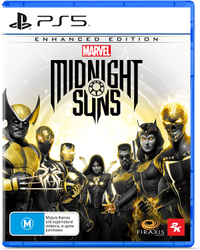 Marvel's Midnight Suns for PS5 and Xbox | AU$109.95 AU$49 at Amazon
One of the best superhero games of the decade so far is going for a song over on Amazon Australia. With its focus on strategy and canny tactics, it's not your usual cinematic action game, so you might be forgiven for waiting for a steep discount. Well, that steep discount has now arrived.
For the uninitiated, Marvel's Midnight Suns isn't a third-person action game like the aforementioned MCU games. It's a turn-based tactics affair, more closely resembling Firaxis' XCOM series, though that doesn't quite hit the mark either. In addition to the tactical combat, there's a huge unfolding RPG with detailed relationship building and a whole lot more besides. It's about as deep as you can probably expect a superhero game to get.
While it's been a relatively dry year for bargains, Amazon currently has a few other worthwhile discounts, including The Callisto Protocol for AU$62.95, Sniper Elite 5 for AU$42.95 and Atomic Heart for AU$64.95.