Fortnite Season 4 is now here, and it seems like we're going to be hearing an awful lot about Chrome for the foreseeable future. This liquid metal is slowly spreading across the island in Fortnite Paradise, and it doesn't look like the changes it's making are for the better. Indeed, the residents of the island are so concerned that they're taking to the skies in droves, so expect there to be much more verticality involved with combat this time around in Fortnite. If you're ready for Chrome, Chrome, and more Chrome, then here are the biggest changes for Fortnite Season 4 in Chapter 3.
Chrome is taking over the island
The Chrome is spreading across the island, and you can become Chrome-ified yourself by using a Chrome Splash or entering the whirlwind near Herald's Sanctum. In this metallic state you'll become immune to fire damage, and by sprinting you'll turn into a Blob which moves faster, can't receive fall damage, and has the ability to air dash. This effect only lasts a short time, so use it wisely.
Chrome lets you pass through walls
If a structure becomes coated in Chrome, then you can now phase thorough it by simply running or jumping into the surface. You'll encounter some walls that are already covered, but by using a Chrome Splash you can spray an enemy structure or other obstacle in your way then pass straight through it.
The Herald is guarding Herald's Sanctum
Herald's Sanctum is a new POI to the east side of the island, where Sanctuary previous stood, and it's an impressive tower built from Chrome hexagons. Watch out for The Herald, a powerful NPC who patrols the area, as if you engage them in combat they'll thrown a protective shield bubble around themselves and spawn Chrome Fortnite wolves to attack you.
The island is changing to escape the Chrome
You'll notice plenty of Fortnite map changes as you explore the island, with many areas deploying balloons in an attempt to become airborne and escape the effects of Chrome as it spreads. This is most notable at Cloudy Condos, where an entire neighborhood is now suspended in the sky, which you'll need to use ziplines or the new D-Launcher device to reach.
Chrome has affected weapons too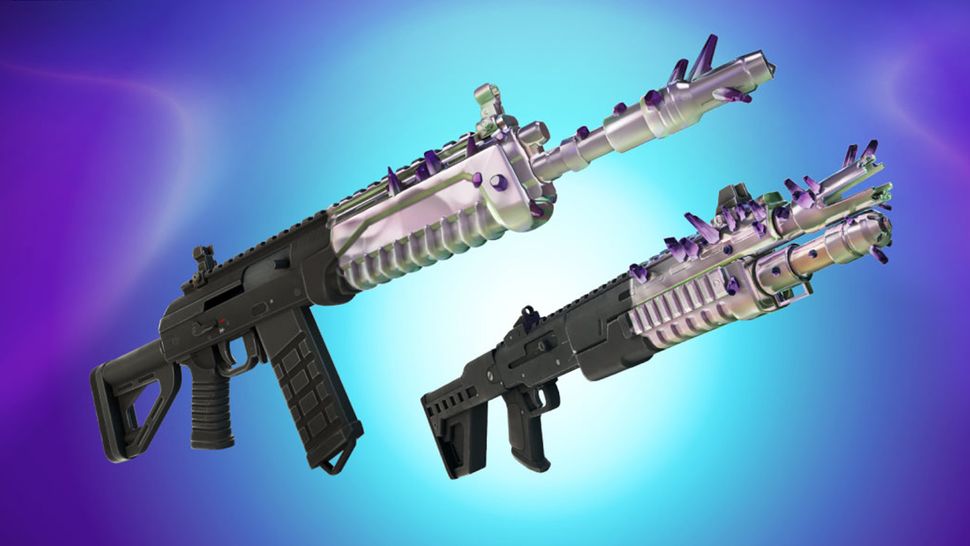 In terms of Fortnite new weapons, the main additions have been the EvoChrome Shotgun and EvoChrome Burst Rifle, which can be collected from Chrome Chests. As you deal damage with them you'll see a progress bar fill at the bottom of the screen, and when full you can evolve the EvoChrome weapon to the next rarity level – all the way up to Mythic if you stick with them!
Vaults are now opened by keys
You can now find Keys as loot around the island, and these are used to unlock Vaults, with Low-Security Vaults taking one Key, while High-Security Vaults need two Keys to get inside. Once you've picked up at least one Key, you'll see keyhole icons added to your map, so use these to locate a Vault and collect that loot.
The Battle Pass has Spider Gwen as the top reward
Naturally, Fortnite Season 4 brings a fresh Battle Pass with 100 new items to unlock, including playable characters Paradigm (Reality-659), Bytes, Grriz, Meow Skulls, Lennox Rose, and Twyn. Reach the final page and the top reward is the Spider-Gwen outfit, along with several Marvel-lous matching items to go with it.