15. Incredibles 2
What is it? The long awaited follow up to Disney Pixar's superhero movie of 2004, as the Parr family struggle to adapt to a world unwelcoming of the vigilante lifestyle. Incredibles 2 picks up immediately where the first film left off, in which the latter's cliffhanger becomes the former's action-packed opening sequence.
Why should you watch it? If you've already seen The Incredibles, I probably don't even need to make the case for its sequel. Brad Bird's retro-futurist ode to the comic books of his childhood remains as visually impressive as any blockbuster Marvel joint, but the franchise's lasting appeal has always been the superhero family sitcom at its heart. And while Bob (Craig T. Nelson), Helen (Holly Hunter), Violet (Sarah Vowell), and Dash (Huck Milner) are as endearing as ever, it's little baby Jack-Jack who really steals the show in Incredibles 2 (opens in new tab). Now that he's completely cognizant of his god-like powers, every one of the toddler's scenes are an inspired melange of Buster Keaton-esque physical comedy, mustering more laughs per minute than a Dreamworks movie could ever hope for. If you see Incredibles 2 for one thing this year, make it Jack-Jack. Alex Avard
14. First Man
What is it? Despite the fact it's one of the most famous achievements in human history, 1969's moon landing has never been depicted in a major movie before. La La Land (opens in new tab) Oscar-winner Damien Chazelle changed that with his rigorous account of the journey of Neil Armstrong, and the true cost of that one small step.
Why should you watch it? Think you know everything there is to know about the Apollo 11 mission? Chazelle fresh perspective will make you think otherwise, shoving you right in the cockpit with Armstrong and co for every breath-catching, terrifying moment via docu-style cinematography and lived-in production design. Ryan Gosling is terrific (career-best?) as Armstrong, illuminating so much of the pioneering astronaut's internal struggle and tragic past through stifled gestures and guarded expressions. Equally good is Claire Foy as Janet, Neil's wife; waiting at home, she gives the ongoing missions weight and consequence, not least in the piercingly poignant scene where she forces Neil to tell his sons that he might not be coming home. There are many more moments that'll linger – a puff of smoke emanating from a shuttle door, spinning out of control on the Gemini 8 mission – and Justin Hurwitz's plaintive score will echo around your mind for days. But nothing beats the feeling of actually being on the moon, and staring out at its vast horizon. I've not been able to look at the night sky in the same way since. Matt Maytum
13. Suspiria
What is it? A horror remake that manages to make interpretative dance more terrifying that the most rabid werewolf or crazed serial killer. A new take on the 1977 Dario Argento movie - where a young woman goes to study at a dance school that may or may not be run by witches - it stars Dakota Johnson, Mia Goth, and the divine Tilda Swinton.
Why should you watch it? Because it's as beautiful as it is brutal, and is has one of the most bone-crackingly horrific scenes of the year. If anything about the idea of a dance-based creepy movie puts you off, rest easy in the knowledge there is plenty of dread, gore and big metal hooks too. The performances aren't so much acting as full body possessions, and Dakota Johnson's turn as the naive but talented Susie will scour any memory of 50 Shades from your brain. Tilda Swinton goes above and beyond too, delivering three different roles - not that you'd be able to tell thanks to some amazing make up effects - and deserves at least three Oscars for them.
Read more: Suspiria is beautiful, brutal, and one of the most shocking horror films of the year (opens in new tab)
12. Avengers: Infinity War
What is it? Erm, the biggest movie of 2018? Infinity War is the beginning of the end for the MCU as we know it and it sees all our favourite superheroes go up against the Mad Titan Thanos (Josh Brolin) in an unbelievable battle to save half the universe.
Why should you watch it? Because you literally won't understand the MCU without it. This isn't the only reason you should watch Infinity War of course - it's a fantastic superhero movie in its own right by anyone standards - but it is the main reason, because if you don't, next year's Avengers 4 (opens in new tab): Endgame and every new Marvel movie (opens in new tab) which comes after it won't make any sense. If you're not a Marvel movie fan then I don't know what to tell you… Infinity War is still one of the best movies of the year, but it won't make sense unless you've seen the 18 films which come before it, so it's not a great one to start with. This is one of the problems with building a massive, inter-connected cinematic universe, but it's also one of the best things, because this is how we get huge blockbuster action movies which still have emotional depth. Lauren O'Callaghan
Read more: Avengers: Infinity War ending (opens in new tab) explained - everything you need to know after watching
11. Widows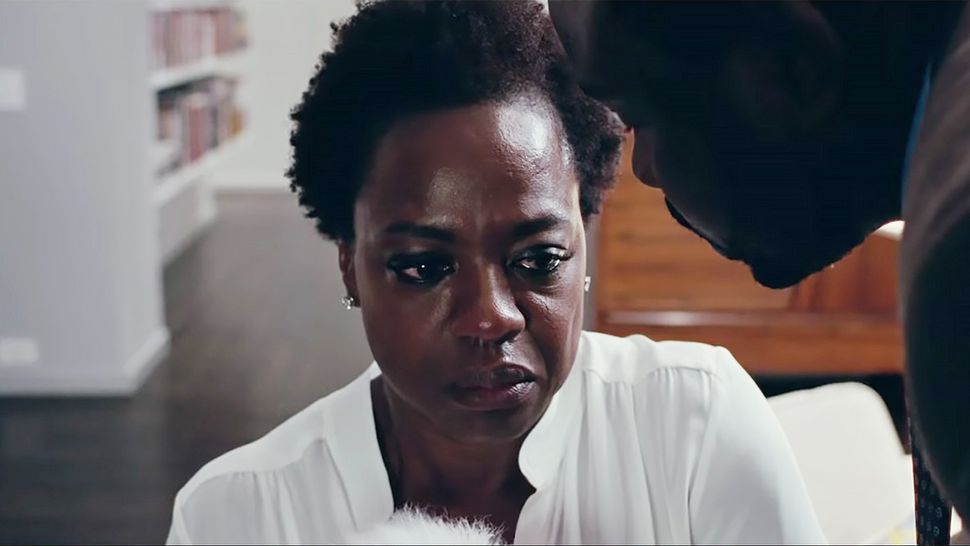 What is it? Steve McQueen gathers a talented group of actresses for a different kind of heist movie, which sees a group of widows - led by the incredible Viola Davis - take on their dead husbands' final job in an effort to pay off the criminal kingpin they double-crossed.
Why should you watch it? Despite what some people on the internet claim, we don't often get female-centric action films of this calibre. Widows (opens in new tab) is a sterling piece of filmmaking of the same standard of McQueen's other movies 12 Years a Slave (opens in new tab) and Shame (opens in new tab) and it puts a group of incredibly talent actresses, and incredibly well-written female characters, at the centre of the drama. Davis's performance as a widow grieving for her lost husband and trying to deal with a world she knows nothing about is exemplary, but so is every, single performance in this movie. Elizabeth Debicki in particular shines as the beaten and bruised Alice, alongside the equally brilliant Michelle Rodriguez and Cynthia Erivo, and together they form a quartet of powerful women you'll be in awe of. Make no mistake though, this isn't a superhero film and each character retains their vulnerability and realism - so much so that it's painful at times to watch what they go through - and that's what makes it one of the best movies of 2018. Lauren O'Callaghan
10. Annihilation
What is it? The slightly indie and very weird sci-fi film starring Natalie Portman who ventures into an unexplained phenomenon to try and save her husband, which got a small cinematic release in American, but released on Netflix in the UK.
Why should you watch it? Because you'll never enjoy not knowing what the hell is going on more than this. Trust me. Annihilation doesn't make much sense - just like the book it's based on - but if you can lose yourself in its fantastical fever dream you'll get to experience a movie unlike any other released this year. While the cast is a dream come true - Portman is joined by Oscar Isaac, Tessa Thompson, Gina Rodriguez, and Jennifer Jason Leigh - it's really the world-building and special effects of the film which dazzle. Add to that the undercurrent of suspicion, mystery, and unanswered questions which plague the characters and you have yourself a beautiful headfuck of a movie. Lauren O'Callaghan
Read more: Annihilation won't give you answers, but surrender to its beautiful fever dream and you won't regret it (opens in new tab)
9. BlacKkKlansman
What is it? Based on a true story, Spike Lee's comedy crime drama follows Ron Stallworth (John David Washington), an African-American detective who goes undercover with a chapter of the Klu Klux Klan in 1970s Colorado Springs.
Why should you watch it? Spike Lee is about as subtle as Michael Moore when it comes to preaching politics through the camera, but the director's ability to infuse powerful stories with real world commentary hasn't lost any of its effusive charm. In his first theatrical feature since the 2016 Presidential Election, the targets of Lee's racially charged biopic are clear, and his decision to play fast and loose with the truth in an effort to fire on all cylinders has drawn criticism from some contemporaries (opens in new tab). And yet, as a work of cinema, it's difficult to fault BlacKkKlansman (opens in new tab)'s provocative, pulpy power. Juggling humour and horror with expert precision, BlacKkKlansman is thus a must watch in 2018, not least for its daring and unforgettable ending. Alex Avard
8. Spider-Man: Into the Spider-Verse
What is it? New York teenager Miles Morales is bitten by a spider and, well, you know the rest. Except maybe you don't. Into the Spider-Verse sees Miles Morales take over from his universe's Spider-Man to team up with various Spider-Men, Women, and Pigs from various parallel universes to try and take down the Kingpin.
Why should I watch it? With Spider-Man: Homecoming (opens in new tab), Spider-Man PS4 (opens in new tab), and now Spider-Man: Into the Spider-Verse (opens in new tab) coming out within the space of 18 months, it could have been oh-so-easy to get Spider-Fatigue. But that's not the case here. Not only are you getting one of the best animated movies (opens in new tab) of the decade from Phil Lord and Chris Miller, the brains behind the genius Lego Movie (opens in new tab), but you're also being served up one of the freshest, coolest superhero movies in a long, long time. Perhaps ever. The ensemble cast of Spideys bounce off each other with so much enthusiastic energy, that it's hard not to buy into the idea that this is simply part one of what could genuinely become an MCU-rivalling venture. That dynamic also translates to the high-octane action, scenes which may as well have been ripped straight from the pages of a comic book thanks to their beautiful use of intermingling colour and chaos. Even if you're not into your superheroes, this is a must-see. A love letter to comics, coming-of-age, New York, and animation all rolled into one. Bradley Russell
Read more: Here's what happens in Spider-Man: Into the Spider-Verse's post-credits scene – and what it means for the future (opens in new tab)
7. Paddington 2
What is it? A sequel to the acclaimed 2014 movie, Paddington (opens in new tab) (Ben Whishaw) is now happily settled with the Brown family in the Windsor Gardens community. One day, he spots an antique pop-up book that would make a perfect gift for his Aunt Lucy's 100th birthday. But the book gets stolen - and Paddington vows to find the culprit.
Why should you watch it? Like Paddington's beloved marmalade, this feel good family movie is more bittersweet and textural than it first appears. The plot's daft, but Paddington's attempts to earn an honest living as window cleaner (turning himself into a gyrating giant chamois cloth (opens in new tab)) inject pace until a failed attempt to capture a mystery crook lands him in prison. It doesn't take long for him to befriend the resident hard knocks (who love their mum, guv'nor), stare down an identity crisis, and unite the convicts in an escape plan to catch the real villain. The cast is sublime, including Sally Hawkins, Hugh Bonneville, Julie Walters, and Jim Broadbent, but the star turn belongs to a slightly-wizened looking Hugh Grant; a former child star who now stars in dog food commercials, and believes the pop up book contains clues to a hidden treasure. The final train chase is a riotous, kinetic, delight, until it all resolves in a joyful, tear jerking, finale that you somehow deluded yourself you were ready for. Contemporary yet timeless, this irresistible sequel is a beacon of hope that shines all the way to deepest, darkest Peru. Dan Dawkins
6. Love, Simon
What is it? A coming-of-age high school movie about a gay teenager who enters into an online relationship with a mystery classmate, while trying to navigate the various perils of high school.
Why should you watch it? Love, Simon is one of the most relatable high school movies of the year, and it also just so happens to be groundbreaking in its depiction of a gay character in a mainstream teen flick. Director Greg Berlanti (best known for his TV work on The Flash) treats all of his characters with empathy, but Nick Robinson is a revelation as the titular Simon. The Jurassic World (opens in new tab) actor has charm to spare and Love, Simon marks him as a major talent, keeping Simon likeable even when the film's revealing his shortcomings. Simon's classmates are equally three-dimensional: this is a film that totally does away with stereotypes. It's a rare group of movie high-schoolers you'd actually want to hang out with. And it's a joy to watch the romantic mystery unfold, with unexpected surprises and second-guessed assumptions. Expect some tear-jerking moments along the way - this is a big-hearted hug of a movie that'll leave you grinning ear-to-ear. Matt Maytum
Continue to Page 3 for more of the best movies of 2018