Menu
1. The quick list
2. Best overall
3. Best wired
4. Best sound
5. Best budget
6. Best under $100
7. Best style
The best gaming earbuds are perfect for those looking for a lightweight and portable alternative to the traditional gaming headset proposition. You can also wear them for prolonged periods of time and use them with a range of other devices as well - not something all gaming headsets can do, especially wireless ones.
While you're more likely to get regular day-to-day use out of the best gaming earbuds than you would with top-of-the-line headphones, ultimately, they could save you a lot of money compared to a dedicated gaming headset that's not going to get much use outside of your sessions. However, admittedly, many of the best gaming buds don't pack the same level of sound quality as the larger best gaming headsets, which can result in a less immersive experience especially given the lack of virtual surround sound.
Still unsure of whether earbuds are for you? Don't forget to take a look at our recommendations for the best wireless gaming headsets. These let you cut the cord but don't skimp on sound quality.
The quick list
The best gaming earbuds overall
Building on the continued development of the second generation Razer Hammerheads, the new Hyperspeed version offers an excellent true wireless experience across a range of platforms. Keeping the noise cancellation and breadth of sound of the previous generation, there are a lot of wins in here - especially for just $149.99 / £149.99 (a relatively low price for the features on offer).
Buy it if:
✅ Low latencies are a high priority: Across both 2.4GHz and Bluetooth, the new Hammerheads are particularly speedy. We didn't notice any dragging no matter how we were connected - and that's not something we see every day.
✅ You value high quality game audio: There's a richness to this audio quality that belies the tiny form factor it erupts from. With careful balancing and plenty of power, this is some high quality audio.
✅ You commute regularly: Active noise cancellation and a long lasting battery life means these buds will easily double up as a commuter's best friend.
Don't buy it if:
❌ You want to rely on tap gestures: While the tap gestures are there, we didn't find them to be all too reliable in our own testing. While this may be fixed with future updates, it's not the Hammerheads' best feature.
❌ You're not concerned about aesthetics: Razer has made the Hammerheads look great, but that matte grey coating and RGB lighting takes its toll on the price point and battery life. If you can live without it, there are other options out there.
Design: The premium look is backed up by a solid feel to both the carry case and smaller buds. Everything snaps nicely into place and we never had to worry about the hinge or contacts on the charging case itself. This is a slick experience from top to bottom, even if it's a little concerning holding the USB connection dongle on the case port itself.
Features: On top of those original Hammerhead specs, 2023's instalment adds a 2.4GHz 'Hyperspeed' connection option.
That means these gaming earbuds can now cater to console markets infinitely easier, hence Razer's decision to launch both an Xbox and PS5 variant. The Xbox model will be able to connect to all devices, but strangely reduces the battery level. Meanwhile, we got our hands on the PS5 version, in all its gorgeous PlayStation gray.
The choice between a Bluetooth and USB-C connection is a valuable one. On mobile, connecting via Bluetooth is as easy as hooking the Razer Hammerheads up in main settings and then in the Razer Audio app for further enhancements. The low latency connection is also particularly commendable - we never noticed any drag when streaming via a gaming phone.
Throw in up to 26 hours of battery life from the charging case, tap gestures (though they did prove unreliable in our testing), and active noise cancellation, and you're getting plenty of features for your cash.
Audio: We were surprised by the level of depth to these buds, as well as the excellent balancing across the full range.
There's a keen attention to detailing here, with dialogue holding a full-bodied sound profile and soundtracks packing a surprising punch in the lower ranges. While we did notice some strange sound effect boosting in Horizon Forbidden West, it's a particularly tricky game for earbuds.
Verdict: While the tap gestures can be hit and miss, the powerful sound quality and wide soundstage, combined with the durable charging case, solid battery life, and widespread compatibility, make the Hammerheads the best gaming earbuds available right now.
Read more: Razer Hammerhead Hyperspeed review
The best wired gaming earbuds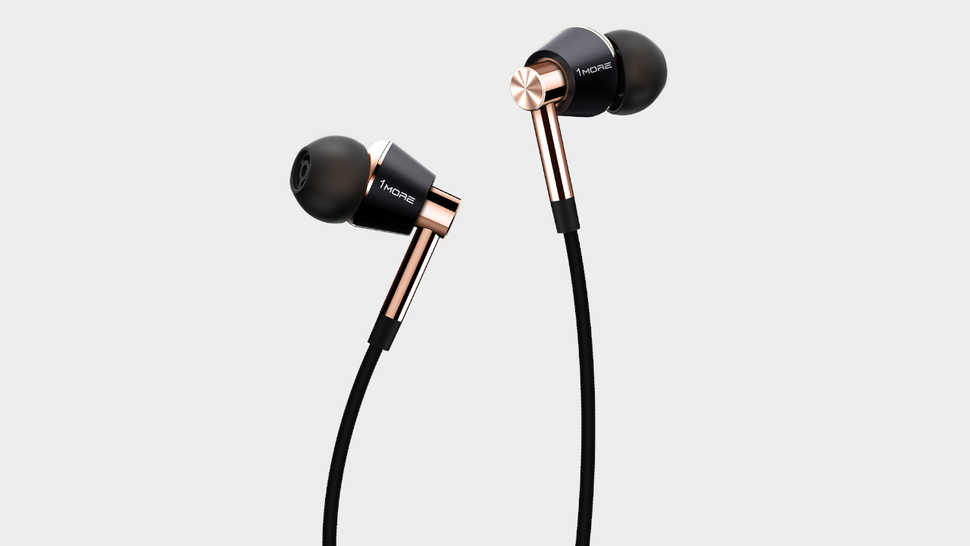 The 1MORE Triple Driver earbuds are a delightfully stylish pair of earphones that offer an impressive quality of sound and build for an affordable price.
Buy it if:
✅ You don't need a wireless connection: Mobile players will miss the Bluetooth option here, but the 3.5mm port will suffice for the majority of consoles.
✅ You value audio quality over extra features: The feature list is slim to make sure enough attention is paid to the audio quality in this price.
✅ You don't want to worry about battery: That cable comes with one obvious benefit - you're getting high quality audio whenever you need it here, without having to worry about keeping them charged.
Don't buy it if:
❌ You regularly commute: The lack of noise cancellation means using these buds for a commute might be a little taxing.
❌ You prefer a wireless connection: That wired format does have some significant drawbacks - especially if you're playing on mobile. If you'd prefer to keep the cables out the way you'll likely be spending a little more for this kind of audio quality though.
Design: With aluminium earbuds and a braided cable, the build quality is sturdy, and there are a couple of different colour options to give them a touch more pizzazz, like the rose gold colorway. It's a stripped back approach, but one that still manages to shine with the almost chrome accents and slimline appearance. These aren't going to stand out from the crowd, but if you're just after a decent set of wired gaming earbuds you might not want them to.
Features: With no wireless connections to speak of, the feature list is relatively slim. You're getting a simple 3.5mm connection to hook up to a range of console platforms, and an inline microphone to handle game chat. That mic isn't going to hold up to much, though. It's a little underwhelming, making this more of a solo play venture. The in-line remote with volume control is compatible with Android and iOS, which is handy for on-the-go gaming as well as on the couch.
With a slew of silicon tips, you'll also be able to find a size that will give you a comfortable fit, and seal out any ambient noise, but as with a lot of the earbuds on this list, there's no active noise cancellation.
Audio: The triple drivers for which they're named give a balanced sound at high and low ends, with enough bass so as not to overwhelm – which is great for both gaming and music. That sound quality really does punch above this price tag, offering clear, dynamic and well balanced soundstages that feel effortlessly energetic. Plus, the wired connection means you don't have to worry about latencies.
Verdict: 1MORE is a less well known brand, but if you're looking for the best gaming earbuds at an affordable price, you should give these a closer look.
The best gaming earbuds for sound quality
The EPOS GTW 70 Hybrid wireless gaming earbuds focus on offering a high-end audio experience for a range of platforms. While the lack of microphone use in 2.4GHz mode means they're not the greatest for online play, the soundstage on offer here is stunning.
Buy it if:
✅ You prioritize audio quality: While they're a little older, we still stand by the crisp, dynamic sound pumping out the GTW 270s. While mic support isn't quite all there, those who value audio over online chat are going to be pleasantly surprised.
✅ You want Bluetooth support for your phone: One of the biggest features here is that Bluetooth connectivity - that's a massive benefit for mobile players and those looking to double up for music and streaming.
✅ You don't have a heavy commute: The lack of ANC means these buds are better suited to quieter environments if you're concerned about getting distracted.
Don't buy it if:
❌ Active noise cancellation is a must: Despite the premium finish elsewhere, the GTW 270s came just a little before active noise cancellation was so widespread.
❌ Versatile online chat is important: The mic won't work with the 2.4GHz connection, so competitive players will want to look elsewhere.
❌ You want app support: There are no EQ settings or connection options to tinker with here, so if you're keen to set up your audio how you like it this isn't going to be the best option.
Design: From the anodized aluminium charging case to the slick, subtle earbuds themselves, the GTW 270s are a luxury affair. A black and gray aesthetic keeps everything streamlined, with the plug form factor of the buds themselves forming a perfect seal every time during our testing.
Features: The GTW 270s come with a USB-C dongle, allowing you to plug them directly into your Nintendo Switch and PS5, as well as a cable that will allow you to plug the dongle into a PS4. On top of that, they also support Bluetooth, so you can sync them with any device that supports it.
While they do come with an in-built microphone, this only works when you're connected through Bluetooth, rather than the USB-C dongle. That's because the dongle is focused on providing low-latency audio, so there is minimal disruption between what's happening in your game and what you're hearing. However, it does mean that you won't be able to communicate with team-mates online.
Audio: These earbuds boast the sort of audio quality you'd expect from the team at EPOS, with deep bass, rich mid-tones, and fantastic directional audio making them as impressive playing games on your Switch or PS5 as they are listening to your favourite tunes through your phone.
Verdict: If you're after a pair of earbuds that can juggle music and gaming responsibilities, the EPOS GTW 270 Hybrids are the perfect go-to. While their feature set doesn't quite hold up as a competitive companion, single player games will sound incredible and the build quality will last as well. Whether you're listening to music, diving into your PS5 library, or streaming your favorite show, these buds will show up every time.
Read more: EPOS GTW 270 Hybrid 70 review
The best budget gaming earbuds
The Roccat Syn Buds Core are the perfect Nintendo Switch companion. There's a no fuss approach to these gaming earbuds, with an affordable price point and simple inline mic and volume controls.
Buy it if:
✅ You want a spare pair of headphones for Switch: If you want to stock up your setup without breaking the bank, they're an excellent addition.
✅ Budgets are tight: Of course, being able to listen to your games on the go doesn't need to cost the Earth. The Syn Buds Core prove that - the sound in here can easily be a daily driver if you're not too picky with your audio.
✅ You play games with a lighter soundstage: A lighter arena is where these buds shine. We were impressed by the audio on offer in this scenario, so you're getting excellent value if your playstyle matches up.
Don't buy it if:
❌ You play competitive online games: There's just not enough directional grunt in these earbuds to qualify them for competitive use.
❌ You want the best audio quality possible: It goes without saying a $25 pair of earbuds isn't going to give you the best audio quality. You're better off putting that cash towards a more expensive set if you're big on sound finesse.
❌ A wireless connection is a must: The 3.5mm connection is going to be a little limiting outside of Nintendo Switch play.
Design: We were particularly struck by the overall comfort of the Roccat Syn Buds Core. These buds hold up well even during longer play sessions, never falling out or rubbing against the inner ear. It's surprising to see considering the cheaper price point here, and certainly welcome amongst the less durable models on the market right now. The aesthetic isn't anything to get too excited about, and the rubber cable is concerning, but for the price these buds don't need to look great to prove their worth.
Features: As you might expect from this rock bottom price category, the Syn Buds Core doesn't sport a long feature list. You're getting everything you need, though; inline volume and mic controls, a cable mic, 10mm drivers, and three ear tip size options. That's all you can really ask for at $25, especially considering some other buds will deny you the microphone at all.
Audio: In the right soundstage these buds shine far beyond their humble feature list. We were impressed by the handling of finer details in games with lighter, more delicate audio, with the bass and melodic trills of Super Mario Sunshine offering a particularly notable balancing act.
That $24.99 / £24.99 price point does show itself during heavier audio moments, however. The Syn Buds Core struggle to keep up with the messier soundscapes of Doom and can't quite position directional audio with the same precision of a more premium buy. However, for everyday on the go Nintendo Switch action, and considering you're not breaking $30, you're getting solid value for money in performance overall.
Verdict: The Roccat Syn Buds Core are the perfect just in case companion or a budget set of buds for those who aren't too serious about their audio. You're getting everything you need in a comfortable form factor, as well as a sound profile that really does impress when the stage is right.
Read more: Roccat Syn Buds Core review
The best gaming earbuds under $100 / £100
The Turtle Beach Scout Air gaming earbuds are the brand's first entry into the truly wireless space (console-specific Recon Air pieces notwithstanding). The Scout Airs are fairly comfortable at $99.99 / £89.99, with a solid soundstage that will suit wider open world games and the twinkly melodies of a Super Mario Sunshine run and an impressive per-bud battery life that just edges ahead of industry average.
Buy it if:
✅ You want true wireless without the cost: These days the Scout Airs are far closer to $50 than their $100 MSRP - and that's difficult to argue with considering their true wireless design.
✅ You want to use touch gestures: Reliable and handy, these tap gestures got us through a Spotify playlist or two particularly well.
✅ You prefer emphasis on higher ranges: There's a strong level of detailing these upper ranges, so if you prefer lighter soundtracks to more gravelly ones you're sorted here.
Don't buy it if:
❌ You want a premium feeling build quality: These are cheap earbuds and unfortunately they do feel like it. The plastic material isn't going to satisfy those after luxury.
❌ You regularly play online with chat: While there are dual mics in here, they're not up to the standard of other models in this MSRP range. If you prioritise online play it's time to look somewhere else.
❌ You play a lot of bass heavy games: The lower ranges do struggle compared to the highs, which means bassier soundtracks aren't going to sound great.
Design: We were a little let down by the cheaper feeling build quality of the plastic case and the materials of the earbuds themselves. While lightweight, products this close $100 / £100 should be offering a slightly more premium build quality - though to their credit we never had any issues with scuffs or scratches on the Scout Airs in our testing. The domed shape charging case offers a comfortable house for the two long stemmed buds, with a subtle aesthetic overall.
Features: Each earbud offers touch-sensitive controls with hassle-free playback controls, and a notably long stem to hold the dual-mics present. We wouldn't put too much stock in those mics though, we found them particularly weak at picking voices out from a busy background and overall the sound quality here was muffled on both chat and video calls. With no 2.4GHz dongle you're relying on Bluetooth connection here, but in our testing it ran fast enough in everyday play to keep us nimble on the battlefield.
Audio: Running the Turtle Beach Scout Airs on lighter soundtracks like Crash Bandicoot and Hand of Fate 2 yielded some impressive results. There was plenty of detailing across the mids and high ranges in our testing, and a commendable balance during more intense moments of gameplay. However, the bassier ranges are particularly flattened here - something we noticed quickly when switching to a heavier gun in Doom on Nintendo Switch and Rise of the Tomb Raider on PC. This dampened bass persisted through to bass-heavy music as well.
Verdict: At $99.99 / £89.99, though, the Turtle Beach Scout Airs really do work hard to bring you an untethered gaming earbud experience without breaking the bank. At $129.99 / £129.99, RGB lovers and those in the market for noise cancellation should be seeking out the Razer Hammerheads, but if you're up against a strict budget there's plenty to love here.
Read more: Turtle Beach Scout Air review
The best gaming earbuds for style
You'll either love or hate the look of the Hecate GX07 gaming earbuds no matter how good we tell you they are. What's great news is that these buds also deliver on audio quality, comfort, and ease of use.
Buy it if:
✅ You want a design that will stand out: Just one look at the Hecate GX07s is all it takes to know that these aren't earbuds for the self conscious. If you're after something that stands out from the sea of grey and white, this is a winner.
✅ Your ears will fit larger tips: While there is a selection of ear tip sizes in the box, we found them all to err on the larger side. If you prefer a tighter seal that's perfect, but smaller ears will struggle to stay comfortable.
✅ You value quality app support: The companion app offers plenty of customization and control options and comes in far handier than many others on the market.
Don't buy it if:
❌ 2.4GHz is a high priority: This is strictly a Bluetooth affair, so low latency 2.4GHz connections are out the window. If you're playing on PS5 or PC that might be a deal breaker.
❌ You don't want to lug a larger case around: It's good looking but it is large, and that case did wear us down after a few days of carrying it around in a pocket.
Design: The Hecate GX07s dine out on their design. This is a particularly striking set of earbuds, perfect for those who want a statement piece (and the LEDs to light it up). No, they're not subtle - but they're not even remotely trying to be. Two wing doors open on the charging case to reveal angular, brightly colored buds with just the right level of finesse to avoid looking gaudy.
The buds are lightweight (even if the case isn't) and up there with some of the most comfortable headphones out there. So much so that while using them throughout the day at work a few times we forgot we were wearing them. While parts of them seem large and unwieldy they actually fit very snugly in your ear. Long gym sessions or energetic runs will not dislodge these buds and trust us, we've tried.
Features: One of the biggest features of the GX07s is the Edifier Connect App. While covering the basics like battery levels and auto shutdown timings, this is also an excellent hub for EQ customizations and creating different preset modes. You can also control the RGB lighting on each bud and play with the ambient sound options (yes, there's active noise cancellation in here).
Audio: Each bud has 8mm dynamic drivers with both AAC and LHDC audio codecs to ensure whatever you're connecting to the sound is great. The highs are crisp and defined with bass sounding deep and impactful. The range of sounds is made even better by the expert balancing of the audio. Normally with any headphones, we have to delve into the app and play with the levels to get the audio just right, but we've not had to do that once with the GX07 earbuds, which has really impressed me.
Verdict: The Hecate GX07s are more than a pretty set of earbuds. There's some excellent audio packed into these stylish buds, and all the customization options you could need to get the most out of it. At $150 the GX07 has a lot of competition from Apple, Sony, Samsung, Sennheiser, and many more recognisable brands. If you want to stand out from that pack, though, they're an excellent option.
Read more: Hecate GX07 review
---
Best gaming earbuds: FAQ
Can I use earbuds for gaming?
Well, the answer to this question is both yes, and no. As you've landed on this guide to the best gaming earbuds, the broad answer is a profound yes - and they can really be very good indeed. However, the more detailed answer is no, on some platforms. The ability to use earbuds on PlayStation and Xbox consoles is far less prevalent than on mobile devices, Nintendo Switch, and even PC. You'll just need to make sure that each set of gaming earbuds is compatible with the device you want to use, and then you'll be away!
Are gaming earbuds better than headsets?
Now this is not a totally straightforward answer, as each type have their pros and cons. And that's because earbuds and headsets offer wildly different solutions to wildly different problems and desire.
If you're looking for something super portable, geared toward mobile gaming or taking your Nintendo Switch out and about, then you can't beat gaming earbuds - they do have it over headsets in this capacity.
However, gaming headsets will offer superior audio quality, just because they can draw on larger drivers due to their larger, over-ear design. Earbuds just can't compete on this. Headsets can also offer more buttons and features because of this, and will often have better mics. This seems to make it a clear cut thing, but if you need something for pure mobile convenience then gaming earbuds will take the biscuit.
What earbuds do gamers use?
Well, the short answer is: anything on this very guide! Our best gaming earbuds article lists out the top earbuds you can get, no matter what you play on, and what games you play. And you'll find most big game audio brands represented here too: from Razer to EPOS, to HyperX.
As a result, you'll find gamers use a whole range of gaming earbuds, and you'll find all of the best for your consideration on this page.
---
If you're after some full-size alternatives, be sure to check out our guides to the best PS5 headsets, best Xbox Series X headsets, best PC gaming headsets, and best Nintendo Switch headsets to have you covered on all the major platforms.