Iron Man 2: The Evolution Of Mickey Rourke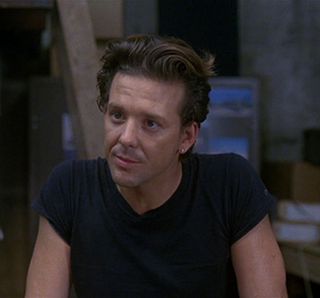 Body Heat (1981)
The Role: His big-screen bow came two years earlier with a tiny role in Spielberg war flick 1941 , but Rourke first began turning Hollywood heads in steamy thriller Body Heat .

Playing arsonist Teddy Lewis, Rourke steals the show with a great line in noireish zingers: "Any time you try a decent crime, you got 50 ways you're gonna fuck up. If you think of 25 of them, then you're a genius . . . and you ain't no genius". Nice.

Sex symbol? Not yet, but its early days…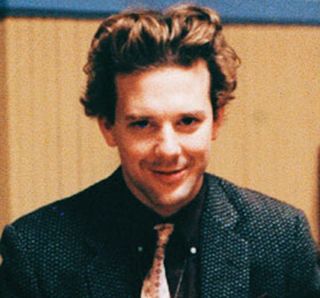 Diner (1982)
The Role: Rourke takes centre stage for the first time, starring as womanising hairdresser Boogie in this seminal coming of age yarn.

He might be jostling for screen-time with fellow newbies Kevin Bacon and Steve Guttenburg, but Mickey is the main event, rocking a dishevelled charm that seems to snag every girl he comes across. We'd wager a fair few were swooning in the cinema as well.

Sex Symbol? Nearly. Might have lost a few points for that popcorn trick…
Rumblefish (1983)
The Role: Mickey does mysterious as Matt Dillon's enigmatically named older brother, the "The Motorcycle Boy". Repeatedly turning up in the nick of time to save his little bro, Rourke is the elder sibling we'd all like backing us up.

Slammed at the time for favouring style over substance, Coppola's growing-up saga was the perfect vehicle for Mickey's youth-in-revolt routine. Brooding weariness never seemed so cool.

Sex Symbol? Pretty-boy looks meet Wild One attitude. A sex symbol is born.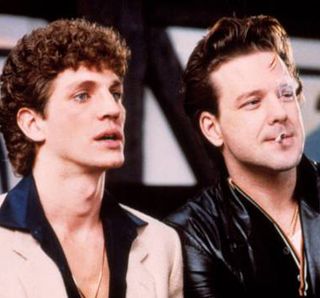 The Pope Of Greenwich Village (1984)
The Role: Buddy-movie bickering ahoy, as Mickey and Eric Roberts star as a pair of petty crims on the make in NYC. Rourke plays the more sensible half of the pair, showing he's got more than "off the rails" in his locker.

Hair-brained antics ensue, as Eric and Mickey stumble from one ill-conceived scam to the next, eventually falling foul of a local branch of mafiosos. Those mobster eh? No sense of humour.

Sex Symbol? Roberts hogs the loveable-rogue limelight, with Mickey's usual smoulder taking a day off.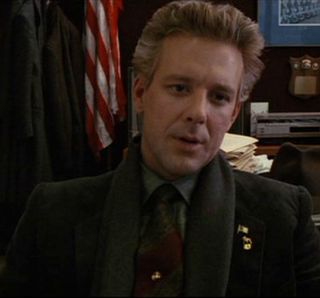 Year Of The Dragon (1985)
The Role: In a piece of wildly leftfield casting, Mickey stars as middle-aged Vietnam vet Stanley White, who launches a one-man war on New York's Triad gangs.

Having recruited a Hell's Angel as his personal trainer, Rourke is on top ass-kicking form as the grizzled old cop with a veritable warchest of axes to grind. Despite the film scooping an array of Razzie nominations, it's apparently one of Tarantino's favourites! Then again, he'll watch any old tat…

Sex symbol? Nope. More washed-out, greying old geezer.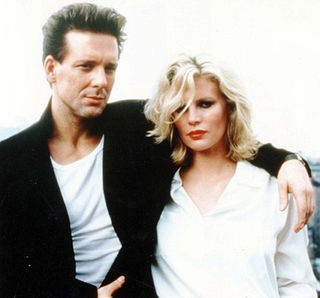 9 1/2 Weeks (1986)
The Role: Mickey cemented his place as Hollywood heart-throb du jour with this turn as sadomasochistic loverman John Grey, in soft-porn classic 9 ½ Weeks .

The film might be sub-Channel Five erotica, all soft-focus and saucy muzak, but credit must go to Rourke for somehow turning a sexually-abusive crackpot into his ticket to international stardom. Bravo sir!

Sex Symbol? Just a bit. That's what feeding Kim Basinger a few strawberries can do for you…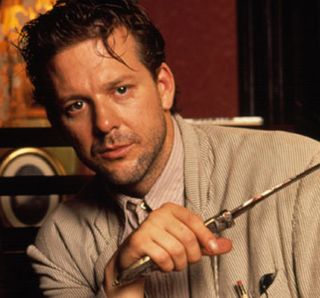 Angel Heart (1987)
The Role: Now mixing it with the Hollywood big-boys, Rourke lines up next to Bobby D for this creepy horror-cum-thriller. Mickey plays gumshoe Harry Angel, hired by the shady "Louis Cyphre" (no prizes for guessing who he turns out to be) to track down a missing singer.

It all gets a bit hysterical, with Harry's lover Lisa Bonet meeting a particularly grisly end, but Rourke's shambling private dick is a seedy pleasure throughout.

Sex Symbol? Boozey, sleazy and dishevelled, yet still charming. It's an art…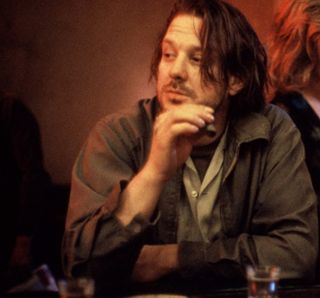 Barfly (1987)
The Role: Cast to type as another booze-addled reprobate, Mickey turns in a stellar performance as perennially sozzled scribe Henry Chinaski, a loose interpretation of Charles Bukowski, upon whose work the film is based.

Rourke's acting chops are on display throughout as the wilfully self-destructive talent, although given what was to come in his own personal life, maybe it wasn't such a stretch after all.

Sex Symbol? This old soak routine is just a tad too self-loathing to class as sexy. Sorry Mick.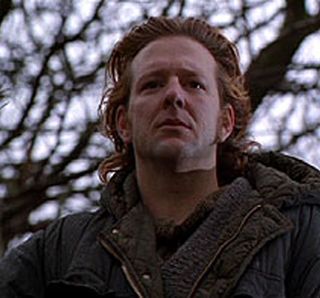 A Prayer For The Dying (1987)
The Role: Ouch! A definite low-point in an otherwise fertile period of his career, Rourke tries not to blush in this godawful IRA thriller that covers the Northern Irish Troubles with all the sensitivity of a sledgehammer.

Wrestling with a distracting Oirish accent, Rourke plays a former IRA hitman attempting to shake off his grisly misdeeds. Cue much "killing is bad" hand-wringing as Mickey phones in one of the more ill-advised roles of his career.

Sex Symbol? Only if scowling ex-murderers float your boat.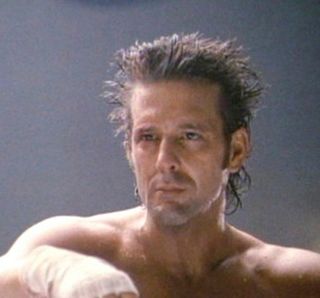 Homeboy (1988)
The Role: Oh dear. Having racked up a slew of Hollywood Brownie points from 9 ½ Weeks et al, Rourke was allowed free reign to knock up this woeful vanity project.

Shouldering writing and starring duties, Mickey plays a washed-up boxer who takes on one last fight to save an old fairground from the knackers yard. That's right, an old fairground. Pure, unadulterated tosh.

Sex Symbol? He's playing a brain-damaged old warhorse, so no, not so much.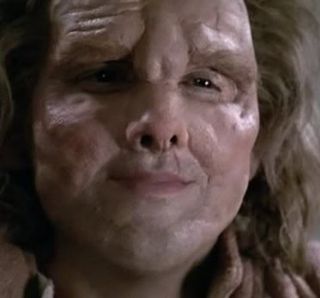 Johnny Handsome (1989)
The Role: This is more like it. Rourke plays a deformed crook who ends up in the clink after a sneaky double-cross. A quick bit of surgery and one spectacularly implausible parole later, and Mickey is out for revenge…

Despite the daft plot, and the job-lot of latex obscuring much of his face, Mickey still makes a decent fist of what, on paper, would appear to be a cartoonish mess. Impressive.

Sex Symbol? His face looks like a melting candle, a precursor of things to come.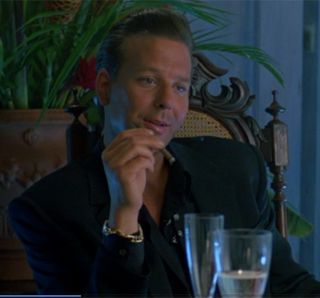 Wild Orchid (1989)
The Character: Basically 9 ½ Weeks in Brazil, with Mickey swapping sadomasochistic banker for sadomasochistic land baron. Cue another string of sweaty sexual encounters, as Rourke has his way with every doe-eyed innocent who crosses his path.

Mickey could do this sort of sexually-questionable slimeball in his sleep, and remains firmly on autopilot throughout. One to file under "paycheque".

Sex Symbol: That's the idea, although the sex scenes are so snoozeworthy only the most slavish devotees will find anything to get worked up over.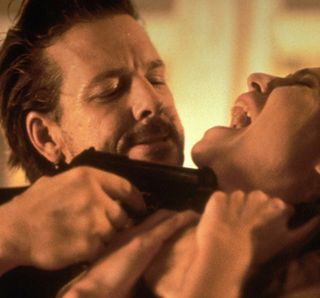 Desperate Hours (1990)
The Role: Another duff move from Mickey, re-teaming with Year of the Dragon helmer Michael Cimino for this ponderous remake of Humphrey Bogart's vastly superior '50s home-invasion thriller.

Rourke plays an unhinged con on the run who decides upon Anthony Hopkins' house when he needs a place to hide-out. He's sinister enough, with plenty of snap and snarl, but the whole thing is so absurd the performances are fairly redundant.

Sex Symbol: Mad, bad and dangerous. Girls love that stuff.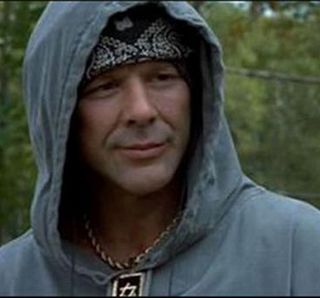 Bullet (1996)
The Role: After reigniting his boxing career in 1991, Mickey's acting work dried up in a big way. A couple of TV movies and a role in the atrocious Harley Davidson and the Marlborough Man aside, the early nineties were barren indeed.

So, Rourke penned the script for shoddy crime drama Bullet and cast himself as the star alongside Tupac Shakur. Needless to say, the comeback was far from complete.

Sex Symbol: The first signs of post-boxing puffiness. Downhill from here…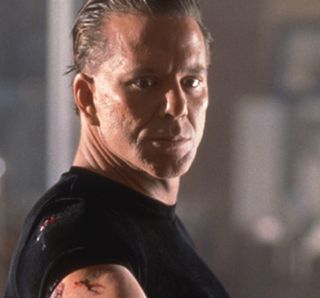 Double Team (1997)
The Role: It's difficult to pinpoint just where rock bottom falls in the Mickey Rourke story, but this has got to be up there. Mickey plays Stavros, a freelance terrorist, with a penchant for cackling villainy.

In one of the most ridiculous action-farces in cinema history, Rourke at least is not the worst thing on show. That accolade falls to cross-dressing, basketball wackjob Dennis Rodman, as "quirky" (irritating) arms-dealer Yaz. Excruciatingly bad.

Sex Symbol? He's in good shape, but it's just all so camp …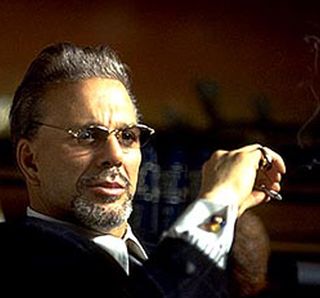 The Rainmaker (1997)
The Role: Old mucker Francis Ford Coppola chucks Mickey a bone with a small role in this underrated Grisham adaptation, as sleazeball lawyer Bruiser Stone.

Rourke does a nice riff on his washed-up persona, as the low-rent litigator operating out of a dingy office next door to a strip-club. It might only have been a supporting role, but Mickey was gradually finding his way in from the wilderness.

Sex Symbol? What's that facial hair about? Mickey, Mickey, Mickey….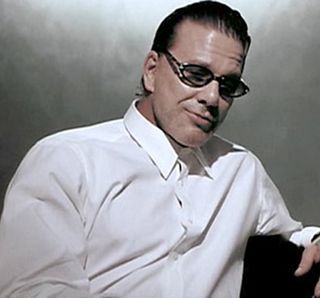 Buffalo '66
The Role: In another cameo, Mickey plays the bookie who lands Vincent Gallo's Billy in prison, as payment for an outstanding debt.

Rourke is only on-screen for the one scene, but when he's there, you know about it. Explaining the "very bad and evil things" that might befall Billy's family in the manner of a man reciting his shopping list, it's a masterclass in making the most of a walk-on role.

Sex Symbol? More scary than sexy. Do what the man says Billy!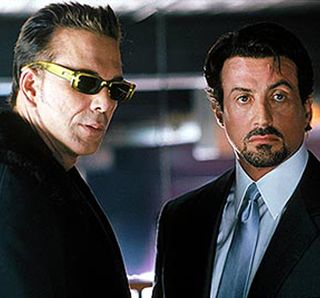 Get Carter (2000)
The Role: Stallone's shocking remake might have been box-office Kryptonite, but from Rourke's perspective, beggars can't be choosers. He plays mob boss Cyrus Paice, whose main role is to take a bit of a shoeing from a very angry Sly.

Still, Rourke was grateful, crediting Stallone with cutting him a much-needed break and agreeing to appear in upcoming action-fest The Expendables as payback. Good man!

Sex Symbol? He looks alright next to Sly. That's as far as it goes!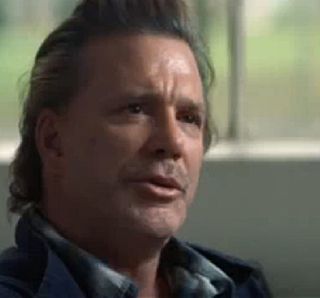 The Pledge (2001)
The Role: Rourke takes another steady step on the road to redemption, stealing his one and scene from right under Jack Nicholson's nose.

Playing Walter Oldstad, father of a long-missing girl, Rourke goes from angry defiance to whimpering resignation in little more than a minute. "I was supposed to take care of her," he cries, hopelessly. It's affecting stuff, and convincing evidence that Mickey was on his way back.

Sex Symbol? He's playing a broken man, but the looks are still there. Makes it all the more upsetting when he starts to cry…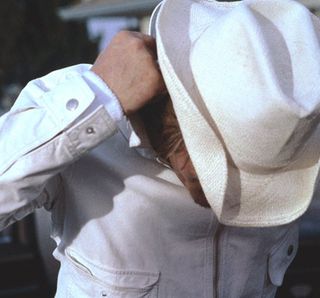 Spun (2002)
The Role: Mickey cranks the slime up to eleven as methamphetamine chef "The Cook". Knocking up batches of drugs from his kitchen sink, this is Rourke whittling down the scuzzy low-life routine down to a fine art.

Factor in a gloriously profane speech in a pornography store in which he discusses the vagaries of sex ("It's not what the pussy can do for you, it's what you can do for the pussy!") and you've got the dictionary definition of cult cool.

Sex Symbol? Sleaze symbol would be closer to the mark.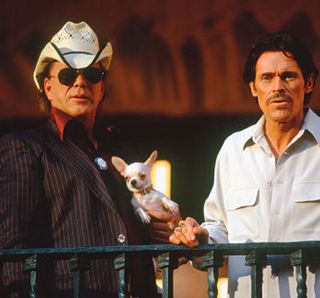 Once Upon A Time In Mexico (2003)
The Role: In his first blockbuster role for years, Mickey turns in a deliriously OTT performance in this enjoyably daft Western romp.

He plays rock-hard henchman Billy, whose air of menace is only slightly diluted by his penchant for carrying a small dog around at all times. Brilliantly, the moment when Billy is shot in the back was added in digitally, as Mickey didn't want to spoil his jacket. Ladies and gentlemen…he's back!

Sex Symbol? Looking his age, and the dog-obsession is a bit weird….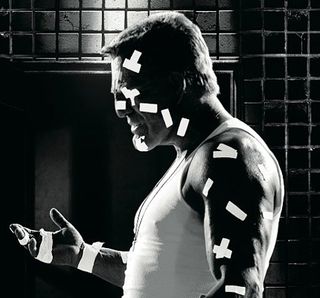 Sin City (2005)
The Role: The comeback is complete with Mickey starring as the standout performer in Robert Rodriguez's ultra-violent crime saga.

Rourke's Marv is a balls-out force of nature, and there's hell to pay when somebody bumps off a hooker he's "friendly" with. "Does it make you feel big, killing an old man?" asks one victim. "No," he replies, "But everything up to the killing will be a real gas." Massive.

Sex Symbol? Hideously deformed brute, covered in plasters. Although if you like a bit of rough...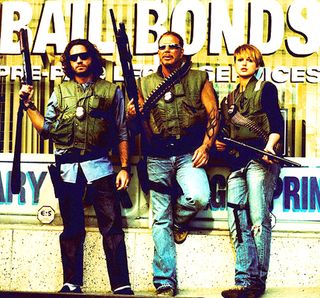 Domino (2005)
The Role: Amongst a thoroughly bizarre ensemble that includes Keira Knightley as a bounty hunter and roles for Jerry Springer and Macy Gray, Mickey's turn as a muscle-bound enforcer is the only bit of casting that makes any sense.

Ok, so gravel-voiced tough-guy might not be much of a stretch, but this overblown action flick enjoys its best moments whenever Rourke's charismatic gunslinger is on screen. Oh, and Christopher Walken's pretty good in it too.

Sex Symbol? Is that the hint of a ginger beard? Get rid Mickey, pronto.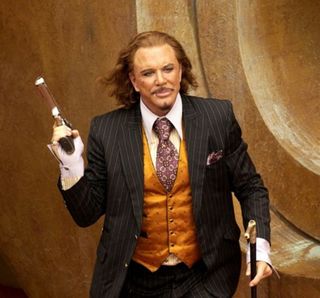 Stormbreaker (2006)
The Role: Rourke thoroughly enjoys himself by putting the willies up weedy Alex Pettyfer in this agreeable spy caper.

Starring as arch-villain Darrius Sayle, Mickey hams things up to the max, sporting a perma-sneer and an array of horrifically flamboyant outfits. Excellent boo-hissery from Big Mick.

Sex Symbol? Heavens no. A man of his years should not be wearing eyeshadow.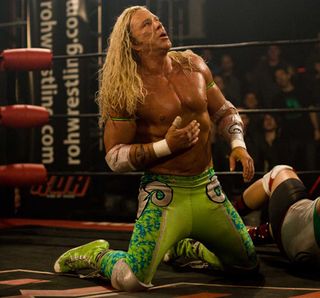 The Wrestler (2008)
The Role: Ah, the part he was born to play. Rourke has never been better as the broken-down, serial fuck-up with one last crack at the big time. How the Oscar escaped him is beyond us.

The spandex-clad horseplay is suitably impressive but it's in his scenes with estranged daughter Evan Rachel Wood that Rourke scores the big points. A finer portrayal of emotional incompetence you couldn't wish to see.

Sex Symbol? There's an animal magnetism there, but that peroxide do is a shocker.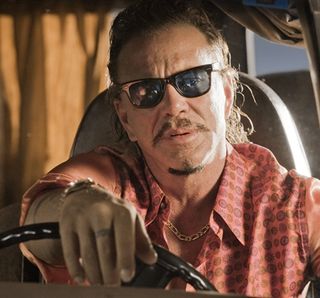 The Informers (2009)
The Role: Bret Easton Ellis' vicious eighties satire is a fairly bleak affair all told, and Rourke's scumbag kidnapper is probably the lowest of the low.

Pitching up at his nephew's house with a child he's abducted in tow, this is Rourke at his seediest, and yet somehow you can't quite bring yourself to hate him totally because, y'know, he's Mickey Rourke.

Sex Symbol? Gaah that facial hair is back again. Someone have a word...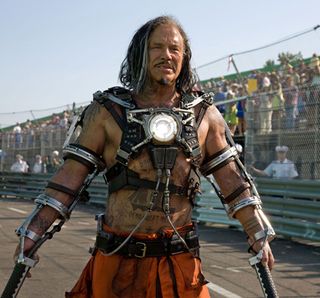 Iron Man 2 (2010)
The Role: Downey Junior, Don Cheadle, Sam Rockwell, Scarlett Johansson, Sam Jackson...no doubt about it, Iron Man 2 's got a cracking cast, but it's the casting of Rourke we're most excited about.

He'll be playing Tony Stark's new nemesis Whiplash, a whip-wielding Russian hard-case with a grudge. Rourke has reportedly prepared by spending some time in a Russian jail. Let it never be said that he doesn't go that extra mile...

Sex Symbol? Those days are long gone, and this cyber-punk look ain't gonna bring them back.