1. Elder Scrolls Online is free to play until December 6th – can it scratch that Elder Scrolls 6 itch?
As Elder Scrolls Online's free to play period has started, many fans will be asking themselves the same questions. When are we getting Elder Scrolls 6? Does ESO really feel like an Elder Scrolls game? Well, Bethesda is trying to convince you that it does (while ignoring the first question). New players get 500 free crowns to spend in the crown store, and any progress you make is retained if you decide to shell out for the full package (which is up to 50% off in the PlayStation Store and Steam, by the way). Yet I can't shake the feeling that this weekend is almost a kick in the teeth, a reminder that Elder Scrolls 6 hasn't even been announced despite the adoration of millions of fans. With the consistent re-releasing of Skyrim clearly showing that Bethesda are conscious of the franchise's appeal and dedication of its fans, it's still puzzling why we haven't heard anything about Elder Scrolls 6. And god, we need some news. Badly. Zoe Delahunty-Light
What: Elder Scrolls Online free play weekend
Where: PS4, PC, and Mac
When: November 30 - December 6
2. Soma is trying out a 'Safe Mode' for scare-averse players who just want to enjoy the story
If you like existential horror games but hate monsters, then Soma's Xbox One release is perfect for you. Set in a derelict undersea base full of insane broken robots it's up to you to find out how you got there and try to escape. It's hard to sell without spoilers but it's one of the most disturbing and unpleasant games of the last few years - as much for its themes, and concepts of what makes us human, as the threat of mentally unhinged machines trying to scoop the soft inside bits out of you. The good news is that a new 'Safe Mode' has been added for this new version that means you can now just enjoy the nightmarish story and lose sleep over everything it implies without worrying about dying. The monsters are still there and will react to you, and even attack if you prod them too much, but you can't die anymore (apart from a couple of narrative dependent moments). Given that the story is the best bit, it's great news if you like the idea of the game but weren't sure before. Leon Hurley
What: Soma
Where: Xbox One Marketplace, Microsoft Store
When: December 1
3. The spine-chilling Annabelle: Creation proves that the movie 'universe' model works for modern horror
Out on home release on December 4, Annabelle: Creation should have been, by rights, a complete disaster. Another tale from James Wan's 'The Conjuring Universe,' this origins story of a haunted doll should have been horror pulp, churned out to make a quick buck from the success of the original movie. Instead, a smart choice of director in the shape of Lights Out helmer David F. Sandberg means Annabelle: Creation delivers some seriously fun scares and fits perfectly into the story so far like a horrifying Matryoshka. Where Universal and DC respectively have fallen flat with their grand universe plans - no superhero landings here - The Conjuring Universe can take risks with much smaller budgets and interesting director choices. If Annabelle's scares are anything to go by, next year's The Nun should be worth steeling your nerves for. Louise Blain
What: Annabelle: Creation
Where: iTunes, Amazon Video, Blu-ray, DVD
When: December 4
4. Will The Game Awards finally show Death Stranding gameplay?
These five things are true: 1) Death Stranding first revealed that freaky trailer starring Mads Mikkelsen and Guillermo del Toro at The Game Awards 2016; 2) We've barely seen or heard anything else about Death Stranding since then; 3) A few weeks ago, del Toro said Death Stranding director Hideo Kojima was going to show him gameplay "at some point in the next couple weeks" meaning it exists; and 4) The Game Awards 2017 are next week. See where I'm coming from? Maybe we'll have to wait until PlayStation Experience begins the next day to see more of Death Stranding, but I doubt it, because 5) Kojima and TGA producer/host Geoff Keighley are super good buds. Connor Sheridan
What: The Game Awards
Where: Catch the livestream on YouTube or Twitch, unless you have tickets to the show in Los Angeles.
When: December 7 at 5:30pm PST / 8:30pm EST, December 8 at 1:30am GMT
5. Netflix dives into the mind of Jim Carrey in another must-watch documentary
Netflix continues to deliver on an immaculate track record of powerful and provocative documentaries with Jim and Andy: The Great Beyond. It's a deep and often disorienting dive into the mind of Jim Carrey, as the famed comic actor recalls his memories from the set of Man on the Moon; the Andy Kaufman biopic which led to him going full method for the entirety of the shoot. Carrey himself provides exclusive behind-the-scenes footage of his 24/7 exploits as Kaufman, from picking fights with pro wrestlers to drink driving across the Universal lot, but the real gem here is an intimate interview with the comedian as you've never seen him before, candidly dissecting his own career and quietly contemplating the nature of identity, performance, and purpose. Alex Avard
What: Jim and Andy: The Great Beyond
Where: Netflix
When: Out now
6. Remind yourself why Ridley Scott is a sci-fi genius as he turns 80
I'll be honest with you, after watching Alien: Covenant, I started to question whether Ridley Scott should be making movies anymore. The director turned 80 yesterday and as much as I hate to admit it, it crossed my mind that it might be time for him to hang up his camera… that is, until I rewatched The Martian. The hard sci-fi movie sees astronaut Matt Damon stranded on Mars and it's just... perfect. How quickly I'd forgotten what a genius filmmaker Scott really is. Sure, Covenant and Prometheus were disappointing, but every director is allowed a misstep or two, and that doesn't take away the incredible movies he's given us over the years. The Martian, Alien, Blade Runner… these are films which will be remembered for all of time and what perfect time to rewatch them than this weekend? Go on, celebrate Ridley Scott's birthday by reminding yourself why he's a sci-fi genius. Lauren O'Callaghan
What: Basically any Ridley Scott sci-fi movie
Where: Netflix, Amazon, your own collection… what do you mean you don't own any?!
When: This weekend (or whenever you want)
7. Season 1 of Destiny 2 comes to a close during a pivotal time for the developers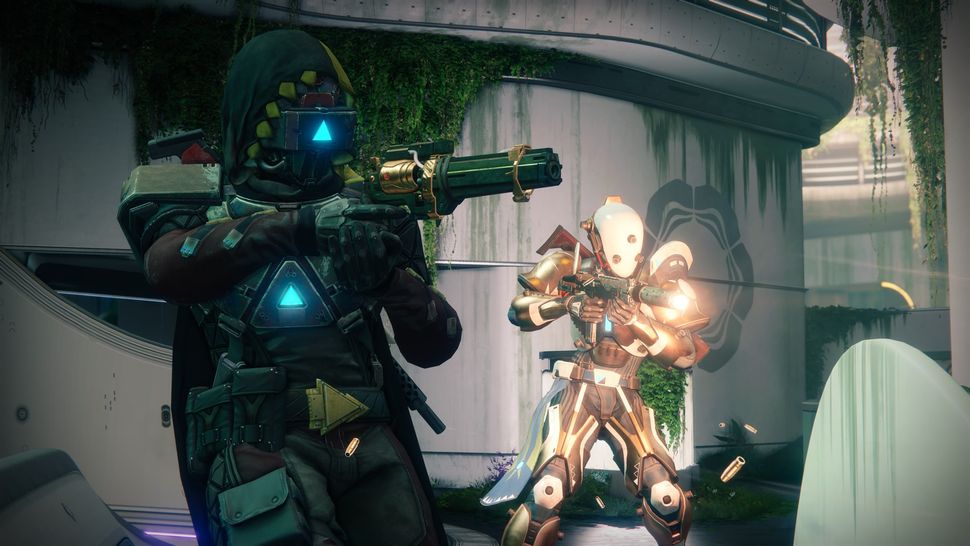 This weekend is the last week of what Bungie is calling 'season 1' of Destiny 2. What this means in reality is not only that the first piece of DLC will arrive next week but also changes to the game's systems are on the horizon. Changes that can't come soon enough. Truth is, this has been a terrible week for Bungie. First they were caught 'cheating' the XP system to slow down progression for hard-core fans, then they increased the amount of XP you need to level up and got caught again. Which all led to them cancelling a livestream designed to promote the new DLC. The backlash has been fierce but Bungie has promised to roll out changes with the new content next week. These new changes appear to take to game systems much closer to Destiny 1 which fans, myself included, will say is no bad thing. However, time will tell if it's going to be enough to bring the community back around and, more importantly, if that's the direction Bungie want to be heading in. James Jarvis
What: Destiny 2 season 1
Where: Destiny 2 on PS4, Xbox One and PC
When: Until December 4
8. Dark could be the new Stranger Things… but it needs to overcome the stigma of subtitles
There's a new original on Netflix. It's called Dark, it's a German thriller (yes, with subtitles), and it is, indeed, very dark. I've watched the first half of the season and it's an incredibly compelling tale about about disappearing children, secrets, and murder across different time periods, which lends it a strong supernatural element. Dark feels smartly enough made that the eventual pay-off - the grand mystery that ties up the murders and weirdness - will be hugely satisfying; something people talk about for months. The real problem it faces, however, is the battle against subtitle stigma. Yes, there's a cheesy American dub you can use if you want, but it's always better to watch series the way they're intended. Will the mystery and style be compelling enough to get thriller viewers to watch ten hours of German subtitles? The fact Netflix had enough faith to commission it, knowing it has to work for a wider international audience, is super encouraging… but its appeal to the more casual Stranger Things 2 crowd (at which it's aimed) will all depend on that eureka moment at the end. Andy Hartup
What: Dark
Where: Netflix
When: From December 1