You can currently get the new D&D Keys From the Golden Vault book for 30% less, bringing the price down by almost $15 - and it's been out for less than a day.
Head over to Amazon and you'll find the latest collection of D&D adventures, Keys From the Golden Vault, at just $34.97 (opens in new tab) instead of nearly $50. By our reckoning, that's the cheapest it's ever been by around $6.
This addition to Dungeons and Dragons books has hovered at around $41.50 since late January (which is a darn sight better than the $49.95 MSRP), but this is the biggest reduction we've seen on Keys From the Golden Vault to date. Considering the fact that it's only just come out today, that's something of a surprise.
Based in the UK? It's equally good news. Although the book isn't out until March 24 across the pond, you can pre-order it for a massively reduced £29.99 (opens in new tab) or £33.75 from Amazon (opens in new tab). Considering how it's normally upwards of £40, that's not bad going.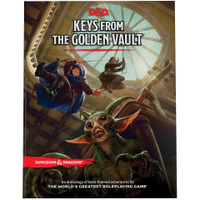 (opens in new tab)
Keys From the Golden Vault | $49.95 $34.97 at Amazon (opens in new tab)
Save $14.98 - The latest D&D book revolves around heists, and continues a recent trend of offering one-shot adventures. It's never been cheaper, and the previous low was just over $41.

None of this is to say isn't very good, of course. I've been hands on with the book for a few days, and can vouch for it being a lot of fun. Thanks to its quests being bite-size one-shots that won't last longer than an afternoon (as per Candlekeep Mysteries and Journeys Through the Radiant Citadel, both released in the last couple of years), they can be slotted into any existing campaign or used for a quick break if you're running a massive storyline like Rime of the Frostmaiden. That makes it a great fit for beginner Dungeon Masters or experienced tabletop veterans alike. Basically, I'd recommend it to anyone because it's such a useful addition to your storytelling arsenal. Forgotten to plan the next session? Don't worry, just break out a mission from this book.
There are 13 of these missions in total, and they're all focused on stealing an item or artefact for the good guys - in other words, a fantasy version of Ocean's 11 or Mission Impossible. You can catch a glimpse of what it's like through the free D&D adventure from Tales From the Golden Vault.
More D&D deals
If you want to see what else is out there in terms of offers on the best tabletop RPGs, take a look at what our bargain-hunting software has rounded up below.
---
For more tabletop recommendations, don't miss the best board games, these board games for adults, or board games for 2 players.