The box art rebellion
It pains me to say it, but it seems like we might've reached the end of an era. For years, we've heartily mocked box art; now, the companies making these atrocities of graphic design have found a way to elude our judgmental eyes. With the rise of digital distribution, video game publishers have fewer reasons to box their product and compete for retail shelf space. Gamers prefer the instant gratification of a downloadable copy--and as a result, the delicate art of packaging is falling by the wayside.
But as long as there are retail stores, there will be physical copies of games. And like a caped vigilante, GamesRadar will be there to poke fun at all the hilariously dreadful pieces of box art that find their way into the wild. As always, these aren't appraisals of the games as products--just the butt-ugly covers that adorn them. Don't forget, you can click the expand icon in the top right of each image to see them in all their ingloriousness. Now hold your nose, shield your eyes, and let's trudge through the swamp of 2013's worst box art together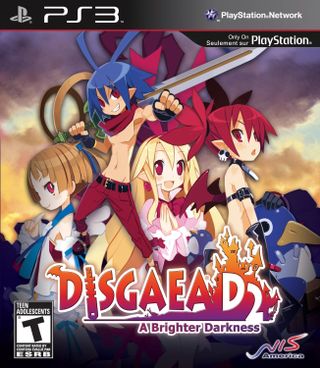 50. Disgaea D2: A Brighter Darkness
What, pray tell, is that cheeky demon Laharl actually standing on? Oh--nothing. He's just been hastily slapped over other pieces of character art, because he's the main character so why not.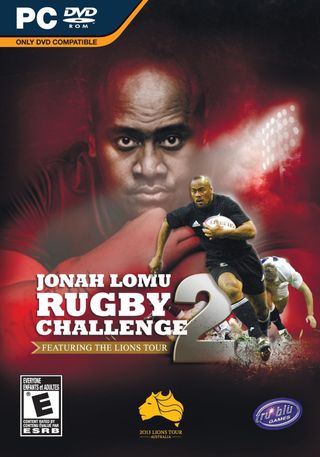 49. Jonah Lomu Rugby Challenge 2
Mr. Lomu runs so fast that he leaves utter annihilation in his wake, causing bodies to fly haphazardly with each step. But he also has a sensitive introspective side, judging from the candid shot of him developing photos in his homemade darkroom.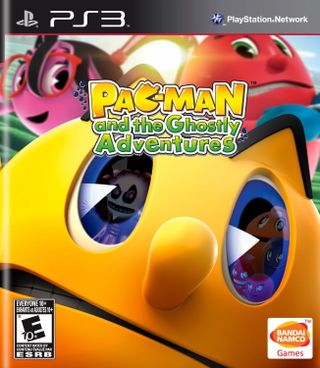 48. Pac-Man and the Ghostly Adventures
If you're not a fan of the Pinocchio-nosed Pac-Man, you best turn away from this box art before his phallic-looking schnoz pokes you in the eye. And just what am I supposed to be looking at, anyway? The classic ghosts reflected in Pac-Man's left eye? The skull-thing in his right? The unfamiliar colored blobs in the background? Pac-Man's gritted, perfectly square teeth? Do I even care anymore?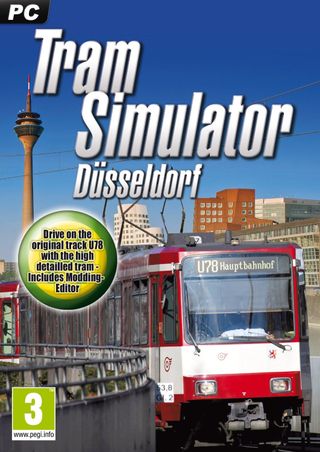 47. Tram Simulator: Dusseldorf
Thank goodness--the inclusion of a Modding-Editor is what swayed my purchase decision. Apparently the developers were so unsure about their tram simulation that user-made content was a gigantic selling point. All aboard for Hauptbahnhof! Next stop, Grypinthorphenoe!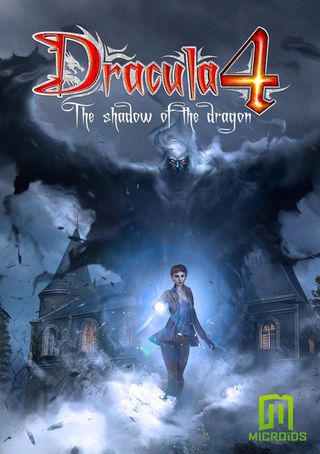 46. Dracula 4: The Shadow of the Dragon
So, I'm confused--is the primary antagonist Dracula, or a dragon? Because I was led to believe that those two things are mutually exclusive. Also, what caused that woman to grow as tall as a mansion? Is she holding a flashlight, or is that a Mega Buster arm cannon?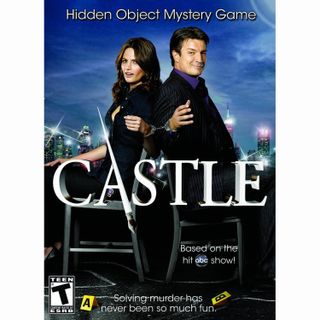 45. Castle
"Solving murder has never been so much fun." That's what I imagine a corrupt police officer will say in the interrogation room, right before he viciously beats me to within an inch of my life, even though I swear I don't know anything about a murder. But if said cop looks anything like the ruggedly handsome Nathan Fillion, I won't hold it against him.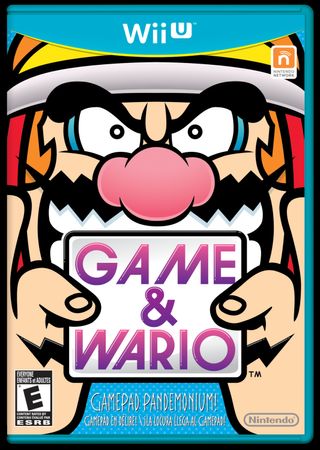 44. Game & Wario
GAH. Its called personal space, Wario, and I suggest you learn to not get so uncomfortably close to me. That's cool that your business card has a moustache on it, but the way you're staring at me is making me feel very anxious. Also, you should probably see a doctor about those fingernails. I don't think it's normal for them to be made of skin.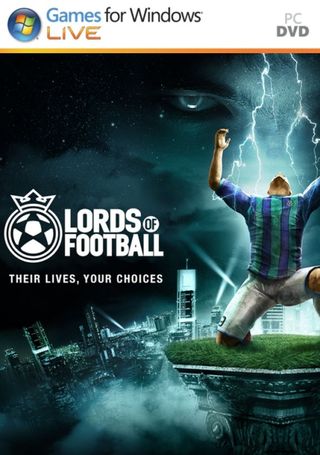 43. Lords of Football
Jesus, guys. It's a spreadsheet-centric sports management game, not Mortal Kombat. And that face in the background really needs to do something about that stomach-churning unibrow.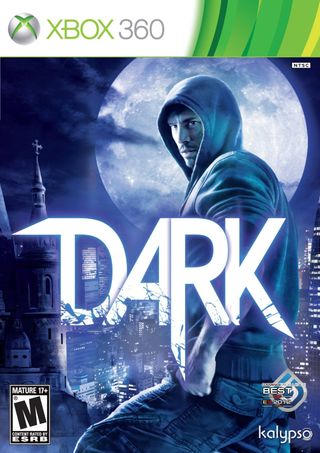 42. Dark
What we've got here is a failure to communicate. This is a stealth game about vampires, and a pretty bad one at that. But judging by the box art, this is a game(?) about some douchebag in a hoodie and cargo pants who's dumbfounded that the moon is about to crush his beloved city, Majora's Mask-style. The look in his eyes begs for one last passionate kiss, before we're all engulfed in the incomprehensible destruction that results when two planetary bodies collide.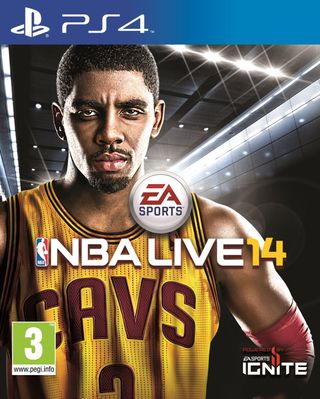 41. NBA Live 14
Kyrie Irving could not be more bored with you. The dead-eyed look on his face speaks volumes to how unimpressive you are. And let's face it: what do you have to offer compared to a star basketball player, who continues to play even though he's seemingly been amputated from the left elbow down?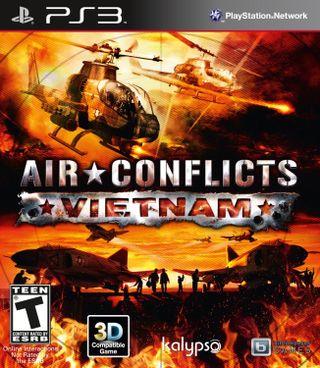 40. Air Conflicts Vietnam
In a sense, the folks at Kalypso are incredibly prophetic. They had the foresight to design the box art of their atrocious dogfighting game just so, giving it the appearance of a box being engulfed by flames. This accurately simulates what the case will look like when you chuck it into your fireplace after playing it for no more than five minutes.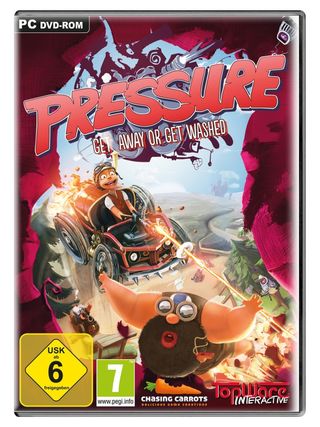 39. Pressure
Let me attempt to reason this through. Either I stay an appropriate distance away from you, or you will bathe me. Is that the threat currently being made by this racing game, as it bursts through magenta fabric? Also, whoever drew that tubby dude who's about to be impaled on a kart's spiked grill should learn how to draw beards that don't look like fuzzy gonads.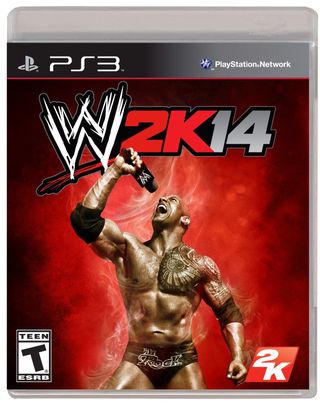 38. WWE 2K14
Dwayne "The Rock" Johnson is so skilled at hitting the really high notes in karaoke, his skin actually starts emanating steam.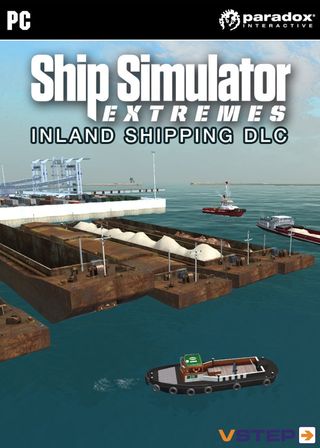 37. Ship Simulator Extremes: Inland Shipping
We've discussed at length how often game developers abuse the word "extreme" in their products. But never before has the word been as egregiously misused as on this DLC pack. Even if every single thing depicted in that screenshot exploded simultaneously, it still wouldn't be even remotely extreme, let alone multiple extremes.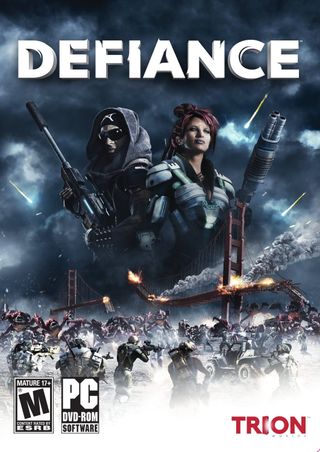 36. Defiance
In theory, this box art has it all. Epic firefight between humans and aliens in the foreground; explosive destruction of the Golden Gate Bridge in the background; two decked-out, gun-toting mercenaries posing above it all. Yet, when you put it all together, what you get is some dreadfully bland box art that's about as thrilling as the color gray.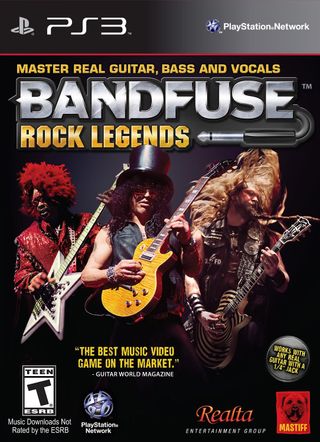 35. Bandfuse Rock Legends
BREAKING: Scientists have made contact with an alien race, who in many ways resemble our own Homo sapien form. Their physical traits make them easy to identify: these extraterrestrials all have extremely wild hair, human-like torsos with no legs underneath, and no discernible eyeballs. To make up for their lack of a lower body, these strange creatures travel atop floating guitars, holding onto the neck for dear life. These three specimens have been forever immortalized on the cover of a rhythm game which WORKS WITH ANY REAL GUITAR WITH A 1/4" JACK.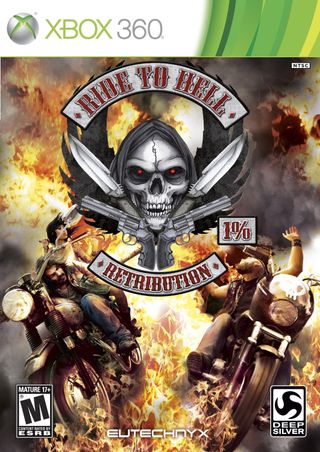 34. Ride to Hell: Retribution
For such a godawful atrocity of a game, this box art isn't as terrible as it could be. Anytime a box has the Grim Reaper wreathed in revolvers and knives, you're already off to a decent start. But what I want to know is: what, exactly, is the "1%" all about? Is that Deep Silver bragging about one of the review scores? ZING!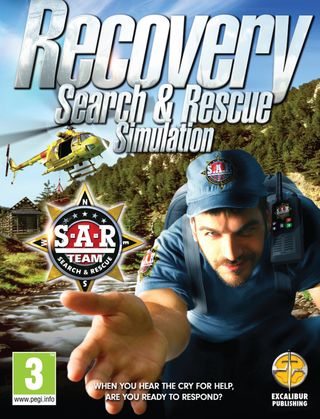 33. Recovery Search & Rescue Simulation
This game finally lets you give people the gift of SARS (search and rescue simulation). Though I'm not sure why someone thought an official in full gear and a helicopter were necessary to save me from the ankle-deep water of this creek. And I swear, that man is the spitting image of the awesome League of Legends commentator Rivington the 3rd.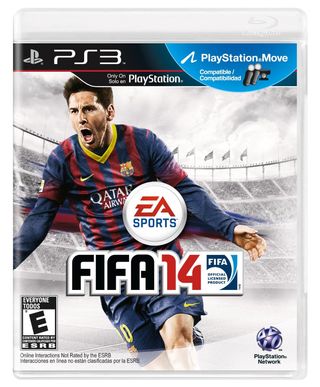 32. FIFA 14
Here we see Lionel Messi (thank you, Wikipedia) photographed in the middle of a very dire situation. It's been cropped out, but Messi's right hand has just gotten stuck in a faulty toaster, which occurred when he tried to salvage his trapped morning toast with a fork. The electricity now coursing through Messi's body is causing his mouth to scream in pain, his hair to stand on end, and his vision to short-circuit to black-and-white. Pity the man.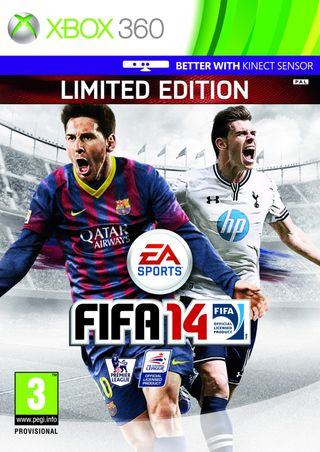 31. FIFA 14 (Limited Edition)
Now Messi's joined by a friend, who might have also been photographed mid-electrocution. That, or he's doing his very best gorilla roar. Just look at those strained neck muscles; magnificent.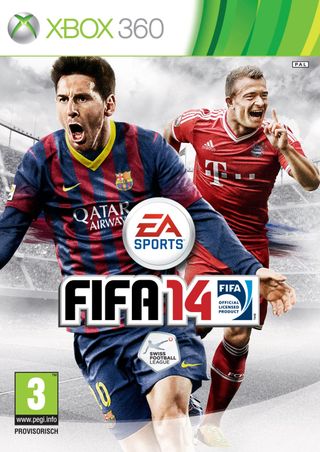 30. FIFA 14 (AU)
"I love to sing-a! About the moon-a and the June-a and the spring-a!"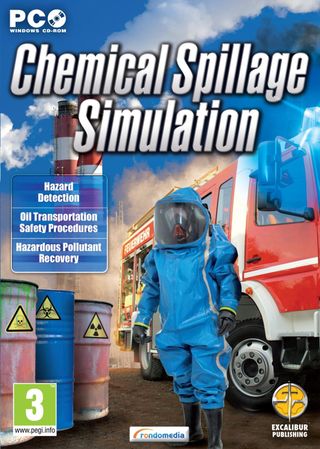 29. Chemical Spillage Simulation
Yes, that is a real game that exists. No, I don't have any idea who would want to simulate the act of cleaning up toxic waste. Yes, Excalibur Publishing certainly covered all their bases with three--count 'em, three--different hazardous material stickers on those barrels. No, that poor man did not get paid enough to pose for a picture in that suit.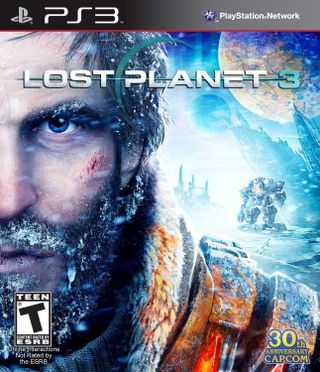 28. Lost Planet 3
"See that colossal mech, way in the distance behind me? Pretty cool, right? Wanna see more of it? Well too f'ing bad, because I want you to know just how cold I am. See all those flakes of snow in my beard? Notice how my lips are turning purple? Even my eyelashes are covered in bits of frost. But I'm man enough to deal with it. Whatchu know about my turtleneck game, huh?" I get it, Jim Peyton--the surface of E.D.N. III is freezing. I only have one question: Is that Akrid blood on your shoulder, or did you miss your mouth while attempting to drink carrot juice?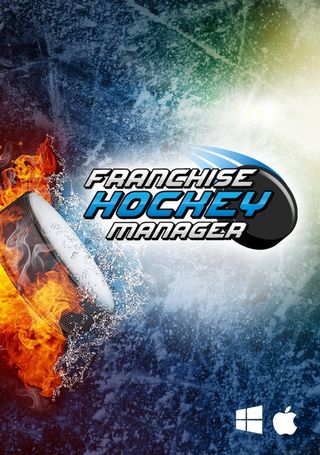 27. Franchise Hockey Manager
When you put a real-life hockey puck (which has inexplicably caught fire) next to your ClipArt-looking logo, it only makes it look that much dumber. And it looks like there's a puddle of urine dirtying the ice in the upper right.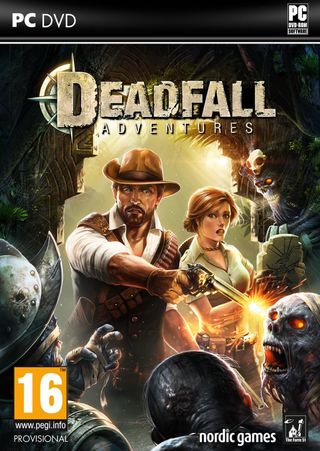 26. Deadfall Adventures
"Hey guys, check it out! This dude is shooting me in the head at point blank with a sparkler meant to look like a revolver! HAH! What an idiot. Time to devour this Indiana Jones wannabe, bandolier and all."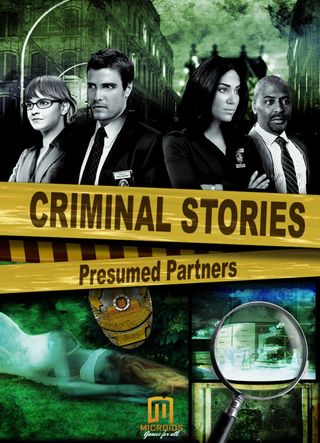 25. Criminal Stories: Presumed Partners
You may not know this, but forensics are all the rage in the HOG (Hidden Object Game) community. That doesn't make these CSI rejects any less dreary. And I was so distracted, so captivated, so transfixed by the horrendously Photoshopped eyes on the Caucasian gentleman, I almost didn't notice the seemingly dead woman who was bound, gagged, and bloodied on the bottom left of this box art. Ugh.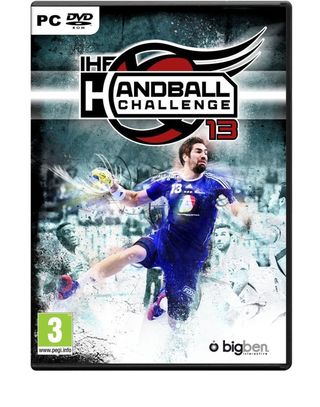 24. IHF Handball Challenge 13
I've never had the displeasure of spectating professional handball, but I have to wonder: do all handball athletes look like they're about to cry when they have the ball?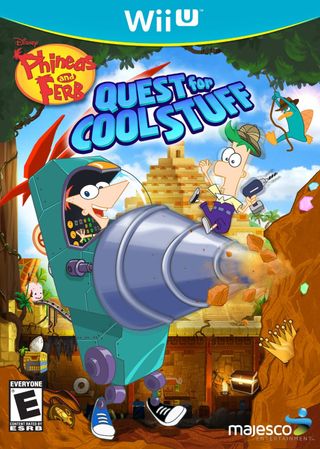 23. Phineas and Ferb: Quest for Cool Stuff
This seems like pretty standard kiddy fare. We only have a couple of issues: someone forgot to color in the left sneaker of Phineas' mech, and that treasure chest in the bottom right is literally the seventh result for the search term "treasure chest" on Google Images. Also, Ferb would probably be mulched into a bloody paste within seconds if he were standing atop a giant drill. And--hold on a sec, is that?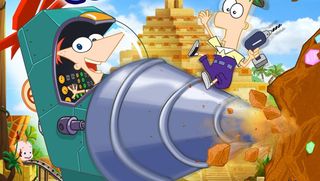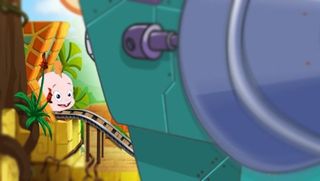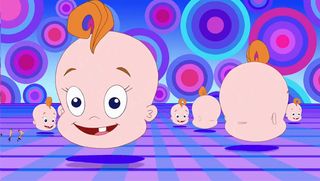 Oh. I guess unexplained giant baby heads are an actual running joke on an actual Disney Channel show.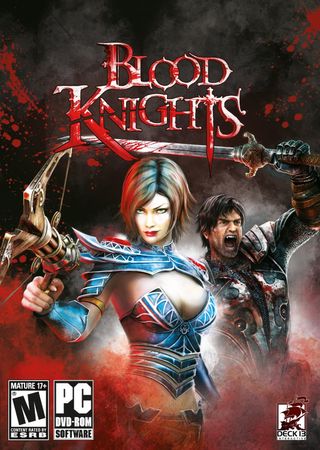 22. Blood Knights
We've heard of using photo manipulation to hide any the imperfections or wrinkles, but that poor woman's chest has been polished to the point of reflecting light. And dammit, who left the red smoke machine on again? That's the fifth time this week; people are going to think we're hotboxing 24/7 in here. Which, let's face it, we are.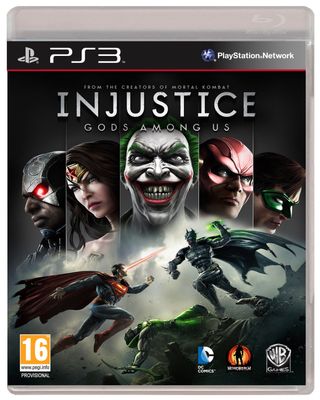 21. Injustice: Gods Among Us
It's true: people love The Joker. Doesn't mean you should stick him front and center on the cover of your game, with a garish, buck-toothed grin that completely overshadows the actual superhero fight happening underneath. And we don't care how well-prepared Batman is--the Dark Knight's pretty much just dead if Superman's shooting eye-lasers at his face.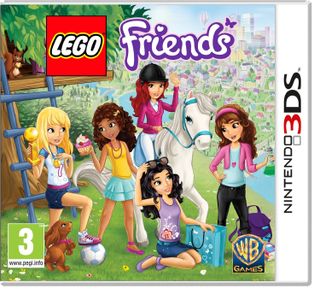 20. Lego Friends
Am I going insane? Or is there NOTHING WHATSOEVER in this image that has any resemblance to Legos? The longer I stare, searching anywhere for a hint of plastic bricks, the more I feel myself slipping into madness.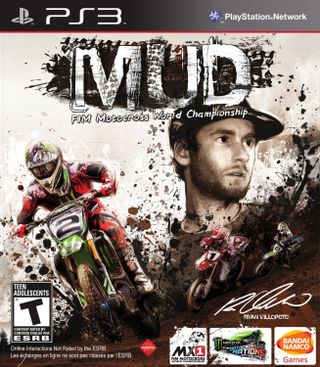 19. MUD: FIM Motocross World Championship
Ryan "Doe-Eyed" Villopoto was once an ordinary dirtbiker, content with catching mad air on some gnarly tracks. But on one fateful day, Villopoto made the mistake of racing through a government test site for nuclear bombs. The latent radiation wreaked havoc on Villopoto's DNA, causing his body's structural integrity to collapse and meld with the muddy ground beneath him. Now, he terrorizes innocent motocross competitors by bursting forth from the dirt road, disrupting the race with his huge, vacantly staring head. In some ways, that's more sinister than anything Clayface or Sandman ever did.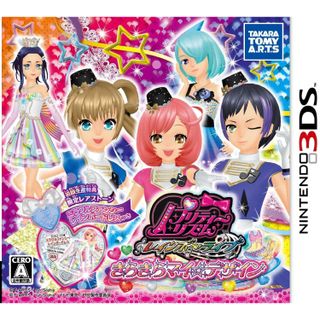 18. Pretty Rhythm Rainbow Live: Kira Kira My * Design
MY EYES! IT'S LIKE SOMEONE PUT GLITTER IN MY CONTACT LENSES! IT'S LIKE MY CORNEAS ARE BEING DIPPED IN TIE-DYE! I'll do anything you anime songstresses tell me--just please, make the psychedelic, eye-searingly dazzling torture stop.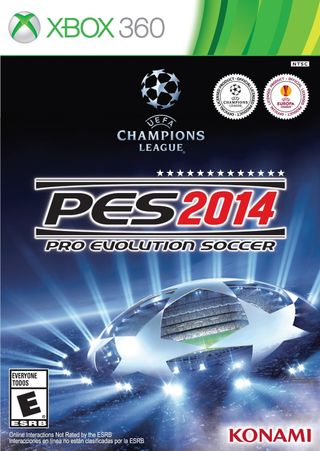 17. Pro Evolution Soccer 2014
Soccer fans might see a well-lit stadium on game night. I see an aerial view of a hostile mothership about to go Independence Day on the city below. And can someone explain those 13 stars randomly placed above the logo? Is it a soccer thing I don't get? If it is, I'm sorry and I'll delete this but right now I'm super confused.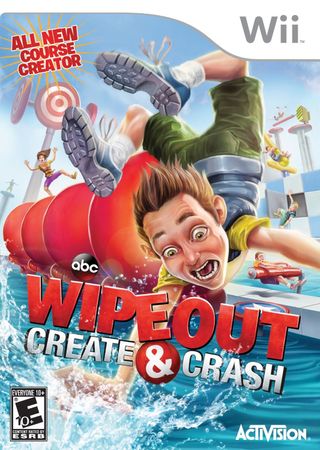 16. Wipeout: Create & Crash
Another year, another repulsive looking subhuman on the cover of a Wipeout game. If that water were recolored to look like lava, this would probably be a fairly accurate depiction of Gollum seconds before he landed in the fires of Mount Doom.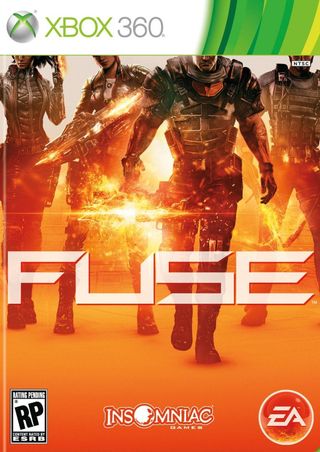 15. Fuse
You'd be forgiven for thinking this is a new production run of Valve's Orange Box. Alternatively, it looks like four people wearing way too much leather decided to pose in front of the Sunkist factory as it exploded. And of course, someone slapped an NTSC sticker over the black guy's mouth. Freakin' racists.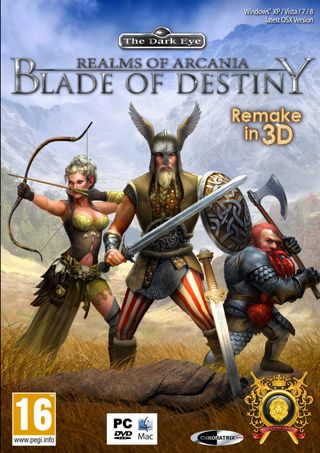 14. Realms of Arkania: Blades of Destiny
Gaze at these three brave warriors, who are about to engage in deadly combat withwhatever your imagination conjures up outside the frame. I'm personally going to go with "nothing." Instead of the sweet fighting stances, I find my eyes drawn to the viking's circus pants, and the way the archer's nocked arrow is resting on thin air. These three adventurers seemed to have stopped to investigate a rock, one which resembles an elephant turd that somebody stabbed with a sword.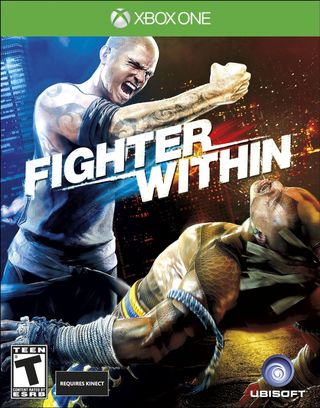 13. Fighter Within
"NYAH! Look at my new ARM TATTOO! Isn't it GREAT? Why is there a fist growing out of my LOWER BACK?! Why does your hair look like STRIPS OF DUCT TAPE?" If I had a friend who talked like that, I'd probably sneeze myself into unconsciousness too.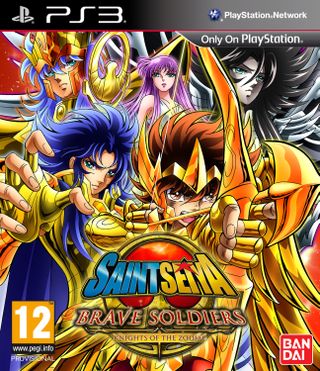 12. Saint Seiya: Brave Soldiers
I like anime as much as the next person; probably more. But this much gold armor in one picture is inarguably an eyesore. Four of the five people on this cover have the exact same face, not counting the lady's awkward-looking, wall-eyed gaze.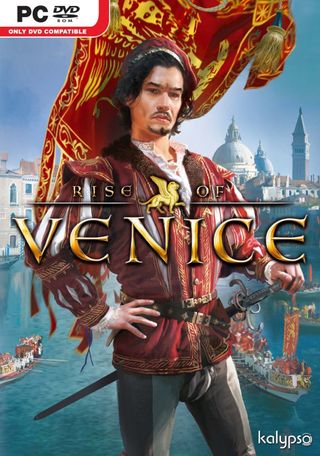 11. Rise of Venice
Look, I don't presume to know what kind of garb was appropriate during the Renaissance era. But will somebody please explain to me: what is happening with this dude's crotch? Is that a zebra-striped codpiece? A 14th century camel toe? Two gigantic spider fangs? Tell me, damn you!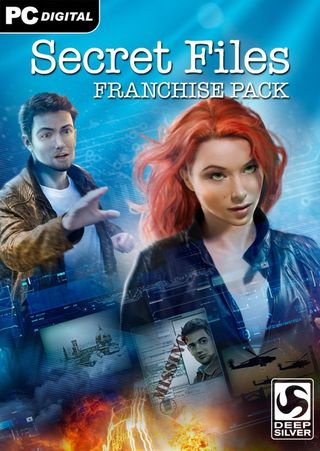 10. Secret Files Franchise Pack
I'll admit, that's a very alluring drawing of a foxy, red-haired lady. But no amount of physical attraction justifies the "DUH HUEEE" expression on that guy's dumb-looking face.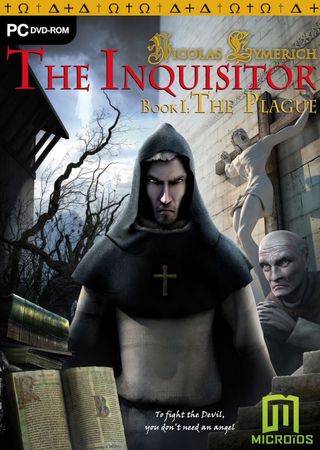 9. The Inquisitor Book I: The Plague
If my face were that freakishly long, I'd probably be grimacing like an angry sourpuss too. And call me sacrilegious, but I've never seen a crucifixion statue with such a hilariously pained facial expression.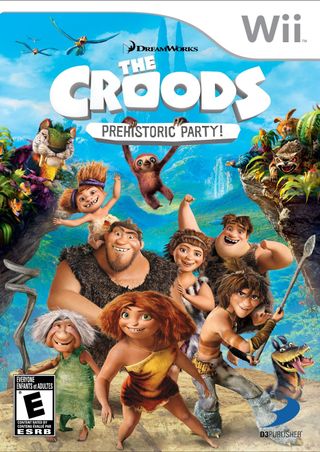 8. The Croods: Prehistoric Party!
Not since Shrek have CGI characters been so hideously unappealing. If it wasn't for that adorable sloth on the cover, I'd send a letter to a Member of Congress requesting that those involved in the making of this movie (and game) all be rounded up and shot. Yes, even Nicholas Cage.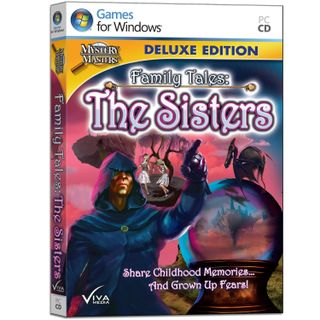 7. Family Tales: The Sisters
Another hidden object game, another shoddy, vaguely paranormal game cover. But that tagline suggests something far more unsettling and cerebral than a virtual I Spy. "Share childhood memoriesand grown up fears!" That sounds like the basis for group therapy, where deep-seated anxieties are traced back to awful, formative experiences. Some of these memories, apparently, involve a hooded man pointing at you while a pterodactyl rests on a crystal ball.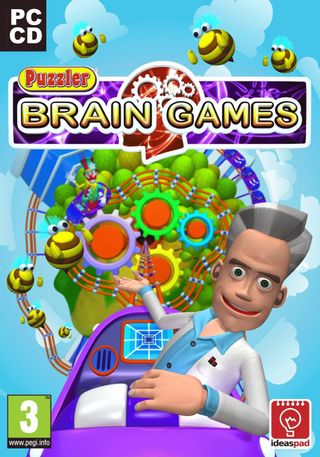 6. Puzzler Brain Games
Oh dear God. The cold, unfeeling stare this professor's giving me strikes more fear in my heart than Jigsaw ever could. His lobotomized grin suggests that my brain isn't about to be strengthened--it's about to be destroyed. This rollercoaster ride leads straight to depravity, and it's far too late to escape. And, as if this imagery wasn't disturbing enough, someone saw fit to add a clown in the background. It's a nightmare from which there's no waking up.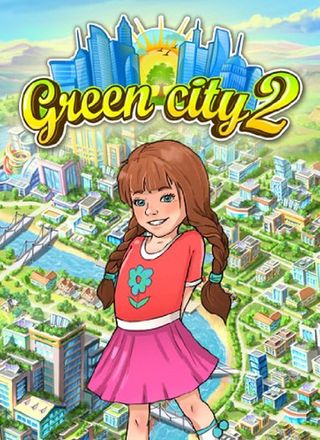 5. Green City 2
There is only one way you can buy this game as an adult male: if you are accompanied by your daughter. Otherwise, Chris Hansen will be standing directly behind you when you turn away from the register. Nice try, dirtbag.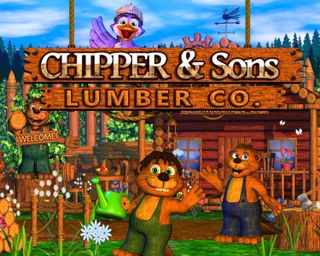 4. Chipper & Sons Lumber Co.
Move over, Animal Crossing--these Chuck E. Cheese-looking mofos are here to show you how to really water flowers and chop down trees.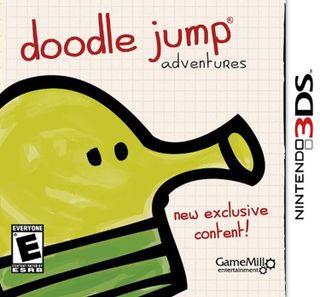 3. Doodle Jump Adventures
Let's say I've never played Doodle Jump (which, truthfully, I haven't). And let's also theorize that I have no emotional attachment to this woefully minimal watercolor creature with a lazy eye (which, again, I do not). That essentially means that this is one of the laziest box arts imaginable, offering people like me literally no reason to give a second glance in this box's direction, let alone spend $29.99 on a $0.99 game. It's the modern-day equivalent of those piss-poor Mega Cartridge boxes.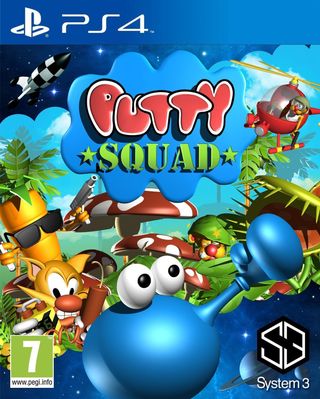 2. Putty Squad
Because nothing highlights the power of next-gen hardware like CGI from 1994.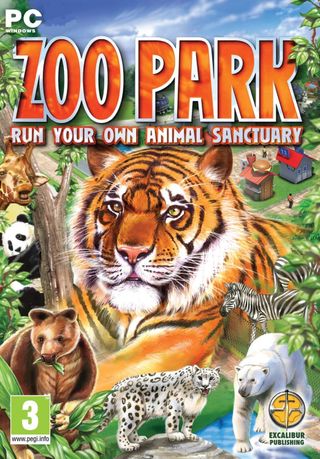 1. Zoo Park
This looks marginally better than a 5th grader's drawing. Either the artist decided to depict one of the rarest tigers to ever live with heterochromia iridum, or somebody done goofed and painted those eyes in wrong. Also, what better way to show off your animal sanctuary than in-game shots of a burger shack and restroom on the cover? AND OH GOD WHAT IS WRONG WITH THAT GIRAFFE'S FACE?!? It looks like it was dropped repeatedly on its head as a newborn, which is astounding because giraffes can't carry their young.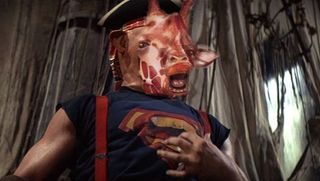 "HEY YOU GUYYYYS!" -the giraffe from The Goonies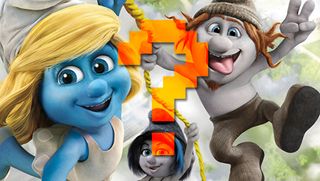 Don't (always) judge a game by its cover