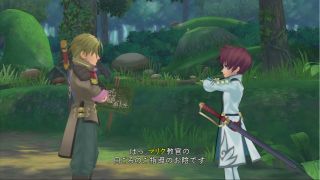 Tales of Graces f boss guide
Tales of Graces f is the latest installment of the much loved Tales series. Each game brings new and great things to the series but there is always one constant among them all tons of big, bad bosses. Before we jump into this guide here are a few tips that can help you out with any boss fight.
First, pick a difficulty that suits you. For the purpose of this guide we played on Moderate. This is a higher difficulty then the game starts on and gives a player a better understanding of the bosses. If you are new to RPG's, this is not the difficulty for you. Knock it back to Normal or Simple to have a more enjoyable time.
Second, make sure you approach boss fights with balanced parties. A balanced party will give you the edge in any battle and this is especially true for bosses. Also, do not be afraid to manipulate the Artes each of your characters has. Cheria for instance is your main healer. However, she also has offensive spells that she will try to cast. Sometimes it is best to shut those off so that she will only cast healing magic, ensuring you get those heals when you need them.
Last, spend some time leveling up. Sometimes your biggest problem may just be your level. If a boss just seems impossible, go back and take a few minutes to level up. Approaching the boss 5 levels higher may be just what you need to beat him. Now, to the bosses!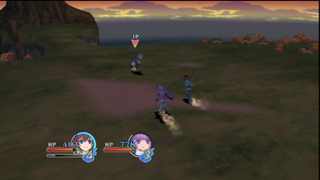 Boss 1 - Bryce
The first boss of the game is not much of a challenge. This fight really boils down to blocking effectively and then following up with attacks. Bryce has a fairly consistent attack pattern so once you learn it, simply block or dodge his attacks then follow up with your own. You do not have to do anything crazy to beat him, simple A-Artes will get the job done in short order. Be mindful of his power though. A few hits can quickly get you down to critical HP and from there it can be tough. Sophie is your only source of healing so if you are caught with low HP and she can't heal you, things can get rough. Just make sure to have a solid guard up and you should have this guy down in no time.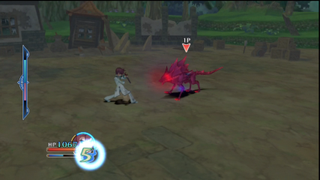 Boss 2 - Nova Wolf
Youre older now and the first major test of this is of course, a solo boss fight. Start this fight by blocking and dodging. Attacking will accomplish nothing. After 8 seconds or so a cutscene will trigger and you will unlock a B-Arte that has a Nova attribute. Once you get this start hammering into the wolf with your new attack, the Nova will play two key roles. When he has the red aura around him you can use Nova to smash it and allow you to do normal damage to the boss. Secondly, this boss is weak to Nova based attacks so you will do bonus damage with each strike. For this reason I suggest the majority of your attacks come from your new B-Arte. Normal melee attacks and Demon Fang will work, but you won't get that handy damage increase. Aside from that the boss is fairly simple. If the boss enters Eleth Burst, make sure to dodge and run away. You can't stun him during this and your attacks won't do much damage. Wait for the timer to run out before continuing on the offensive. If you keep up a solid defense with plenty of dodging to avoid his hits, which can get pretty vicious on higher difficulties, you should be fine.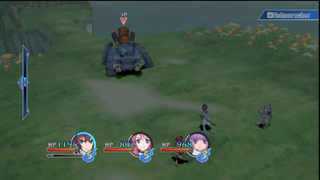 Boss 3 - Helmcrusher
This fight can drag on but is actually quite easy. The best thing to do is stay behind the boss. By staying behind, you can avoid all of his damage and you will be able to lay some serious hurt into him. If he does turn to target you, make sure to step back or dodge to the side. A few hits can quickly make your HP disappear so you should always be cautious. Another great thing to get into the habit of is attacking your enemies with your allies simultaneously. When you do you will get a damage increase and often times the enemy will get stunned and be unable to move. The damage increase you receive can be extremely powerful and will really add up as the fight goes on.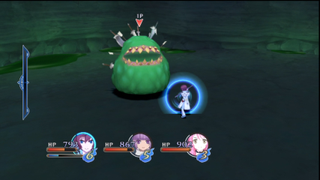 Boss 4 - Queen Slime
This slime can be one big pain and its not because of its damage or health. No, this fight gets annoying because she summons in little slimes to help. Any time she does this you should instantly focus on eliminating them. They are very weak to A-Artes so spam them with it until they die. They aren't very powerful but left unchecked they can cause huge issues to your healers when they are trying to cast spells. Having your healing spells interrupted is not something you want happening often. Once you have taken care of the little slimes, continue your assault on the queen. She isn't too powerful and other than summoning in minions, she won't give you too much trouble.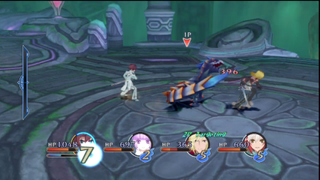 Boss 5 - Mercurius
This boss will seem extremely easy until he petrifies you. For most of this fight if you remain on the offensive, you shouldn't have too much of an issue with this big lizard. Attacking with your teammates will really help you to tear through him as you will get that damage increase and you will stun him. The big problem comes when he charges his special attack. He will remain perfectly still and a purple/pink ring will form around him. When this happens, you want to get away from him quickly. Once unleashed this attack will petrify anyone it hits. Although petrifaction is not permanent it is still a huge disadvantage and should be avoided as much as possible. If someone in your party gets petrified, try to keep them safe and keep the monster away from them. Other than that keep on pounding away and before you know it he will be dead.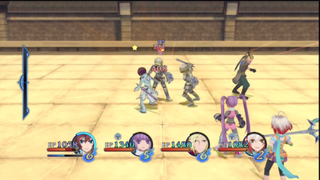 Boss 6 - Malik
Who would of thought you would be fighting Captain Malik? He doesn't go easy on you either; this fight can be a huge test of your skills. First, deal with his minions. They are formidable foes on their own and left to their own devices they will punish your party. They do not have any particular attacks to look out for so just defend when necessary and then hammer them with attacks. As the fight goes on they will respawn, so do not be surprised if you end up having to kill them repeatedly. Malik himself is powerful but fortunately he attacks rather slowly. In all likelihood, while you deal with his minions, the rest of your party will probably be beating away Maliks health. If you stay on the offensive with him and interrupt his magic you shouldn't have a problem. Just keep an eye out for minions, you don't want them to pop in and mess with your mages.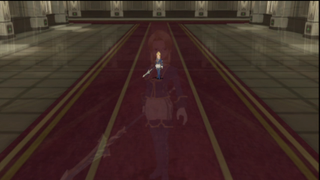 Boss 7 - Victoria
Frost Breaker. Lots and lots of Frost Breaker. This is a B-Arte that you can learn and not only is it a generally a great attack, Victoria happens to be weak to frost damage. Make ample use of this attack during the fight to make her HP disappear. She shouldn't give you too much trouble until she gets low on HP. Once she does, she can use a Mystic Arte on you during Eleth Burst. As I have stated for all bosses, do your best to be nowhere near her during her Eleth Burst and she won't be able to use it. If someone is near it, expect the person she is attacking to die or at best, be extremely low on health. Other than her Meteor Crush attack, she shouldn't be very difficult. Keep your guard up and make sure when you see your allies attacking her you jump in with Frost Breaker to get that bonus damage.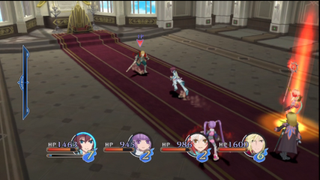 Boss 8 - Cedric
Richards Uncle won't go down fast. He is not a fast character and for the most part, his attacks aren't too punishing but he has a ton of health. The best way to eat away at that huge HP pool is to attack all at once. Getting the damage bonus for long combos can really cut the time down on this battle. As with all bosses when he enters Eleth Burst, make sure to stay away from him. Sadly, your allies won't always do this but try your best with at least your controlled character. When he is in Eleth Burst he can use Destructive Hellflare. This will drop whoever it hits, and it also has a large area of effect, so try to stay away from other party members during his Eleth Burst. As he gets lower in health he gets a little more aggressive. So as long as you maintain a solid defense, and avoid him during Eleth Burst, you will be able to chip away his HP and eventually take him out of the picture permanently.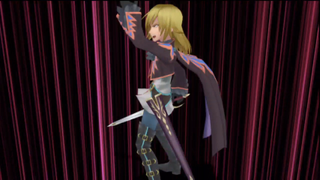 Boss 9 - Richard (first encounter)
Your friend is now your enemy. Fortunately for you he isn't a very good one. First, you should make sure to equip any attacks that have Nova on them, such as Lightning Strike. Richard will sometimes put up a barrier that you must break using Nova. This fight will mostly be about attacking and interrupting him. Richard is largely a caster so he will spend a lot of time trying to get away from you to cast spells. If you remain on the offensive you can constantly interrupt his spells and you keep him stunned so that your allies can jump in and help. Of course, it is not all easy and when Richard enters Eleth Burst make sure to stay as far away as possible. He unleashes Bloody Rose during his Eleth Burst and it will likely kill whomever it hits. Fortunately, this is the only real thing you need to worry about during this fight because other than that one move, Richard is a pushover.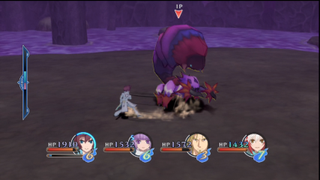 Boss 10 - Entrails Parasite
Who would have thought you would be fighting a boss inside a boss? The first stage of this fight will go by quickly. Just focus on attacking and in short order, the boss will break apart into 5 smaller versions of itself. Once this happens you should focus on just one at a time. The 5 monsters move fairly slowly so your party should have an easy enough time avoiding them. Simply attack and kill one monster than move on to the next. Before long you will have killed them all and cured the Rockgagong.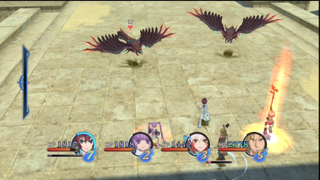 Boss 11 - Dispater
The first thing to note is that these are both Nova monsters, so you will want to make use of any Nova based skills you have. Lightning Strike or Phantasm Slash both work well here. These two baddies won't give you too much hassle overall. They are fairly weak and move rather slowly. That doesn't mean you should throw caution to the wind, but you should approach this fight as offensively as possible. Focus on taking out just one and let your allies do their own thing. Likely by the time you have dealt with yours, your allies should have chipped a reasonable amount of HP off the other. For once you also do not need to worry about their Eleth Burst. Although its still best to avoid them even though they don't have a special attack that will instantly kill you.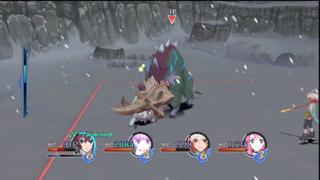 Boss 12 - Bladehorn Boar
This fella can be the biggest pain of any boss faced so far. He isn't the easiest to stun but when you can, you will shred away his HP. He will occasionally call in allies, but they are weak and can be dealt with quickly. The catch of this fight is as he nears death, he enters a new attack pattern. He will burrow underground and attack from below. This attack is devastating to your party. Your allies will have a terrible time blocking this move and can be picked off by just a couple of attacks. As you can see in the video, our party was shredded by it. The best approach you can take is to go all out on him the moment he pops up. Hopefully, you will stun him and can finish him off. If not, you just have to try again. But if you want the easy way out, use an hourglass to freeze time for 5 seconds and finish him off.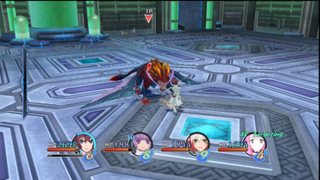 Boss 13 - Veres
Another beast boss steps up to try to take you out. Thankfully this griffin-like enemy is one of the easier bosses. He is fast and tends to be hard to stun but otherwise won't give you much of a hassle. He occasionally summons in help, but they will be no match for your party. Try to remain on the offensive as much as possible and dodge only when necessary. His attacks aren't all that damaging but he tends to do a series of attacks, so if you are caught in the first one, you will take a serious beating by the end. Just stay away from his claws and keep pounding on him as a team and before long he will be done.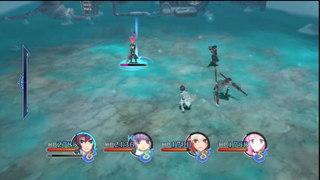 Boss 14 - Kurt
This fight is going to be crazy. Before anything else, level up. We had to grind up a bit but even then our team got messed up. As for the fight itself you should quickly try to eliminate the people helping Kurt. They will respawn but they are also very weak and will die within a few seconds. Kurt is the main problem here. He is extraordinarily powerful. One attack is enough to drop your weaker characters and his combo attacks can drop even Asbel. There is no easy way to defeat Kurt. You will have to have a very good defense and pick your attacks well.
Try to keep his attention focused on Asbel so that your mages can do their best to hurt him. He is tough to stun but when you do, make sure you take the opportunity to hit him with every attack you have available. An All-Divide item can be used here with varying results. You will cut down his power but also your own. The problem is that his attacks will likely still be so powerful that you won't gain much by using it. Your best method here is to just defend like crazy and attack during the brief windows he gives you. Be prepared for a long fight and make sure you have a bunch of Gels and Life Bottles.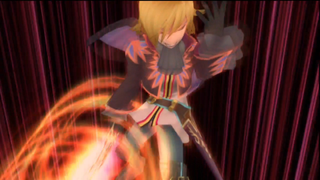 Boss 15 - Richard (second encounter)
Once again you are forced to fight your old friend and once again he is not going to be very tough. This will be quite a refreshing fight after the grueling Kurt battle. Richard remains largely unchanged. He will spend a lot of time trying to use magic so you will have ample opportunity to stop him and get him stunned to deliver a nice long chain of attacks. He is fairly weak over all and the only time you should be concerned is when he is in Eleth Burst. As usual, you should avoid him during this period devastating. Other than that, make sure to remain on the offensive and just like before, Richard will go down easily.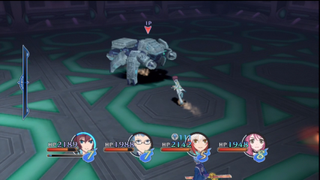 Boss 16 - Polycarpus
This fast machine can really smack you down if you are not careful. His attacks are very powerful and all it takes is one good one to knock someone down to critical health or even kill them. However to balance out this power he has a weakness, he is incredibly easy to stun. You should have no problem getting him stunned and then performing a 10+ hit combo on him. Make liberal use of Concussive Bolt to stun him and keep him from moving. He also happens to be weak to its paralyze effect so this is a added bonus. This fight won't last long and if you can just steer clear of his powerful punches, you should have no issues shutting this machine down.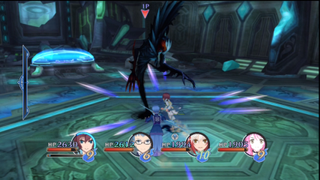 Boss 17 - Lambda
For being the big baddie, he really is a pushover. This fight should go off easily. He is weak to A-Artes so you can just use your normal attacks to damage him. Of course, Nova attacks work well also. He is very easy to stun so you should have no issue getting huge combos off on him and doing tons of damage. His attacks do pack a bit of a bunch but if you keep him stunned, he won't have much chance to use them. Just remain on the offensive and before you know it, you will kill him.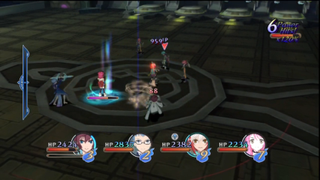 Boss 18 - Centuroid and Veritoid
This fight against the humanoids is fairly straightforward. Firstly attack the two Veritoids in the back. They are very weak and after just a few B-Artes they should die. Now focus all your attention on the Centuroid. He is pretty fast but his attacks aren't all that powerful and he is easy to stun and chain huge combos on. Make sure as you beat on him to keep an eye on the field as the Veritoids will respawn after a little bit. When they do, make sure to make them the priority before going back to Centuroid. Keep up the attacks and before long these baddies will be down and out.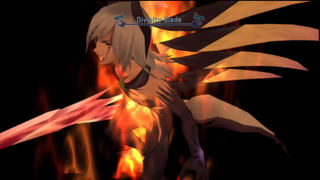 Boss 19 - Richard (third encounter)
Yet again Richard attempts to take you out of the picture. At least this time he brings his A-game. Richard is very easy to stun. When you do, it shouldn't be too difficult to deal 10,000 damage on him or higher. He is still very weak to Nova attacks so make sure to include them into your combos. The difference from the older Richard fights is that he has become a melee fighter and his hits can really hurt. Between your combos make sure to keep up a solid defense. Do your best to keep his attention focused on Asbel to keep your mages out of harms way. Richard is quicker now as well, so things can get out of hand quickly if he runs off after Cheria or Pascal.
His Eleth Burst should also be avoided as much as possible. His special attack during Eleth Burst will drop one person easily and will likely take someone else out as well. Your offense is the best defense here. If you can keep him stunned for most of the fight it will go by easily. If he spends too much time running around, things can get crazy. Do your best to keep him stunned and not let that happen.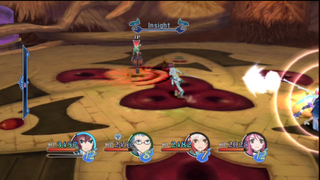 Boss 20 - Emeraude
This ally turned villain can really tear into your party. Her magical attacks are very powerful and can wipe your party if you are not careful. Fortunately, she is pretty easy to stun and this can really help prevent a lot of the damage you would normally take. Once again, a solid offense is your best defense. Keep her stunned so she doesn't have enough time to cast any spells. She doesn't have a lot of defense, so a high combo can yield devastating results on her. However, as is the trend with the later bosses, she can enter Eleth Burst and use a special attack that has a very wide area of effect and is very powerful. The best thing to do is avoid her during Eleth Burst and hope at least one teammate survives. Other than that little issue, if you keep her stunned and chain some good combos on her, the fight should go smoothly.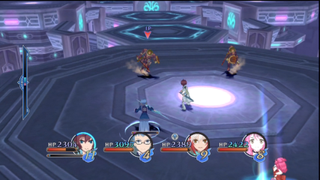 Boss 21 - Dullahan
These two warriors are much easier than you would think given how close to the end you are. They are very weak to B-Artes, they are weak to Nova and to top things off, they are easy to stun. Simply focus on one and constantly hammer on him with Lightning Strike or Phantasm Slash and he will die pretty quickly.
They do not have the best defense and their offense, although strong, is relatively slow and shouldn't give you problems. Just use tons of Nova-based Artes and they will die in no time.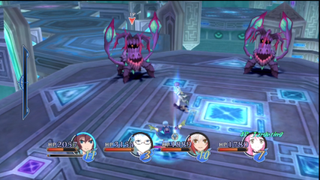 Boss 22 - Plunsap Treant
This fight is very similar to the Dullahan fight. They are weak to Nova and are very easy to stun. Use your Nova skills frequently and try to combine your attacks with your allies to start a high combo and receive a damage bonus. They have a lot of health but they are very slow and don't have very powerful hits. When they die they turn into four small enemies. A few Nova-based attacks will kill them off. Focus on one at a time and before long they will both be dead.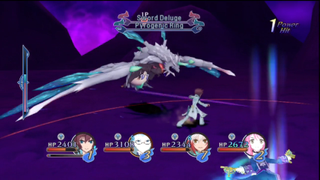 Boss 23 - Proserpina
These two fliers will go down just like the last two boss fights. They are both weak to Nova and are easy to stun. They also tend to be on the slower side like the Treant boss. These guys do pack a bit more of a punch, but overall, its a very similar fight to the Treant. Focus on one at a time, hitting him as often as you can with Nova-based attacks and he will die. When one dies, you will be able to switch to the other target and take it down as well.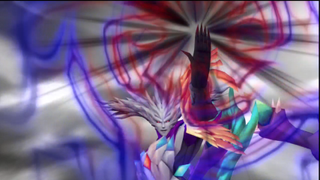 Final boss - Lambda Angelus
Here we are at the end. Lambda is in his final form and he is no slouch. First, I suggest you enter this fight with Phantasm Blade upgraded to its max. It is very useful here and having it performing at 100% effectiveness is going to be helpful. Second, if you are having trouble with this boss, go level up. All the skill in the world sometimes can't make up for the fact you are fighting the boss at too low a level. We did this fight with Asbel at 64 (on Moderate difficulty) and had a very tough time as the fight dragged on.
As for the fight itself you should try to remain as offensive as possible. Hit him with Nova-based skills as often as you can. When you aren't attacking, make sure you are defending and dodging. He isn't the fastest boss you have faced but he is very powerful. A key thing here is to make sure he focuses on Asbel or whomever you chose to control. If he goes after your mages, they won't survive long and you will lose a key part of your party. It is inevitable that someone will die though and when they do, don't be afraid to get them up using an Elixer. Have at least five before entering the fight so you can easily revive teammates at full health. If Asbel goes down, the fight is much easier if you can get him up with an Elixer so he has full HP to instantly engage the boss again.
Disaster Flash is his special attack during Eleth Burst and boy does it hurt. This Arte will drop anyone it hits and it has a very large area of effect. As soon as he enters Eleth Burst, make sure Asbel is the maximum distance away from him so that you do not get it. Do not be surprised if 2 or 3 of your allies go down when he uses this move. There is sadly no real way to block this. You will just have to eat the attack and hope to survive. An All-Divide would cut that damage in half but once again it will cut yours in half as well and that is not always a good thing.
Aside from Disaster Flash, he shouldn't be difficult to deal with. He hits hard but not too often and if you maintain a good offense you should keep him stunned most of the time. If things get rough, do not be afraid to use your items. Elixers, Hourglasses and Arcane Bottles are great, and this is the best times to use them.