Marvel Studios is well into Phase Three of its plan to take over the world with above average superhero movies. With the release of Guardians of the Galaxy 2, we're now looking ahead to Spider-Man: Homecoming and Thor: Ragnarok. And we all know where it's leading, right? Avengers: Infinity War.
There's a few more stops on the way to that epic showdown though, so to make sure you don't miss a single step in the vast movie universe which is the MCU, we've put together a list of every Marvel movie planned to 2020. With more solo outings (Black Panther), sequels (Ant-Man and the Wasp), and debuts (Captain Marvel) - here's your ultimate guide to every upcoming Marvel movie.
Want the MCU so far? Here's every Marvel Cinematic Universe movie, ranked from worst to best.
Spider-Man: Homecoming
Release date: July 7, 2017
So, technically, Spider-Man: Homecoming isn't a Marvel Studios movie because Sony Pictures still owns the rights to the Spider-Man franchise, but they're working with Marvel to bring a new Spidey to the big screen so it's officially part of the MCU. After Tom Holland's Peter Parker made his debut in Captain America: Civil War, Homecoming will see the young web-slinger get his own solo movie. Directed by Jon Watts, it will focus much more on Peter Parker's school and home life and reintroduce classic comic elements like how difficult it is to keep your secret identity secret from the girl you have a crush on.
Here's everything we know about Spider-Man: Homecoming so far.
Thor: Ragnarok
Release date: November 3, 2017 (US)/October 27, 2017 (UK)
And now we get to the first MCU movie which continues the story of one (or two, actually) original Avengers. It's been a while since we caught up with Thor and the Hulk as the pair were absent from Civil War, but Thor: Ragnarok is here to give us an update. Directorial duties have been handed to Taika Waititi, the New Zealand director responsible for the cult vampire mockumentary What We Do In the Shadows, and filming is well under way. Not much is known about the plot but it looks like Thor and the Hulk will be going head-to-head away from Earth. The movie has also added Cate Blanchett as new villain Hela, Tessa Thompson as Valkyrie, Karl Urban as Skurge, and Jeff Goldblum as the eccentric Grandmaster. Plus, Tom Hiddleston's Loki, Jaimie Alexander's Sif, and (probably) Anthony Hopkins's Odin will be back.
Here's everything we know about Thor: Ragnarok so far.
Black Panther
Release date: February 16, 2018 (US)/February 9, 2018 (UK)
Spider-Man isn't the only superhero getting his own movie after making his debut in Civil War - Chadwick Boseman's Black Panther will also be getting his own film directed by Creed's Ryan Coogler. Now that we're getting further away from this year's releases, details are scarce - we know that Black Panther will be set in Wakanda and that it will focus on the "family and royal struggle of T'Challa" so perhaps we can expect a different kind of civil war? The cast has been filled out with The Walking Dead's Danai Gurira, The Force Awakens's Lupita Nyong'o, Fantastic Four's Michael B Jordan, and Forest Whitaker joining.
Here's everything we know about Black Panther so far.
Avengers: Infinity War
Release date: May 4, 2018 (US)/April 27, 2018 (UK)
This is what most of the Marvel Cinematic Universe has been building to: the war for the Infinity Stones. They're basically the Dragonballs of the Marvel universe, granting near-limitless power to whoever possesses them. They were first introduced in Captain America: The First Avenger, with the glove designed to contain them showing up in Thor, and then before we knew it various stones starting appearing in numerous MCU movies. Many MCU superheroes will converge in the Russo brothers' Infinity War, including the Guardians of the Galaxy (who have so far remained separate from the rest of the mostly-Earth bound superheroes) and Captain Marvel who will make her debut.
Here's everything we know about Avengers: Infinity War so far.
Ant-Man and the Wasp
Release date: July 6, 2018 (US)/July 2, 2018 (UK)
Ant-Man was a huge gamble for Marvel Studios - relatively little-known hero, focus on comedy - but it seems to have paid off well enough for the studio to greenlight and fast-track a sequel to squeeze into the end of Phase Three. And, in case you hadn't noticed, this will be the first MCU movie which features a female lead in the title. Yes, Ant-Man 2 is actually Ant-Man and the Wasp, and returning director Peyton Reed promises there's a good reason for this. Unsurprisingly, Paul Rudd and Evangeline Lilly will be returning as Scott Lang and Hope van Dyne respectively, but there's also a good chance we'll see Michael Douglas back as original Ant-Man Hank Pym.
Here's everything we know about Ant-Man and the Wasp so far.
Captain Marvel
Release date: March 8, 2019
To the shock (and horror) of fans, the first female-led MCU movie won't be a Black Widow movie, but a debut for Captain Marvel. As this is one of Marvel's finale films of Phase Three, not much is known about the movie just yet, but we do know who'll be playing the superhero as Oscar winner Brie Larson was welcomed to the MCU at SDCC 2016. Still no word on a director yet but Meg LeFauve and Nicole Perlman are on board to write the script.
Untitled Avengers: Infinity War sequel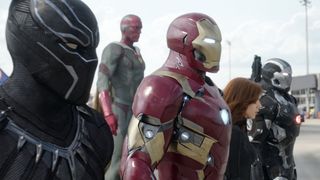 Release date: 3 May 2019 (US)/26 April 2019 (UK)
Marvel originally announced that we were getting Avengers: Infinity War - Part 1 in 2018 with Part 2 following the year after, but it's since been confirmed that the Avengers: Infinity War sequel is currently untitled. Does this mean the two movies aren't part of the same story anymore? Doubtful, but it does throw into question everything we thought we knew about this second movie. Basically, take what we know about Avengers: Infinity War and remove that for its sequel. We know nothing other than the fact that the Russo brothers are directing.
Spider-Man: Homecoming 2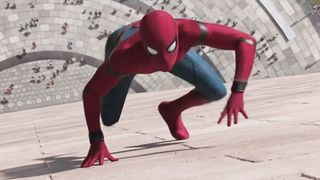 Release date: July 5, 2019
Spider-Man: Homecoming might not be out for almost 6 months, but a sequel has already been greenlit. I assume it's the same deal as with the first movie - so a Sony-Marvel Studios team-up rather than a straight MCU movie - but other than the fact that is will probably star Tom Holland as Peter Parker/Spider-Man (shocking, right?) that's kind of all we know. Go away now.
Three untitled movies
Release date: May 1, July 10, and November 6, 2020
We know that Marvel has plans for three currently-unannounced movies for 2020, but we don't know what they will be yet. President of Marvel Studios, Kevin Feige has hinted that Guardians of the Galaxy 3 has been talked about and it's also possible that the previously scheduled, but technically now scrapped Inhumans movie could be one as well. For now, we just don't know.