The best swag for all your Westerosi needs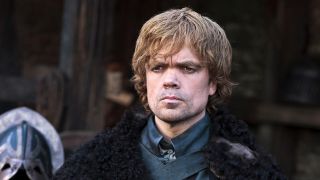 You can watch Game of Thrones and you can read Game of Thrones, but sometimes that's not enough! What if you want every waking moment to be about Game of Thrones? That's where the merchandise comes in. Upgrade the daily grind of making breakfast with a mug of coffee that bears the emblem of your favorite House. Or break out the swords to spice things up around the office. It all depends on your level of dedication - if you just fancy a t-shirt, then that's perfectly okay too. Have a mosey through our selection of the very best offerings that any Game of Thrones fan has to have in their life.
Collector's Edition Monopoly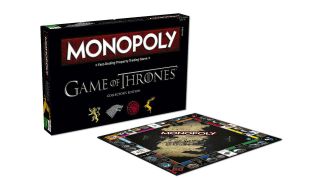 The obligatory game of Monopoly at Christmas need never be boring ever again. This GOT-themed version dresses up the traditional locations to places from the show, so you can fight your siblings for ownership of Winterfell. House and hotel pieces are switched out for villages and keeps, bringing a level of added cool, but the best part is the tokens. The one thing that will definitely have the whole family squabbling is - of course - who gets to be the Iron Throne.
Buy it UK: £26.95 on Amazon
Buy it US: $43.37 on Amazon
Direwolf book ends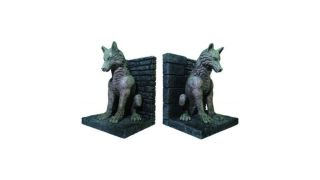 Direwolves are protectors - typically of their human companions. Imagine what terror they'd bring to any potential thieves after your first edition of A Dance With Dragons! Sadly, the HBO store doesn't ship actual Direwolves (yet) so you'll have to make do with a pair of bookends that look like the Stark kids' oversized pets. They've got terrific posture that ought to keep your most prized tomes in order.
Buy it UK: £79.48 on Amazon
Buy it US: $69.37 on Amazon
Hodor t-shirt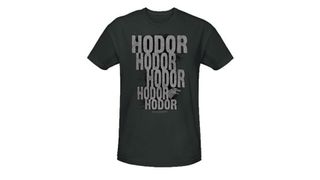 There are a lot of Game of Thrones shirts out there. Narrowing it down the one that really speaks to you can be tough. Do you go for a straight-up logo across the chest? Or something a bit more 'inside baseball'? The Hodor shirt strikes a nice balance between the two. It gives you chance to display your love of the show by wearing something other than a "You know nothing Jon Snow" shirt. They're so 2014.
Buy it UK: HBO Store EU, £18
Buy it US: HBO Store, $25
Game of Thrones-themed ales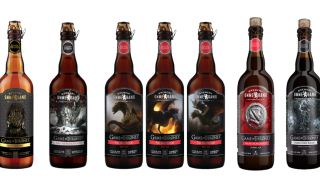 It's easy to get carried away with GOT drinking games - the one where you have a drink every time Tyrion takes a swig is a surefire way to miss the end of an episode. Why not really get into the spirit of season six by emptying your couch cooler of PBR and Fosters to make way for some Westeros inspired ales? The Ommegang Brewery in New York has produced five in total: Iron Throne, Take The Black Stout, Fire and Blood, Valar Morghulis, and Three-Eyed Raven. I'm not sure how the creators know what a three-eyed raven tastes like, but, it'd imagine it's quite hoppy with a fruity aftertaste that demands attention. Where can I buy it?ye UK: eBay, £15+ US: Ommegang's beer finder, $8-15
Lunchbox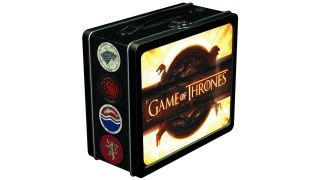 "Winter is coming: you'd better pack a lunch!" is just the best marketing tagline ever. This embossed, litho-printed collectible turns the dreaded early morning lunch prep into a fun activity. Not everyone gets to cart their cheese-and-ham panini around in a stylish container, you know. Plus, the latest version of the box is made from a sturdier tin than earlier iterations - so it can take doorstopper sarnies and maybe even one of those GOT ales. Where can I buy it? UK: Amazon, £16 US: Dark Horse, $13
Targaryen heat-sensitive mug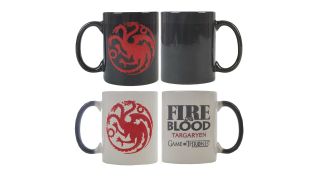 Remember those Hypercolor t-shirts everyone wore in the early nineties? They were great weren't they? This item is similar, except it's 100 times less likely to get you beat up round the back of the bike shed. This black mug bears the Targaryen three-headed dragon sigil, which changes to white when you make a hot drink in it. It's also a really helpful way to stop yourself from accidentally chugging cold tea. Where can I buy it? UK: Amazon, £19 US: HBO Store, $18
Night's Watch poster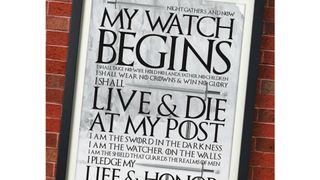 It's time to take down the Pulp Fiction poster you've had up since college and replace it with this monochrome piece of wall art. The Night's Watch induction oath sounds terrific and it looks just as good printed in a GOT-friendly typeface. Relive the oath that the poor bastard Jon Snow once uttered and pretend that you were right there beside him, pledging allegiance to a bunch of front-stabbing traitors. Where can I buy it? UK: Etsy, £10 US: Etsy, $13
Lannister banner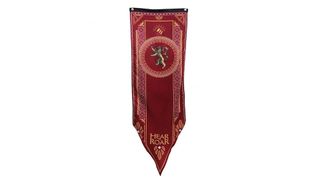 With the exception of Tyrion, the Lannisters are a mean bunch. Rotten to the core or not, they've still got one hell of an eye for art. The family banner is a striking assembly of visuals: a blood red background, the gold lion sigil and the motto 'Hear me roar.' It works as a swanky piece of interior decor, or up in your front window whenever the show is in season. Just to really rile up the neighbors. Where can I buy it? UK: Amazon, £18 US: HBO Store, $25