If you don't fancy having a monster of a gaming PC next to your TV or finding space for a monitor, you don't have to give up on PC gaming full stop. Gaming laptops are perfect for playing away the hours before shutting the lid and storing them away ready for another session. You can even plug into your TV via HDMI and have all the benefits of a gaming PC with none of the space issues. There's also the lovely portable option. Not only have gaming laptops now reached the point you can happily play VR on a train if you have a plug point and aren't worried about looking like an ass, they've also got far lighter and slicker so you aren't carrying around a brick in your backpack. But which is the best gaming laptop for you?
Control freak
Whether it's battery life, graphical prowess or weight, it's time to work out what you actually need. This list includes the very best of what's out there. From laptops aware of your budget to serious graphical beasts ready to eat your VR games for breakfast. The gaming laptop demographic is so well-served right now that even the most staunch brand loyalists should be able to find a great computer from their PC manufacturer of choice. So long as the laptop you're buying has, at minimum, an Intel Core i7 processor, a GeForce GTX 960 (or higher) graphics card and 8GB or more of RAM, it'll be competitive with what's on this list. For those of you who simply want the best available, regardless of who makes it, read on. Here's our definitive list of the best gaming laptops.
1. ASUS ROG G752VT
Best all-purpose laptop for on the go
CPU: Intel Core i7 6700HQ | Graphics: Nvidia GeForce 970M 3GB | RAM: 16GB | Screen: 17.3" | Storage: 128GB SSD & 1TB HDD | Camera: HD Webcam | Weight: 3.9kgs | Dimensions: 16.4" x 12.7" x 1.5"
Excellent build quality
Great display with hardware G-sync
Large and heavy
Short battery life
The Asus ROG G752VT definitely isn't the thinnest or lightest gaming laptop out there, but what it lacks in svelteness it more than makes up for in all-around performance and capability. The 17.3", 1080p display is bright and steady thanks to Nvidia's hardware-level G-sync technology, and the Core i7/970M processor and graphics card combo means modern games run at high or ultra settings will little or no compromise. If luxuries like a 4K display and ultra-portability don't top your list of priorities, you'd be hard pressed to find a better all-around gaming laptop than the Asus ROG G752VT.
Best for... Performance gaming in a no fuss package.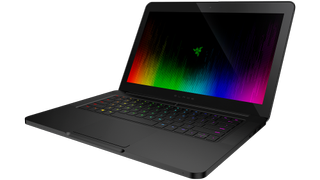 2. Razer Blade
The gorgeous Macbook Pro of gaming laptops
CPU: Intel Core i7 7700HQ | Graphics: Nvidia GeForce 1060 6GB | RAM: 16GB | Screen: 14" IPS Display | Storage: 256GB SSDD | Camera: HD Webcam | Weight: 1.86kgs | Dimensions: 0.70" x 13.6" x 9.3"
The 1060 is incredible for gaming
Ultra slick and beautiful
Gorgeous screen and keyboard
The price might make you wince
Fans can get noisy
It's hard to say a negative word about Razer's ultra gorgeous Blade. Somehow managing to fit an Nvidia 1060 into that slick form factor, and boasting an impressive battery life, this 14" aluminium offering is an incredible powerhouse. Cold to the touch in sleek aluminium, the Blade is instant on, thanks to its 256GB SSD (it can go all the way up to 1TB) and has a super crisp IPS screen. Plus, that's not a spello above in the specs. Somehow it weighs only 1.86kg and can happily crank Witcher 3 up to high settings. The GTX 1060 also helpfully means that this is one of the most stylish VR ready laptops you can buy. Add in the incredible twinkling individually backlit Chroma keyboard - complete with the Synapse software of all of Razer's peripherals - and this is one of the best gaming laptops on the market today. Invest in this and you won't regret it.
Best for... Those looking for the ultimate in style and power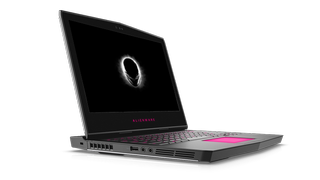 3. Alienware 13
A slick little VR powerhouse that won't break the bank
CPU: Intel Core i5 7300HQ | Graphics: Nvidia GeForce 1050 2GB | RAM: 8GB | Screen: 13.3" Display | Storage: 180GB SSD | Camera: HD Webcam | Weight: 2.6kgs | Dimensions: 0.87" x 13" x 10.6"
Excellent performance
Small and slick with unique hinge design
Brilliant array of upgrades
Great customisation options
Battery life isn't great
Dell's Alienware brand has been through a massive revamp in recent years and now offer an impressive array of truly excellent systems. Instead of just relying on fancy lights - don't worry those are still here - Alienware now has a tremendous line up of powerful gaming PCs that'll happily deliver everything you need but won't bankrupt you. The Alienware 13 is a perfect example. This gaming laptop is a slick exercise in engineering with a unique hinge design and, despite being somewhat heavier than the Razer Blade, is still clearly gunning for the Macbook Pro market.
The array of ports is excellent and it even comes with Alienware's proprietary Graphics Amplifier Port that'll let you beef up the GPU performance at a later date. You won't have to think about that for a while though. Gaming performance with the 10 series of Nvidia cards is exceptional - you can upgrade from the base 1050 to a 1060 - and this little 13" laptop is VR ready, even if you will have to plug in pretty quickly. An ultra fast SDD means everything starts instantly and the base offering of 180GB of storage means plenty of space for your Steam library. Throw in the fully customisable exterior lighting and this is a luxuriously solid piece of tech with an impressive gaming punch.
Best for... Those who want to balance style and performance
4. MSI GS72 6QE Stealth Pro 4K
Great performance in a slick shell
CPU: Intel Core i7 6700HQ | Graphics: Nvidia GeForce 970M 6GB | RAM: 16GB | Screen: 17.3" 4K Display | Storage: 256GB SSDD & 1TB HDD | Camera: HD Webcam | Weight: 2.6kgs | Dimensions: 16.5" x 11.3" x 0.8"
Beautiful and super-thin for 4K gaming
Great graphics card
Ultra fast loading thanks to SSD
It's not for you if you're on a budget
If portability is your primary concern, the MSI GS72 6QE Stealth Pro 4K offers high-end performance in as svelte a package as you're likely to find. Its 17.3" 4K display is beautiful and while obviously more imposing that the 15.6", the fact it's less than inch thick means it happily slots into a laptop bag and looks lovely with its brushed aluminium effect. Like other 4K gaming laptops, most games will still need to run in 1080p for optimal performance but the 970M graphics card is well up to the job with the 6GB version as standard. Add in the ample storage HDD storage space and a nice speedy solid state drive for your operating system and this is a beautiful, if expensive, package.
Best for... 4K gaming in a luxury form factor.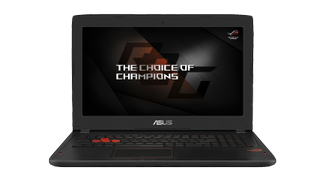 5. Asus ROG Strix GL502VT
Great graphics in a solid form factor
CPU: Intel Core i7-6700HQ 2.6-3.6Ghz | Graphics: Nvidia GeForce GTX 970M 3GB | RAM: 16GB | Screen: 15.6" IPS display | Storage: 128GB - 256GB SSD & 1TB HDD | Camera: HD Webcam | Weight: 2.2kgs | Dimensions: 15.35" x 10.47" x 0.92"
Great graphics card
Ultra light for a 15" laptop
Great screen
Battery life isn't brilliant
It's Asus' second entry on this list but the ROG Strix is another brilliant all rounder and is definitely one of the best gaming laptops for 2016. The battery life isn't great but it's got everything else going for it with a great graphics card (the 6GB version of the 970), a slick form factor and brilliant IPS display for multi angle viewing. There's also a USB Type C to keep you suitably future proofed for fast transfer and all your standard ports, including three USB 3.0s. Plus, as usual, Asus has handily marked our your WASD keys in red if you've not got the muscle memory built in.
Best for... Gaming on high settings on a mid-range budget
6. Lenovo Ideapad Y700 15"
The best bet for budget-minded buyers
CPU: Intel Core i7-6700HQ | Graphics: Nvidia GeForce GTX 960M 4GB | RAM: 16GB | Screen: 15.6" | Storage: 256GB SSD & 1TB HDD | Camera: HD Webcam | Weight: 2.6kgs | Dimensions: 15.2" x 10.9" x 1.02"
Great price point at sub £1000/$1000
Good battery life
On the heavy side for a 15"
It may not be top-of-the-line as far as graphics are concerned, but the Lenovo Ideapad Y700 leads the pack when it comes to budget. The Ideapad Y700 is a perfectly capable 15" gaming laptop for almost half the price of the industry's median MSRP. It won't be winning any benchmark contests, and some games may have to dip down to Medium settings to achieve 60+ FPS but the Nvidia 960M is still a great graphics card that should be able to tackle all the latest games. Overall the Ideapad Y700 is a solidly built, capable laptop with excellent battery life, a great 15.6" display and the most palatable entry fee around.
Best for... Great gaming on a budget
7. MSI GT72VR 6RE Dominator Pro
The ultimate VR-ready monster
CPU: Intel Core i7-6700HQ | Graphics: Nvidia GeForce GTX 1070M 8GB | RAM: 16GB | Screen: 17.3" | Storage: 256GB SSD & 1TB HDD | Camera: HD Webcam | Weight: 3.8kgs | Dimensions: 16.8" x 11.6" x 1.8"
Perfect for VR
The GPU means high and ultra settings on the latest games
Not good if you're on a budget
Do you want to play everything at high and ultra settings, sacrificing nothing for your quest for pixel free glory? Then look no further than this beast of a gaming laptop from MSI. Not only does the Nvidia 1070 mobile chip mean all your PC games should run effortlessly, it also means it's the best gaming laptop on this list for virtual reality. It's compatible with the HTC Vive and even has enough ports for the USB hungry Oculus Rift headset. As you can probably tell by the name, it's not light and it's not super thin but if you want exceptional performance then this is the only laptop for you. Add in the Steel Series keyboard and this is a serious investment for no nonsense portable performance gaming.
Best for... Virtual reality and high performance gaming on a luxury budget