Aannnnnd, action!
They can be both cheesy as hell and well-respected. They bust down boundaries with their steel toe-capped boots and set stuff on fire in the most over-the-top ways imaginable. Simply put, there's nothing quite like an action movie. Grizzled antiheroes going up against the most dubious of villains, car chases, and so. many. explosions. Who doesn't like watching a badass walk away from a fiery blast... and then drop a one-liner we'd never have the cajones to say in a million years? The amount of action movies out there are in the gazillions (that's a rough ballpark figure) so it can be tricky finding the right one to fit your needs. That's why Netflix's streaming selection is the perfect place to start. We've whittled down its action titles to 25 of the best, but as this list goes to show there's more to a good actioner than just blowing stuff up and looking cool. Not much more, though.
25. A Lonely Place To Die (2011)
Region: US
If you've skipped past this thinking 'Ugh, it's that bleak rock climbing documentary AGAIN' then fix that problem, pronto. I won't lie, there is mountaineering involved but watching Melissa George and co. navigate some absolutely horrendous terrain makes this movie worth a watch. The group in question find their outdoorsy weekend interrupted when they discover a kid buried in a box in the middle of nowhere. Yep. That sort of thing doesn't just happen and it's not long before they're being pursued by loads of very athletic bad guys. If you like balls-to-the-wall action flicks with a side order of thrills add this to your queue. Now.
24. Robin Hood: Prince of Thieves (1991)
Region: US
"There's no love.... like youuuuur love!" Ahem. Sorry, but it's impossible to think of this movie without that Bryan Adams' song running through your head. Robin Hood's story is so well trod that we don't need to rehash specifics here. And besides, Hollywood thought the only tweak the do-gooder's story needed was American accents. Kevin Costner's his usual aloof self as the heroic outlaw, Alan Rickman proves he's the best bad guy ever as the Sheriff of Nottingham, and who doesn't love a bit of '90s Christian Slater?
23. Get The Gringo (2012)
Region: US
Mel Gibson's got himself into a lot of hot water over the last decade and that's perhaps why this little gem slipped through the cracks. Get The Gringo - or How I Spent My Summer Vacation to the UK crowd - is a terrific blend of action and comedy that's a lot funnier than it looks. It's a throwback to Gibson's heyday, back when he could fire off one-liners and pistols at the same time. Let's not forget, when he's good - and not offending minorities - Gibson's hella likeable. He's superb in this colourful and snappy movie that casts him as a getaway driver wrongly incarcerated and stuck in a Mexican prison, where - like most convicts - he really needs to escape.
22. Hellboy (2004)
Region: US
Imagine if Buffy had, oh, I don't know, inadvertently stolen a demon baby from the Hellmouth (I know, a lot of logistics to consider). She might end up raising a red-faced babe with giant rocks for fists and a penchant for cigars. That's Hellboy. There's no way the stuff he gets up to would ever make it uncut onto TV though. He's a good guy, sure - who works to protect Earth from a whole host of beasties - but he's got a sailor's mouth and a huge bloomin' gun. And he's often fighting Nazis. This is the creme de la creme of genre action entertainment folks, from the pages of a cult comic transferred to the screen by Guillermo Del Toro. He's also got horns growing out of his head and loves kittens. What more do you need to know?
21. Legend of Drunken Master (1994)
Region: UK
Jackie Chan's done a lot of martial arts movies over the years (no kidding!), but it's Legend of the Drunken Master that shows off his expertise better than any other - yes, even Rush Hour. Chan's got the lot here, charm, timing and an ease with martial arts that makes it look like he's been doing it since birth. He plays a Chinese folk hero who attempts to take down the British consul from embarking on a nasty exporting scheme. His unique set of skills - Zui Quan, aka Drunken Boxing - are way cooler than anything Liam Neeson could whip out of his repertoire. Lightning-fast kung fu, anyone?
20. V For Vendetta (2005)
Region: US
When you think of action movies, the mind usually leaps to Baybuster-inspired explosions and tough guys with mullets walking away from said explosions. Action's often seen as the 'check your brain at the door' genre. V For Vendetta asks: why can't we have brains AND explosions? A dystopian tale based on the Alan Moore comics and written for the screen by the Wachowskis, it takes place in a fallen London - and there's no Gerard Butler in sight. No, this is V's show, a masked vigilante who leads a rebellious movement to overthrow the fascist government regime. Think Brazil meets The Matrix and you're getting close.
19. Django Unchained (2012)
Region: UK, US
Sandwiched slap bang in the middle of Inglourious Basterds and The Hateful Eight is Tarantino's second period piece. The thinking man's actioner, where the talk flies as fast as the bullets from a well-oiled pistol. Jamie Foxx plays Django, a branded slave, who teams up with Christoph Waltz's bounty hunter Dr. Schultz. A deal is struck and the odd pair kick ass and take names on their way to rescue Django's beloved from the evil Calvin Candie. Everything leading up until the showstopping climax is good, it just doesn't compare to that almighty final scuffle. Add this to the list of roles Leo should have won an Oscar for.
18. Headhunters (2011)
Region: UK, US
Headhunters. Aka, the one where you actually root for Jaime Lannister. Norway's highest-grossing movie of all time is a non-stop brawl. It features Nikolaj Coster-Waldau as a former special forces operative who is targeted by a high-profile arts thief played by Aksel Hennie. See, the Kingslayer owns a priceless painting that Hennie's chap would quite like hanging on his wall - he just doesn't realise his mark is a well-trained, uber-assassin who could kick his ass to Sunday. He carries out the robbery and gets himself thrown into a world of hurt. Action doesn't always need to play itself down, and Headhunters is proof that you can have brains and brawn.
17. Equilibrium (2002)
Region: UK, US
In a world where feelings are outlawed... you can totally hear that in trailer guy's voice, can't you? Back to the plot: feelings are bad. So bad in fact, that a totalitarian government has outlawed them. Citizens are forced to take drugs everyday to suppress their true desires, but should you miss a dose and start to get all gooey you'll get tracked down by lethal enforcers. Which is where the fun starts: Christian Bale's operative does just that and begins to ponder if the government really has any right to steal humanity of its, you know, humanity. You can probably see where this is going. Bale happens to be trained in several martial arts, leading to some absolutely bone-crunching sequences where a coup is all but certain.
16. Black Hawk Down (2001)
Region: US
Watching Black Hawk Down today, some of its flaws seem to stick out like a sore thumb, but the throng of your pounding pulse ought to drown them out. It's a tricky subject to tackle, the 1993 Battle of Mogadishu, when a U.S. Delta Force unit's attempts to capture a Somalian leader go horribly wrong. Ridley Scott handles the topic bravely, never making it clear who are the 'good guys' and who are the 'bad guys'. In turn, the action genre formula gets flipped on its head, as brutal killings stand side-by-side with some rather heart-wrenching moments of heroism.
15. Kickboxer (1989)
Region: UK
Jean-Claude Van Damme, aka the muscles from Brussels, definitely earnt his title on lean, mean fighting flick Kickboxer. This movie does what it says on the tin: get JCVD greased up and beating the shit out of people. It's all about the blood, sweat and the many manly tears that go into winning a fight. Roll out the montage mat, 'cause his road to victory against the evil Tong Po is all about practicing his craft. A lot. Somehow that also involves getting drunk and dancing in a bar wearing MC Hammer pants. Yeah, just watch it.
14. Mission: Impossible - Ghost Protocol (2011)
Region: UK
The one where Tom Cruise scales the world's tallest building. Let's face it, the Mission: Impossible movies don't grip us because of their cunning plots. There's no point in pretending that they're anything other than what they are: high-octane, A-list blockbusters of epic proportions. Each film works in more and more crazy stunts that involve Ethan Hunt and his crew of lackeys tracking down a piece of tech, or a really bad man. Or both. And then at some point Cruise gives the studio insurance guys a heart attack. Ghost Protocol jump-started a franchise that had been asleep for five years in the biggest, baddest way possible.
13. Stretch (2014)
Region: US
Why Stretch was denied a cinema release is astonishing. Luckily, it showed up on Netflix pretty quickly and found an audience that absolutely love it. Myself included. It's told over the course of one night, following Patrick Wilson's limo driver from one self-induced crisis to the next, as he tries to rustle up $6000 to avoid getting his kneecaps smashed for a gambling debt. Chris Pine arrives as the oddball millionaire who offers to pay off the money if Stretch does whatever he asks. Things get weirder still, as Stretch encounters the ghost of a former colleague, Ray Liotta, and a mysterious competitor called The Jovi.
12. Jack Reacher (2013)
Region: UK
If the Mission: Impossible movies - Tom Cruise's other action franchise - are all about going big, then Jack Reacher is the exact opposite. Cruise isn't leaping from planes, he's knuckle-dusting outside a dive bar. At first glance it looks like an MI knock-off - partly because Rogue Nation's Christopher McQuarrie wrote and directed it - but give it a go and you'll be pleasantly surprised by just how much Cruise can do without all the showy million-dollar stunts.
11. Butch Cassidy and the Sundance Kid (1969)
Region: UK
Butch and Sundance were the first action movie bromance. The first pair to wield guns and take down the bad guys in the hippest way imaginable. Their antics paved the way for countless action duos, trading off each other with witticisms galore and fighting off bandits like it ain't no thing. As leaders of the hole-in-the-wall gang, they find themselves pursued by a bunch of hired goons and decide to hide out in Bolivia to ride out the storm. Compared to modern actioners, the plot is relatively light, but who cares when you've got Paul Newman and Robert Redford ambling around being too cool for school.
10. Elite Squad: The Enemy Within (2010)
Region: US
Before Jose Padilha directed the not-so-great Robocop remake, he brought us the superb and brutal Elite Squad. He followed it up with an equally-insane sequel that continues to chart the path of Captain Nascimento, the leader of Rio De Janeiro's elite police squad. Supposedly based on 'real events', it went on to become one of the biggest hits in Brazilian cinema for its blisteringly violent take on political corruption. Nascimento's ascent up the power ladder finds him working as a security officer caught in a massive battle between devious officials and devious cops. If you dug City of God, you'll love this.
9. The Guest (2014)
Region: UK, US Dan Stevens made his name as the terribly nice Matthew on Downton Abbey, but smashed that reputation to smithereens as the ripped, suave lunatic at the front of this superb '80s throwback movie. Director Adam Wingard takes the best of John Carpenter, from the synth-heavy score to the tightly-framed fights, and spins the whole action genre on its sweaty bonce. It's scary and it's thrilling, and in case you didn't already know this, its moral is quite simple: don't answer the door to strangers. No matter how damn piercing their blue eyes might be.
8. Reservoir Dogs (1991)
Region: US
What's not already been said about Quentin Tarantino's debut? It pinches heavily from the Hong Kong classic City on Fire, sure, but put the two side-by-side and they couldn't be more different. This marked the birth of a new era of crime cinema. It hacks away at the tired action formula, giving its circle of perpetrators something to talk about other than the job. Tarantino's ear for realistic-sounding dialogue is what sets this apart, and, it's what left the biggest mark on cinema. How many times since have you listened to gangsters, goons and crooks drone on about the details of their day-to-day lives? That's all thanks to the reservoir dogs.
7. The Killer (1989)
Region: US
This piece of Hong Kong martial arts action is what made the world pay attention to John Woo. It rewrote the rules of the genre. Woo's made many brilliant films, yet it was The Killer that introduced his visual style to American filmmakers, who have in the years since tried to imitate his gun-play and rapid hand-to-hand fight choreography. He also made Chow Yun Fat into a bona fide action hero. Even though he has the most un-actiony name ever (it's Jeffrey).
6. Gladiator (2000)
Region: US
Okay, so let's just forget Ridley Scott's tendency to ignore historical accuracy. He's not in the movie business to teach us authentic lessons plucked from the textbooks; he's in it to blow us away with action-packed epics. Gladiator's a mesmerising exercise for so many reasons. It shapes Russell Crowe into a believable - yet fictional - Roman general, who fights for honor and justice with his trusty sword and inspirational speeches. Considering its massive budget it's a surprise that Scott steered the action toward an R-rating, with studios preferring to market its bigger outings to a broader audience. Then again, it's easy to forgive the fudging of historical facts when the result is this much bloody fun.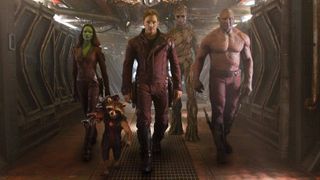 5. Guardians of the Galaxy (2014)
Region: UK
Marvel's riskiest movie to date made all the money opening weekend. Guardians of the Galaxy shouldn't have been a big hit. No-one outside of comic book circles knew who the hell they were. And yet it's the most fun you'll have from a studio that's made its name producing big, family-friendly blockbusters. Placing quirky B-movie filmmaker James Gunn at the helm is the reason why it works so well. Known for monster romp Slither and R-rated superhero caper Super, Gunn knows how to make loveable the unloveable. His script, co-written with Nicole Perlman, is crammed with loads of great one-liners and zappy space-set action sequences that never distract you from what's at stake... being a galactic badass.
4. Battle Royale (2000)
Region: UK, US
The Hunger Games is unfairly compared to this Japanese film. I say unfairly because Battle Royale is sooooo much worse. The premise is similar - a bunch of schoolkids forced to fight one another to the death - and yet, the great thing about this movie is that it had no PG-13 restrictions. Instead of having to run across a field to get weapons, Class 3-B are armed by their captors from the start. It's the luck of the draw - they might get a crossbow or a pencil. It's as if the movie craves blood. And, unlike Katniss and her preened teens, there's no hope for any of these youngsters. Either their deaths are brutalised or their souls are. Yeah, it's pretty dark.
3. 13 Assassins (2010)
Region: US
Takeshi Miike is known for making, shall we say... controversial movies. 13 Assassins is no different. What starts as a slow-paced historical tale of the underdog in 1840s Japan, quickly escalates into a crazy action film that's got some of the most unexpected weapons outside of sci-fi. It's a loose remake of the 1963 movie by Eiichi Kudo that follows a wizened samurai and his gang of do-gooders who vow to take out Naritsugu, the illegitimate half brother of a Shogun. As he ascends the criminal ranks, getting involved in a lot of violent activity, it's up to the samurai to stop him. Not quite as out there as Miike's Ichi The Killer, this is one of the best samurai flicks of the last decade.
2. Ip Man (2008)
Region: UK, US
Everyone knows who Bruce Lee is. A legend on the screen and in a fight. What about the man who taught him? That's sort of the inspiration for Ip Man. Donnie Yen made his mark playing a fictionalised version of the Wing Chun grandmaster Yip Kai-man who mentored several major martial arts experts, and this takes you back to where it all began. In 1930s China the Japanese invade Yip's town, and it's up to him - and his amazing skills - to take down their leader. While the appeal here is finding out about the man who trained Lee, it's well worth checking out to see Yen deliver some historic beat downs.
1. Lethal Weapon (1987)
Region: US
Shane Black made his mark when he wrote Lethal Weapon. An eighties action classic that's far darker than its lesser sequels would have you remember, it gave us the best buddy-cop pairing of recent times. Mel Gibson and Danny Glover play Riggs and Murtaugh, a couple of officers who prefer working alone forced to overcome their mutual dislike. You know the score. It's been done countless times since, but none of the films that ripped off their bittersweet rappor managed it with such panache. There's comedy quips and action sequences aplenty as the duo seek to bring down a branch of drug smugglers. That in itself is another well-used plot device, yet you won't see it tackled with Lethal Weapon's edgy humor and nutty antics.