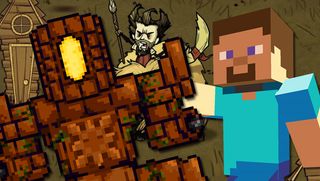 Craft, build, and survive
Minecraft has proven to be one of the most successful games of all time (it also made our list of the best games of all time), and for good reason--its a well-made release, offering players the chance to do nearly anything they want. That includes crafting, building, taking out enemies (or being taken out by Creepers), and sharing it all with friends and strangers online.
Many other titles have put their own stamp on the formula to great success. Some games like Minecraft have stayed close to the indie game that kicked off the popularity of survival gameplay, voxel-based environments, and crafting sandbox action, while others have married the concepts together with a number of other genres. Everything from first-person shooters to real-time strategy games have been fused with the popular genre, and these Minecraft clones prove it can be done with blockbuster (see what I did there?) results.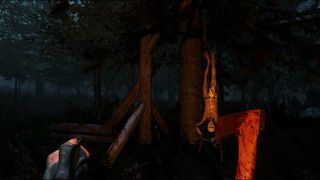 The Forest (PC)
Why it's similar: The Forest drops you in the middle of the wilderness (like literally, you crash a plane), forces you to craft weapons and shelter to survive--while creepy enemies attack you at night. It's totally like playing Minecraft--if Minecraft's creepy hissing spiders were bloodthirsty cannibals trying to kill you.
What makes it unique: This game is scary as hell. Being lost in the wilderness scavenging for food, building shelter from the weather, and fighting off aggressive club-toting locals is definitely a frightening experience. But what makes it horrifying is when those natives get the upper hand, knock you out, and drag you back to their underground lair. Not only are you trapped in the darkness with a lighter that barely works, there's terrifying creatures waiting to pounce on you from the shadows.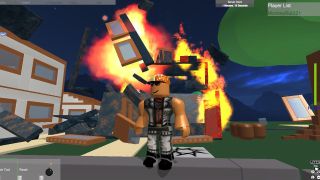 RoBlox (iOS, PC)
Why it's similar: In this massive, online sandbox, you can create just about anything that you can think of. Want to build a massive skyscraper then blow it up for your own brand of Levolution, or host a disco party with flashing lights and a DJ on stage? You can do all of that. The world is yours to create, and the possibilities seem endless thanks to the game's intricate editing tools.
What makes it unique: RoBlox puts a huge focus on the social aspects of building stuff then blowing it all up with your friends. Virtually everything in the world is created by the players, making the game perfect for those who enjoy building things in a group and being part of a community. There are already thousands of player-created worlds with themed communities and sometimes some lofty building goals. So, hop in and help start building a (better?) world.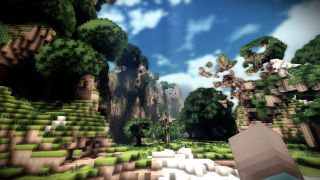 Terasology (PC)
Why it's similar: If it wasn't for the realistic in-game water, you'd probably mistake Terasology for Minecraft itself. The game has all of the elements that Minecraft has right down to the blocky hands and punchable blocks of dirt.
What makes it unique: Terasology is an open source game. So, if you are the type of gamer that likes to dive right in and contribute to the development and expansion of a game, Terasology would be right up your alley. In addition to the world destruction and building elements of Minecraft, Terasology will also allow you to do things like build up your own army of minions to help you protect your personal fortress. The game is under constant development, so there's no telling how deep the gameplay can get.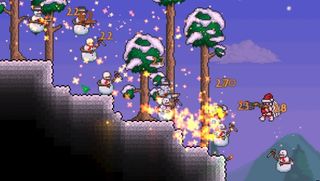 Terraria (PC, PS3, 360, Vita, iOS, Android)
Why it's similar: Many a tree will be sacrificed on your way to building shelter when you first start out in the world of Terraria. A home is especially valuable because, much like in other games like Minecraft, there are things that go bump in the night. Things that would very much like to slay you as you hide trembling in your flimsy shelter while trying to figure out what to do with your collection of resources gathered under the safety of the sun.
What makes it unique: A variety of enemies will attack at night, in areas affected by Corruption, and in dungeons. Naturally, this means there are many ways to die, but also a lot of options when it comes to disposing of the encroaching evil. Crafting buildings not only means a reprieve from the worlds evil beings, but NPCs will move in and help you survive.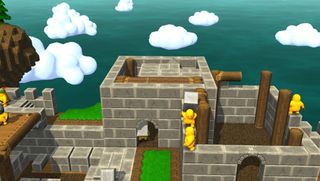 Castle Story (PC)
Why it's similar: Although it's a voxel-based strategy game, the strong focus on tactically overpowering your enemies doesn't mean you won't be building all manner of things. Like in Minecraft, you'll likely deforest floating islands in the process. But using all of those resources to build an impenetrable castle strictly with 2x1 blocks for your Bricktons is worth losing some greenery.
What makes it unique: Castle Story really focuses on your yellow dudes' strategic operations. As with most real-time strategy games, you'll have to send out troops to gather resources. Instead of bringing it back to base to simply click on an icon to build something, players actually get to design what defends their yellow people from other players and creatures in what is a perfect marriage of crafting and strategy.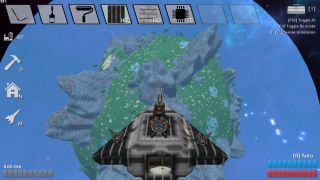 Masterspace (PC)
Why it's similar: Masterspace is pretty much just like Minecraft, except you have a space ship and there are an infinite number of planets to make your own. You can fly to any procedurally generated planet in Masterspace's galaxy, land on the voxel-based surface, and proceed to dig, craft, and customize the world as you see fit.
What makes it unique: The aforementioned space ship changes things up quite a bit. Not only can you fly around in space, but because you have space travel technology at your disposal, you won't be limited to tying two sticks and a rock together to make a pickaxe. Eventually, you'll be able to build laser guns, robots, and even customize your space ship.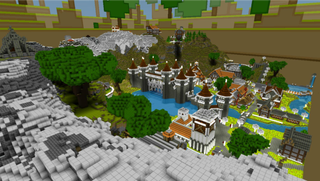 Guncraft (PC)
Why it's similar: The destructible voxel-based design that makes up the game's maps and cubed characters (headshots are a cinch thanks to the blockheads) give off a distinct Minecraft vibe. Would-be builders are also able to design their very own "prefabs" to construct in the middle of battles. While not always useful, it gives those with creative brains a way to flex those muscles.
What makes it unique: It borrows heavily from other gaming staples like Call of Duty, offering things like vehicles, class load-outs, and a number of modes.This eclectic mix of gameplay styles--including racing--really helps the game shine. Gamers who love customization will revel in the ability to create their own guns,maps, and prefabs to lay down in the middle of gunfights.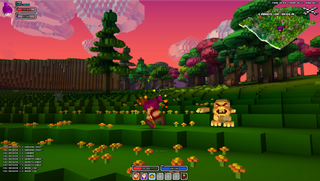 CubeWorld (PC)
Why it's similar: The roots of this game are crafting and randomly generated worlds full of blocks as far as the eye can see. It's especially rewarding to customize weapons, armor and jewels. Changing your gear and look is a nice way to show off to anyone who happens to join in on your merry adventuring.
What makes it unique: Imagine the lovechild of Minecraft and The Legend of Zelda series raised by Super NES-era action RPGs. Inspired by exploration-heavy games, Cube World gives players an arsenal of skills to better help them trudge through the endless world. Choosing a class and specialization in order to battle evil turns the game from simple exploration simulator to a true adventure packed with missions, bosses, and creepy caves to explore.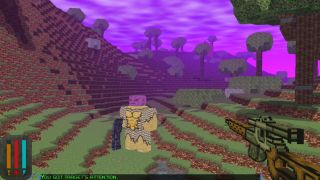 3079 (Mac, PC)
Why it's similar: As soon as you take a look at 3079's in-game visuals, you can't help but think Minecraft. And if you're in love with the blocky visual style of the sandbox builder, 3079 is sure to win you over. However, there isn't much building going on in 3079. Instead, there's a lot of shooting and killing things--like demons and huge giants.
What makes it unique: 3079 is set in a sci-fi world and drops you in the middle of a war between one group of blocky people and another group of floating blocky people. Instead of digging for resources, fighting off zombies, and crafting weapons like you would in Minecraft, 3079 works more like a classic RPG. You'll find towns filled with NPCs who will give you quests, shopkeepers to buy new items, and high-powered projectile weapons to add to your arsenal. It's a much more guided experience than Minecraft, but the RPG elements give you a fresh take on the Minecraft-inspired world.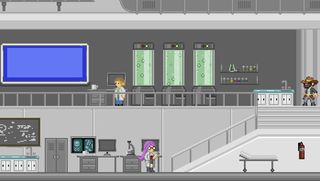 Starbound (PC)
Why it's similar: The tagline for the game says it all: "survive, discover, explore, and fight." That's essentially what Starbound is all about. An infinite universe means there are loads of possibilities in this cooperative 2D game when it comes to shaping the world, and also finding new locations to set up shop.
What makes it unique: Like all good stories, Starbound is all about the journey and not necessarily the end goal. Exploring the game with friends--whether it is just to farm, try your hand at space exploration, or create weaponry for quests--is fresh every time. While it's open-ended, quests and NPCs make the game feel like it has more of a purpose, with a story to boot.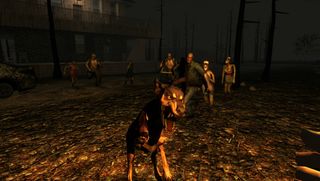 7 Days to Die (PC)
Why it's similar: There are few things associated with survival and scavenging more than the horror of having to survive a zombie outbreak. And unlike the other games like Minecraft on this list, 7 Days to Die leans more on the horror genre. The realistic, dark world may not look like some sandbox games made in the same style, but that doesn't mean it shies away from the genre's tried and true gameplay staples. Scavenging, crafting traps, and building shelters are all well represented--as is the likelihood of failure.
What makes it unique: One of the greatest joys (or scariest moments) in this post-apocalyptic game is putting together a shelter. It's essential to not becoming a meal, and unnerving if you're not sure your meek fortifications will hold up. Players have to be mindful of structural integrity when putting up a new abode, making for a more realistic fight for your life.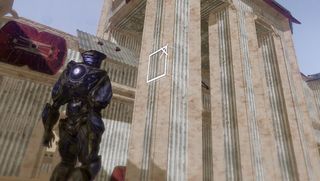 StarForge (PC)
Why it's similar: Exploration and Sci-Fi collide in this world builder that looks equal parts Halo and Minecraft. Gathering resources for base construction, crafting, and surviving on an alien planet are just the tip of the iceberg in this terribly ambitious take on the popular sandbox survival genre.
What makes it unique: StarForge isn't just a game about building and survival; it also involves shooting aliens in a living, breathing world. It's about looting, defending a base with a friend, and allowing ambitious builders to connect the planet with outer space where you can build space stations that put NASA to shame. The developers also promise to eventually add role-playing game elements in future updates, a sure sign of success.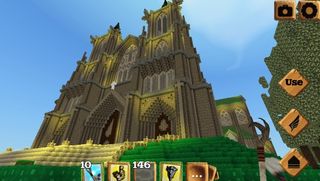 Block Story (PC, Android, iOS)
Why it's similar: Fortresses and the game world are at your mercy in this 3D voxel sandbox game. Players can craft either structure as they see fit. Resources gathered by clearing the land can also be used to turn your busted sword into an epic lightning sword, or magical items suitable for an adventurer.
What makes it unique: There is one thing not at your adventurers mercy: dragons. They have fire, they think you look tasty, and they're not afraid to make you aware of that fact. Luckily, role-playing elements will help you vanquish the fiends while completing quests, downing bosses, and recruiting companions. Those who want to continue the adventure when they leave home can thanks to the cross-platform play between the PC and mobile versions.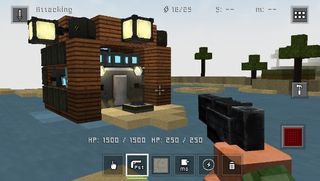 Block Fortress (iOS)
Why it's similar: Its all about survival in Block Fortress. Like any of the other games like Minecraft on this list, living depends on how well defended your barracks are from hordes of enemies. That means building armaments, walls, and other features including something as simple as a light in order to see at night all become vastly important. Construction is limited only by what players can think of throwing together, and how quickly they can mine valuable resources.
What makes it unique: This mobile game combines three genres: first-person shooter, tower defense, and sandbox. After fortifying the barracks as best as possible, its time to equip weapons and help smite foes looking to invade your base of operations. Each of the three genres holds their own as far as gameplay goes, creating a mash-up that totally works.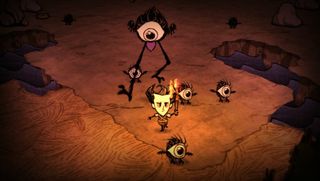 Don't Starve (PC, PS4)
Why it's similar: The Creepers iconic hiss and ability to scare the bejesus out of players is replicated nicely here. Dont Starve has a number of similarly terrifying enemies on hand to end players when darkness washes over the spooky games world. It doesnt help that Wilson is all alone and has to survive by crafting tools and shelter with incredibly limited resources.
What makes it unique: The wonderfully gothic aesthetic looks like a children's book fused with an H.P. Lovecraft tale. Just like the title indicates, this roguelike game places a greater emphasis on simply not running out of food. Staying nourished has never been so tough, and fire has never been a greater friend.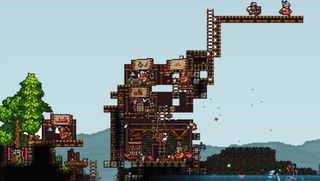 King Arthur's Gold (PC)
Why it's similar: Freedom to design and build a castle is simply a blast. You'll dig into the medieval land around your abode, and generally use the environment to fend off invading players as an archer, knight, or aptly named builder. Both construction, and the often hilarious destruction is what King Arthur's Gold is all about.
What makes it unique: With up to 32 players in multiplayer, KAG can become quite chaotic--in a good way. Crafting cool castles in order to better prepare for all of the skirmishes is important, but so too is the fighting. Players will have to learn how to properly utilize the three classes, and also get used to the physics-based objects at your disposal, like the catapult. And there are also sharks, and sharks are awesome.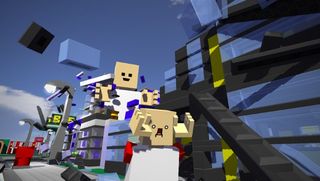 Blockland (PC)
Why it's similar: Building whatever comes to mind is what Blockland is all about. Like Minecraft, enjoying what other users are able to create is part of the appeal--and the community has delivered a lot of solid content worth checking out in the sandbox game.
What makes it unique: For starters, the LEGO-esque aesthetics are instantly noticeable. A number of gameplay mods are readily available for download in addition to the ever-popular Fort Wars mode. The level of fun to be had is dependent on what the community comes up with, and if the mixture of racing, deathmatch, and role-playing scenarios are anything to go by, then you shouldn't get bored anytime soon.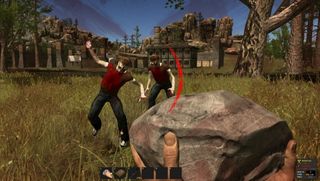 Rust (PC)
Why it's similar: Get dropped into a cruel world with no direction or instruction. Die. Die some more. Then, hopefully, slowly figure out how to survive by crafting weapons, gear, and makeshift shelter in your bid to stay protected against other players, the radiation filled land, and cold nights.
What makes it unique: Survival is not only dependent on what resources are at one's disposal, but how other human beings treat one another. On the one hand that means your recently-spawned avatar may die a lot by the hands of not-so-nice raiders. On the other, less bloody hand, a helpful group of like-minded players makes the adventure of survival a rewarding team effort. Players can also decide to go solo and try to live out their days in seclusion.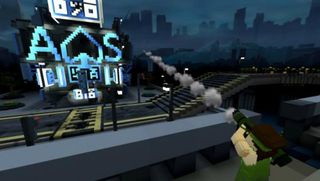 Ace of Spades: Battle Builder (PC)
Why it's similar: Crafting your own coliseums for battle in this first-person shooter is at the forefront of what Ace of Spades offers. A huge amount of crafting pieces--anything from signs, to flags, and tried and true blocks--are available to those wanting to put on a construction site helmet and get to work on their dream map.
What makes it unique: Players who want to build a map quickly for 32 players don't have to worry about one important thing: resources. Unlike other games like Minecraft, there will be no mining or chopping for minerals and wood to construct that perfect sniping perch atop a skyscraper, or an 8-bit Super Mario to hide your Commando, or one of the other six classes, behind.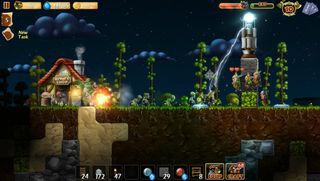 Craft the World (PC)
Why it's similar: An underground labyrinth is in need of exploration and mining, meaning your group of dwarves will be extra busy finding what they need to construct fantastic fortresses. Once done with their days-long construction project, its time to craft weapons, items, and ammunition and more via simple recipes so your minions can move on to the next project.
What makes it unique: A sweet team of dwarves. Aside from controlling a single character, a group of the short earth dwellers is at your disposal to help with a variety of tasks. Need some extra muscle? Send them to fend off baddies. Need some traps built? Give a couple clicks here and there to set them on their merry way.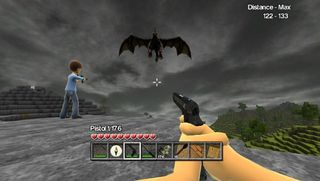 CastleMinerZ (360, PC)
Why it's similar: Crafting is but one part of developer DigitalDNAGames voxel-based first-person shooter. Building defensive structures to prolong death by the hordes of enemies is imperative. So too is gathering resources for crafting one key item: guns.
What makes it unique: Crafting guns is of the utmost importance thanks to the games insistence on sending everything its got your way. Monsters--ranging from zombies and skeletons to dragons--are apparently very unhappy that youre alive. Luckily, going alone isnt your only option: a cooperative mode for up to eight players provides a fighting chance in this twisted world of cubes and monsters. Warning: stay away from the buggy PC version.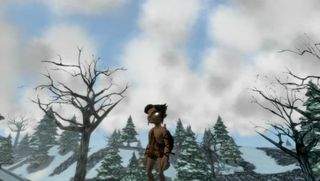 TUG (PC)
Why it's similar: TUGs world is all about letting the creative juices flow as players are given the freedom to not only build, but manipulate the terrain in ways that break the world. Crafting armor and weapons is also a part of your Seedlings life of survival and mystery.
What makes it unique: The crafting gives players a lot more freedom to do as they please, but its really the world itself that sets TUG apart. 13 different biomes (like a lush jungle and a dense forest that could also be mistaken for Alaska, only with less bears) are beautifully rendered. Its easy to get lost in the world--one with its very own language. Instead of just being another video game, TUG is also being used as a tool for academic scientists to learn more about how people interact in online spaces.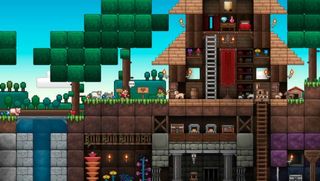 Junk Jack X (iOS)
Why it's similar: Players can join you online for friendly crafting and exploring (or rude killing and trapping) in this 2D sandbox sequel. You just never know whats going to happen if you dig too deeply or venture too far away from your home base (Hint: it usually ends in death).
What makes it unique: Many games of this ilk like to plop players down into a new world and let them run wild. Here a different approach is taken: a lengthy tutorial introduces the games premise. It helps newcomers really understand Junk Jack X; a simpler crafting system using item recipes also helps usher in players. Along with the simplicity comes purpose in the form of goals to accomplish.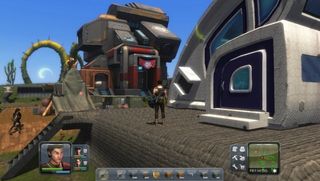 Planet Explorers (PC)
Why it's similar: Shaping the terrain around you, as well as a number of items like vehicles, is at the heart of everything players do. Maps are also procedurally generated, and change in size depending on which mode is played. Multiplayer is still receiving more updates, but as of right now games can be played with friends--and you can bring along a personally-crafted item into each session.
What makes it unique: A heavy focus on story (its actually the main focus of the game) and the action-adventure RPG elements really make this game stand out from the pack. So does the ability to completely ignore said story and just live life as a rancher or farmer. Either way, youll still complete the game and see how it concludes. If thats not your thing, 16-on-16 deathmatch should liven up life away from ranching.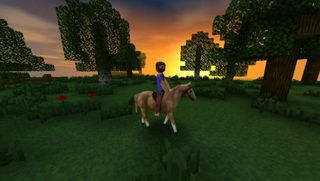 Survivalcraft (iOS, Android)
Why it's similar: The voxel world and dangers present aren't anything unheard of in the world of crafting and survival games, and many player goals will be recognizable (read: don't die), but that doesnt make the slick looking Survivalcraft any less fun.
What makes it unique: What really sets this mobile game apart is its focus on survival. Players are dropped off on a deserted chunk of rock to fend for themselves. Things like stamina and food have to be taken into consideration when spending time building and exploring. Heck, even getting some shut-eye is important, or else you run the risk of passing out. Its the same risk young gamers run into when they hang out with friends, video games, and a 12-pack of Mountain Dew.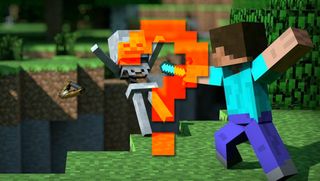 The world is your oyster
It may feel daunting to jump into a sandbox game without any direction and a ton of possibilities. However, exploring the unknown, crafting a useful tool for the first time, and even surviving just one more hour is what makes these games a joyful experience. Theres enough variation in the genre to provide a bit of crafting for everyone.
And if you're looking for more, check out GamesRadar's lists of the characters that totally resemble real people and the worst celebrity renders of all time.