Untitled Man of Steel sequel
Release date: TBC
Warner Bros. also has a Man of Steel sequel in development, which will see Henry Cavill reprise his role as Superman but it's been in the works for a long time. In November 2016, Amy Adams (AKA Lois Lane) confirmed that work had begun on the script, but gave few details. Speaking early in 2018 to Collider, Henry Cavill was as vague as someone under dangerously tight NDAs could be but managed to say that Man of Steel 2 is something he is having, errr, 'conversations' about. "I'm having a lot of conversations, behind-the-scenes, with certain people and we will hopefully be having conversations with other people who are also behind-the-scenes to make things start happening," he said. "It is very much in my desire to do a Man of Steel 2, a direct sequel to Man of Steel, and there is a whole bunch of Superman story that I want to tell. There is a whole style of Superman's character that I'm very keen to tell and I'm looking forward to the opportunity.".
Untitled Black Adam movie
Release date: TBC
Anti-hero Black Adam will be getting a solo movie, as well as reportedly appearing in Shazam!, with none other than Dwayne 'The Rock' Johnson confirmed for the role. It's about time you got involved with superheroes, Dwayne. There's not been much discussion around the movie since the initial announcement but Hiram Garcia, president of productions at Seven Bucks Productions, confirmed to Collider in mid 2018 that the studio is hard at work. "Black Adam is definitely happening," he said. "We're actually very deep into a script on it right now, which is coming along really well. I'm really excited with the story we've crafted. Black Adam just made kind of great sense. It was this kind of really cool anti hero... who believes in basically exacting justice in his way with a fascinating backstory, the history he has with regards to having been a former slave and freeing his people and then getting his abilities and what happened from there."
Untitled Nightwing movie
Release date: TBC
Warner Bros. confirmed a standalone Nightwing movie back in 2016 to be helmed by the seemingly perfect choice of The Lego Batman Movie director Chris McKay. However, given the date now, things don't look good BUT a tweet from McKay in October 2018 is keeping the dream alive. When asked if the Nightwing movie was cancelled he replied. "No. You're going to have to wait tho. Keep hope alive. To paraphrase Dick Grayson: Nightwing lives. Always." Let's hope he isn't lying and just doesn't want to crush our dreams.
Batgirl
Release date: TBC
The much-longed for Batgirl movie is still in the works but the DC Extended Universe is going to have to wait for Barbara Gordon's tale. Originally Batgirl was meant to be directed by The Avengers' and Buffy's, Joss Whedon but he stepped down from the project in early 2018. Bumblebee writer Christina Hodson has taken over from Whedon on script duties which is great news given the sweet nature of the Transformers spin off, but the current state of play is that Batgirl is still looking for a director. Hopefully we get some news soon.
Supergirl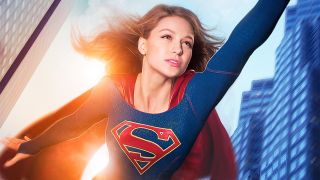 Release date: TBC
Announced in mid-2018, Supergirl is confirmed to fly into the DC Extended Universe at some point over the next few years. It's exceptionally early days for Superman's little cousin and no casting has even been remotely discussed, but 22 Jump Street screenwriter Oren Uziel has been hired on script duties. Rumour has it that while TV's Supergirl Melissa Benoist will not be switching capes for the silver screen, the tone of the movie will replicate the positive, upbeat vibes of the show. Hooray.
Aquaman 2
Release date: TBC
Of course Jason Momoa will return. Original director James Wan isn't contracted for Aquaman 2 in the DC Extended Universe but it sounds like Warner Bros. is already gearing up for an Aquaman sequel given the critical and box office success of the watery hero's first outing. And, what do you know, Momoa has another movie on his contract, not to mention some thoughts on where the sequel will go. "I am contracted for one more [movie]", explained Momoa when we interviewed him about his ongoing contract with Warner Bros. as Aquaman. "It was awesome doing Justice League. It's great being there with a huge cast but it'd be phenomenal if people really love Aquaman... I have an idea where I would want [a sequel] to go." It sounds like this might go into production sooner rather than later if Momoa has anything to do with it.
Untitled Plastic Man movie
Release date: TBC
Yes, this hero is just as unlikely as he sounds and just as, well, recyclable. Plastic Man - or Patrick 'Eel' O'Brian - was actually a member of the Justice League for a while with his ultra malleable powers and it was confirmed by The Hollywood Reporter in December 2018 that a standalone movie is on the way. This will thankfully be a 'comedic action-adventure' rather than a Batman v Superman-style broodfest and is being penned by new screenwriter Amanda Idoko. Of course, there's no release date just yet but let's all agree now that if this comes out before Batgirl or Supergirl, we riot.
New Gods
Release date: TBC
Directed by Wrinkle in Time director Ava DuVernay, New Gods is an adaptation of the comics Jack Kirby wrote when he arrived at DC after working at Marvel. It's hard to sum up exactly how New Gods works, given its cast of hundreds and universe spanning mythos but the New Gods follows an everlasting war between two planets. One, a utopia and the other a wasteland run by the villainous Darkseid. This is, quite literally, a whole new world for the DCEU and there's no knowing exactly how Warner Bros. will connect the dots but this is a fascinating addition to the upcoming DC Extended Universe movies. With DuVernay a massive fan of the comics, it will be exciting to see this potentially as the beginning of an all new set of movies.
Untitled Harley Quinn and Joker movie
Release date: TBC
So it's unclear at exactly what stage in Joker and Harley's tumultuous relationship that this takes place but a chaotic romcom between the clown prince and little miss giant hammer is in the works from Warner Bros. This, as yet untitled, movie is described by its writers Glenn Ficarra and John Requa in Metro US as "a relationship movie but with the sensibility of Bad Santa." Oh. Dear. It even starts with the psychotic pair kidnapping none other than Dr Phil to help with the relationship problems. No, really. Ficarra and Requa are known for directing TV comedy show This is Us and have no idea when Joker and Harley's deranged adventure will start shooting. "We handed the script in and everybody loved it," said Ficarra. "But I don't know when they are going to do it." Let's hope it's next in the queue and that Leto and Robbie are free. And is it too much to hope that Leto's Joker has had some laser tattoo removal?