Both the Destiny and Destiny 2 servers are going to be down today for 12 hours - yup, half a whole day - as Bungie is preparing to implement the new Destiny 2 cross save feature across the game, so you've only got a handful of hours to get your fix before the game does down, down, down. So if you're wondering why are the Destiny 2 servers down, this is why. The times the servers will be unavailable are:
7AM - 7PM (PDT)
3PM - 3AM (BST)
10AM - 10PM (EST)
Just as a heads up, both Bungie.net and the Destiny Companion features will be unavailable too, so you really won't be able to access the game no matter how hard you might try.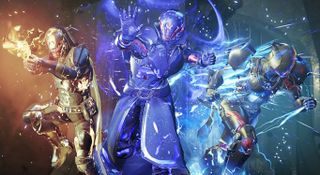 Cross save is coming to the game later this year, which will let players seamlessly switch between playing Destiny 2 on PC, Xbox One, PS4, and Google Stadia. So if you switch between playing on PS4 and Xbox depending on if you're at home, at your friend's house, or maybe even at work, you'll still be able to check in with your Guardian instead of having to wait until you get to your beloved main console. However, although cross save is coming to Destiny 2, there's no mention of cross play just yet. Cross play - when it hopefully becomes a feature - would let everyone play together regardless of platform, and hopefully it's on the horizon.
Bungie also recently announced that there's going to be a special Destiny 2 free-to-play edition coming soon called Destiny 2: New Light, complete with all the Year One DLCs, so with cross save swiftly becoming a feature it looks like the game will be seeing an influx of new players. Destiny 2: New Light is coming this fall, so if you've always wanted to give the game a try and have merely read this article out of curiosity, soon you'll have the chance!
If you're stuck deciding which game to play next, here's the Amazon Prime Day game deals you should look out for, or look below to see what's going on in the world of movies, TV, and games!