The Evolution Of Angelina Jolie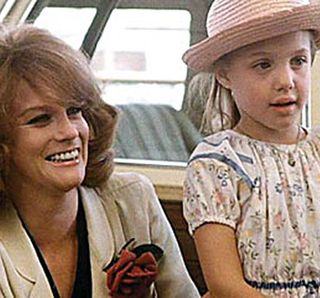 Lookin' To Get Out (1982)
The Role: Making her celluloid bow as a child actress, Angelina plays the on-screen daughter of her real-life pop Jon Voight, in this early-eighties clunker about a pair of gamblers in Vegas.

The film is a veritable family affair, with Ange's mum Marcheline Bertrand popping up in the notable role of "girl in jeep". Handy nugget of pub-quiz gold for you there.

The Pout: She may only be a kid, but little Angelina already has a pout to be reckoned with…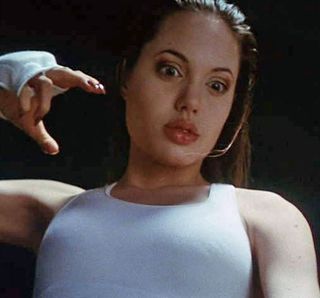 Cyborg 2 (1993)
The Role: Coming a decade or so after her film debut, this slice of B-movie tosh marked the beginning of Angelina's career as a professional actress.

Ange stars as Casella "Cash" Reece, a humanoid robot designed to seduce her way into the HQ of a rival robot factory, before blowing herself up. Be warned, it makes Weird Science look like Citizen Kane .

The Pout: Very much in evidence, particularly in one steamily nerd-bothering sex scene. She could be trouble, this girl…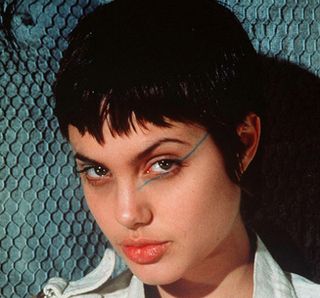 Hackers (1995)
The Role: Hollywood was clearly impressed with Cyborg 2 (either that, or her old man pulled a few strings), and Ange was soon cast as daftly-named cyber-vixen "Acid Burn", in teen thriller Hackers.

Flouncing round in a distractingly see-through top, she soon has Johnny Lee Miller in a right fluster as the pair's competitive geekery gets them in serious trouble.

The Pout: It's quite difficult to smoulder sexily in the glow of a computer monitor, but the Jolie pout pulls it off with aplomb.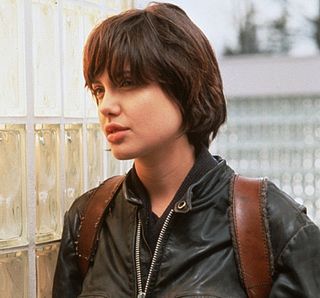 Foxfire (1996)
The Role: Ange is on tearaway-teen duties once again here, as Margaret "Legs" Sadovsky, ringleader of a group of girls who decide to take revenge on a teacher who sexually harasses them.

What starts as your average coming-of-age tale soon turns into an orgy of car-chases, arson, and hostage taking. We told you she was trouble!

The Pout: An effectively low-key pucker, in keeping with Legs' air of mystery. Not sure about that hair though…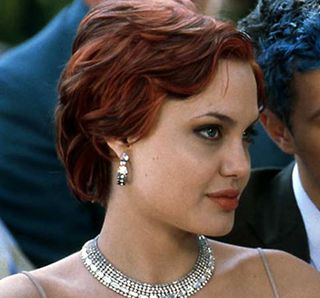 Playing By Heart (1998)
The Role: Jolie is cast as part of an impressive ensemble including Sean Connery, Ellen Burstyn and, ahem, Jay Mohr. Ok, so it's not that impressive actually, more a low-rent rip-off of Short Cuts.

Ange plays Joan, a trendy party-girl who hooks up with Ryan Phillippe, but uh-oh…Ryan's got issues. Cue much naval-gazing about modern relationships.

The Pout: Despite having to compete for attention with a striking red barnet, the pout will not be ignored. Lips remain firmly set to "bewitching".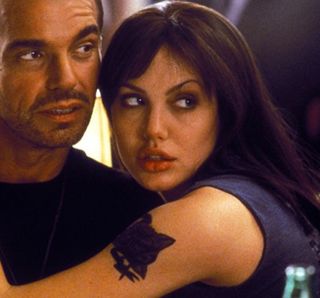 Pushing Tin (1999)
The Role: On paper, a film set in the thrill-a-minute world of air-traffic control sounds about as sexy as an eight-hour wait in passport control. Enter Angelina…

Starring as a trailer-park femme fatale, Ange cranks the raunch all the way up to eleven as she seduces hapless John Cusack, prompting all-out war with husband Billy-Bob Thornton. A sex-symbol is born….

The Pout: The pout that snared Billy-Bob, and provoked all the vampire-love weirdness that followed. A-plus pouting.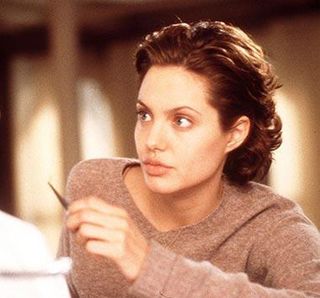 The Bone Collector (1999)
The Role: Denzel Washington is the quadriplegic forensics whizz on the hunt of a brutal serial-killer. Jolie is the cop who acts as his eyes and ears at the scene.

Playing one half of a classic odd-couple pairing, Angelina holds her own alongside the big-screen heavyweight, proving there's more in her locker than a nice line in doe-eyed sauciness. Daft film, mind.

The Pout: Reigned-in, in favour of tough-girl grit and determination. A novel twist!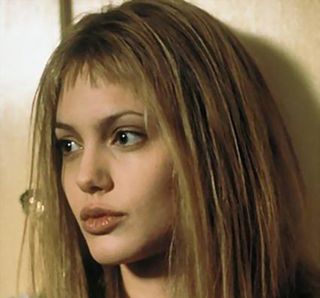 Girl Interrupted (1999)
The Role: As sociopathic mental patient Lisa, Jolie steals every scene she appears in, snagging herself a Best-Supporting Oscar in the process.

Channelling Jack Nicholson's R.P. McMurphy, Angelina is rebellious charm personified, whilst poor Winona looks a bit of a drip by comparison. Pity the woman who co-stars with Ange on top form…

The Pout: She might look a bit washed out and…well, mad, but there's no ignoring that mouth when it's turning the air so spectacularly blue.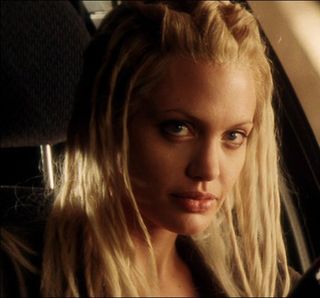 Gone In Sixty Seconds (2000)
The Role: Oscar safely in the bag, Ange lines up next to Vinnie Jones for some wallet-friendly, Jerry Bruckheimer nonsense.

Director Dominic Sena's paper-thin characterisation leaves Angelina with little to do but stand around looking sexy, but needless to say, she does it very well. Even with dreadlocks.

The Pout: Difficult to say whether she's pouting, or smirking at Cage's hammy delivery. We'll give her the benefit of the doubt…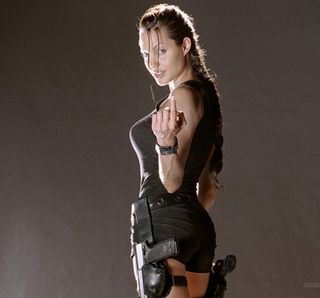 Lara Croft: Tomb Raider (2001)
The Role: Uh-oh, it's the biggie…There was a time when doing a movie based on a video game would damage your credibility, but in Jolie's case it was a masterstroke.

The film might have been a load of old tat but Angelina's figure-hugging costume made her an instant icon. Plus she also got to star with Jon Voight again. Aaaaah.

The Pout: Overshadowed slightly by The Outfit, which in fairness, overshadowed everything else in the film. Probably for the best.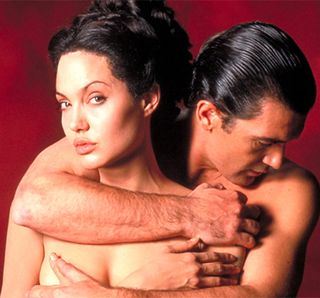 Original Sin (2001)
The Role: Urgh…in a plot that Jackie Collins would discard as "flimsy", Latin lover-man Antonio Banderas buys himself a mail-order bride from America. They roll around a bit, before some unwelcome murdering gets in the way of all the sex.

It's a poor film indeed that devotes serious screen time to a semi-naked Jolie and yet still manages to be deadly dull. One to forget, eh Ange?

The Pout: Party to some deeply underwhelming sex-scenes, not even the pout can escape unscathed. Curse you Banderas!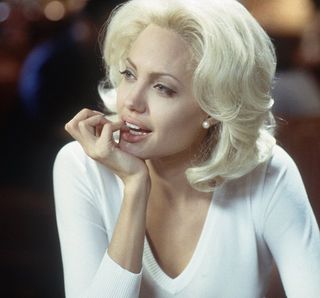 Life Or Something Like It (2002)
The Role: Dreadful title, dreadful film. Jolie's post-Oscar lean streak continues with this splatter of existential guff. She plays TV reporter Lanie, whose "perfect life", shock, horror, turns out not to be so perfect after all.

A mess of misfiring jokes and sickly-sweet "meaning of life" claptrap, that Academy award was seeming a long time ago indeed.

The Pout: Works in tandem with the blonde wig to conjure the spectre of Marilyn Monroe. Nice.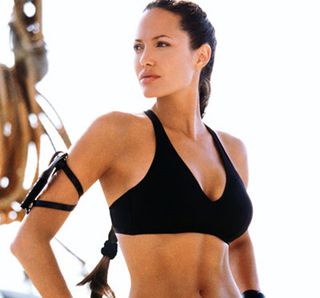 Lara Croft Tomb Raider: The Cradle Of Life (2003)
The Role: Ah well, when the going gets tough, Angelina returns to what she knows, pouring herself back into the tiny shorts for another round of treasure-hunting antics.
Jolie is great in what could be a two-dimensional role, but the pacing is slow and the action flat whilst Jan De Bont directs with all the panache of a paving stone.
The Pout: Complemented perfectly by Lara's clipped English accent. Just the right side of a sneer. We like.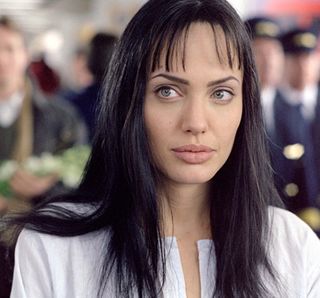 Beyond Borders (2003)
The Role: Angelina is a right-on rich girl who jets off to a war zone to give out hugs. Sadly she's soon distracted by a slushy romance with aid worker Clive Owen (face set firmly to "stern").

Ange is trying to come across as "conscious", but ends up marooned in a misguided cringe-fest that aims for the heart strings but finds the gag reflex! Yuck.

The Pout: Low-key, of course! Don't you know these people are starving? Oh wait, Clive's looking. Fire up the pout!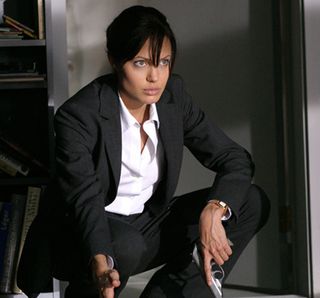 Taking Lives (2004)
The Role: Preposterous thriller, crammed with nonsensical "twists", a job-lot of genre-cliches (murky cityscape…check, abandoned warehouse…check) and God-awful dialogue ("Have you ever been fishing…the bait always dies.").

Ange goes through the motions as a hard-bitten FBI profiler who, surprise surprise, is "obsessive" about the job! If only her casting agent were as dedicated…

The Pout: Initially set in hard-ass professional mode, but gets to flaunt its pouty wares when Ethan Hawke turns up.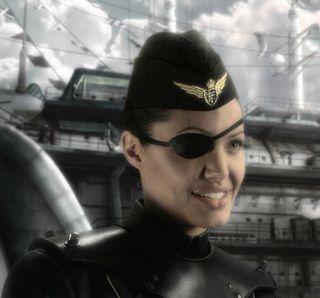 Sky Captain And The World Of Tomorrow (2004)
The Role: Angelina stars alongside underwater robots, dinosaurs, Lawrence Olivier's disembodied head and worst of all, Jude Law.

Ange plays a one-eyed military type who lends a hand when old flame Jude comes calling. Any further attempt to explain the plot would cause our heads to explode.

The Pout: Tip-top. You'd barely even notice the eyepatch.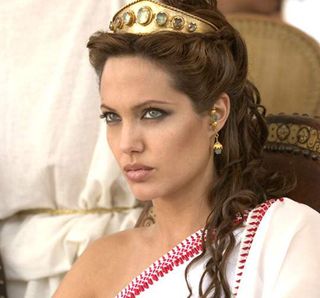 Alexander (2004)
The Role: Angelina teams up with mad old Oliver Stone, who had the brainwave of casting Jolie (who was still in her twenties) as Colin Farrell's mum. Happily she proves to be the most enjoyable thing in this "misunderstood" historical epic.

Playing mother-dearest with bitchy panache, Ange is clearly having a whale of a time. Poor old Colin meanwhile, wrestles with an iffy accent and a ludicrous peroxide-blonde mop.

The Pout: Jolie schemes and smoulders in equal measure in one of her poutiest roles to date!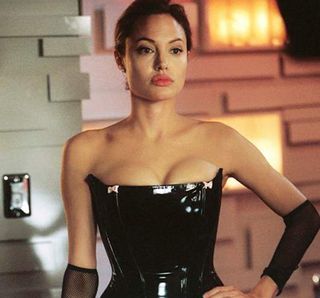 Mr and Mrs Smith (2005)
The Role: Now which one was this again….ah, we jest of course. After a string of turkeys, Ange kick-started her career with this likeable action flick, as one half of a pair of married assasins.

We all know who the other assassin was and what happened next. Suffice to say, Jolie catapulted straight to the top of the A-list and Jennifer Anniston spent the next five years making films like The Bounty Hunter .

The Pout: The dictionary definition of the cat that got the cream. Look away now Jen…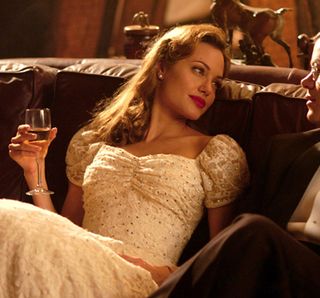 The Good Shepherd (2006)
The Role: No more underwater robots for Ange now! Her arrival to the Big League is confirmed with her turn in this Robert De Niro-directed CIA epic, as Matt Damon's love interest, Clover.

Frustratingly, she's given little to do bar sipping at cocktails alluringly whilst Damon makes a hash of their marriage, but even so, it's a significant step up from Original Sin et al. Bobby D or Banderas? No contest.

The Pout: More demure than usual, but not completely hidden. It is the sixties after all….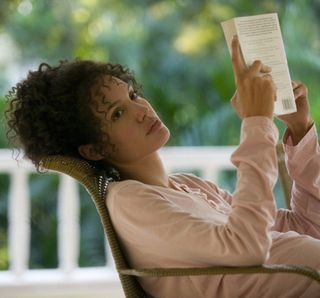 A Mighty Heart (2007)
The Role: All hail the arrival of Angelina: Serious Actress! Jolie takes on the role of Mariane Pearl, the wife of real-life journalist Daniel Pearl, who was abducted and executed by Pakistani terrorists.

Heavy material then, but Jolie turns in a performance to match, all quiet dignity and steely determination. The film did modest business at the box office (not being cheery multiplex fare), but earned Ange a Golden Globe nom for her efforts. Go Ange!

The Pout: Nowhere to be seen beneath a fairly radical makeover.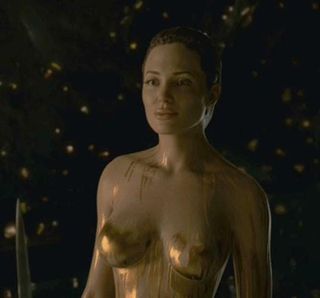 Beowulf (2007)
The Role: Ange is playing Mum again, this time to creepy man-beast Grendel. Ray Winstone's out to give the fruit of her loins a bit of a shoeing, but he hasn't reckoned with a distracting encounter with Angie's shape-shifting sex bomb...

Wondering why an Olde-English legend drew hoards of teenage boys to the cinema? A 3D-enhanced Angelina, wearing little more than a splash of gold paint is your answer.

The Pout: Prominent to say the least. Witness her emergence from the pool…phew!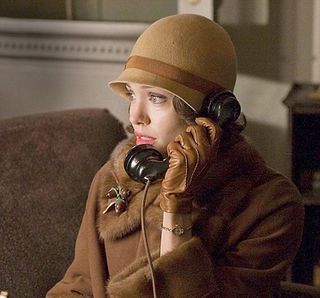 Changeling (2008)
The Role: The Academy came calling again after Jolie's turn as single mother Christine Collins, who wins full marks for observation when she notices her missing son has been replaced by an imposter.

With another grim stint in an on-screen mental institution, Ange has clearly learned from experience: a character in the nuthouse equals a trip down the red carpet.

The Pout: Clad in startling red lipstick, it certainly stands out. Has a bit of a rough ride in the asylum though. Poor old pout.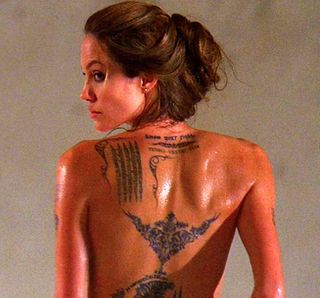 Wanted (2008)
The Role: Her sexiest ever role? Ange plays Fox, a bad-ass assassin charged with shaking office drone James McAvoy out of his nine to five drudgery by landing him in a shit-storm of bullet-chucking mayhem.

Shrugging off the shackles of recent award-baiting roles, Jolie is at her magnetic best as the ultra-flexible hitwoman with a killer instinct and the body to match. And what a body...

The Pout: She's playing a scantily-clad assassin named "Fox"… the pout is in its element!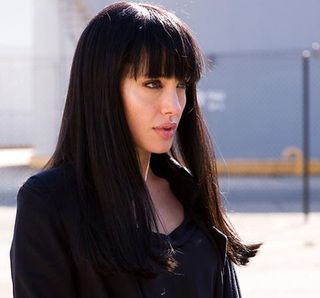 Salt (2010)
The Role: Looks like another round of crash-bang-wallop antics for Ange, as she plays Evelyn Salt, a CIA agent accused of being a Russian spy. Jolie reckons she's innocent, but she seems pretty handy with her fists for your run of the mill Fed…
We love it when Ange gets all kick-ass on us. And judging by the trailer, there are a whole line of posteriors awaiting a punt from one of her stilletoes. Exellent...
The Pout: No-nonsense agent, nothing-to-lose badass…there's all sorts to pout over here. All hail the pout!