If you're pumped to dive into Baldur's Gate 3, you can get a headstart by trying out the previous games in the series on PC for a whole lot less.
That's because Baldur's Gate: Enhanced Edition, Baldur's Gate 2: Enhanced Edition, and numerous spin-offs (including Icewind Dale and Neverwinter Nights, which are both set in the same universe) are available for $12 on Humble Bundle.
You aren't just getting a handful of old-school CRPGs, though. The 2021 Pathfinder: Wrath of the Righteous game is also included within that pack, adding even more value to the offer overall. OK, so I'm not entirely sure why a Pathfinder RPG (set in a rival universe to Baldur's Gate) is included, but hey - let's not look a gift horse in the mouth.
Here's everything you're getting: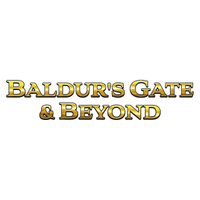 Baldur's Gate & Beyond | $12 at Humble Bundle
- Baldur's Gate: Enhanced Edition
- Baldur's Gate II: Enhanced Edition
- Baldur's Gate: Siege of Dragonspear
- Baldur's Gate: Faces of Good and Evil
- Pathfinder: Wrath of the Righteous
- Planescape Torment: Enhanced Edition
- Icewind Dale: Enhanced Edition
- Neverwinter Nights: Complete Adventures
While the original Baldur's Gate games are getting a bit long in the tooth thanks to being a couple of decades old, they're beloved adventures that set the tone for countless others in the early 2000s and still hold up now. And because you're getting the Enhanced Editions, they've all been tailored to work on modern systems. The 2016 expansion, Baldur's Gate: Siege of Dragonspear, is also included. This offers another story set within the world of Baldur's Gate (the Forgotten Realms, which is also where most Dungeons and Dragons books are set).
Sure, you don't really need to play these to understand what's going on in the new game. And funnily enough, D&D veterans are offering Baldur's Gate 3 newbies a crash course in tabletop combat to get them ready. But this is a (very) cheap way of getting acquainted with the setting and meeting some characters who'll show up in the latest instalment - namely Minsc and his miniature giant space hamster, Boo.
Want to get to grips with the classic pen-and-paper version, on the other hand? Here's how to create your first D&D character.
---
Want to prepare yourself for the new game? Check out our Baldur's Gate 3 tips and tricks guide.