Out on Friday 22 April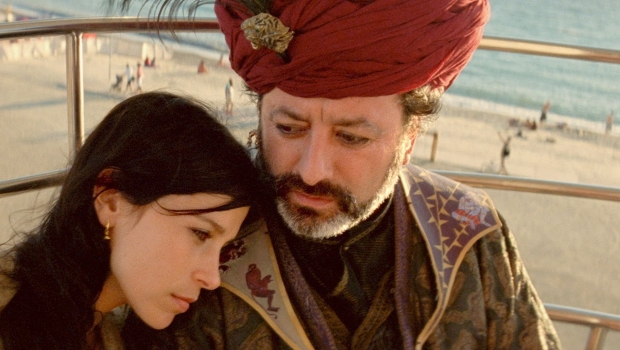 A Miles Davis biopic that avoids easy notes. A three-part epic from arthouse prince Miguel Gomes.
Yes, here's this week's new releases. Click on for our reviews of Miles Ahead, Arabian Nights, Bastille Day, Jane Got a Gun, Louder than Bombs, Mapplethorpe: Look at the Pictures, Kicking Off, Desert Dancer, The Divide, Creature Designers: The Frankenstein Complex, and Friend Request.
For the best movie reviews, subscribe to Total Film.
MILES AHEAD
The cradle-to-the-grave biopic has become an increasingly tired Hollywood staple. So it's somewhat refreshing to see Don Cheadle make his directorial debut with what might be called an anti-bio – one that gives the much-deserved big-screen treatment to jazz legend Miles Davis. It's tempting to think this musical innovator would approve of the offbeat, semi- fictional approach taken in this account of a few days in his 'lost' years – the mid-'70s period when he disappeared from public view.
Eschewing the usual mentors-and-montages structure, the film finds Cheadle's Davis in a creative funk, although there are frequent, feverish flashbacks to his earlier days, as he laments his time with first wife Frances Taylor (Emayatzy Corinealdi). Into his world comes Ewan McGregor's Dave Braden – a shaggy-haired reporter who claims to be working on a 'comeback' story for Rolling Stone but, like Michael Stuhlbarg's oily producer, wants to get his hands on secret 'session' tapes stashed in Davis' apartment.
With his colossal drug habit, Davis is hardly the most likeable protagonist – and purists will doubtless balk at this revisionist history, which skips his rise to fame in favour of coke deals, shoot-outs and car chases.
Still, a frizzy-afro'd Cheadle works hard to summon Davis' spirit, even if the script (by Cheadle and Steven Baigelman, who earned a story credit on James Brown biopic Get On Up) never quite captures the artist's multi-faceted achievements in the way Todd Haynes managed with Bob Dylan bio I'm Not There. The narrative feels too scattershot to be successful, although slick editing gives the film some transcendent moments. Cheadle, as you might expect, roars on screen. And off it? He has a vision – and he pursues it relentlessly.
THE VERDICT: Meandering like a jazz riff, Miles Ahead is a curio that doesn't quite come off. But credit Cheadle, both in front and behind camera, for refusing to play the easy notes.
Director: Don Cheadle; Starring: Don Cheadle, Ewan McGregor, Emayatzy Corinealdi, Michael Stuhlbarg; Theatrical release: April 22, 2016
James Mottram
ARABIAN NIGHTS
Released over three consecutive weeks in separate volumes – The Restless One, The Desolate One, The Enchanted One – totalling nearly six-and-a-half hours, this ambitious trilogy by Portuguese filmmaker Miguel Gomes (Tabu) is no straight adaptation of the collected stories that comprise One Thousand And One Nights. Instead it borrows the conceit of Scheherazade (Crista Alfaiate) telling nightly tales to her kingly husband in an effort to stay alive, but bends those stories so that they might pass comment on a modern-day Portugal crippled by austerity measures.
If that all sounds a little high-minded and dry, it's saved from being so by an eclectic soundtrack, a palpable love of storytelling, deep humanism, righteous fury, bawdy humour and Gomes' startling ability to shuffle tones, genres and eras. Surely the first film to leap from the testimony of laid-off dockyard workers to tales bursting with genies, princes and outlaws, Arabian Nights veers from the naturalistic to the fantastical, from documentary to fiction.
Volumes one and two are especially captivating, as Gomes himself appears onscreen to tell of how he charged a team of researchers with scouring Portugal in search of tales. Philosophy and allegory are ripe: foreign wasps kill off the indigenous bee population; politicians drink a magical potion and develop rampant erections; and a cockerel on trial for crowing too early defends himself by saying people didn't want to be alerted in advance.
Volume 3 contains treasures too, though a faux-doc on singing chaffinches being trained for competition outstays its welcome. The great thing about Arabian Nights is that if one story isn't to your liking, another pops up, so the decision to give this tale a feature-length running time is perplexing. But quibbles aside, this is daring, magical filmmaking.
THE VERDICT: One of the princes of arthouse cinema, Miguel Gomes here uses his status to push form and stretch boundaries. Very long but very much worth it.
Director: Miguel Gomes; Starring: Crista Alfaiate, Carloto Cotta, Maria Rueff, Luisa Cruz; Theatrical release: April 22 (Vol. 1), April 29 (Vol. 2), May 6 (Vol 3.), 2016
Jamie Graham
BASTILLE DAY
There's a scene in Bastille Day that will stand as a towering monument to the precise moment in time it was made, as one riot inciter urges another to "unleash the hashtag" without any inkling of irony. It's an exchange that elicits chuckles for all the wrong reasons – a common occurrence in this passable Parisian thriller.
Further fanning the 'Elba for Bond' flames, Big 'Dris stars as Sean Briar, a loose cannon CIA agent operating out of the French capital – Luther with a license to kill, essentially. When Richard Madden's expert pickpocket Michael Mason is implicated in a local bombing after inadvertently pilfering a C4-stuffed satchel, Briar embarks on a one-man mission to bring him in. Naturally it's all part of a larger conspiracy for the unlikely pair to blow wide open, one that goes to the heart of the French security services.
Groundbreaking it ain't – in fact the plot bears more than a passing resemblance to at least two Die Hards – but there is fun to be had with Bastille Day. Elba and Madden prove an entertaining central duo, their relationship of convenience powered by weapons-grade bickering. Meanwhile, director James Watkins (best known for effective horrors Eden Lake and The Woman in Black) does a commendable job with the action. But for all Watkins' sincere statements that Bastille Day has nothing to do with terrorism, the spectre of 2015's devastating attacks in the French capital looms large over a film that evokes deadly serious subject matter (the Occupy movement, immigration policy, anti-police protests) to no real purpose.
It's this tonal mishmash that proves Bastille Day's undoing, the film never quite gelling in the way Watkins and co. presumably hoped it would. In another world this could have starred Bruce Willis and been directed by Pierre Morel, but even though we're not dealing with a car crash of quite those proportions, there isn't enough here to make this particular Bastille Day worth celebrating.
THE VERDICT: The ever-watchable Idris Elba and a handful of muscular action sequences are scuppered by a flaky-pastry plot which badly misjudges subject matter warranting more considered exploration.
Director: James Watkins; Starring: Idris Elba, Richard Madden, Charlotte Le Bon, Kelly Reilly; Theatrical release: April 22, 2016
Jordan Farley
JANE GOT A GUN
It's hard to review Jane Got a Gun for what it is rather than what might have been – during a production resembling a high-noon shootout, director Lynne Ramsay (We Need to Talk About Kevin) and stars such as Michael Fassbender and Jude Law all ran for the hills. Kudos, then, to producer/star Natalie Portman and director Gavin O'Connor (Pride and Glory, Warrior) for keeping their sights steady and delivering a handsome post-Civil War western that's enamoured of genre traditions even as it offers a revisionist riff.
1871. Riddled with lead, Bill (Noah Emmerich), husband of Jane (Portman), returns to their homestead in New Mexico warning that John Bishop (Ewan McGregor, all but twirling his moustache) and his gang are in pursuit. Jane, whose sharp features and ramrod posture – to say nothing of her skills with a shotgun – mark her as a capable woman in this most male of genres, promptly rides their young daughter to safety and then corrals hard-drinking ex-soldier Dan (Joel Edgerton) into aiding her preparations for the outlaws' imminent arrival.
Any problems are structural, with the narrative's otherwise confident canter towards an intriguingly handled siege finale too frequently halted by flashbacks. Events of the past 10 years have been tricksy, it transpires, with Jane, Bill, Dan and Bishop inextricably partnered in a dance of death. But while these windows into the past allow for honey-hued romantic interludes (a ride in a hot-air balloon!) and psychological traumas that are openly discussed – both things uncommon in a genre that trades on being tough and taciturn – you can't help wishing the backstories were a little leaner and cleaner.
Still, the arid landscapes are handsomely shot, the set-pieces punchy and intimate, and the performances robust, with Portman reminding us just how good an actress she is as her no-nonsense Jane gets on with the business of survival. Portman the producer, it seems, did exactly the same.
THE VERDICT: Dusting itself off from a nightmare production, this western finally arrives to shoot, for the most part, straight and true. It certainly ain't no calamity Jane.
Director: Gavin O'Connor; Starring: Natalie Portman, Joel Edgerton, Ewan McGregor, Noah Emmerich, Boyd Holbrook; Theatrical release: April 22, 2016
Jamie Graham
LOUDER THAN BOMBS
The death of Isabelle Huppert's war photographer matriarch looms large over this listless slice-of-life family drama from Oslo, August 31st director Joachim Trier. Huppert's family (father Gabriel Byrne, sons Jesse Eisenberg and Devin Druid) are sleepwalking through life, until an imminent newspaper article exposing Huppert's death as suicide threatens to ruffle feathers.
Punctuated by a handful of well-observed scenes that belong in a better film (including a hypnotic close-up of Huppert's face that seems to last an eternity), it's ultimately a flat, ineffectual affair that goes off with a whimper rather than a bang.
Director: Joachim Trier; Starring: Gabriel Byrne, Isabelle Huppert, Jesse Eisenberg, Devin Druid; Theatrical release: April 22, 2016
Jordan Farley
MAPPLETHORPE: LOOK AT THE PICTURES
"Look at the pictures!" spluttered Senator Jesse Helms in 1989, trying to get Mapplethorpe's eye-poppingly explicit photographic art banned. Fenton Bailey and Randy Barbato's authoritative doc about the artist positively commands us to appreciate it, from flower studies to the fetish scenes that shocked '80s America.
Interviewing key figures in his life, they build an anecdote-rich bio (only his 1960s girlfriend Patti Smith is missing). A hilarious sequence of curators cooing over the angles and print quality of his infamous dick pics provides welcome light relief.
Directors: Fenton Bailey, Randy Barbato; Starring: Robert Mapplethorpe; Theatrical release: April 22, 2016
Kate Stables
KICKING OFF
There's a clear debt to Edgar Wright in this entertaining comedy about a pair of football-mad friends (Warren Brown and Greg McHugh) who kidnap a referee. The madcap plot, sweary dialogue and self-referential style are nothing new, but first-time director Matt Wilde pulls them together in interesting ways.
Robert Farquhar's authentic-sounding script and the two lead performances buzz with the directionless energy of a frustrated fan at times. But overall this is a thoughtful look not only at football fever but all forms of obsession.
Director: Matt Wilde; Starring: Warren Brown, Greg McHugh, Alistair Petrie, Danielle Bux; Theatrical release: April 21, 2016
Tom Bond
DESERT DANCER
The Iranian Billy Elliot? The middle-eastern Dirty Dancing? Judging by the number of 'inspirational' dance montages here, either of those could be the pitch for Richard Raymond's drama, based on the life of Afshin Ghaffarian.
Set primarily in 2009, 30 years since dance was banned after the Iranian Revolution, it sees Afshin (Reece Ritchie) gather a group of students to bust some moves in the desert. With robotic depictions of Iran's 'morality police', the political subtext is strictly one-dimensional. But with ace choreographer Akram Khan on board, the dancing is powerful.
Director: Richard Raymond; Starring: Freida Pinto, Tom Cullen, Nazanin Boniadi, Reece Ritchie; Theatrical release: April 22, 2016
James Mottram
THE DIVIDE
Zeroing in on seven people from varying income brackets, Katharine Round's richly empathetic docu-study tots up the human cost of erupting inequality. Stats, contexts and talking heads are duly dished: Obama talks sense, Blair talks bobbins… But it's the grassroots portraits that reap returns.
Travelling from gated communities to Glasgow, round earns the trust of KFC employees, Wall Street wonders and more to show how we have been "submerged" in our financial lives. The wide range strains her focus, but the visceral effects of inequality register with an authoritative punch.
Director: Katharine Round; Starring: Noam Chomsky, Richard Wilkinson, Kate Pickett, Max Hastings, Michael Marmot, Ha-Joon Chang; Theatrical release: April 22, 2016
Kevin Harley
CREATURE DESIGNERS: THE FRANKENSTEIN COMPLEX
For all the experienced FX designers talking about their iconic monster creations, this doc only really comes alive when names like Guillermo del Toro and John Landis pitch in. Still, it provides an account of making feature creatures, including prosthetics, stop-motion and animatronics, up to the dawn of CGI.
Sadly, the suggestion that there exists a divide between the computer animation industry and those working in practical effects goes under-investigated. All in all, this might've played better as a Blu-ray extra.
Directors: Gilles Penso, Alexandre Poncet; Theatrical release: April 22, 2016
Matt Looker
FRIEND REQUEST
Popular Laura (Alycia Debnam-Carey) accepts a friend request from loner Marina (Liesl Ahlers) but recoils when she sees the disturbing content Marina posts to her account. When Laura unfriends her, marina commits suicide – and then the haunting begins…
With more inventive frights, the story might not have mattered, but even the monsters here are boring; CGI wasps and coloured contact lenses aren't as terrifying as director Simon Verhoeven seems to think, and all the loud bangs in the world can't hide the lack of tension.
Director: Simon Verhoeven; Starring: Alycia Debnam-Carey, William Moseley, Connor Paolo; Theatrical release: April 20, 2016
Sarah Dobbs