A pretty massive sale is trucking along on the Pokemon TCG and MTG right now, dropping the price of boosters and bundles alike significantly. However, because it's in honour of Easter, it's unlikely to last much longer - in other words, you'll need to hustle if you want to take advantage of these savings.
Hosted by Magic Madhouse, new expansions for the Pokemon TCG and the latest MTG set have been slashed by up to £38 (the average offer seems to have dropped the price by around £5 each). You can check out the MTG discounts and Pokemon sale for yourself via the links.
For me, personal standouts in the reductions would be the Silver Tempest Elite Trainer Box tumbling to £33.95 at Magic Madhouse (it was £42.50). These bundles are always a winner as is because they feature card sleeves, dividers, a storage box, dice, and eight boosters, so getting £8 or so off the sticker price isn't bad going. Even the Scarlet and Violet (Base Set) Booster Packs are £3.69 instead of £4.49.
Similarly, it's good to see the massive MTG Phyrexia: All Will Be One Set Booster box drop ever so slightly to £108.95 rather than £115.95. While it would have been nice to see reductions on pre-orders for MTG March of the Machine, there are still savings to be had on the most recent sets before it. As an example, The Brothers' War Bundle is now £29.95 rather than £34.95, while the Dominaria United Jumpstart Booster box is a much more affordable £49.95 instead of £79.95.
You can check out the full offers below.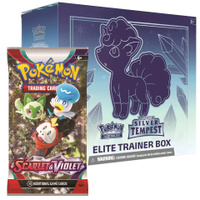 Pokemon TCG | See the full sale at Magic Madhouse
There are plenty of discounts available for the Pokemon Trading Card Game for Easter, and in my opinion, it's the better of the two sales in terms of sheer value.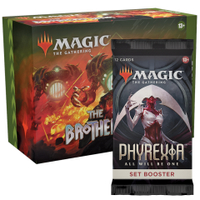 Magic: The Gathering | See the discounts at Magic Madhouse
The newest MTG sets have also been slashed in price for Easter, and while these reductions aren't quite as strong, they're still pretty good overall if you want to cheaply add some boosters to your collection.
Seeing as this is a specific Easter sale, I can't see it lasting all that much longer - Easter is now behind us, after all. With that in mind, it's probably a good idea to take advantage of this slate of bargains while you can.
---
For more tabletop recommendations, don't miss the best board games, must-have board games for adults, and the best card games.