FIFA 22 Career Mode Scouting
Scouting in FIFA 22's Career Mode may not be as in-depth as something as the likes of Football Manager, but it is no less rewarding and well worth ploughing time into.
There are two aspects of scouting in FIFA 22: general scouting for first-team players and youth scouting.
Global Transfer Network explained
Let's start with scouting for first-team players. Head to the Global Transfer Network on the Transfer panel of your Career Mode save. From there, you're able to hire up to six scouts – depending on your budget – with each having a star rating out of five in two categories: Experience and Judgment.
A scout with a higher Experience stat is able to find a larger amount of players when you send them off to search for players. Those with higher Judgment send you a greater percentage of 'higher quality' players.
So, you've hired your scouts. What next? You can send them to one of eight regions to seek out talent, though we'd recommend focusing on Central Europe. From our experience, the game's best early wonderkids (and a larger amount of talent) hail from those leagues.
From there, you can select a particular country. Unlike past years (and Football Manager), your scout's nationality doesn't affect what players you end up scouting, only their specific star ratings. Get this done as early as possible, as scouts take a few weeks to maximise their output.
You should also set specific instructions in the second tab of the Global Transfer Network. They can be as broad or as narrow as you like, though to find wonderkids easily, set an age parameter to 16-20, with the 'Promising' Attribute box ticked in the menus. That also helps find FIFA 22's version of 'regens' after the first season – players that have retired and are 'reborn' as teenagers with fake names and potential to match their real-life counterparts. Scout them further on their player screen to find out more accurate attribute ratings and price ranges.
For senior players, you're set – and can set up as many different variations of nations, player types, and ages as your squad requires.
FIFA 22 scouting youth players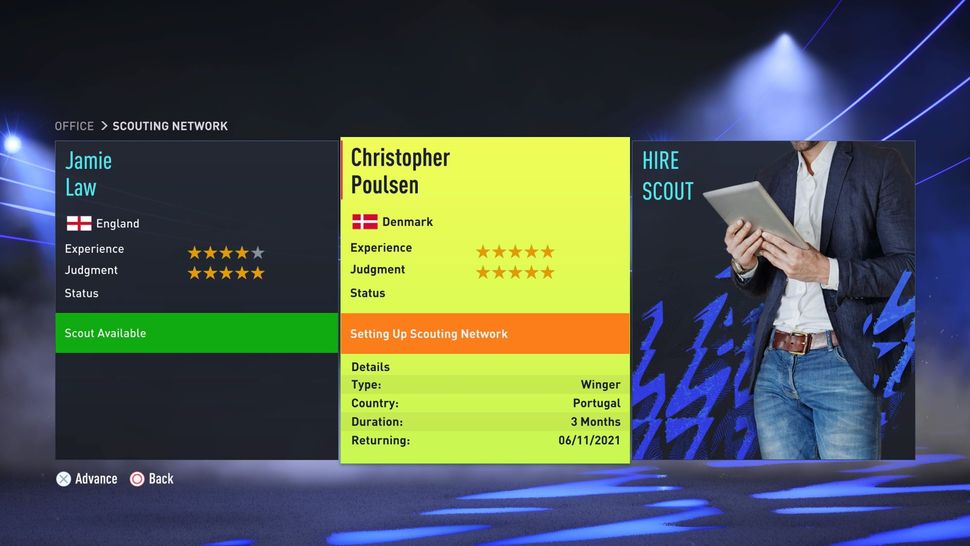 Head to the Office screen to start setting up your youth academy pipeline. Then click Youth Staff and hire up to three scouts to find young talent. The Judgment rating is far more important here, so grab one with at least four stars in that category, click on their name and set up a Scouting Network.
You can send each scout on excursions of up to 9 months and to look for seven types of player: Technically Gifted, Winger, Physically Strong, Playmaker, Goalkeeper, Attacker, or Defensive Minded. They'll then return with a group of players and their potential rating listed. Be warned that potential isn't static, but is merely a good barometer on what a player could achieve with the right development. Sign as many players as you wish to your Youth Academy – but avoid players with under 75 potential unless you're desperate.
In your Youth Academy, you can then set development plans to help maximise various attributes from a selection of training templates. Once a player has developed enough, you can also move them into the senior squad.
FIFA 22 who to sign
This is nice and simple: Focus on those 'Showing Great Potential', 'An exciting prospect', or 'Potential to be something special' – that means they have the chance to be rated 80-85, 86-90, and 91+ respectively.
If you *cough* need some early guidance, you could do worse than looking at the likes of Thiago Almada, Fredrik Oppegard, Wikelman Carmona, Patrick Weah, and Anselmo Garcia MacNulty. If you're not playing as one of the game's top-tier clubs, each offers cheap, fun projects to develop with an eye towards the first team.
FIFA 22 wonderkids
Wondering how the likes of Kylian Mbappe and Gianluigi Mbappe shape up against low-budget youngsters such as Adam Hlozek and Maarten Vandevoordt? Then you need our dedicated FIFA 22 best young players guide, featuring a list of the 50 best FIFA 22 wonderkids to sign in career mode.