I've been on board with the Strand subclasses coming in Destiny 2 Lightfall from the moment Bungie confirmed they have a grappling hook. I'm a simple gamer: if there's a grappling hook, I am grappling. At the same time, I've also been unsure of how much I'll actually use Strand in the game's hardest content. Flying around like space Spider-Man sounds fun, but Destiny 2's Master and Grandmaster content has taught me that getting close to enemies and staying out of cover (key elements of Strand's mobile and aggressive play style) is a reliable way to die.
Will my fancy new grappling hook just be a toy I break out for fun in easy activities? After bouncing some questions off design lead Kevin Yanes and feature lead Eric Smith at a recent press event, I don't think it will. I'm not positive it won't be impractical or risky in the hardest activities, and I still need to see Strand in the wild, but after learning more about the subclass and its capabilities, I'm looking at it with renewed interest.
My ears first perked up with talk of Strand's "higher skill ceiling" rewarding more actions per minute. The part of my brain dedicated entirely to gushing about Doom Eternal has also latched onto the fast-paced combos at the heart of Strand's core power fantasy. From chaining kills while managing resources to bouncing between enemies with truly 3D movements, playing with Strand sounds strikingly similar to the Doom Slayer's latest adventure, and I did not expect that coming in. I feared Strand would end up being a green grappling hook with some cool bells and whistles, but it has the potential to absolutely rip and tear.
How Strand actually works
Like Stasis and the 3.0 subclasses, Strand has a few verbs or keywords that shape its play style. As Smith and Yanes explained, and as Bungie summarized in a new blog post, there are several keywords for the Destiny 2 Strand Subclasses. You can create objects and summons by Weaving Strand together, and this includes Unraveling Strand-affected enemies into Tangles that you can shoot, throw, or use as fuel for abilities. By applying Strand, you can Suspend enemies to keep them aloft and incapacitate them (though you can still wiggle and hip-fire when Suspended in PvP) or Unravel them for AoE damage that sounds similar to Arc 3.0's Jolt effect.
Strand's central grappling hook is assigned to your grenade slot and also ties into these interactions. At its most basic, you can weave a hook to grapple onto, letting you move through the air even if there are no surfaces nearby. You can also grapple onto a woven Tangle to fully refund your grenade. I reckon this interaction will be important for regularly grappling out of danger or, on the offensive, swinging right into enemies to set up powerful grapple melee attacks.
I've saved possibly the most important keywords for last. Strand can Sever enemies to reduce the damage they deal, and it can also grant you Woven Mail armor that reduces the damage you take (though incoming headshot and melee damage is unaffected in PvP). Strand has a lot of crowd control in its toolbox, but more than anything, I'm betting on Sever and Woven Mail to make it viable in Destiny 2's hardest content, because I think we're going to need that damage reduction to support the aggressive play Bungie is promising.
I asked why I would bring Strand to end game activities over the existing subclasses, and Smith argued that, "Strand does a number of things better than any other subclass. The grapple ability specifically provides players with more movement freedom than they've ever had before. The core gameplay of loop of Strand is very dynamic."
"When using a Strand subclass, any Strand debuffed enemy that you defeat is going to turn into a tangle when you kill them. So a Tangle is this kind of swirling bundle of strands. I can grapple to a Tangle, snatch it out of the air, throw it at someone else and still have a grapple ready to go. I think that sort of thing lends itself to the high actions per minute gameplay that you're going to see with Strand."
In response to another question, Smith adds that "the Strand gameplay loop of creating Tangles can lead to higher actions per minute than the other subclasses", and that "there's potentially a higher skill ceiling that rewards players who think on their feet." It sounds crucial to use Tangles and debuffs to react to enemies as they approach, and this smacks of Doom Eternal's flow state to me – kill an enemy in a specific way to generate resources that either keep you alive or empower you to kill other enemies. This thinking isn't new to Destiny 2, but the way Strand goes about it could put it in another league of combo potential.
Yanes also said that the power of Strand can scale with how quickly you react and play. "It rewards a player for having higher APM," he says. "There are combinations you can have like debuffing a target with a melee, killing them and turning them into a Tangle, throwing that Tangle, grappling onto that Tangle, that Tangle detonates, you follow up with a grapple punch which, depending on your class, might spawn Threadlings or might Unravel them and create new projectiles that then feed into your loop."
"I remember the first couple of PvP play tests and I personally was giggling because I'm like, oh my god, the interaction matrix is massive here. And when you string all of these commands together, you feel this rush of dopamine that I don't think any of our other subclasses have without considerable mastery. And the neat thing about Strand is we really have ended up with something that we believe is pretty easy to get into but has a considerable amount of depth for you to master in just the raw action game, let alone the buildcrafting game."
The Strand subclasses explained
The buildcrafting side of Strand raises the question of how each class will put its own spin on this new power. All Strand classes will launch with two Aspects and a shared pool of Fragments, with more of both to come. Thankfully, Bungie insists that unlocking these Strand abilities won't be as time consuming as Stasis was in Beyond Light.
The Warlock Broodweaver uses their abilities to summon Threadlings that seek out enemies like little homing projectiles that you kind of want to pet, and Threadlings can even perch on your character like loyal hunting birds to be deployed later. Warlocks have a rapid-fire melee which can Unravel enemies, and their Fragments empower their Strand grenades (including the grapple) while allowing their Rift to create Threadlings when cast. Their Super, Needlestorm, hits a wide area with Strand projectiles that then turn into Threadlings for a second wave of AoE.
The Hunter Threadrunner specializes in grappling and applying Suspend. One Aspect gives them a second grenade charge and causes their grapple to create a persistent Tangle that anyone can use, allowing a group of Strand Hunters to build a veritable jungle gym of infinite grappling points. (I can't wait to see people destroy jump puzzles with this.) Another aspect gives the class a Shatterdive-like plunging attack that Suspends surrounding enemies. The Hunter Super, Silkstrike, weaves a rope dart which can be used to grapple infinitely (in third-person this time), slash through enemies, and trigger explosions with the tip of the dart.
Finally there's the Titan Berserker, which excels at creating Woven Mail. Its melee ability, Frenzied Blade, can be used three times to Sever a lot of enemies quickly, and one of its Aspects generates Woven Mail for you and nearby allies whenever you destroy a Tangle. Another Aspect launches a Strand projectile from your barricade, Suspending any enemies you hit. This class sounds incredibly powerful on paper, but it's actually been a bit divisive, largely due to comparisons between its Super, Bladefury, and Titan's Stasis and Arc Supers. I put the question to Yanes, who says Bungie's aware of feedback about Titan abilities looking overly similar, but he maintains that Berserker is a whole new beast.
"Bladefury is much more about giving you the survivability tools to really lay into those guys and then giving you a range option, which is not something you generally do in these roaming Supers, to Suspend things from afar and damage them," he says. "That's their heavy attack, that double blade uppercut you see them do in the trailer. I think that's two of the core ways we've tried to shift them away. But yeah, Titan mains, we love you. We do. But remember that we try to reinforce your core fantasy. And at some point, your guy's holding the fist on the cover of the game."
Yanes uses the Titan Berserker as an example of how Strand will evolve in the seasons ahead with the addition of new powers. He also describes it in perhaps the most Doom Slayer way imaginable, which I know Titan mains will appreciate.
"You'll see that power fantasy get expanded as we grow them over the years. You know, obviously there's nothing to talk about today. But when we think of the Berserker, we're not thinking of them just as a close-range brawler. We're thinking about the wild untamable force that is within this guy who wants to resolve this encounter through the most violent methods possible."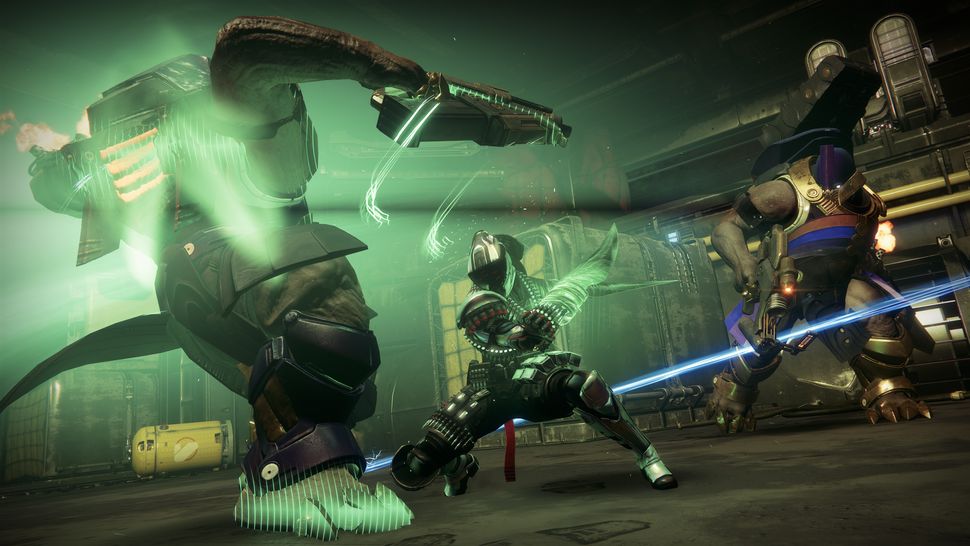 Bungie shared four of the Fragments that will be available at launch, too. Bear in mind that we will have more than these come Lightfall.
Thread of Ascent: Activating your grenade ability reloads your equipped weapon and grants increased weapon handling and airborne effectiveness for a short time. (I don't think we're ever taking this Fragment off, folks.)
Thread of Fury: Damaging targets with a Tangle grants melee energy.
Thread of Finality: Finishers generate Threadlings.
Thread of Warding: Picking up an orb of power grants Woven Mail. (This also sounds really, really good.)
How will Strand affect Destiny 2?
Guardians who were here for the launch of Beyond Light will no-doubt remember how Stasis ran roughshod over everything else in PvP for months, a meta that Yanes jokingly calls his "original sin." With our second Darkness subclass about to arrive, I can't blame people for worrying about game balance. However, Yanes says Stasis taught the team a lot about how to introduce this kind of power, giving them a stronger foothold for balancing Strand to keep it from breaking the game while still adding something meaningful to the sandbox. This is why Suspend isn't a hard stun in PvP, for example, and why Woven Mail has a built-in PvP counter in the form of headshots.
"So Stasis was our first new damage type, right?" Yanes begins. "A lot of the team did not have the experience there; we hadn't done it in years upon years. And so when we went to build that, we didn't want it to feel like just another color. We didn't want it to feel like another way to kill things. We wanted to find this new mechanical identity and this new role for it to sit in that would expand the sandbox and give us a bunch of room to play in, but also would make it feel novel and unique. And that was through [crowd control].
"The question that kept happening throughout development was, is this going to be useful? Is this going to be awesome? Why would I ever use this over vaporizing everything? And so that led us to push it further and further and further. And you have play tests and you have iteration time, but within the first hour of the game's launch, people have dwarfed your QA time by orders of magnitude. So we shipped Stasis with a four and a half second freeze. We're not doing that with Strand. We've learned a bunch of those lessons, we've spent a year iterating on Stasis post-launch, we know how CC fits into the game now."
"And the neat thing is, with the way we've architected this, the behavior for a player is completely separate from the behavior for an AI," Yanes adds. "There's still the same performance, it's still the same mechanical identity, but the Cabal aren't going to go on Reddit and complain about how busted Suspend is, so we can then crank that timer up by a bit. We don't have to have them be able to fight back, so we can make that entirely in the player's favor there. We had a critical eye this time in making sure that when we release Strand it might still be powerful, and it might even still be the flavor of the release, but we're hoping it's not going to be overwhelmingly so. We're hoping that's because it's cool and new and everyone wants to use it, and that's why you're gonna see a lot, not because it's just 'no-brainer, [Coldsnap Stasis grenade] too strong.'"
It is kind of wild to think that Destiny is up to five subclasses now, and many are expecting a sixth in The Final Shape to complete the three-on-three Light and Darkness balance. With Strand aiming to deliver another unique power fantasy, I asked Yanes and Smith how they feel about the remaining design space in Destiny 2, in part because they'd mentioned that some scrapped Strand prototypes couldn't be revealed now because they might be revived in the future.
"I feel good about the design space we have," Yanes says. "I hope we proved with 3.0 that, even with the defined colors of Arc, Solar, Void, we can bring newness to them. Maybe it's naivete, but the abilities team doesn't like to give up or think we're at the end of the systemic road that we're on. I think we believe pretty heavily that there's a considerable amount of design space available for us to consume or discover more of. What design space would be around for a new fantasy of colors? It's a hard question to answer because if you would've asked me this after Stasis, I wouldn't have been even remotely putting myself in the mindset of what Strand could be. Should we sit down and think about a new power, I have all the confidence in the world that the team we've assembled can pull that off."
"For every ability idea we execute on we leave a ton of others on the cutting room floor," Smith agrees. "There are new emotional fantasies, new mechanics that aren't necessarily causing and preventing damage. There's all sorts of things that we'd love to explore in the future. You know, I think the grapple is a great example of this. Grappling hooks are awesome and people love using them. We didn't ever want to shoehorn it into Destiny 2, but because of the kind of emotional fantasy we created with Strand revolving around rope and string, it was the perfect time to make that happen. I think there's a lot of other stuff lurking out there that we're waiting for the perfect time to put in the game."