The Destiny 2 Bungie 30th Anniversary pack adds lots of new content, including Halo-themed loot, the Grasp of Avarice Dungeon, and the return of the mighty Gjallarhorn Exotic Rocket Launcher. Players can also participate in the ridiculous Dares of Eternity gameshow, run by Xur and the enigmatic Starhorse to earn weapons themed around Bungie's iconic titles. However, right now you can get this pack for free on the Epic Games Store! Here's everything that's included in the Bungie 30th Anniversary Pack for Destiny 2.
How to get the Destiny 2 Bungie 30th Anniversary Pack
The Bungie 30th Anniversary Pack for Destiny 2 is a premium content collection that you'll need to buy, similar to a regular annual expansion for Destiny 2. You can buy the pack on your platform store of choice on its own for £21.99/$24.99.

Be aware that the pack only works on the platform you buy it on, even if you have Destiny 2 cross-save enabled. For example, if you buy the pack on Xbox and then switch to playing Destiny 2 on Steam, you will have to buy the pack again on Steam to access the pack's content.

One good thing to note is that this pack will not be 'sunset' from Destiny 2 at any time, unlike with a few previous expansions. As of the Lightfall expansion showcase event, Bungie will no longer be sunsetting expansion content so this pack should be safe forever.
What's included in the Destiny 2 Bungie 30th Anniversary Pack?
In the Bungie 30th Anniversary Pack for Destiny 2, you'll find lots of Bungie-themed content, including crossovers and references to several of its previous games. Here's a list of everything you can unlock if you download the pack:
Bungie Streetwear Armor Ornament Set which is instantly unlocked
Grasp of Avarice Dungeon which includes unique armor sets and weapons
Gjallarhorn Exotic Rocket Launcher via a quest, the Gjallarhorn Exotic Catalyst, and a Gjallarhorn Exotic Weapon Ornament
Marathon-themed Armor Ornament Sets for each Class
Flaming Tiger Helmet Ornament for all Classes
Four Emotes
Inspired Eidolon Exotic Sparrow and Unixûrsal Voyager Exotic Ship from Xur's Treasure Hoard.
The main thing you'll want to try out is the Grasp of Avarice Dungeon, which starts off in the original loot cave in the Cosmodrome. From this Dungeon, you'll be able to earn an armour set for each class themed around the Thorn Exotic Hand Cannon. You can also get fan-favourite Destiny 1 Legendary weapons, such as the Eyasluna Hand Cannon, Matador 64 Shotgun, and the 1000-Yard Stare Sniper Rifle. Bungie has also thrown in the Hero of Ages Sword inspired by the Claymore from Myth.
To get the Destiny 2 Gjallarhorn, you'll need to complete a quest from Xur which involves completing Grasp of Avarice too. Be sure to get its Exotic Catalyst afterwards to enhance your Gjallarhorn with an extra rocket in the tube and even more potent Wolfpack Rounds.
As for armor, you'll be able to deck out your Guardians with six armor ornament sets (two for each Class) themed around Bungie's history. Owners of the pack will instantly unlock the Bungie Streetwear sets which include plenty of nods to Destiny, Bungie, and even Halo. Titans, Hunters, and Warlocks can also get Marathon-themed armor ornament sets, which are unlocked by ranking up your Strange Favor with Xur and spending Treasure Keys on the chests in Xur's Treasue Hoard.
There are plenty more cosmetic items available in the Bungie 30th Anniversary Pack for Destiny 2. All players can get a Legendary helmet ornament that looks like a Tiger head, and emotes, shaders, and emblems are up for grabs by completing Triumphs in Dares of Eternity and the Grasp of Avarice Dungeon. If the return of Gjallarhorn wasn't enough, enthusiasts of the rocket launcher can also unlock the Gjallarswift Sparrow and the Hraesveglur Exotic Ornament.
Free Destiny 2 Bungie 30th Anniversary Pack content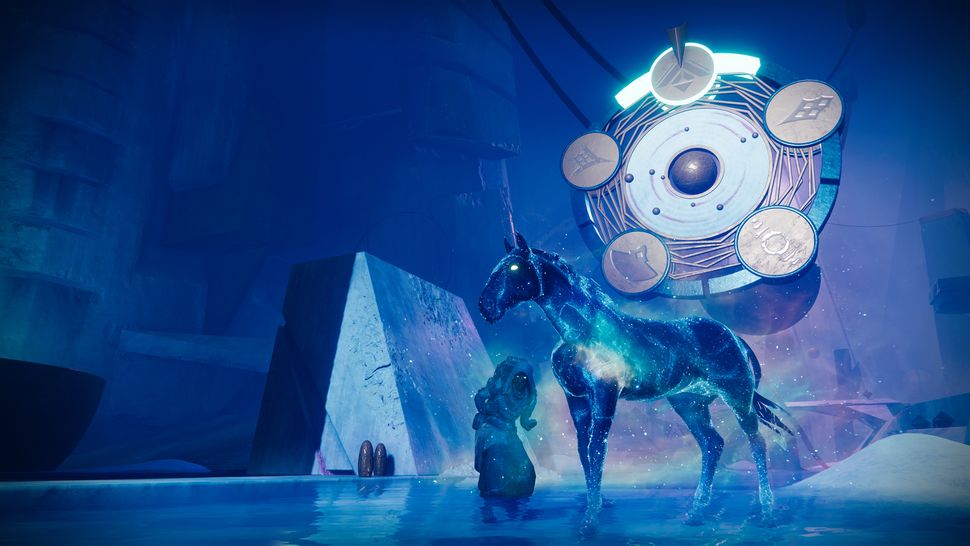 However, players don't need to pay for the Anniversary Pack to gain access to all Bungie content in Destiny 2. All players - whether you own the Bungie 30th Anniversary Pack or not - can participate in the six-player, matchmade activity called Dares of Eternity. This is a gameshow-like mode that sees hosts Xur and Starhorse pitting Guardians against rounds of enemies and bosses with a range of mechanics, including powerups, and rare lightning rounds.
Players can also earn gear from successful dares, including new Destiny 2 Halo guns and Bungie-themed weapons, such as the BrX-55 Battler Pulse Rifle, Half-Truths Sword, and Wastelander M5 Shotgun. All players can also get bounties and rewards from Xur in his new Treasure Hoard area, and you'll even be able to get the Destiny 2 Forerunner quest to get an Exotic Sidearm inspired by the Halo: Combat Evolved Magnum pistol.