The clock is ticking on Cyber Monday gaming chair deals. Now that Cyber Monday has officially ended, deals are starting to disappear from online retailers. Black Friday and Cyber Monday this year saw some of the best gaming chairs go on offer, and while there's still time we recommend making the most of these low prices.
Thankfully, we've done the hard work already and rounded up the last remaining deals we can find down below. Hopefully these deals will stick around for the remainder of the week, but even at midnight on Cyber Monday we were already seeing deals disappear. If you're late to the party already, we wouldn't wait around.
Still on the fence? As the saying goes, if you buy cheap, you buy twice. Only, if you buy a bad gaming chair and you'll buy twice – and your back hurts. Luckily, that's not the case with the gaming chairs we'll recommend here. It's comfort all the way, with a little style thrown in too for good measure. Looking cool in Zoom meetings and being able to recline properly all day long is especially important with so many of us working from home these days. If you're interested in other gaming peripherals at cheaper prices, why not take a look at our Cyber Monday gaming deals page.
Cyber Monday gaming chair deals in the US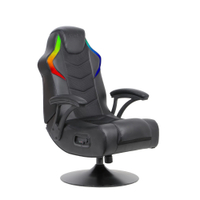 (opens in new tab)
X Rocker Nemesis pedestal console chair | $198 $149 at Walmart (opens in new tab)
Save $50 - The X Rocker Nemesis has been at lower prices, but it's still currently at a discount and it's a good chair regardless of the price - so you might want to grab it before the cost goes back up soon! With built-in speakers and a subwoofer, RGB lighting, and Bluetooth connectivity there are plenty of extra features baked into that price tag.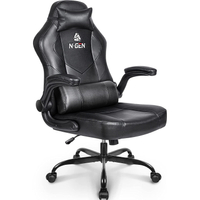 (opens in new tab)
N-GEN Executive Gaming Chair | $189.98 $109.97 at Amazon US (opens in new tab)
Save $80 - For those who want a cheaper option without sacrificing quality, N-GEN have slashed 42% off the executive model of their ergonomic gaming/office chair.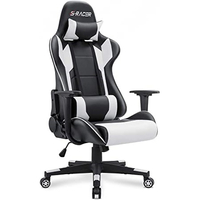 (opens in new tab)
Homall S-Racer white gaming chair | $149.99 $109.99 at Amazon US (opens in new tab)
Save $40.41 - For a cheaper option, this white Homall gaming chair is set up nicely for any gaming PC setup, with ergonomic design and a comfortable faux leather seat.
Cyber Monday gaming chair deals in the UK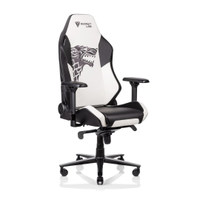 (opens in new tab)
Secretlab OMEGA 2020 | £429 £329 at Secretlab (opens in new tab)
Save £100 - This is an excellent way to save £100 on what is still one of the best gaming chairs on the market. This livery is the perfect purchase for the coming winter, since it's branded with House Stark's Wolf crest. Others are available, too, including a snazzy Cyberpunk livery.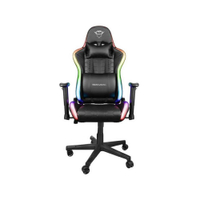 (opens in new tab)
Trust GXT716 Rizza |£269.99 £169.99 at Very (opens in new tab)
Save £100 - This is hefty saving that stands out as not only one of the most durable and comfortable gaming chairs on this list, but also the most colourful. Those RGB edges are perfect for budding streamers and gamers who want to add a bit more colour to their setup.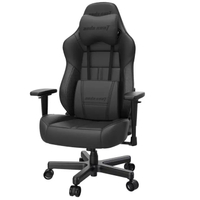 (opens in new tab)
Anda Seat Dark Demon faux black leather gaming chair | £330.00 £239.99 at Argos (opens in new tab)
Save £90 - Anda Seat are a company with a solid reputation for comfortable, well-designed gaming chairs, and this model has had a nice discount if you grab it from Argos quickly!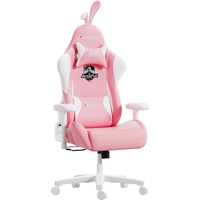 (opens in new tab)
AutoFull Pink Kawaii Gaming Chair | £359.99 £289.99 at Amazon UK (opens in new tab)
Save £70 - Why should all gaming chairs be jet black and rigidly colorless? This AutoFull pink model comes with rabbit ears and even a tail for those who prefer their seats a little more cutesy, and with £70 off - who can object?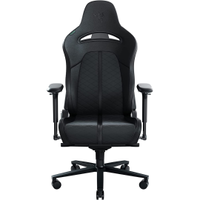 (opens in new tab)
Razer Enki | £399.99 £299.99 at Amazon (opens in new tab)
Save £100 - This is the follow up to Razer's Iskur chair, and while it didn't quite reach those lofty heights, we enjoyed our time with it thanks to its stylish design and decent back support. It's also cheaper than the Iskur, and in this deal, you save £100 from its listed price.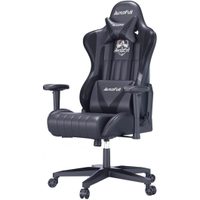 (opens in new tab)
Autofull black Ergonomic high-back Gaming chair | £249.99 £181.99 at Amazon (opens in new tab)
Save £68 - Autofull is back, this time with their classic model. The black version has a hefty discount on it, and comes with everything you'd look for in a basic gaming chair design. Grab one now! And relax...
Cyber Monday gaming chair deals - FAQs
When is Cyber Monday this year?
Cyber Monday 2022 was on Monday 28th of November, with Black Friday falling on the Friday previous. As these two sales events merge further into one another, we'd recommend keeping your eyes peeled for Black Friday gaming chair deals in the future. In past years, we've seen deals appear earlier and earlier as retailers and brands try to jump the gun.
It's definitely worth waiting for these deals - gaming chairs aren't exactly cheap.
How to choose the best gaming chair for you this Cyber Monday
Are you still a little confused about the types of chairs available, and their functionality/differences this Cyber Monday? Not to worry, here's a simple explanation of both types:
Ergonomic gaming chairs: These office-style gaming chairs are built with comfort and longevity in mind. Normally, the best ergonomic gaming chairs will include features like 4D armrests, adjustable lumbar support, and rocking/reclining functionality. It isn't unusual for pricier models to have memory foam pillows included as well.
Pedestal gaming chairs: If ergonomic gaming chairs are mostly aimed at the PC crowd, then these lower-down seats have their roots firmly planted on the console gamers. Usually, these style gaming chairs have some kind of rocking function and are made with lounging in mind, rather than supporting good posture; the kind of thing that wouldn't be out of place in a bedroom or in front of a home entertainment system rather than at a desk.
---
Once you've got an idea of the kind of chair you want to have in your setup, upgrade your rig for less with the best Cyber Monday gaming monitor deals and everything you need to get Cyber Monday gaming PC deals on the day.