The best projectors have come far in the last few years. Gone are the ancient blurs of yesterday's work meetings, instead we're being treated to high definition visuals perfect for incredibly immersive gaming and movie experiences. And there's a lot of choice out there now as well, even if you've mastered what to look for in terms of monitor or screen specifications you could be forgiven for being daunted by the extra things you need to consider in a projector.
Not only do you need to find the best projector specs for your needs, but you'll also need to think about the surface you're projecting onto. You might need a screen for the perfect picture but with high-end units, you'd be hard-pressed to notice any issues if you're projecting onto a white wall. Though in all honesty, you are best served to peruse the best projector screen and best outdoor projector screen markets to ensure you have the right gear for your projected images.
The key things to keep an eye out are lumens (essentially brightness, the higher this is the better the picture will be when the lights are on) and throw distance (how far away from the surface you're projecting on the unit needs to be to give a big enough picture). So whether you're looking to get your first projector or are looking for a top-of-the-line upgrade, there's something for everyone here in our take on the best projectors going.
Best home projector for gaming 2023
Acer putting their Predator branding (and the classic spiky black textured look) on this unit tells us a story: this is a projector aimed squarely at gamers. There's an ultra-fast refresh rate of up to 240Hz in 1080p for PC (120Hz at 1080p for consoles) and minimal input lag which we found makes this ideal for huge screen gaming. Finally, a competitor to the BenQ X1300i for dedicated gaming projectors! In our testing, games were silky smooth, without noticeable lag and even the quickest FPS stays sharp as you wildly move the camera around (if you play shooters as chaotically as I do…).
We did find the 10W speakers to be tinny and weak, but if you're dropping this kind of money on a projector you're likely to be someone who already has a good audio setup. What was more annoying to us, however, was the lack of zoom control, which feels utterly baffling, meaning you have to set projector size by placement. Unless your room fits the throw ratio you may need a ceiling mount to get it in the right distance. Also having to switch source on the unit itself rather than through the remote is odd and something we found irksome - although turning on an HDMI device on will make the projector switch across. While there's a wide range of colour pallets to chose from to enhance your viewing, some manual tweaks were needed to stop the picture looking a bit washed out.
These issues are annoying quibbles, but once you get to play games on this all of that is forgotten. Landscapes look lush, the bright game mode makes colours pop and the dark game mode keeps detail up in the shadows by using the DynamicBlack technology. Video looks amazing too and makes the most of the 4K resolution the GD711 can pump out, with a wide range of modes giving you ideal setups quickly for the perfect colour pallet. Once this is properly set up, it's an outstanding gaming projector.
Read more: Acer Predator GD711 review
BenQ has offered a first in 2022: 4K gameplay with 16ms input lag at 60Hz (with the ability to go as low as 4ms input lag with some sacrifices to other image settings). They've also thought in depth about not just the needs of gamers all round but different types of gamers.
The X3000i is one of the best projectors in all categories, but particularly for gamers, and particularly for role-playing gamers – players who want to be truly immersed in the amazing worlds that triple-A titles are focussing on so much now. The key to this is BenQ's CinematicColour system which offers incredible colour reproduction. The depth of colour is astonishing, with incredibly rich reds, blues and greens on the landscapes of next-gen games.
But the unit offers something for everyone – the low input lag means that playing first-person shooters is a smooth experience even when running through a map or moving fast to take out a horde of foes. And bright party games like Fall Guys or Mario Kart look astonishing, even in ambient light which can so often wash the colour out of other projectors. While it's designed for gamers, watching films or TV shows is also a joy, whether a bright Pixar film or a gritty drama – the detail in the dark colours works well for picking out an enemy lurking in the shadows in a shooter or keeping track of a fight scene in a DC movie.
There's built-in streaming through an integrated Android dongle, but as usual there are key apps missing. The height of the unit makes it bulky, but really this is quite a minor complaint and there's a lot of technology to cram in. These points are really to nitpick – BenQ has raised the bar for projectors with this range and the X3000i has produced some of the best images a projector for PS5 that I have ever seen.
Read more: BenQ X3000i review
The Vamvo is particularly stylish for the price, with a smart-looking case to make carrying around the light unit even easier. The visuals on screen are the most important thing to look at of course, but it delivers here too, at up to 200 inches of great picture in good conditions. The LEDs are suitably bright without too much heat, so this is a projector that can come out at dusk rather than once night has fully set in.
The digital keystoning tool on the back is a nice touch, and the ability to alter this horizontally as well as vertically makes it easier to set up in locations others might struggle with, very useful as many gardens don't have that perfect spot for a projector! The speaker is more than passable if you don't want to lug out a sound system every time you use it. The only drawback is that the controls on top of the unit can be a little fiddly, so don't lose the remote.
A home projector for gaming if ever there was one, the X1300i impressed us straight with its offering of a mere 8ms of input lag and a refresh rate of up to 120Hz - this is in line with gaming monitors and far ahead of the vast majority of standard projectors. The trade-off is that this is pricy for a 1080p projector and cost in line with many 4K units, but if your focus is a projector that is optimised for gaming and one that could be the best projector for PS5 or Xbox Series X then we think this will meet your needs more than practically any other unit currently available.
Instead of the usual one-game mode, the X1300i has three – for RPG, FPS, and sports games. As a result, when we used this as our primary gaming screen, it didn't matter whether we were playing games in lush landscapes, dark corridors teeming with enemies, or on the football pitch (British or American version) as we found a picture mode perfect – and custom audio profiles to bring out the sounds you want to focus on for each. They're also great for watching video – for instance, sport mode is great for the greens of a pitch and the contrasting kits.
It's much taller than most projectors – although this means its footprint on a shelf is small. There's also an odd practical annoyance: rather than being integrated, the Android interface is included on a dongle that needs to be installed. You'll only need to do it once but it is annoying. And there is the usual issue of Netflix and other apps not being approved for use on this and requiring another media source.
If you're looking for a home projector and plan to mostly use it for gaming, especially quite seriously gaming, then, in our eyes and from our testing, this just became the standard to beat.
Read more: BenQ X1300i review
BenQ claims their 2022 range means that gamers need no longer have to choose between 4K graphics and the smoothest gameplay, and the TK700 proves this is no mere boast. The TK700 delivers an incredibly sharp 4K picture with a mere 16ms of input lag at a refresh rate of 60Hz. This is a major breakthrough for the best projector for gaming market, as up until now now getting that level of low input lag has usually meant switching to 1080p or to a monitor.
The TK700 is aimed squarely at FPS players, with a level of detail in the image and directional sound which help to spot opponents before they can get a shot in on you. The smoothness of the image means that even when moving at speed or having hordes running at you it's easy to keep track of everything, giving a crucial advantage to competitive gamers which till now needed a monitor or TV. It also supports a variable refresh rate, ensuing you seamlessly get the best and smoothest image possible, as long as you have a compatible source.
The sound is excellent, very clear and surprisingly loud given the size of the unit. The picture is great for fast moving sport, while films or prestige TV look fantastic with good depth of colour even with daylight coming through the windows. The only downside is that this uses a bulb which can run quite hot, unlike many recent units which have switched to LEDs.
This is the gaming projector many have been waiting for, and the fact that BenQ are putting out projectors aimed at different kinds of gamers shows that they're really working hard to understand the needs of their audience.
Read more: BenQ TK700 review
We love this projector as it's a small but tall 4K LED projector, with 2x8W speakers which belay its small size - and the quality that gets pumped out of it.
During our testing, the setup was speedy out of the box, and offered great autofocus and keystoning tech which made new locations a breeze. We found the colour and motion control options more fiddly – you may need to play with the settings to not feel slightly seasick at times, given the levels of blues and how the projector performed with animated content.
The LED tech is suitably bright, and proved far more watchable with afternoon ambient light than most bulb units. Input lag is as low as 35ms in the dedicated game mode, low enough to be largely unnoticeable as long as you're not too used to a top gaming monitor.
For us, the problems come with a few fiddly settings, including a lack of a dedicated source button to flip to other inputs without going back through the main menus. It also has no built-in capability to manually tilt the unit or shift the image, so you'll need a suitable flat location to project from. Plus there's the usual lack of Netflix and a few other key services from the available apps.
Once you're set up though, SD and HD images upscale well, with the autofocus giving excellent sharpness during our testing. With a UHD source, you'll be able to enjoy every freckle on skin tones and blade of grass in a landscape – a great, decent-value contender for best 4K projector for gaming in our eyes.
Read more: XGIMI Horizon Pro review
We know that one of the first things which could put you off getting a projector is a room too narrow for it. But short-throw projectors give wall-filling pictures even in tight spaces. And in our testing, the BenQ TH671ST proved that you can get a massive 100-inch projection size at just 1.5 meters from the surface -enablign us to turn a cozy living room into a full cinema experience.
It's great for portability: you can take it to a new environment, place it on a table in the middle of the room and deliver huge images. While testing this unit, we found that it is very quick to set up and then you have access to modes that take into account some wall colors and adjust the picture accordingly. The built-in speakers are passable if there's no option of plugging into a sound system.
The TH671ST has truly been designed with gamers in mind. While any of its picture modes offer great response times, the game mode not only gives stunning color but really impressed us with a lag time of just 1.4ms, in line with the top gaming monitors, and almost unheard of in our projector testing. It's not the best for placing further away from a projection surface, so if you are set on having your unit far from the image then you're better off with a standard throw, but only because the image would be too big!
Read more: BenQ TH671ST review
The XGIMI Halo+ deserves its place among the best home projectors as it proved to us in testing that it has many strings to its bow. Notably, it's a portable projector, that's off the beaten track manufacturer-wise, that punches well above its weight and price tag to offer great home performance too. Let us explain.
Boasting a bright 1080p picture, quick auto-keystone, and focus, and a very decent battery life of almost three hours, its spec list starts off strongly. However, we also found that it is also bright enough to watch in daylight at home or even outside, and by dusk we got huge images that belay the small size of the unit. Supporting this is a quick setup with really fast auto-keystoning and focus giving perfect picture from a range of angles, and the built-in stand further helped us position the image.
We found that the built-in Android OS makes it ideal for streaming films or shows while out and about, although it suffers from the usual lack of Netflix compatibility. And it is a solid option, for us, for casual gaming, with a Game Mode offering 26.5ms input lag and 60Hz refresh rate - although those chasing the best and fastest will want even quicker.
Twin 5W Harmon Kardon speakers give excellent crisp sound which fills a room well without needing any external help. At just 1.6kg it will easily slip into a bag, and the hard black plastic feels like it will stand up well to transportation, although it is a surprise that there isn't a carry case included.
Read more: XGIMI Halo+ projector review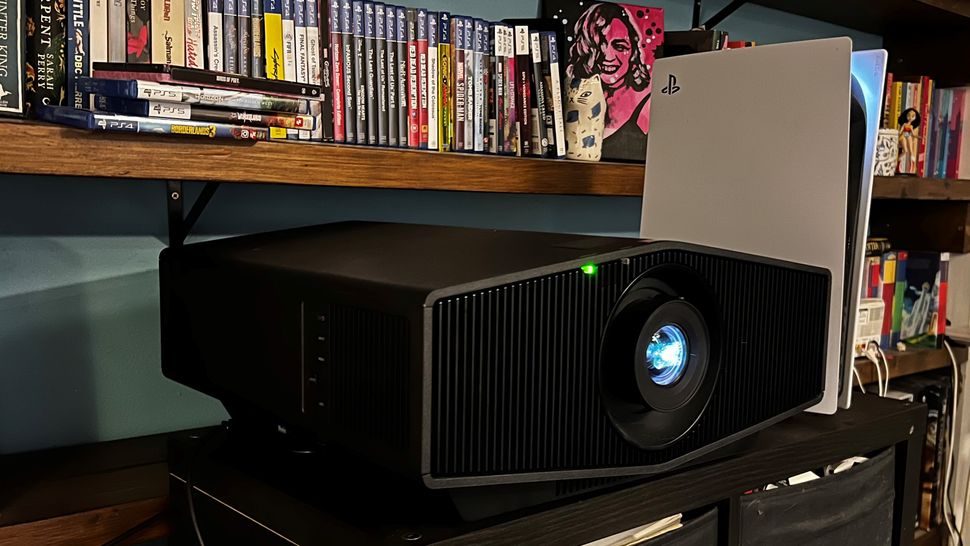 Sony doesn't do casual gaming projectors: it makes true top-of-the-line home cinema centrepieces. This is shown by the "budget" unit in their 2022 range being released with a price tag of $6,000/£6,000, still well under half the price of its sibling projector (the XW7000). While Sony claims this to be the most compact native 4K HDR laser projector in the world, it's still almost half a metre deep and almost the same again wide and weighs 28lb/13kg.
The XW5000 runs off Sony's excellent tech from their BRAVIA TVs, using the X1 Ultimate chip for projectors, alongside their Triluminos Pro algorithm and Silicon X-tal Reflective Display which work to give excellent colour reproduction. The 2022 releases see Sony move from lamp light source to laser, giving lower heat emissions and energy consumption while giving a truly excellent 4K picture. While upscaling is ok, the difference when running from a true 4K source is marked - when you give it the best you get the best from it. There are no specific audio outputs and no integrated speakers - this is designed to slot into a good set-up with an AV amp.
Finally, the price. Put simply, the XW5000 is three times the cost of some truly excellent projectors which give great gaming specs and 4K image - albeit through pixel shifting tech rather than the "true" 4K image here. The difference is certainly not three times the picture quality, and you're to an extent paying an exponential cost for incremental gains. But if you're lucky enough for this price to not be a wrench and you have a great home cinema which needs updating with 2022 4K laser tech then this is a great projector which will remain top of the line for some years to come.
Read more: Sony VPL-XW5000 review
What to consider when buying a projector for gaming
If you're looking for some quick, top-of-the-pile advice when buying the best home projector for gaming then here are a couple of key projector-specific things to think about.
The absolute key for a projector that you have gaming in mind for is input lag. Broadly speaking you need to aim for 50ms as a minimum acceptable level, while under 40ms is better, and around 20ms is the holy grail. How much you really need and must have the lowest possible lag will be down to personal preference: some people will barely notice the difference whereas others will curse anything less than the snappiest of times.
You'll also very much want to be aware of what you're projecting onto. Sometimes you can get away with a wall painted white, but for the best pictures, you will need a dedicated screen. It's a bit more of a nuisance, perhaps, but you won't regret it.
The majority of projector models will still be bulb-based, but the laser variety is well worth a look if you fancy the best of the best. This technology, as you can see, can come with a premium though, so bear that in mind. The flip side is that this is likely to have your back for years and years.
For information on our testing process, you can read how we test gaming projectors at GamesRadar+, and for details on our more holistic approach to gaming tech, check out our Hardware Policy.
Are projectors too slow for gaming?
This is a genuine concern, and probably the most persistent one still, as speed has never traditionally been a strong point. Literally having to throw a picture out from the unit means that latency has always been a concern. The good news is that modern gaming projectors have never been better in that respect and you can safely get a machine that's below the 50ms mark - the minimum you should aim for. The bad news is that the lowest ms times are reserved for those most expensive projectors.
Is a projector good for PC gaming?
In short, yes! It can work, and it can be a wholesome, massive experience. Hooking up a super-powerful rig to one of the best gaming projectors can be quite the experience, and the power of the PC will get great results out of a projector.
Given the living room size of the screen, however, we often think that console players might be a more natural fit (perhaps from a 'traditional' perspective more than anything), but if you game on PC in the living room anyway then a projector could be the display upgrade you've been looking for!
Is gaming on a projector good?
Well, naturally this is quite subjective, but there is something engrossing and captivating about gaming on a projector. The size of the picture, and thus the ability to enjoy a great picture like an enormous painting is something that projectors totally own and other screens can't offer.
It's an experience that's still probably at its best for 'slower' games like single-player story games, adventure games, and RPGs. Think Uncharted, Tomb Raider, Witcher 3, Assassin's Creed et al - just because the latency isn't great for those really competitive shooters and online games. However, having said that, we're positive you could have a jolly old time in the likes of Doom, or Wolfenstein on projectors too.
---
If you prefer your screens TV-shaped then check out our guides to the best TV for PS5 and Xbox Series X, best 120Hz 4K TV, best QLED TV, and best OLED TV.