The best outdoor projectors have grown to be a part of the projector realm that can offer something at any time of the year - let alone just the summer months. But, getting ahead of the weather and researching the right model for you can certainly pay off once that sun does start to show. Outdoor projectors have one big issue to contend with, though - the sun.
For context, cinemas aren't dark just so you can cuddle up in the back row; the light from the projector wouldn't be able to make the colors so strong and vivid if it was competing with house lights. Similarly, even the best home projector (opens in new tab) is no match for a gigantic ball of light in the sky. Any projector is going to struggle with a sunny day, even in a shady area. That's why we'd recommend keeping even the best outdoor projector for the twilight hours.
Of course, everyone's finances have been affected a lot in one way or the other in the past year or so, and that might continue for a bit. But here there's something for everyone to get one of the best outdoor projectors, whether you've saved what you would usually spend commuting and socializing or if money's tight. While "you get what you pay for" applies to outdoor projectors maybe more than any other bit of entertainment tech, you can still find great units at affordable prices.
We've rounded up all the best outdoor projectors currently available right now, so you can make the most of those long evenings heading our way.
Best outdoor projectors 2023
Why you can trust GamesRadar+ Our expert reviewers spend hours testing and comparing products and services so you can choose the best for you. Find out more about how we test.
The BenQ GS50 is a terrific candidate for the best outdoor projector this year, and is one of your top premium choices should you be looking to splash out. BenQ claims the 2.1 Bluetooth sound is a first for a portable smart projector, and it's likely the loudest we've heard on a portable projector. Volume was kept below 10 out of 50 at home for the most part in our testing, but even when cranked right up to full volume there was no noticeable distortion – so you can listen outdoors without the need for extra speakers.
It's truly built for portability, with a hard-wearing outer case that is splash resistant, is drop tested to about two feet (or "carrying height"), and comes with a smart carry case. We found the battery to last well over two hours, but this can be stretched out to almost three, while you can also charge via a USB-C power brick.
The HD picture is crisp with good colour reproduction. There's no game mode and input lag is measured at 62ms – not noticeable unless you're a competitive gamer but showing that gaming isn't the focus of the GS50. You could get a higher-end home projector for this money, and although it's more than fine for casual home watching, the features mean this has to be, first and foremost, a front runner for the best outdoor projector money can buy right now.
Read more: BenQ GS50 review
When putting a projector indoors, there's a reasonable chance of having a white wall that the image will look great on. Outside, this is less likely. So not only is the TMY V08 great value in itself, but it includes a free 100-inch screen sheet, saving you having to buy one separately. It's a small touch, but a very useful one that few brands provide.
It's a bright outdoor projector which will give as good an image and clear sound as you'll find in this price range. Some users have reported issues having all areas of the screen in focus but this is only noticeable if you're using it as a secondary monitor with lots of text, and not something which interferes with your home drive-in watching pleasure. It's well worth the low price.
The XGIMI Halo+ is a great outdoor projector that boasts a bright 1080p picture, quick auto-keystone and focus, and a very decent battery life of almost three hours. Bright enough to watch in any light, by dusk you can get huge images that belay the small size of the unit. Setup is a breeze with really fast auto-keystoning and focus giving perfect picture from a range of angles, and the built-in stand further helps position the image.
Built-in Android OS makes it ideal for streaming films or shows while out and about, although it suffers from the usual lack of Netflix compatibility. It's also great for casual gaming, with a Game Mode offering 26.5ms input lag and 60Hz refresh rate - although those chasing the best and fastest will want even quicker.
Twin 5W Harmon Kardon speakers give excellent crisp sound which fills a room well without needing any external help. At just 1.6kg it will easily slip into a bag, and the hard black plastic feels like it will stand up well to transportation, although it is a surprise that there isn't a carry case included.
Read more: XGIMI Halo+ review
The sound of one of the best outdoor projectors might not be the first thing on your mind, but not having to carry out speakers every time you want to use it makes set up much less of a chore and lets you get on with what you want to do: sit down and enjoy your own outdoor cinema. The L21 boasts not one but two great speakers, and it's a rare treat to get stereo at this price.
Convenience is key here – the L21 is quick to set up and a glance at the simple and unfussy remote reflects the commitment to keeping things simple. BDPower boasts about the quality of its dual-fan cooling system, but the drawback is that this fan noise means both speakers will have to be turned up loud to drown it out.
The Epson EF-12 is an excellent outdoor projector that has plenty of features to make it an attractive proposition - both for in-home use as well as on the go.
The native 1080p picture (it also supports UHD images) looks sharp with instant autofocus and kearning to give quality display wherever you set it up. In our testing we found that it gave wonderfully clear images up to 150 inches, which is a huge picture from such a small projector. The 100ms+ input lag is an issue though and is a real drawback for gaming, though.
While it has some of the drawbacks that beset most of the best outdoor projectors such as a lack of zoom controls, and limited app availability, the EF-12 does have more than enough advantages to make up for them – not least two excellent built-in 5W Yamaha speakers and a great built-in Android OS which gives this the functionality of a smart TV with easy streaming. The three-chip LCD processing gives great depth of colour and no rainbow effects, while the strong laser light means that it's more than watchable with ambient light in the room.
For some folks, the EF-12 will be a hybrid unit for both home use and outdoor entertainment, however the latter will be held back a little due to its lack of battery. But if you're looking for a great unit for everyday watching at home which you can also take out to easily set up in other places, this fulfills that niche wonderfully.
Read more: Epson EF-12 review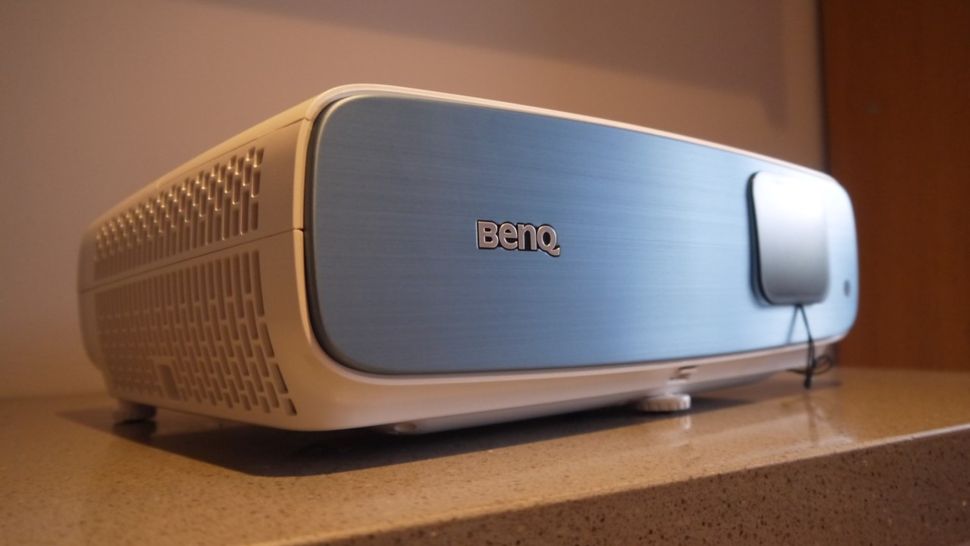 BenQ is one of the biggest names in projectors because they offer great quality at a price well below similarly specced competitors. The TK850 gives true 4K UHD for incredibly sharp pictures and intense, detailed color. Its 3000 lumens mean this unit is incredibly bright and will be watchable when other projectors are still waiting for nightfall, while the backlit remote means you'll still be able to change settings in the dark.
For anyone who wants to replace the full stadium experience while the stands are empty, the TK850 is made for whatever sport you've been missing. It has custom sports modes, helped by its low lag so you can watch even the fastest matches seamlessly. This includes sound settings, which gives you every bit of the dubbed crowd or shout from the pitch through its chambered 10W speakers. Projector speakers can be a mixed bag but these are loud and clear enough to not require dragging a sound system outside.
It's a simple unit to set up, and as well as vertical keystoning offers a lens shift wheel to move the image up or down – making it easier to get a great picture when you don't have the perfect spot for it to rest. The only downside is that the input lag of 83ms is slower than the ideal for gaming, although it would take a keen eye to spot this. At the premium end of the spectrum, this is the best outdoor projector.
If you're worried your small or narrow garden doesn't have room for a projector, you need short throw. The wide lens of the Optoma GT1080 can give huge images even when close to the projection surface, opening up viewing possibilities in the cosiest space.
It also boosts a gaming mode with minimal input lag. Most projectors will be fine for the majority of gamers, but the hardcore – particularly those who play online – will need something as responsive as the GT1080.
The only real niggle with this is that lacks a full USB input, with only a mini USB slot, which means you'll need a device which outputs HDMI rather than popping a Fire Stick straight in, for example.
A perennial drawback with outdoor projectors, especially in the summer, is the heat they give out. Personally, the heat of mine indoors stops me using on summer days. But the Goodee G500's LED light rather than a traditional lamp runs with little heat, making it ideal for an outdoor unit. Anyone whose phone has overheated and shut down in the last few weeks knows how annoying hot tech in the sun is!
The picture here isn't perfect, 720p rather than 1080p, but it gives beautiful images. While it advertises a picture up to 180 inches, image quality does drop noticeably before you get there. If you only have 4k sources but want to dip your toe in the projector water, don't worry; it downscales well without the visual issues some cheaper projectors have with this. It's also got a wide range of inputs, should you need to connect something pre-HDMI. The inbuilt speaker is poor and you'll need external ones to plugin but that's often to be expected at this price point.
The Benq GV1 is a robust portable unit that gives decent picture for a projector the size of a pint glass that you can take anywhere. It's not a home cinema experience or even full HD but this is about portability rather than perfect picture. The most impressive thing is the brightness when plugged in – excellent for any unit let alone one this size. A solid three-hour battery life gives plenty of viewing time when out and about – but you'll need to have media downloaded to the device you cast from if you're not on a wifi connection.
It's built solidly and will stand up to transportation, plus the solid plastic looks the part and is neat and clean in design to boot. It runs Android OS and most streaming apps are readily available for download with good casting from phones, tablets, and wifi. The downsides: the sound is good but doesn't offer quite enough volume. It's frustratingly fiddly to set up, with very sensitive zoom control and D-pad keyboard input, but it's easy to cast to it to once set up, and auto-keystoning is helpful. There is notable input lag when playing games which require precise timing, although for a casual play of a slower-paced game it'll be adequate.
Read more: BenQ GV1 review
A solid unit in the mid-range of projectors, the EB-S41 is bright and reliable. Epson is a brand pitched a little more towards business rather than pleasure, and there is something about the unit which looks more at home in the office than home or garden, but that's not something to worry about when you're watching its great picture. It offers WiFi connectivity and casting, although you need an additional accessory for this.
The carry case helps you to easily take it out into the garden and store it safely when not in use, or for if you're sick of being the host and want to make someone else's back yard a cinema. One of the few models in this price range to offer horizontal and vertical keystoning make it easier to set up in new places too. However, the native 4:3 aspect ratio shoes this may be more of an office projector you can use for outdoor viewing rather than a genuine video specialist.
At the size of a large drinking glass, the Anker Nebula Capsule II is slightly bigger than its predecessor but upgrades on it in several ways. It now has Android TV installed which means all your favorite streaming apps can run on it (although you need a quick workaround to install Netflix). Set up is a breeze as you can connect your Android phone to import WiFi and app account details, and even use the phone as a controller rather than needing to type using the remote. Automatic focus and keystoning means you've got a clear picture fast.
If you're venturing out to camp, be sure to pack this. You can take it anywhere with three hours of video playback (30 hours of music) on a single charge and 8GB of storage (plus a USB port for a memory stick or external hard drive). The picture isn't the sharpest, brightest, or the biggest, with a throw distance of about 60cm to 3m (around two to ten feet), but this can be used anywhere, in seconds. This isn't about perfect high fidelity, this is about fun and portability.
When I last bought a projector in 2017, I was warned off anything in this price range. But the GooDee Upgraded's glowing reviews and status as one of the top sellers on Amazon shows that affordable LED projectors are no longer a huge quality drop off from lamp units twice the cost.
There are some practical issues. A lack of display size control means you'll have to move the projector forward and backward to control the image dimensions. A three setting front leg instead of a screw means a lack of precision in height controls, making it more likely you'll have to balance strategically sized books under the front of the unit to set the height of the projection. But with sharp, bright picture and stereo sound through good speakers at this price, compromises can be made!
What's the best projector for outside?
Any of the products on our best portable projectors guide are going to be, we think, great candidates for you no matter what parameters you're working within to find the best projector for outside.
No matter what constraints you have in terms of budget, outdoor space, lighting, connections, power supply, and so on, there's an outdoor projector for you - and the best one will be one that has the 'correct' amount of must-have features, while also factoring in some necessary compromises. From pocket-sized powerhouses like the Anker Nebula Capsule units and the XGIMI Halo+, to larger units like the Epson EF-12, there are solutions on our outdoor projector guide for everyone.
What do I need for outdoor movies?
It might seem like a lot of hassle, but watching movies, sports, or live streams outdoors is as easy as it's ever been. You'll need to pick the right contender for best outdoor projector from this very page first, then you'll need to pick up one of the best outdoor projector screens and you're basically set! Of course, it's good to get your outdoor space in order and ensure you have enough space to throw your images, enough room to view them on, and a power source to ensure you won't run out of juice.
How do I choose a good outdoor projector?
All of the models on our best outdoor projector guide are very worthy candidates and they will all help you narrow your decision down when looking at outdoor projectors, offering slightly different strengths.
However, there are key characteristics that can help you to laser focus in on what the most important decisions will be. Think about brightness as this will be key to ensuring the picture is clear outside; throw ratio will guide you on how best to position and use the projector; and it's also worth looking at resolution and contrast ratios to ensure you're getting HD to match most TV and film in the former, and bright colours with the latter. You'll also want to consider price - always consider price - as some outdoor projectors can punch well above their weight and offer great value, while you don't want to pay over the odds just for a single, slightly-better spec.
How many lumens do I need for a projector outside?
Because of strong ambient lighting and the general nature of being outdoors, getting one of the best outdoor projectors with enough juice and power to project clearly is a key consideration when looking for a mega picture giver.
In short, the generally-accepted number of lumens for an outdoor projector to be clear - in daylight - is about 2,500. Almost all of the models on our best outdoor projector have that amount or more so will serve you well. However, at night the required brightness can be lower than this due to it, well, being darker and nighttime. That's why something like the XGIMI Halo+ with 900-odd lumens can be a belter at night.
Is 7500 lumens good for an outdoor projector?
Generally speaking, the best outdoor projector will have to have a lumen brightness starting point of about 2,500. This is the best minimum to aim for, but, of course, being outside and subject to all the natural light, the more the better. Like a TV might be bad with glare from incoming natural light so to can outdoor projectors - and that the brighter your projector can go, the better it will combat the natural light. Thus, an outdoor projector that has 7,500 lumens will absolutely be bright enough for using externally.
Overall, you have some fine options here, and we will keep adding to as often as we can. If you're looking for the more traditional gaming screens then you have to check out our guides on the best gaming monitors (opens in new tab) and the best gaming TVs (opens in new tab).