10. Aion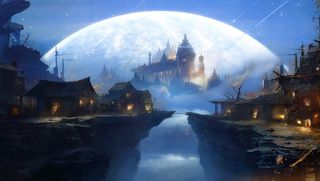 Available on: PC
Like Allods Online, Aion has a pretty easy, one word pitch: flight. The flight in Aion, however, isn't just a gimmick or a traversal mechanic; instead, it's a core feature that plays a critical role in PvP combat. In the game's excellent PvP arena, the Abyss, flight adds a dynamic layer of strategy that elevates the combat above many of its competitors.
The way the flight is throttled and the way it opens up another dimension of space during a fight make it a meaningful addition to already engaging combat. For a game that came out in 2009, Aion continues to be visually striking, especially in the environment and enemy designs. And even seven years from its original launch, Aion continues to evolve and bolt on new areas to explore and lore to absorb.
9. DC Universe Online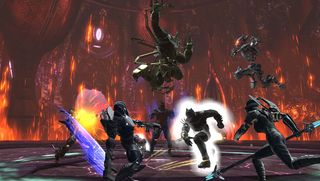 Available on: PlayStation 4, Xbox One, PlayStation 3, PC
While DC Universe Online only just hit Xbox One recently, it's been available on PC now for a staggering six years, and continues to lead the pack of superhero MMOs. Its access to DC Comics massive stable of highly recognizable, iconic characters means players eager to play alongside legendary heroes like Superman and Batman won't be disappointed, but DCUO wisely allows users to create unique heroes with custom abilities.
Also distinguishing it from games like (the now defunct) City of Heroes, or Champions Online, DCUO eschewed tab-targeting for action combat, a prescient move that makes battering enemies up feel a lot truer to the source material. Add in an interesting story about an alien invasion and some cool gear and leveling options and DCUO is a winning formula, especially now that it's free to play. And the 6th year anniversary event just launched, giving players new incentive to jump into this kinetic comic book world.
8. Neverwinter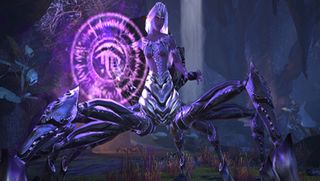 Available on: PlayStation 4, Xbox One, PC
One of the most beloved settings in the Dungeons and Dragons catalogue, the Forgotten Realms rest on a foundation of decades of highly embroidered fiction and best-selling novels. A series of events centered on the venerable city of Neverwinter have reshaped the world of Faerun, and Cryptic Studios capitalizes on this exciting transitional period in one of this years best new free-to-play MMOs. Neverwinter captures some of the unique flavor of the Forgotten Realms while focusing on fast-paced combat and mechanics borrowed from the tabletop version of Dungeons & Dragons.
Wizards and priests, long relegated to the back of adventuring parties, now sport the ability to output some impressive damage on top of their buffing and healing abilities. At the same time, bruiser warriors gain the benefit of powerful spell-like abilities, further blurring the lines between classes. Neverwinter does an excellent job of propelling players forward and keeping the action fresh, while ensuring that background systems like invoking and crafting aren't given short shrift.
7. EVE Online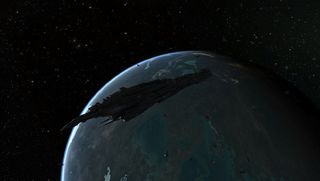 Available on: PC
Still the preeminent space MMO and source of some of the best anecdotes in gaming, EVE Online succeeds by focusing on a handful of elements and doing them exceptionally well. On top of their meticulous simulations and systems, CCP also does a tremendous job of listening to its dedicated community and responding appropriately, to the point that subscribers are often integral to the decision making process.
Described dismissively as spreadsheets in space by detractors, the criticism points to one of EVEs greatest strengths: its thriving, realistic, player-driven economy. EVEs corporations and alliances take their business very seriously, to the point that in-game intrigue has on occasion spilt over into the real world. For depth, nuance, complicated diplomacy, and sprawling space battles, nothing compares to EVE Online.
6. Rift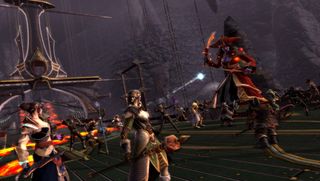 Available on: PC
Rift is another great example of some of the most familiar elements of MMORPGs done exceptionally well. Trion takes standards like character building and streamlines them, innovating just enough to make Rift distinct from similar games while adhering to an "if it ain't broke" approach to design. In the case of leveling skills, for instance, players choose up to three souls that function like skill trees, and can then decide if they want to spread points around multiple trees or focus all of their character growth into one.
The game's eponymous events, the opening of Rifts, provide world events that scale based on the number of players in a region. The appearance of these inter-dimensional portals does a good job of fostering an us vs. them mentality in players and helps contribute to a feeling of community absent in most MMOs. The dramatic consequences of these invasions, like the deaths of NPCs and even quest-givers, can ripple across the game world and have substantial impact, imparting a sense of player agency over the virtual world they're inhabiting.
5. Elder Scrolls Online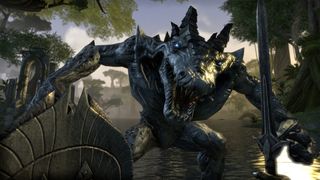 Available on: PlayStation 4, Xbox One, PC
Players have explored discrete portions of Tamriel in the other Elder Scrolls games, but Elder Scrolls Online offers up almost the entire continent to explore and plunder. And the new One Tamriel update offers up every area in the game to newcomers and veteran alike, removing the level requirements that previously hampered exploration.
The game world is massive, giving you plenty of dungeons to spelunk, enemies to defeat, and characters to meet, but what may be of most interest to you is how much ESO feels like you're playing an Elder Scrolls game. ESO has all of the MMO tropes to suck up your time like crafting, loot hording, and raiding, but the action-oriented combat system and an optional first-person camera perspective gives the game that Elder Scrolls feel. If you've done everything in Skyrim and are looking for more until Elder Scrolls 6 comes out, Elder Scrolls Online is definitely what you're looking for.
4. Star Wars: The Old Republic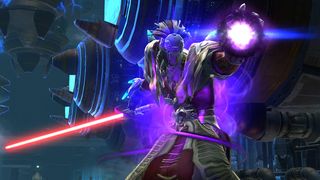 Available on: PC
Coming from the veteran storytellers at BioWare, it's no surprise that the focus in Star Wars: The Old Republic is on narrative. Fully voiced cut-scenes, fleshed out characters, and plots-within-plots have led some critics to laud the stories in The Old Republic as better than anything in the prequel trilogy of films (and, as a bonus, there's nary a Jar Jar to be found). The Old Republic lets players engage in their favorite Star Wars power fantasies as noble Jedi or treacherous Sith, unrepentant smugglers or ruthless bounty hunters.
There are few things as satisfying as building a badass lightsaber or a lethal blaster and then cutting a swath through the alien races of the Star Wars universe. A steady stream of updates adding new stories, pets, weapons, and other top-notch content have made The Old Republic one of the most attractive games to delve back into, even if, like us, you'd taken a break since launch.
3. Guild Wars 2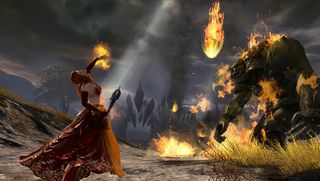 Available on: PC
Unlike so many entries in the MMO genre, Guild Wars 2 doesn't try to best World of Warcraft at its own game, instead striking out in interesting new directions with divergent ideas about how online games should play. It freshens tired MMO conventions in novel ways, and eliminates the subscription model in lieu of a free to play model that never feels suffocating. Guild Wars 2 also benefits from dynamic events that give weight to players' actions: a town you've ridden of its ogre persecutors might later find those same ogres regrouping in nearby caves or constructing siege equipment to retake it.
Actions in Guild Wars 2 have consequences that are reflected in meaningful ways in the game world, which gives developers the opportunity to reflect events as they might in a single-player game - an almost unheard of luxury in MMOs. The result is a game world that feels reactive and alive, and makes leveling and questing feel more like an adventure and less like a grind.
2. Final Fantasy 14: A Realm Reborn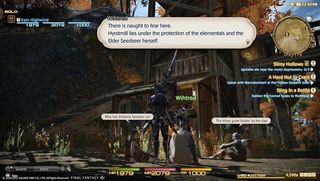 Available on: PlayStation 4, PlayStation 3, PC
In its original state, Final Fantasy 14 was a disaster. Its interface was impossible to navigate, it had a weird fatigue system that punished you for playing for more than an hour at a time, and even if you were willing to look past its glaring problems, it was a buggy, glitchy mess that was practically unplayable. Unwilling to let the 14th entry in its storied franchise go down as the worst in gaming's history, Square Enix spent two years rebuilding FF14 from the ground up.
The result - version 2.0, aka A Realm Reborn - is utterly beautiful. Gone are many of the issues that plagued FF14 at launch. Its world is gorgeous, its quests fun, and it's jam packed with nostalgic references to Final Fantasy games. It also boasts one of the deepest class systems around thanks to the ability to level every class and crafting profession on a single character, and enjoyable public quests promote teamwork. FF14: ARR may not bring anything new to the table, but its tight design and ridiculous level of fan service makes it impossible not to love.
1. World of Warcraft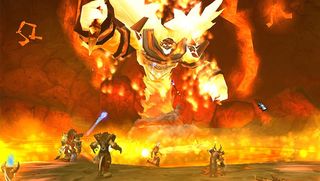 Available on: PC
Though many have tried, none have yet succeeded in toppling the king. World of Warcraft continues to succeed in large part because Blizzard is never content to rest on their (cash padded) laurels. New features are constantly being introduced to the world's largest MMO, and with the practically unlimited funding that millions upon millions of subscribers provide, it's difficult for even the scrappiest competitor to keep pace.
Farming (of the agricultural rather than loot variety, though the latter is certainly present as well), match three puzzle games, pet battles, a Plants vs. Zombies mini-game, and an unbelievable wealth of other content in iterative patches and full blown expansions continues to ensure WoWs place at the top of the heap. Every time subscription numbers start to slip, a new expansion, fully laden with new delights, shuffles onto stage and sucks all of the addicts back into WoWs orbit. Legion perpetuated this trend earlier this year, with its massive new areas, class specific quest lines, and brilliant evolution of daily quests, the world quests system. Until something both revolutionary and remarkably polished steps in to siphon off some of those diehards, the end of WoW's reign is nowhere in sight.
Some online stores give us a small cut if you buy something through one of our links. Read our affiliate policy for more info.