Final Fantasy 16 is on the way and if recent reports are anything to go by, it might not be so long before we see more of the game. News recently pointed towards the upcoming entry being "pretty much complete" after the pandemic delayed the project by almost half a year. As we approach E3 2022, Final Fantasy is also set to celebrate its 35th anniversary, with a website promises updates on the series' upcoming titles. As more showcases are confirmed as part of the E3 2022 schedule, we may very well see Final Fantasy 16 make an appearance, especially if it is now in the "final stages of development".
While we wait it out for another update on the adventure, read on below to find out everything we know so far about Final Fantasy 16.
Final Fantasy 16 release date
We now know that Final Fantasy 16 will be a PlayStation console exclusive that's coming to the PS5. No release date has been revealed so far and Square Enix also confirmed there's currently "no further information" about whether the next entry in the series will be coming to other platforms after the mention of PC was shown during the showcase. While an insider has said it's unlikely to release in 2022, news that the game is nearing completion may mean the wait won't be that much longer.
Who is working on Final Fantasy 16?
In terms of who is working on the upcoming Final Fantasy title, the announcement also confirmed Naoki Yoshida is the producer on Final Fantasy 16. After the official reveal of the game during the PS5 event, a blog was posted on PlayStation's official site (opens in new tab) written by Yoshida which confirmed his role, along with revealing that Hiroshi Takai is directing.
"The exclusive footage, comprised of both battles and cutscenes running in real-time, represents but a fraction of what our team has accomplished since the start of development on this, an all-new Final Fantasy game," Yoshida writes. " In that span, the team's size has grown from a handful of core members to a full-fledged unit that continues to polish and build upon what they have created so far, all to provide players an experience unmatched in terms of story and gameplay."
Comments from industry journalist Jason Schreier suggested it wouldn't be too long before we get to play Final Fantasy 16. Apparently, Square Enix has been working on the Final Fantasy 15 follow-up "for at least four years in some capacity." Obviously, it's nothing concrete, but this does check out with the trailer Square Enix revealed during September's PS5 showcase, which showed a surprising amount of Final Fantasy 16 gameplay and cinematic footage.
Final Fantasy 16 setting and characters
Just recently, Square Enix launched an official website (opens in new tab) for Final Fantasy 16 that offers some insight into the upcoming installment's world and leading characters. Set in the land of Valisthea, the world is said to be "studded with Mothercrystals - glittering mountains of crystal that tower over the six realms around them, blessing them with aether." Over the generations, people have gone to the beacons to take advantage of the blessing they offer. Using the Mothercrystals aether to conjure magicks that live comfortable, rich lives, many great powers have grown around each Mothercrystal.
But all is not well in Valisthea. Peace has started to falter with the spread of the Blight, which threatens to destroy the dominions. In Final Fantasy 16, deadly creatures known as Eikons inhabit the world. Each Eikon resides within a single man or woman blessed with the ability to call them. These individuals are known as Dominants. The worldview of these Dominats varies from nation to nation, with some treated like royalty, while others are forced to become weapons of war.
Clive Rosfield has also been introduced as one of the leading characters along with Joshua Rosfield and Jill Warrick. Clive is the firstborn son of Archduke of Rosaria. As the firstborn, he was expected to inherit the Phoenix flames and become a Dominant, but it instead passed over to his younger brother Joshua. After mastering the blade, Clive becomes First Shield of Rosaria before tragedy strikes "at the hands of a mysterious dark Eikon, Ifrit. Now on a path to revenge, Clive is said to set out on a "dangerous road."
Five years younger than Clive, Joshua deeply admires his older brother. Viewing himself as "bookish and frail", Joshua appears to wish he wasn't the one to inherit the role of Dominant with command over the Phoenix's flames.
Jill, on the other hand, was taken from her homeland at a young age to become a ward of Rosaria in order to secure peace between two warring nations. Described as "kind, gracious, and unassuming," Jill is a trusted figure to both the brothers.
Final Fantasy 16 combat may share similarities with Devil May Cry 5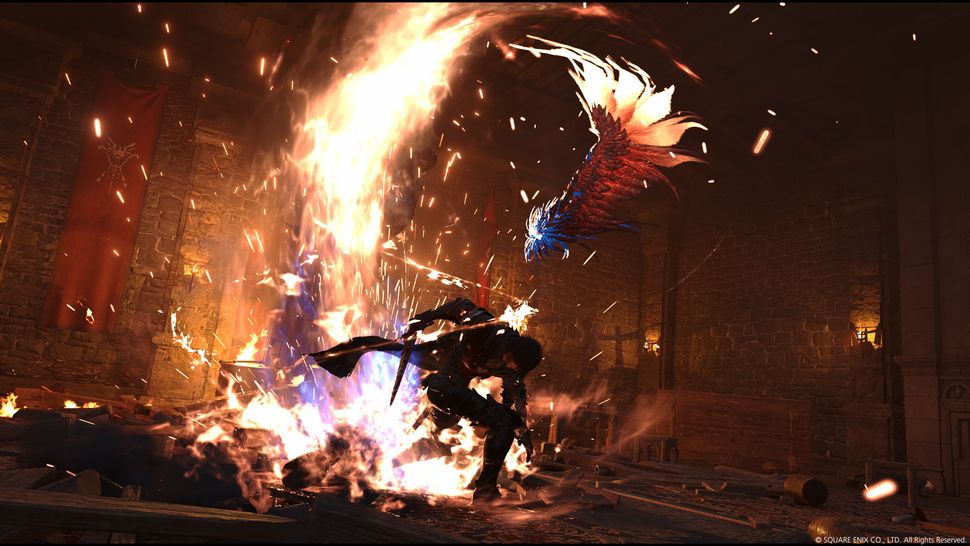 Thanks to gameplay footage that dropped back in 2020, we got to see a brief glimpse of the combat in Final Fantasy 16. It certainly gives the impression that the upcoming instalment will be more action orientated than turn-based, with protagonist Clive executing swift moves against foes. In fact, a video was posted on YouTube soon after that drew parallels to the combat in Devil May Cry 5, and you can certainly see some similarities between the styles.
Final Fantasy 16 may have an easy mode
Earlier in 2022, news surfaced that Final Fantasy 16 may have an easy mode, with producer Naoki Yoshida reportedly saying that the team is working to support players who are "less skilled at action games". This could mean there will be a setting that will make the combat more approachable for newcomers.
Final Fantasy 16 features: here's what fans want
Final Fantasy is a series that's continuously ahead of the rest of the JRPG world. Final Fantasy 15 was famously the first Final Fantasy with an open-world setting, as well as the first single-player entry with a multiplayer mode and story DLC. In taking inspiration from Western RPGs that were already using these features, Final Fantasy 15 set out to redefine the series. While the reaction was mixed overall, the game did a lot of things right, here are some things the next part could do to further improve on existing ideas.
Fix the open world
These days almost every RPG has an open world, to the increasing fatigue of many players. There's nothing to be said against an open-world setting in general, if done right – a frequent criticism of the open world in Final Fantasy 15 was that there simply weren't enough interesting things to do. Quests were mostly fetch quests that had no effect on the world at large, and driving around in the Regalia instead of making sure Noctis reached his goal robbed the plot of its urgency. The world of Eos, too, seems to be mostly motorways – fans were missing towns to explore and more characters to talk to. Overall the possible solution seems to be a denser, more interesting world with more possibilities for interaction, as well as side-quests with actual storylines of their own.
The combat system needs another overhaul
In FF15, your AI companions play a central role. Their banter is automated, Ignis can drive you around if you don't want to take the wheel yourself, and even with control over characters other than Noctis later having been patched in, anyone you don't control fights for you without your intervention. This, as well as the frequently unhelpful camera, turned Final Fantasy 15 into a game that is often beyond your control. Combat in particular feels often either cluttered or a bit uninspiring for how little input it requires from you. While round-based combat is making a comeback elsewhere through games such as Persona 5 or the newest entry in the Yakuza franchise, perhaps it's not necessary to go that far back – the Active Dimension Battle system used by Final Fantasy 12 offered a pleasant mix between tactical combat and AI-controlled team mates.
A bigger focus on story
It's not that Final Fantasy 15 didn't have an interesting story, it just lacked the pacing to tell it in a way that leaves a larger impact. In order to understand everything that's going on, Square Enix asked you to immerse yourself in the full media universe – an anime, a film, DLC, and that's simply a lot of stuff. The side-quests and traveling to the different tombs around Eos also took away from the story, which didn't really come into its own until the latter half of the game when open-world travel was suspended.
Final Fantasy lives off of its characters, of meeting new friends and finding new places to explore. Everything, from the setting to the plot developments, underlines that. Compared to that, a plot that largely comes down to "get into a car and drive to your wedding" didn't quite cut it. Recent developments in Final Fantasy 14, especially the Shadowbringers DLC, are a great example of an enjoyable fantasy story. With any luck, Square Enix is listening to the feedback and working on a more focused, digestible story for Final Fantasy 16.
---
For more, you can check out our pick of the best Final Fantasy games.