The latest Destiny 2 patch notes are largely what you'd expect. If you've kept up with Bungie's patch note previews, you're probably already aware of most of the biggest changes in the Season of Opulence update - that is, update 2.5.0.1. Here's a quick refresher if you need it:
Luna's Howl and Not Forgotten got nerfed
These Pinnacle Crucible hand cannons have been nerfed to 150 RPM (down from 180), making them the only 150 RPM precision hand cannons. Additionally, their unique perk Magnificent Howl now only boosts body shot damage. Fortunately, as the final patch notes confirmed, they will retain the mid-air accuracy and recoil of precision hand cannons.
From Whisper of the Worm to Skull of Dire Ahamkara, lots of Exotics got nerfed
Nearly a dozen of Destiny 2's most popular Exotics were taken down a peg in the latest Destiny 2 patch notes. Here's the full list of nerfs, which we've updated with the final specifications:
Whisper of the Worm: White Nail perk now pulls ammo from reserves, so no more infinite ammo. Whisper can now hold 18 rounds without reserve perks.
Sleeper Simulant: Bounce against bosses, minibosses, and vehicles reduced by 95%. Base damage was increased by 66%, but precision damage was also reduced. Bungie says "this change results in precision shots dealing approximately the same damage as before, but you are punished less for landing non-precision shots."
Ace of Spades: Memento Mori perk now grants six rounds instead of five, but you'll lose the bonus if you change weapons. PvP damage slightly reduced to prevent two-tapping with One-Eyed Mask's Vengeance perk on enemies over four Resilience.
Lord of Wolves: Base damage reduced by 20%. Release the Wolves can now be toggled by holding reload instead of getting a kill, but its base damage was reduced by 23% and its precision damage was reduced by 34%.
Skull of Dire Ahamkara, Orpheus Rigs, Gwisin Vest, and Phoenix Protocol: The Super energy refunds provided by these Exotics was reduced, "making it rarer to get a full Super back." The nerf applied to Gwisin Vest mainly affects the Super energy refunded after one or two kills.
Season of Opulence content
With the nerf forecast out of the way, let's move onto the new stuff coming in the Destiny 2 Season of Opulence. For starters, the Power cap has been raised to 750. The six-player Menagerie is out today, June 4, along with the new Crown of Sorrow raid. In the coming weeks, we'll also see Exotic quests for the Truth rocket launcher and Lumina hand cannon, new Menagerie bosses and a Heroic mode, and new events including the Tribute Hall, Solstice of Heroes, and Iron Banner. A mysterious event called the Penumbral Chalice is also scheduled for August, and it's likely tied to the Chalice used in the Menagerie.
Buffs! Huzzah!
It's not all nerfs this season; plenty of underused weapons and archetypes also got a much-needed boost. Here are all the buffs in the Season of Opulence:
Sturm and Drang: Storm and Stress can now yield up to 99 overcharge rounds, and the PvE damage of these rounds was increased by 100%.
Gemini Jester: Increased duration of disorient effect by 0.5 seconds.
Aeon Gauntlets: All Aeon Exotic gauntlets now grant more ability energy. Titan's Aeon Arms now trigger on a melee kill instead of a barricade placement and will grant melee energy.
Fusion rifles: Damage buffs of 30% - 47% for high-impact, precision, adaptive, and rapid-fire fusion rifles. Jotunn, Merciless, and Telesto also received minor changes which ultimately increased their damage by 4% - 5%.
Swords: Ammo cap increased to 70, starting ammo increased by 10. Ammo cost of heavy attacks increased from three to four to compensate, or from two to three on lightweight frame swords. Lightweight swords also had their dash attack damage buffed considerably.
New Gunsmith Enhancement Core economy
The Scrapper bounties occasionally acquired by dismantling gear have been removed. In their place, the Tower Gunsmith will now sell three daily and two weekly bounties which award Enhancement Cores, mod components, and mods. Here's hoping this change results in more Enhancement Cores overall, as the Masterwork economy is still pretty grim. If not, hopefully Scrapper bounties come back in addition to these new Gunsmith bounties, because quite frankly, I don't see why they had to be removed.
Bug fixes and miscellaneous changes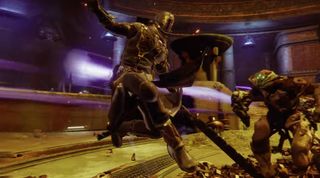 Finally, here are the most important bug fixes and other changes in the latest Destiny 2 patch notes.
No more broken shaders: Rejoice, Destiny fashionistas. The bug that randomly cancels shader application has finally, finally been fixed.
Random Xur rolls: Xur will now properly sell randomly rolled Exotics, which he was supposed to after update 2.2.1.
Allegiance packages: The weekly Vanguard and Drifter packages granted for completing the Allegiance Quest have been retired.
The new Pursuits tab: The Pursuits inventory tab has been moved to the Director menu and expanded to 63 slots. Exotic Catalysts have also been moved to the Triumphs page to save space.
Eververse offerings: For the Season of Opulence, Bright Engrams will award cosmetics focusing on "the best of Year One" in Destiny 2. Bungie says "every new Eververse item in Season of Opulence will be available for direct purchase via Silver or Bright Dust," and new items will be available on a weekly basis. This includes individual armor pieces, just in case you missed some Crucible or Vanguard ornaments back in the day.
If you want to pore over every last syllable, you can read the full Destiny 2 patch notes here.
The latest Destiny 2 leak suggests the next expansion is called Shadowkeep and set on the moon.