10. Super Bomberman R
Maximum players: 8
Multiplayer type: Local
If you're looking for some old school multiplayer action, you're sure to have a blast with Super Bomberman R. For as long as the Bomberman series has been around, it's always at its best when you play it with some friends. It's premise is pretty simple - you and your friends are on a grid and you have to set down bombs to try and blow each other up. There are 18 different maps in total, and every grid is slightly different with owns little challenges. You can't just plop down your bombs any old place and expect to emerge victorious, though. It's very easy to accidentally surround yourself with bombs and be the cause of your own explosive demise. You can also play the story mode in co-op with one other friend and take on all five bosses and challenges as little team.
9. Puyo Puyo Tetris
Maximum players: 4
Multiplayer type: Local and online multiplayer
Puyo Puyo and Tetris mash together to bring you a puzzle-tastic time for up to four players. There are lots of different multiplayer modes to challenge your friends and family with, and the variety keeps it feeling fun and fresh. The versus lets you choose between a normal round of Puyo Puyo or Tetris against another player, while the more challenging swap mode constantly switches between both games, so you really have to have a handle on both using Puyos and Tetriminos. There's plenty of puzzle stacking action available to get your minds around. Each mode is quite fast-paced, so it never feels stale, and it'll certainly bring out your tactical side. There's also the option to play online, so you can challenge your friends anywhere in the world.
8. Stardew Valley
Maximum players: 4
Multiplayer type: Local co-op (online wireless)
Running a farm is hard work. Watering plants, collecting building materials, feeding your cows and chickens - it takes a lot out of you. You can only get so much done in a single game day on your own. So, why not get some fellow farmhands to join you and make your life that much easier? Stardew Valley's multiplayer update lets you invite up to three friends to join you on your farm and help it prosper. By building cabins, you can invite other players to any single-player farm you've started, or you can start up a brand new farm and set it up with cabins ready built to invite your friends to join. It's a communal effort, so everyone will have to pitch in to make it shine. You can even marry each other's characters and talk through a chat box with its own Stardew Valley style emojis. Braving the caves is a cinch when you've got pals to back you up, too. It's a charming little farming sim that's even more fun when you work together.
7. Arms
Maximum players: 4
Multiplayer type: Local and online
If you're after another fighting game with a bit of difference, Arms should be firmly on your 'to play' list. As one of the first games to hit the Switch, Arms sees you control colourfully cartoonish characters who each have their unique stretchy arm designs. Using the Joy-Cons, you physically punch the air and rotate the controller to perform different moves. It's great if you've got a mean right hook. With several different moves to master including your classic punches, guarding, grabbing, jumping and dashing, up to four players can get in on a round of fighting in the 2-on-2 matches. There's also a fun party mode which lets up to 10 players fight it out online. It's a great way to get your arms pumping, and it's a lot more active than other fighting games games out there. Just be careful you don't actually hit anyone in the process.
6. Splatoon 2
Maximum players: 8
Multiplayer type: Local and online
This isn't like your conventional co-op shooter. Instead of a sea of bullets and a big gun in hand, you shoot ink on the ground with a Splatter Blaster. The objective of the main mode is to cover more of the surface area of a stage with your team's colour than the opposing side. If you're up for some splat-filled fun, you can't go wrong with Splatoon 2. There are lots of different modes that can played both on and offline with varying amounts of players. The classic battle mode lets you take on a turf war against another team with your friends, while the league battle sees you try to gain as many points as possible before the time runs out. One of the most enjoyable modes, which can be played both on and offline with up to four players is called Salmon mode. Here you shoot down the fish-like Salmonids and steal their power eggs. If all four of your team gets taken out without being able to revive each over, or you don't get enough power eggs, you'll lose the round. It's an endlessly fun, inky time for everyone.
5. Super Smash Bros. Ultimate
Maximum players: 8
Multiplayer type: Local and online
Are you ready to have a smashing time? Yes, Super Smash Bros. Ultimate truly shines when you're playing it with friends. With a frankly massive roster of characters with different powers to choose from, and a whole host of different stages, you'll be spoilt for choice as you battle it out to victory. The aptly named Ultimate has brought the long-running series back and really refined the fighting and modes on offer to make it the best entry in the series yet. It also has a huge library of music from many different franchises you'll know and love which you can fight to. For those who don't know, Nintendo's beat 'em up sees you and up to seven other players fight it out to send their opponents flying off the stage. The health is made up of a percentage which continues to increase as you take damage. Whoever is the last one standing wins. It'll certainly bring out your competitive side.
4. Super Mario Party
Maximum players: 4
Multiplayer type: Local co-op
Before multiplayer video games even existed, board games were always a great way to bring everyone together. So, it makes sense that Mario Party - which is essentially a Mario-themed board game - is the perfect the choice for anyone who loves a tabletop number. Comprised of several different boards, you roll a dice and take turns moving around the spaces to try and reach the star on the board. Who ever gets their hands on the most stars wins. With 80 wonderfully entertaining mini games to compete in, the variety on offer makes each and every round exciting. Outside of the main party mode, there are several other modes to try, with plenty of room to work together to unlock new features and playable characters. Partner Party mode lets you work in teams of two to try and gain more stars than the other team you're playing.
3. Overcooked 2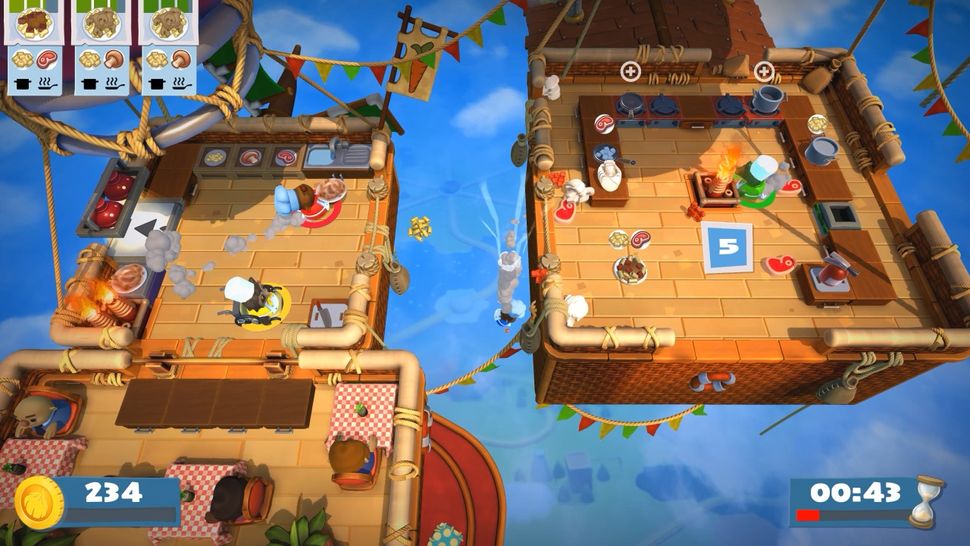 Maximum players: 4
Multiplayer type: Local and online co-op
Looking for a tasty treat for you and friends to tuck into? Overcooked 2's Onion Kingdom is just what you ordered. The madcap co-op cooking delight sees you and up to 4 players don chef hats and try to cook as many orders as you can within the time limit. The more meals you successfully prepare, the higher your rating will be. There are six different kitchen locations to try out, and every single level presents varying challenges. With everything from cooking on a water raft, to washing dishes on a hot air balloon, there's all kinds of wacky set ups to get through. Kitchen surfaces will shift around to block your path, and floors can even collapse right under your feet. Oh, no! Fast-paced and stuffed full of fun, the endearing food-filled fest will keep you coming back for a second helping.
2. Snipperclips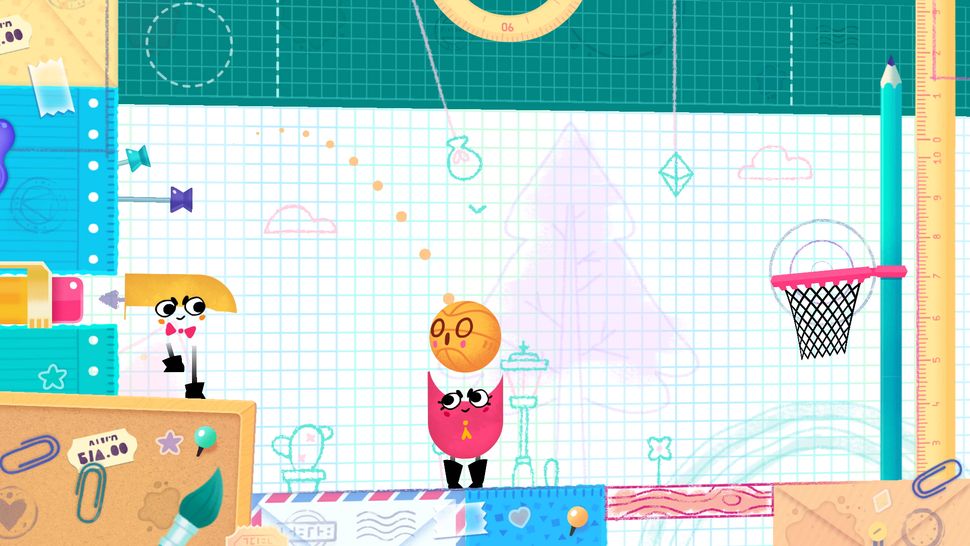 Maximum players: 4
Multiplayer type: Local co-op
A perfect one for some couch co-op action, Snipperclips pushes you and your friends to use your imaginations and work together to solve lots of different papery puzzles. Snip and Clip are the two cute little papery heroes you have to cut and shape to overcome all sorts of different obstacles. Party mode lets up to 4 players team up to try and solve all the puzzles that unfold. Creative and quite tricky, it really does push you to put your heads together to cut and snip your way to victory. From trying to move a pencil across a level to get in the pencil sharpener, to working as a team to successfully dunk a basketball through a hoop, there's no end of colourful, inventive puzzles to conquer. You can seize the chance to prove once and for all that your team is a cut above the rest.
1. Mario Kart 8 Deluxe
Maximum players: 8
Multiplayer type: Local and online
Get your racing gloves and have your trophy polish on standby as you take to the roads and race against your friends in the endlessly fun Mario Kart 8 Deluxe. While many a relationship has been tested in the seat of a Mario Kart, the deluxe version on Switch is the ultimate way to fuel your competitive side and show off your drifting skills on any one of the 48 tracks on offer. You can take on a tournament or go head to head in battle mode with up to 8 players. There's also a huge library of different beloved characters to choose from, as well as a vast selection of different vehicle types, tires, and parachutes to choose from. Once everyone's crossed the finish line, it'll also play back the entire race so you can relive everyone's slick drifting moves or painful red-shell hits. You and your friends will find yourselves saying "just once more race" more times than you might think.
---
Looking for more games you can play with friends? Be sure to check out our roundup of the best co-op games.