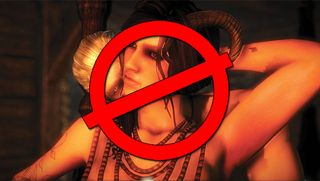 If all you have is a banhammer...
If you've been playing video games for more than five minutes, you know they have a tendency to be moral outrage magnets. You name it, games have been blamed for it, so it's not too shocking that game bans have followed in force. For the children, I suppose, though I'm not sure how many children are picking up the Witcher or Command and Conquer.
Game bans brought down by someone somewhere in the world are so numerous it would be impossible to cover them all. Instead, I picked my 18 favorites from the pile, and am going to break down the where, why and how for your enjoyment. And frustration, and some hilarity here and there. There you go! Laugh so you don't cry.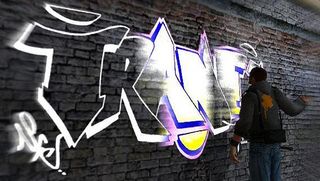 Getting Up banned in Australia for glorifying street art
Apparently some countries can't handle a little rampant vandalism these days. Over in Australia, Marc Ecko's Getting Up: Contents Under Pressure was refused classification (i.e. the censors wouldn't give it a rating, which is a ban in every way but spelling) based on the idea that it glorified graffiti. And it did, since its entire premise is that a youth from a bad part of town uses the power of street art to take down rival gangs and the corrupt mayor who used an anti-graffiti campaign to cover up the fact that he murdered Trane's father.
As you can probably guess from that description, the plot was a bit silly and kind of outside the realm of believability. Still, Australian censors thought that this game would act as a gateway to the righteous world of tagging, so it was never rated.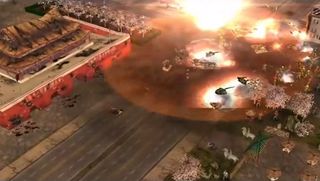 Command & Conquer: Generals banned in China for destroying China
Command & Conquer: Generals did not do well in China, for the same reason that kneecapping Lady Liberty would likely flop in the US. Not only does the game's China campaign open on the nuclear obliteration of Beijing (good start!), but the player is directly involved in the destruction of Chinese landmarks like the Hong Kong Convention Center and the Three Gorges Dam. What, was the Great Wall too far away?
Not only did the government of China promptly bring down the ban hammer (which they've done to games for less), but even Chinese gamers who went to the trouble of pirating the title weren't pleased with it. Mostly because you have the option of bombing Tiananmen Square into rubble. Can you say cultural insensitivity?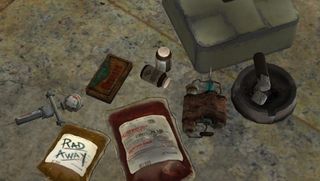 Fallout 3 banned in Australia for encouraging drug use
You'd think in a dystopian wasteland where danger lurks around every corner and pain is a constant companion, you could get away with taking a few much-needed hits of Vitamin M. Not so, say censors in Australia, who briefly refused classification for Fallout 3 due to the player character's use of morphine. Don't remember that part? That's because the developers changed the game entirely to account for these complaints, taking morphine out for every region and replacing it with Med-X. Which has the exact same effects, of course.
The full report goes into more detail on how the game's use of "chems" pushed it over the hill into ban town because they were just too darn much like real drugs. Ultimately the ban was lifted when the chem system was scaled back and 'morphine' was changed to Med-X. Good thing too, or we'd all want to be like the Lone Wanderer and hang with Sister M. I mean, who wouldn't want that guy's life?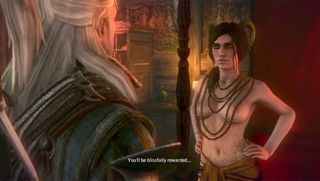 Witcher 2 banned in Australia for using sex as a prize
In its day, Witcher 2 was refused a rating in the land down under for going down under. Haaaaa, not sorry. Specifically, the issue was a scene where sex is used as a reward for Geralt completing a quest, which he can choose whether or not to accept. Chances are this refers to a mission given to him by a succubus, and that's kind of their M.O., but whatever. Message received, sex as a reward for actions is bad.
At least, if he accepts it. Witcher 2 was eventually released after the scene was altered so that Geralt rejects the offer by default. Bewilderingly, everything else about the scene remains the same. I get the objection behind a reward-lay (romantic interaction doesn't follow a three-steps-and-profit scheme), but when the reward is still totally a thing and the main character just refuses to take it? I mean, I guess we know he's a good guy, or something?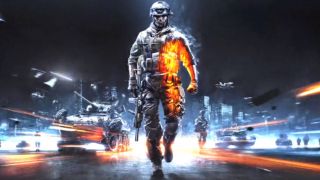 Battlefield 3 banned in Iran for inciting international terror
Back in November 2011, the sale of Battlefield 3 was banned in Iran. It was all thanks to a scene where American soldiers lay siege to Tehran and the Grand Bazaar. The announcement was followed by raids on game shops to nab all existing copies, while a petition bearing the signatures of 5,000 Iranians accused the game of drumming up fear of Iran in the international community. Not unexpected, since the relationship between the US and Iran is famously sticky anyway.
There's one wrinkle, though: Battlefield 3 was never officially released in Iran. Publisher EA has no resellers in the country, so all copies available when the ban came down were pirated. Is a "shot yourself in the foot" joke crass here?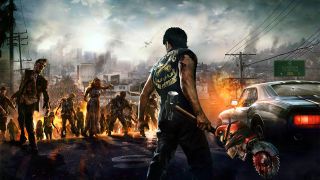 Dead Rising 3 banned in Germany for having human-like enemies
Germany wins the blue ribbon for Europe's most intense game restrictions. While changing a human to a zombie can get a game to pass muster in the likes of the UK or France, it'll have no such luck in Deutschland. Given that Dead Rising is all about zombies, its no surprise that this series has seen repeated bans in Germany. Dead Rising 3 is the latest victim, expunged from the Xbox One launch line-up in this country.
This pretty-goddamn-violent zombie thrasher is considered tolerable in many places, since your main target are fantasy legions of undead monsters. However, Germany's Bundeprfstelle fr jugendgefhrende Medien (the gaming police) places heavy restrictions on games where you kill any human or "human-like" enemies, so zombies qualify. Then again, Gears of War 3 was deemed acceptable without edits, so I cant pretend to understand the logic.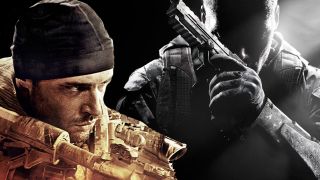 Call of Duty: Black Ops 2 and Medal of Honor: Warfighter banned in Pakistan for smearing the nation's image
Two for the price of one here. In January 2013, the government of Pakistan banned Call of Duty: Black Ops 2 and Medal of Honor: Warfighter in one fell swoop, saying they "show the country in a very poor light." Since both of these military shooters essentially equate Pakistan with terrorism, Id say thats a fair comment.
They probably should have tried to convince the country's game retailers to accept the ban, though, or at least told them about it. On the day of the ban, the owner of Islamabad's biggest game store claimed to have not even heard about it, and another anonymous shop-owner said "The nationalists and the religious ones don't like [these games] but I'm not going to stop selling them." Nothing yells louder than green it seems.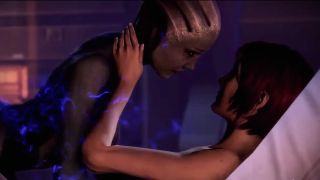 Mass Effect banned in Singapore for lesbianism
Finally, a game that wasn't banned over political outrage. Just lesbian sex! Wait, is that better, or worse? Either way, back in 2007 Singapore banned the first Mass Effect because it contains an optional scene of lady Shepard and Liara T'soni gettin bizzah. While in many places this was met with newscaster pearl-clutching and adolescent fist-pumps, the ladies' "kissing and caressing" translated to "gratuitous sex" in Singapore, which barred it from release.
Not that the ban lasted long. Originally, it went through because the nation didn't have a proper video game rating system, making it harder to judge degrees of debauchery. However, when the ban shockingly resulted in backlash, officials used the country's movie rating system instead, dubbing Mass Effect an M18 and lifting the ban only a few days after setting it. Now the people of Singapore can enjoy softcore lady-on-lady action to their heart's content. Freedom.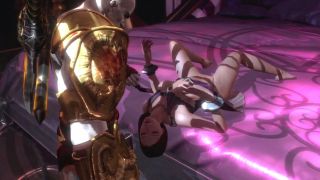 God of War 2 banned in Saudi Arabia for sexual themes
If Iran and Pakistans examples are any indication, our gaming brethren in the Middle East sure know their way around a game ban. Saudi Arabian gamers are no exception, because even in the face of strict content restrictions and fines for playing banned titles, many manage to sneak prohibited games anyway. One good example is God of War 2, which was banned for sexual content (and possibly the use of the word God in the title) upon release. However, its still very much available for players who know where to look.
Satisfied as the nation's moralizers were with the decision, gamers weren't pleased, and they weren't deterred either. Speaking to Kotaku about ways of circumventing the ban, Saudi Arabian user Alaa A explained that retailers still sell black market copies of the game, just packaged and shrink-wrapped as something else. Congratulations, Alaa, you deserve a go at that fantastical debauchery.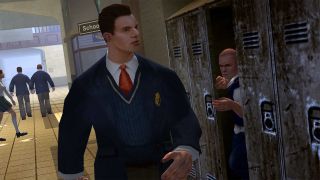 Bully banned in Brazil for taking place in a school
A lot of adults out there want to protect children from anything ugly, sad, or unpleasant, because being able to effectively face conflict is overrated. In their righteousness, moral guardians worldwide focused their rage on Rockstar's Bully in 2006, calling for bans across the globe. Most efforts fell through because of that whole "freedom of the arts" thing, but attempts in Brazil were eventually effective.
According to Rio Grande do Sul prosecutor Alcindo Bastos, the big issue with Bully is that it "takes place inside a school [and] that is not acceptable." That conveniently sidesteps the fact that what happens in Bully is tame compared to the horrors of real educational institutions, and that the focus of the game is on giving bullies a taste of their own medicine. But fine, whatever. You can't tell the rest of us what to do, Brazil. You aren't our real dad.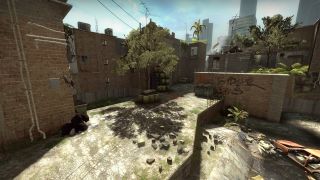 Counter-strike banned in Brazil for showcasing a slum
Let's take a moment and try to think of everything that could offend someone about Counter-strike. Rampant violence? Terrorist involvement? An overabundance of "ROFL F*G" comments from edgy tweens? Apparently none of those fazed the Brazilian government, though, because they banned it for a completely different reason: it contains a user-made map of a Brazilian slum, or favela. O-okay.
In case you aren't familiar with the concept, favelas are urban shantytowns where crime among the impoverished populace is rampant. That's presumably why Brazilian officials took exception to a favela-based Counter-Strike map, dubbing the game "an attack against the democratic state" and banning it from sale in October 2007. (Though the equally violent Modern Warfare 2 also has a favela map and wasnt banned so) As in, over ten years after the game was released and began building its huge Brazilian following. Yeeeah, that ban didn't last long.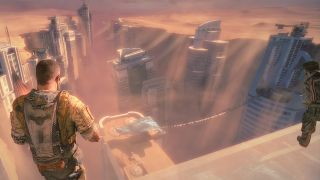 Spec-Ops: The Line banned in the United Arab Emirates for destroying Dubai (probably)
I'm starting to notice a pattern here. Nations really dont like appearing in video games as obliterated wastelands. Crazy! That was the motivation behind several bans on this list, and I'm adding one more--Spec Ops: The Line was banned in the United Arab Emirates because it takes place in a destroyed Dubai. That's the thought at least, since not even the developer knows for sure. But still! Who could've seen that coming, right?
The interesting thing about this case is that the UAE is quite serious about its decision. While it isn't unusual for a game to still be available in the country after it's been banned, UAE censor are cracking down hard on The Line, even blocking access to a demo 2K put out in advance of the release. The blow is extra harsh because the ban also undercuts its sales in countries like Jordan and Lebanon, which work in conjunction with the UAE's regulatory body. Tough break, soldiers.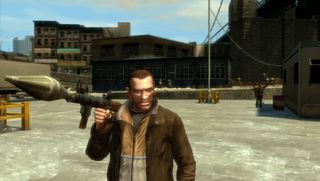 Grand Theft Auto 4 banned in Thailand for being associated with a murder
Grand Theft Auto is the affluent, angsty, suburban punk of the gaming world, stealing its mom's cigarettes and giving the middle finger to the police but not actually doing anything dangerous. Still, thats not going to convince the judgmental among us that GTA isnt a bad influence. So when a Thai teenager killed a taxi driver during a carjacking in 2008 and blamed it on Grand Theft Auto 4, nobody bought GTA's alibi that it was hanging with Bully all day.
Following the incident, GTA 4 was banned for inciting what Thai courts deemed a copycat killing. According to police, "[The accused] wanted to find out if it was as easy in real life to rob a taxi as it was in the game." Nevermind the fact that the guy was just caught stabbing a man to death and would probably say anything to get out of trouble. Naw, that Niko Bellics a bad egg.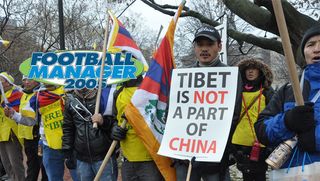 Football Manager 2005 banned in China for recognizing Tibets independence
As the video game medium has aged, it's seen the creation of more and more games that deal with serious political topics. BioShock addresses political objectivism. Watch Dogs tackles security in the digital age. Football Manager 2005 rails against Chinese imperialism. Oh, you didn't know that? It's what China seemed to think anyway, when it banned the innocuous sports game for including certain conquered regions on the country roster.
In the English release of the sporty title, Taiwan, Hong Kong, and Tibet are all recognized as independent nations you can choose to play. That sort of pissed off the Chinese government, which responded with a ban in December 2004, claiming the game threatened "sovereignty and territorial integrity." Publisher Sega responded with a statement that the feature was never supposed to be seen by audiences in China and was going to be removed for Chinese release, but bootleggers got hold of the English version too early. Looks like piracy is its own reward.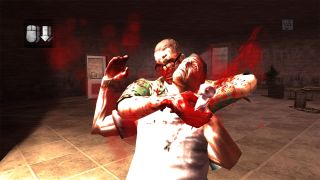 Manhunt 2 banned pretty much everywhere for being a Manhunt game
If you are at all surprised by this entry, you haven't played Manhunt 2. Sequel to the brutal and controversial Manhunt (which some people still blame for the brutal murder of a 14-year-old in the UK years after the gavel came down), just the announcement that it was being made was enough to spark outrage. Since its release, it has seen bans or rating refusals in Germany, Ireland, Italy, Malaysia, New Zealand, Australia, South Korea, and the United Kingdom. It was also hit with a sales-crippling Adults Only rating the United States, and plenty of other countries decry its very existence.
While plenty of games have been banned for "excessive gore" and "high impact violence", Manhunt 2 is in a class of its own. Taking up right where its bloody and violent predecessor left off, it corners the market on over-the-top executions, while offering a pretty solid gameplay experience. Those two things sparked interest from some, deep-seated outrage from others, and a veritable parade of bans that few other games can match.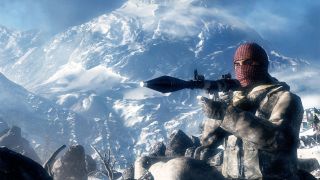 Medal of Honor banned on US military bases for letting you play as the Taliban
Let's be honest, it's not really surprising that a country ravaged in a video game might take issue with it. Despite thoughts on freedom of speech, I'm guessing nobody was shocked that Iran didn't like its digital capital getting blown up. But when the game's protagonists are pissed about it? Like the US military was with Medal of Honor? Oh. Well uh whoops.
The 2010 release of Medal of Honor hit a big fat snag when it was discovered Taliban foot soldiers were playable in multiplayer. EA's response was that someone had to be the robber to the American military's cop, which went over like a potato gun in a warzone. Ultimately, the outrage resulted in sales of the game being banned on all US military bases worldwide but personnel can still buy it elsewhere and bring it back with them. I mean, have you seen those graphics?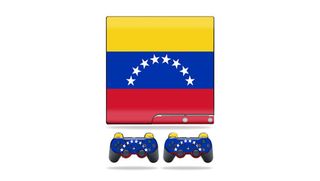 All vaguely violent games banned in Venezuela for supposedly causing crime
Well, don't accuse Venezuela of doing anything half-assed. In 2009, the country leveled a ban on all violent video games and toys in an attempt to curb the nation's rising crime rates. I don't think anybody's going to argue that putting the smackdown on crime is bad, but when you do it by banning any game that supposedly stimulates aggression and violence," that's probably not going to turn out like it's written on the napkin.
Things become even more bewildering when taking into account its terms. Under the ban, selling violent games within the country could lead to a three- to five-year prison sentence. Meanwhile, selling a real gun to a real minor can net a sentence as short as one year. Holy mixed priorities! Plus, as Venezuelan gamer Guido Nez-Mujica noted in a first-person account of the situation, the ban will probably do more to hurt the nation than help it.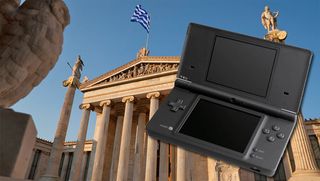 All video games banned in Greece for...using electronics and software
You have to laugh when elected officials say something unbearably stupid about technology (if you dont want to cry, anyway). Remember when Alaskan Senator Ted Stevens called the internet a series of tubes? Or when British Parliamentarian David Wright claimed insulting opposition over social media is cool because Twitter is edgy? HAHA look how much Im laughing! Though, when it comes to governments not getting technology, our heart goes out to Greece. For a while, all video games were banned there for being too much like online gambling.
Back in 2002, Greece enacted law 3037 to undercut illegal gambling, establishing a blanket ban on all devices that contain "electronic mechanisms and software". That applied to both citizens and foreigners, so bringing your Gameboy on your Athens vacation could land you in jail for a year. The EU promptly slapped the government of Greece with an injunction for being dumb, and the ban was allowed to quietly lapse three years later.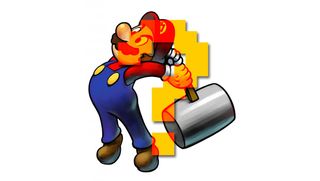 Watch where youre swinging that thing