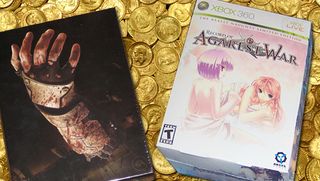 The price is wrong
If the name wasn't indication enough, collector's editions are aimed at those with money to burn. It's not enough to buy a game itself--no, no. You need the soundtrack, an art book, a hand-molded figurine, a behind-the-scenes DVD, and a to-scale map of the in-game terrain that you'll never use as a reference. The quality of video game collector's editions does vary, but nine times out of ten, you're paying a premium for paraphernalia that you will promptly forget about two months later.
But hey--publishers keep making them, and we keep buying them. And if you thought a collector's edition was hard to find on launch day, just wait till you try starting your search years after the fact. After seeing how much the rarest current-gen games and limited edition consoles go for, it doesn't shock us to see collector's editions garner well over $100. Still, no matter how much you love the following games, paying the kind of prices they currently demand is nothing short of uneconomical insanity.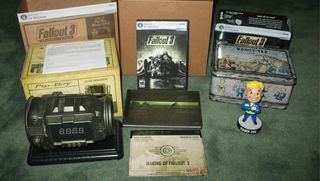 Fallout 3: Amazon.com Exclusive Survival Edition
Sealed - $700
Open - $210
In your face, GameStop! Amazon gut-punched all those brick-and-mortar game stores with this exclusive bundle for Bethesda's apocalyptic open-world RPG. And, as collector's editions go, this was probably one of the most generous. Besides the game disc, you got an art booklet, a making-of DVD, a classy lunchbox to store your rations, and a bobblehead of Fallout's de facto mascot, Vault Boy. But the piece de resistance was a life-size Pip-Boy 3000, the arm-mounted computer that acts as your savior through much of the game. Only, in the real world, it's a boring old alarm clock that won't fit comfortably on your arm or help you nail headshots. Dang.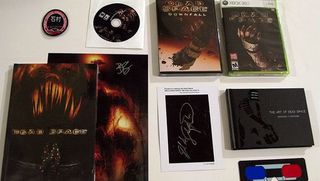 Dead Space Ultra Limited Edition
Sealed - $1,000
Open - $750
For that kind of money, you'd expect a life-sized Necromorph statue to come with this Ultra Limited Edition II Turbo. But, given the box-set-sized package, you might be in for a disappointment. If you've always wanted a full view of Isaac Clarke's severed hand without all the clutter, this is the version of the original Dead Space for you. Packed in with the sci-fi survival horror game are a 160-page graphic novel, the Downfall animated movie on DVD, two signed lithographs, an art book, and a USG Ishimura patch that you can stitch onto your ratty laptop bag. With only 1,000 made, it's no wonder they'll cost you an arm and a limb.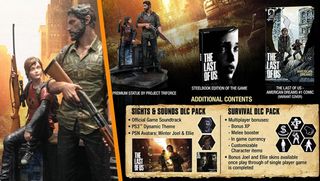 The Last of Us Post-Pandemic Edition
Sealed - $390
Open - $340
It's like they say: the early bird gets the statuette of Joel and Ellie. That's the main draw of this post-apocalyptic special edition, crafted by the talented folks at Project Triforce (who you might know from their Gears of War and Arkham City replicas). According to the packaging, the statue alone is a $200 value, which might explain how this collector's edition currently costs more than the PS3 itself. Thrown into the mix are some DLC vouchers, the first issue of The Last of Us comic, a steel case, and some stickers.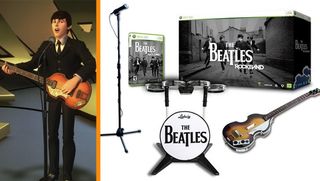 The Beatles: Rock Band Limited Edition Premium Bundle
Sealed - $360
Open - $181
Granted, we expect to pay a bit extra for a set of plastic instruments packed in with our game. But despite the fact that peripheral-driven rhythm games has dried up as of late, this Beatles-themed bundle continues to accrue value. It's all in the branding: instead of the plain old plastic guitar, you get a Hfner bass modeled after the one famously used by Sir Paul McCartney, plus drums emblazoned with The Beatles logo on a fake kick drum. You also get a microphone (plus a stand) to facilitate vocal harmonies, plus some DLC. Just whatever you do, don't pay the lunatic that listed the Wii version for $689 on Amazon.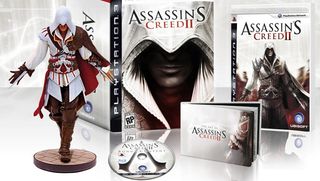 Assassin's Creed II Master Assassin Edition
Sealed - $400
Open - $160
Ezio Auditore made quite the entrance in the Assassin's Creed sequel, and much like the game, his collector's edition outshined Altair's in almost every regard. Instead the dinky, 3-inch Altair figurine included in the previous limited edition, Ezio was immortalized as an 8.5-inch statuette in an irrefutably badass, wrist-blades-at-the-ready pose. Joining him was an art book, a behind-the-scenes DVD, the soundtrack, and two exclusive maps that would later become DLC. It set the precedent for a series of sweet Assassin Brotherhood statues, though the Edward Kenway one set to come with the Black Flag limited edition kinda looks like he's doing a merry jig.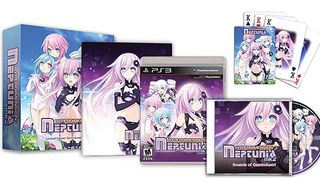 Hyperdimension Neptunia mk2 Gameindustri Savior Set
Sealed - $230
Open - $152
This goofy JRPG is already a bit of a rarity, chronicling the adventures of moe anime girls who just happen to be allegories for the trials and tribulations of console wars in the games industry. The collector's edition comes packed with even more adolescent girl-adorned goodness, including an artbook, the soundtrack, and a deck of playing cards. Here's a fun activity: invite all your non-hardcore-gamer friends over for dinner and a night of high-stakes poker. Deal out cards from the Hyperdimension Neptunia deck, each decorated with an image of a barely clothed, prepubescent anime girl. Watch with glee as your guests' smiles morph into uncomfortable grimaces.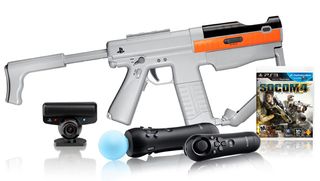 SOCOM 4 U.S. Navy SEALs Full Deployment Edition
Sealed - $150
Open - $59
If you're a member of the Navy SEALs, we sincerely hope that you're deployed onto war-torn battlefields with more than a plastic peripheral and a PlayStation Move controller to protect yourself. We can only imagine that this was Sony's push to get hardcore shooter fans onboard with motion controls, and the results couldn't have been pretty. Along with the SOCOM 4 disc, the bundle gives you the PlayStation Move, the accompanying nunchu--uh, "navigation controller," a PlayStation Eye, and the plastic Sharp Shooter peripheral which the Move slots right into. Our bet is that everyone who bought this bundle used the controller to play The House of the Dead: Overkill instead.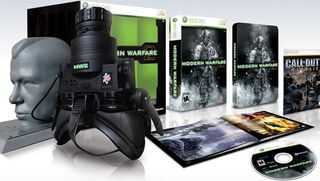 Call of Duty: Modern Warfare 2 Prestige Edition
Sealed - $210
Open - $95
This is one of the most recognizable collector's editions out there, thanks in part to the pro bono modeling work done by rapper Ice-T. The Prestige Edition's headliner is a pair of fully functioning night vision goggles, as well as a creepy plastic mannequin head to mount them on (dubbed "the collector's stand"). You'll also get the game in steel case, an art book (because Modern Warfare 2 fans also appreciate professional illustrations), and a download code for the first Call of Duty--because who doesn't want to play a WWII shooter from 2003? If all you want is the spiffy goggles, make sure you buy the PS3 version of the bundle--as of now, it's $80 cheaper than its 360 counterpart.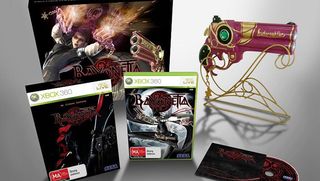 Bayonetta Climax Edition (w/ Scarborough Fair)
Sealed - ???
Open - $246
Do us a favor. Fly us to the moon and let us play among the stars, if that's not too much to ask. In typical Bayonetta fashion, this collector's edition goes straight for the innuendo, befitting of the foxy leading witch. The extras here are undoubtedly sexy, with a big incentive for pre-orders: a replica of one of Bayonetta's Scarborough Fair pistols (even if the paintjob is reportedly subpar). The other pack-ins include an art book and the soundtrack, with a magical lock of jet black hair sadly omitted. Versions with the prop pistol were only available in Australia and New Zealand, essentially making them the collector's edition of a collector's edition.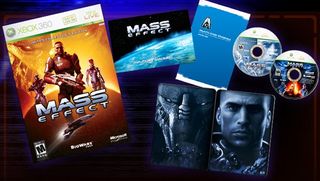 Mass Effect Limited Collector's Edition
Sealed - $350
Open - $84
Holy Toledo! That's quite a pretty penny to be paying for a game that you can buy for a measly $17.50. At the ripe age of six years old, this is still the most valuable Mass Effect limited edition out there, with the pitiable Mass Effect 3 collector's edition currently hovering below the standard launch price of $60. The original limited edition came with a DVD full of behind-the-scenes featurettes, an art book, and a supplementary lore booklet that acted as a Galactic Codex handbook. At your discretion, please insert obligatory "Collectors" joke here.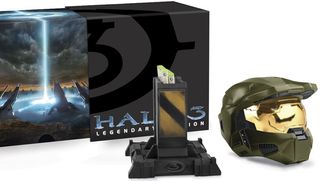 Halo 3 Legendary Edition
Sealed - $250
Open - $43
Remember when everyone saw the Master Chief Mark VI helmet that came in this collector's edition and went bananas? Then you opened it up, realized that it would never fit on a human head, and threw it to the ground, cursing that it had no right to be a helmet. Despite being the source of so much bitter disappointment, this collector's edition is still worth a hefty sum. In addition to the faux headgear, you also get a fancy stand and a bonus DVD, with all the cinematics from the previous games linked into one mega-cutscene.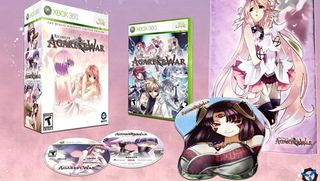 Record of Agarest War The Really Naughty Limited Edition
Sealed - $140
Open - $80
If you've ever wanted to make any of the female leads in this tactical JRPG into your new waifu, this collector's edition is probably your best bet. It starts with the packaging, which, straight-up, has two half-naked anime girls staring at you. Inside, you'll find the game, a pillowcase (not body pillow-sized, strangely) of heroine Ellis, the soundtrack, and a "Sensual 3D Vira-Lorr mouse pad." What does that mean? It means that every time youre at your computer, your wrist will be supported by soft, supple padding formed in the shape of Vira-Lorr's breasts. GamesRadar's own Henry Gilbert has one smack dab on his work desk, and swears it's the most comfortable mouse pad money can buy.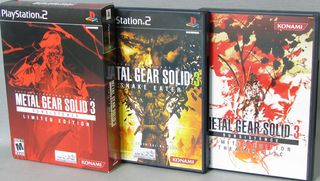 Metal Gear Solid 3 Subsistence Limited Edition
Sealed - $225
Open - $62
Sometimes, one disc makes all the difference. In terms of tangible extras, there's barely anything to grab hold of in this collector's edition of the already rare Metal Gear Solid 3 re-release. No toys, knives, art books, or tins of snake meat to speak of. But diehard MGS fans know full well the value that's imbued into this limited edition's third disc, included exclusively with pre-orders. On it, you'll find a supercut of all the game's cutscenes, edited in such a way as to make a MGS3 movie. As if the original cutscenes weren't long enough.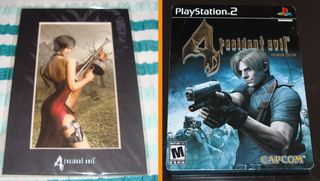 Resident Evil 4 Premium Edition
Sealed - $200
Open - $10
Wondering if we forgot an extra zero on that ridiculously low "Open" price? Nope--that's just how things panned out for this collector's edition in the aftermarket, where complete sets are incredibly difficult to find. Oh sure, you get the PS2 version of the survival horror shooter in a tin case, plus an art book and a making-of DVD. But what people really want is the Ada Wong art cel that was included in the bundle--a piece of swag that seems to have mysteriously gone missing in most used listings. Just more proof that Ada fandom runs deep in RE fans.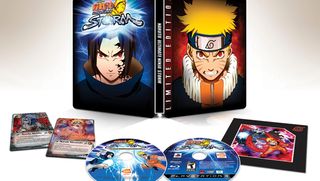 Naruto Ultimate Ninja Storm: Limited Edition
Sealed - $170
Open - $26
Trust your instincts. The next time your gut tells you to pick up a collector's edition while you still can--especially if it costs a mere $10 more than the standard version--do it. In the case of Naruto Ultimate Ninja Storm, that additional value rose exponentially once the limited supplies ran out. Bonuses packed in with the cel-shaded, open-world brawler (itself in a steel game case) included the soundtrack, some trading cards, and a sleek art cel depicting a raging battle between Naruto and Sasuke. Just like Resident Evil 4 Premium Edition, it's the art cel that drives most of the aftermarket value.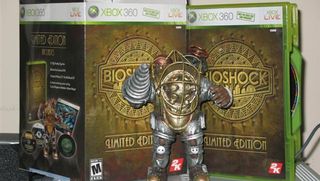 BioShock Limited Edition
Sealed - $650
Open - $180
Somewhere, beyond the sea, an auctioneer stands in golden sands, gleeful at the exorbitant prices he or she can charge you for this 2007 rarity. By the time it came out, the BioShock hype train had built up full steam, and this limited edition gave collectors exactly what they wanted: a hefty, hand-finished Big Daddy figurine. Once you were done gawking at the resin behemoth, you could also enjoy a making-of DVD and a three-track, 1950s-meets-Moby-remixes EP. Make sure you do your research before you buy--there seem to be quite a few special edition BioShock bundles floating around, each with slightly different content. Alternatively, you could just buy one of the similarly pricey NECA toys and call it a day.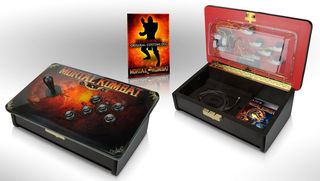 Mortal Kombat Tournament Edition
Sealed - $200
Open - $80
If you're a Mortal Kombat veteran, then you're well aware of the arcade cabinet's wacky, five-buttons-in-the-shape-of-an-X control layout. Problem is, not too many retail arcade sticks offers this bizarre layout by default. The solution: this nifty Tournament Edition, which comes packed with a joystick custom-made for MK dominance. It's got everything your hands are used to, with a bat-top, American-style stick and chunky concave buttons. Even crazier is how the joystick opens up, revealing the game and some DLC vouchers. We're not sure how practical it is, but imagine stashing a sandwich in that compartment, then opening up your joystick for lunch in the middle of a match.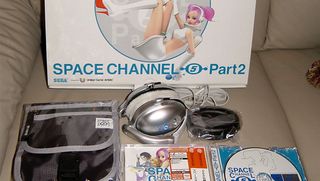 Space Channel 5 Part 2 Limited Edition
Sealed - $530
Open - $200
As if finding a Japanese import copy of Space Channel 5 Part 2 wasn't difficult enough. This limited edition was never released in the states, turning what was already an obscure collectible into an extreme rarity. The pack-ins aren't even that mind-blowing: some headphones and a plain gray carrying case. But those silver headphones look like they would go perfectly with a chrome Space Michael jumpsuit. Ulala would be proud.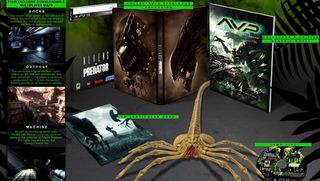 Aliens vs. Predator Hunter Edition
Sealed - $170
Open - $100
Ever wished you had a life-sized facehugger you could wrap around your skull, facilitating horrific pranks on your friends and/or loved ones? You've come to the right collector's edition! Alongside this grisly sci-fi FPS, the Hunter Edition includes a graphic novel, a gorgeous steel case, some DLC maps, a Weyland-Yutani Corp patch, and, in the spirit of the '90s, a lenticular holographic card. But the grotesque icing on the cake is the articulated facehugger replica, which looks disturbingly real at a glance. Just looking at it is making our oral orifice feel violated.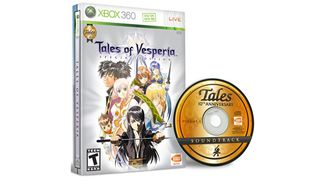 Tales of Vesperia Special Edition
Sealed - $225
Open - $120
Curious what wonders await you in the Tales of Vesperia Special Edition, in exchange for your precious $225? The game, its soundtrack, andthat's about it. This is about as sparse as collector's editions get--though admittedly, we're glossing over the steel case and the fact that there's art in the manual (which is played up to the point that we wonder if the base version's manual does not). But those aren't really things you can proudly flaunt to the world in a righteous display of fandom. Given that the standard 360 version goes for a mere $25, it's probably a wiser use of your money to join the plastic-cased, soundtrack-less lower class of Tales of Vesperia owners.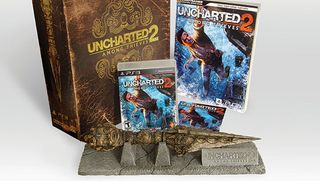 Uncharted 2: Among Thieves - Fortune Hunter Edition
Sealed - $11,327
Open - $9,204
Ladies and gentlemen, feast your eyes on the Big Kahuna of valuable collector's editions. In 2009, Sony endeavored to craft the rarest game bundle ever made, making a mere 200 copies of this majestic special edition. Only those who played the Uncharted 2 demo during select weekends in the month of October would be entered to win. Those absurdly lucky 200 were rewarded with a copy of the game, an art book, the official guide, and an ornate replica dagger that could easily double as an Indiana Jones prop. We've had the honor of holding said dagger in our hands--praise Antista--and it was glorious.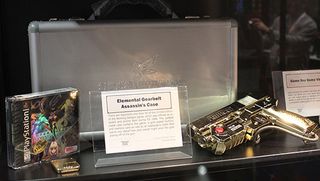 Elemental Gearbolt Assassin Case
Sealed - ???
Open - ???
But wait! There is another. This collector's edition is so rare, there's no telling what kind of money--and/or unholy pact with Satan--is required to get your hands on one these days. Inside this suitcase was Elemental Gearbolt, an absurdly obscure Japanese lightgun shooter, as well as a jaw-droppingly beautiful golden GunCon peripheral. There are only 50 of these in existence, given away as prizes for the press during E3 all the way back in 1998. If this collector's edition was the actual contents of the radiant suitcase in Pulp Fiction, we wouldn't be all that surprised.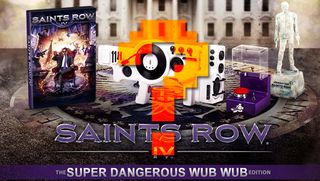 They weren't kidding when they said "collectible"
Are you the lucky owner of one of the aforementioned games? Do you still appreciate the add-ins you paid extra for? Do you feel like reading the word "edition" one more time will make you scream? Let us know in the comments, as well as suggesting any pricey collector's editions (sorry) we might've missed.
And if you're looking for rare and expensive video game paraphernalia, look no further than the Rarest (and most valuable) current-gen games and the Rarest (and most valuable) limited edition consoles.