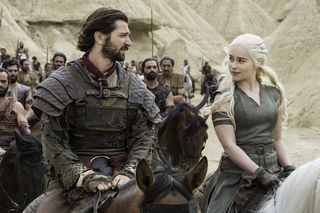 Going down the rabbit hole...
Game of Thrones season 6 is well underway, but many questions still remain. Will Daenerys ever make it home (or do anything at all)? Does she want to? Can Sansa and Jon finally take down Ramsay? Will Brienne and Tormund get together and have MASSIVE, beardy children? George R. R. Martin has missed his book deadline, and season 6 has ventured well into the unknown, so the only way of knowing what may happen in the future is... to speculate.
I've rounded up ten theories about what could happen in season 6 and beyond. Sure, I could have included ones that suggest Stannis Baratheon is a White Walker, but instead I opted for ones that have the possibility of coming true (hopefully Stannis isn't a White Walker or this could be embarrassing).
Be warned, there are plenty of spoilers ahead if you're not up-to-date with Game of Thrones.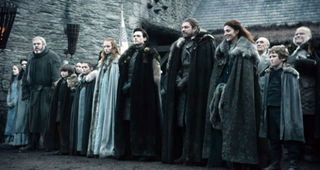 The great Northern conspiracy
Theory: Perhaps the most well-researched of all the theories, the great Northern conspiracy, rests on the idea that Robb Stark legitimised his bastard brother, Jon Snow, making him the rightful heir to Winterfell. This fact is known among Stark loyalists in the north, but no one else.
What it means: That Jon is King of the North, and potentially heir to the Iron Throne as well (courtesy of his Targaryen bloodline - see other Jon Snow theories in the next few slides). Could he unite the whole Seven Kingdoms? Okay, so this may be a stretch, but there are some interesting facets to this theory. Firstly, the idea that the northerners have slowly embedded themselves in the Boltons' circle to turn his supporters against each other (this is literally happening). Once they battle it out, the Boltons will be so weak that the northerners can strike and put Jon Snow in charge. Most of this theory has developed from reading between the lines of the books, and some of the events of season 6, but I have to admit it's interesting.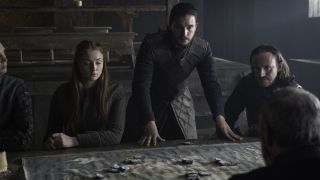 Who is Jon Snow?
Theory: Jon Snow has so many theories about him, you could basically proclaim him King of your kitchen and people would believe it. The main one though is over who Jon's parents are. The current theory is that Jon is the son of Lyanna Stark (sister of Ned) and Rhaegar Targaryen (who allegedly raped her), making him the nephew of Daenerys.
What it means: Picture this; Jon Snow is thrown into a fiery pit only to walk out a few moments later alive and well in a Dany-style resurrection scene. Now that's something I want to see! We already know that the events of the Tower of Joy are going to be revealed in season 6, which could mean we witness Jon's birth. This theory also ties into another one, which suggests Jon Snow had a twin sister who is now Meera Reed. There's not a huge amount of evidence to back this up, but it sure would be awesome to have a brother-and-sister reunited plot line. What do you think?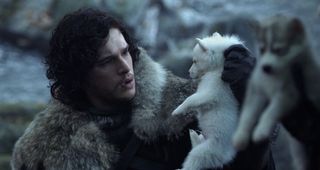 Jon Snow is the Warrior of Light
Theory: It's all to play for when it comes to who will be named the Warrior of the Light, aka Azor Ahai. Although Dany is a good contender, most internet theorists reckon Jon Snow is the best candidate.
What it means: Tying into the possibility that Jon is of Targaryen ancestry, Melisandre's prophecy states that Azor Ahai will have the blood of the dragon and will be reborn in smoke and salt (in the books Jon's wounds smoke and his comrades cry salty tears all over him). Secondly, when Melisandre is looking into the fires for Azor she only ever sees things to do with snow, which can't be a coincidence. Finally, Jon chose his Night's Watch post over his lady love (Ygritte), which ties in to the original Azor Ahai and Nissa Nissa prophecy. On top of all this, we now know that he has been resurrected by the Lord of Light through Melisandre, so he's already connected.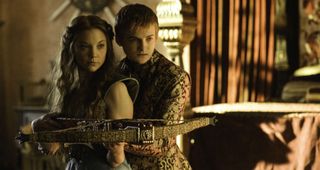 Margaery and Jaime: A love story
Theory: Could there be a love triangle of creepy and epic proportions on the horizon in season 6? Natalie Dormer, aka Margaery Tyrell, has let slip that she has some big scenes with Jaime Lannister this season, while many predict that he could murder Cersei and rule the Iron Throne alongside Margaery and Tommen as Hand of the King.
What it means: Margaery might still be locked up in a cell, but it stands to reason that she'll bounce back, perhaps supported by unlikely ally Jaime Lannister? Either she breaks out of prison courtesy of Tommen, Jaime and the House Tyrell, or she is forced to do a walk of shame, put on trial and executed. According to Diana Rigg, who plays Lady Olenna, her character has a blazing confrontation with Cersei in season 6 (surprise, surprise!) - perhaps because her granddaughter is dead? Elsewhere on the internet, Jaime Lannister is hailed as Azor Ahai, but I can't imagine a one-handed man wielding the Lightbringer.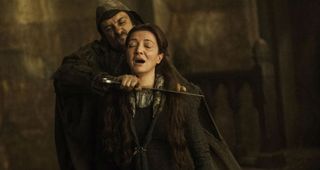 A red wedding cometh
Theory: Could Game of Thrones be getting a dose of cannibalism and a second Red Wedding for good measure? Well, maybe, but only if the show's creators decide to give Lady Stoneheart (formerly Lady Catlyn Stark) an outing.
What it means: If you've only just recovered from the first Red Wedding then click away now, because I'm about to get theoretical. There are two schools of thought on this; the first is that Lord Wyman Manderly, a House Stark loyalist, kills three Freys and bakes them into pies for the Boltons and the Freys to eat in revenge for the death of the Stark heir. Although this is hinted at in the books, the character hasn't appeared in the TV shows and there's no guarantee he'll be in season 6. The second school of thought is that there will be a second Red Wedding that wipes out the Lannisters, especially Jamie. In the books, he has been led into a trap by Brienne and Lady Stoneheart, but many believe the zombie-Catelyn will return and massacre the lot. Ohhhh, aaaahhhh.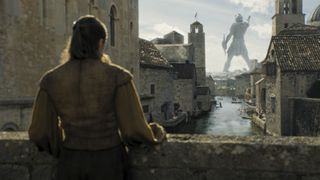 Arya IS the Waif
Theory: Arya and The Waif are actually the same person, like in Fight Club. Remember how she appeared to be fighting herself when she was blind? Maybe that's exactly what was happening... The Waif only exists as a construct of Arya's mind.
What it means: That Arya is in no danger of actually dying, and that - in episode 7 - she's just trying to remove the Waif aspect of her character before she heads back to Westeros to finish her kill list. It's an interesting theory. Other notions about Arya is that she has deliberately drawn out The Waif and let her believe that she's injured (she was very conspicuous when chartering a ship) in order to either be 'presumed dead' or to surprise The Waif when she tries to finish Arya off.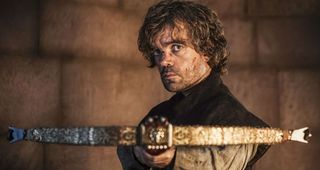 Tyrion is a Targaryen
Theory: Jon Snow isn't the only one rumoured to be a Targaryen. Tyrion Lannister is also believed to be one of the prophesied head's of the dragon along with Dany and Jon. A kind of Targaryen trifecta of awesome that just has to be the focus of season 6, right?
What it means: The idea is that mad King Aerys Targaryen had an affair with Tywin Lannister's wife, Joanna, the mother of Tyrion, which might explain why Tywin hated him so much. And despite what happens in the books, the TV show even seems to be pointing in that direction, with Tywin saying you're no son of mine just before Tyrion shoots him with an arrow. You've got to admit, an ancient prophecy being brought to life by the show's three most popular characters does seem like a perfect way to round off the whole Game of Thrones saga. I'm keeping my fingers crossed for this one.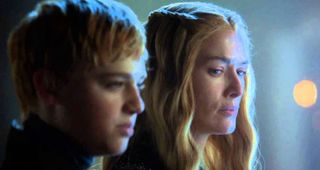 Long live King Tommen
Theory: Hold onto your hats, because two opposing theories suggest that Tommen will remain on the Iron Throne (and will literally be the only character left standing when everyone else either kills each other or commits suicide) or die horribly very, very soon. What the what now?
What it means: Poor little Tommen has been manipulated by so many different people it's hard to keep track, but some online commentators reckon the kind-hearted king is in it for the long haul. This theory leans on who doesn't survive, including Dany who some argue will be killed by her own dragons. However, there's a flip-side that says Tommen will die along with his sister and brother Joffrey, leaving the Iron Throne open for one of the three dragon-born (see previous theories). However, a different, and much more intriguing facet of the theory suggests that Tommen is the Valonqar or little brother destined to kill his own mother Cersei (as opposed to Tyrion as she fears). Perhaps Tommen will discover that he is the result of incest and therefore has no right to the throne? At this point, seeing Tommen murder anyone seems a little farfetched, but you never know.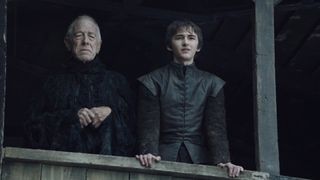 Bran could be Bran The Builder
Theory: Bran is actually Bran The Builder, who created Winterfell and raised The Wall over 8000 years before the events covered in Game of Thrones. He's one and the same person because of his ability to influence the past.
What it means: Well, we already know Bran can see into the past and future, and he can influence events and 'warg' into people. If he's aware of the White Walkers in the present day, maybe it's his responsibility to travel into the past and raise The Wall to keep them out. Also, Bran The Builder created Winterfell as a seat for the Starks. If the two people are one and the same, Bran is essentially ensuring his existence by creating his own ancestral home. Funnily enough, in the books Old Nan mentions - on several occasions - that Bran's favourite stories are the ones about... yup, Bran The Builder. Is that an echo of the young Stark's future? Maybe.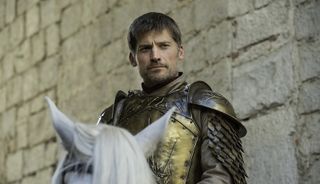 The voices in The Mad King's head come from... Bran
The theory: Turns out the Mad King might not have been mad at all... He may just have had Bran inside his head. This theory is based on the stuff that happened to poor Hodor at the end of season 6, episode 5.
What it means: Just before the Mad King is offed by Jaime (before the books begin), he shouts "Burn them all". Most people think this is a reference to his panicked state as he realises Kings Landing is lost to Robert's army but... What if it's residual noise from Bran being at The Wall, under siege from White Walkers? After all, that's what cause Hodor to become Hodor. The hole in this theory - which may become clear - is that Bran has no real connection to the Mad King. Why would he be there? Maybe he's searching for some clues about Jon Snow's lineage?