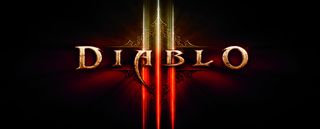 Welcome to Sanctuary
The realm of Sanctuary is a brutal land filled with fiends and monsters just waiting to rip apart the five heroes that defend its peoples. It can be a harsh country, so we've gathered some tips and tricks to help you not only survive Diablo III, but kick some serious demon butt.
Diablo III also features a lot of changes from its demonic predecessors. So whether you are an old Diablo veteran or a new comer to the series, you should check out our guide to prepare yourself for the battles to come. We start with the five classes that you use to explore the new Diablo universe.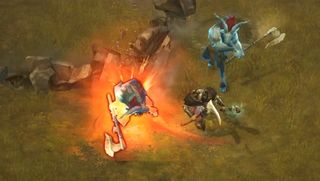 The Barbarian
The Barbarian uses rage as its resource, which builds up as the brute fights, and dips when he uses certain abilities or leaves battle. Because of this, its best to be on the front line of combat at all times. Luckily, the Barbarians skills are all suited for getting up close and personal with enemies tearing them apart with cleaves, bashes, and other area-of-effect skills. Barbarians also have gap-closing abilities such as leap (a Diablo II favorite) and sprint, making it easy to get from the back of a fight to the front. Also the Barbarians should be looking for weapons and armor that boosts their primary stat, strength.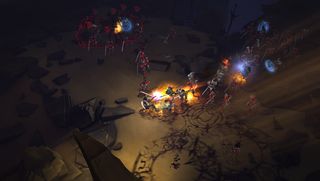 The Demon Hunter
These vengeful fighters play like a combination of the Amazon and the Assassin from Diablo II. Demon Hunters draw from two resources: hatred and discipline. Hatred is used for offensive attacks. Discipline is for more defensive moves, but replenishes much more slowly than Hatred. The more Dexterity the Demon Hunter has the more effective his or her attack. They primarily relay on an arsenal of arrows, chakrams, bolas and bombs to take down enemies. They also employ a number of traps to surprise opponents and sentries to mow them down. When Demon Hunters get in over their heads they can vault to safety, disappear behind a puff of smoke, or toss out caltrops to trip up enemies. If they are feeling extra fiendish, hunters can also mark hellions for extra damage.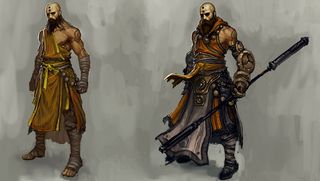 The Monk
Monks are strikers that build up Spirit with their primary attack and spend it to unleash more devastating blows. Unlike the barbarians rage meter, Spirit energy doesnt dissipate over time. Most of their attacks are either a flurry of quick blow or strikes that do large amounts of damage. Monks also employ mantras that enchant themselves and their allies with extra chances to dodge attacks or reflect back damage. However, only one mantra can be active at a time. They have a few defensive options: Monks can use the Blind AoE to daze enemies or a blast of light to heal themselves and allies. If they really get in hot water they can also use Lashing Tail Kick to knockback multiple enemies or Tempest Rush to push through crowds. Monks are also a Dexterity based class and should look for equipment that boosts that stat.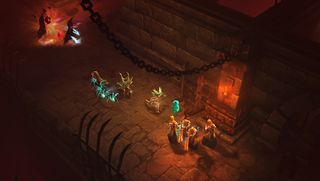 The Witch Doctor
Witch Doctors use mana as their resource, which replenishes somewhat slowly after casting each spell. They can cast plenty of pets, as well as spells that poison and slow down enemies. They mostly cast living (and some undead) creatures such as frogs or bats to do damage. That means most spells wont travel along a direct path, and squirm as they head towards their target. Their main attribute is Intelligent, and youll want to find items that boost that stat in lieu of high defense bonuses. Having a few pets to keep enemies busy, spells to slow them down, or magic like Horrify to scatter them, will be key to these Voodoo practitioners survival.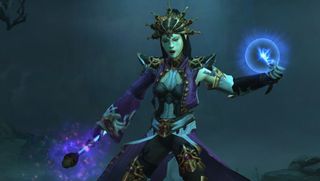 The Wizard
Wizards are the arcane tricksters of the group. They use Arcane Power to fuel their spells, which is much like mana except it replenishes much faster than the Witch Doctors resource. They also put a premium on Intelligent boosting equipment.
Wizards also have a variety of Signature spells that are free of cost. They cast a volley of fire and ice spells to burn and freeze their foes. Or they can go for straight-up damage with Arcane spells such as Disintegrate, which lets forth a beam of pure damage. Wizards can get out of trouble by freezing enemies around them with Frost Nova, teleporting around the map or casting a bubble of slow time. If they want to get extra tricky they can cast two less powerful duplicates, or become an Archon, a being of pure Arcane energy with supped up spells.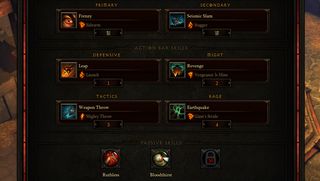 Don't Be Afraid to Explore New Skills
Leveling up and gain new skills are much different in Diablo III than in Diablo II. Players no longer have to fret over where to spend skill points, and worry about buying spells with those points.
Now at every level you get a new spell or ability and you just select each spell you want to put in your tool bar. Starting at level 6 you start unlocking runes which augment abilities, making them vastly different. Runes can apply fire damage, allow you to teleport while using the spell, give you some health when cast, or change the spell in many other ways. When you unlock runes on a skill you can switch them around as much as you want.
This takes the pressure off of choosing skills and really lets you explore what spells are best for you. Also know that every new ability isnt necessarily better than the last. Sometimes you will gain a new spell, play around with it for ten minutes and then decide you like a previous skill better. If you do, there is no penalty to going back to an old favorite.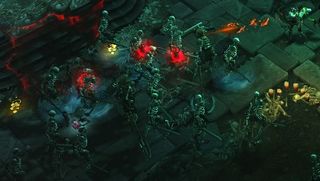 Drink Health Potions Between Orbs
In Diablo II when you got low on health you could just chug health potions like a sixth-year frat boy at a high school kegger. Not any more. Now there is a cooldown timer dictating how many potions a warrior can drink. But not to worry, health orbs are the cool new way all the kids are using to refill their health bar. You will still need to drink potions for a quick boost of health. Just hit the "Q" key to drink one, so you don't have to use your cursor.
Enemies will now drop health orbs and all you have to do is walk by them and pick them up. You can even equip armor that extends the range at which you pick up health and gold. When you pick up a health orb it also heals your pets, followers and allies. So everyone on your party will be sharing in the revitalizing goodness.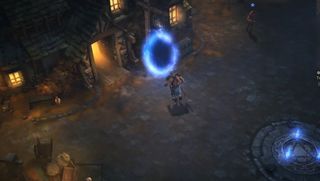 Thinking with Town Portals
Town Portals work much differently in this installment of Diablo. They are now a spell on your tool bar rather than a stackable item. This means you can cast them infinity and you dont hoard scrolls like in previous games. However, portals take a few seconds to cast and can be interrupted. So you will no longer be able to use them to instantly pull your butt out of the fire.
Also you will no longer be able to use a friends portal as a free ride to and from the battlefield. Gone are the days of two-portal revolving doors that dont have to close. But since portals are infinitely castable you can grab all the junk gear you want and take it all back to the town merchant for mounds of gold. Just dont leave any blue items behind, they might disappear before you come back.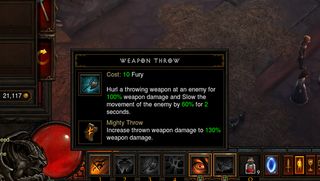 Pay Close Attention to Weapon Damage
Weapons are the basis for all the damage players do, even spell casters. Spell damage is always a percentage of how many points your weapons can deal out. For example, the Wizard spell Arcane Orb does 175 percent of weapon damage when it hits enemies.
This means that all of your spells scale to become more powerful as your hero grows, and a spell that you earned at level 1 can be just as powerful as one you get at level 30.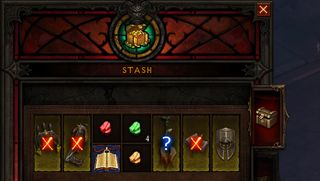 Use The Stash to Trade Items Between Your Characters
Your Stash is now shared between all of your characters in Diablo III. Now you can use your stash to mule weapons between each character. The change is a bit of a double-edged sword: though it is now easier to get items to characters that need them most, the shared item bank will fill up more quickly. You will only start off with 14 slots to store all your extra loot between all characters. It cost 10,000 gold each time to add 14 slots to the stash and 100,000 to add a new tab. You can have up to 5 tabs of bank with 70 slots per tab totaling a max stash size of 350 slots. But gold will not be stashable since it is also a shared resource between all your characters. Hardcore heroes will also have a separate shared stash than non-hardcore characters.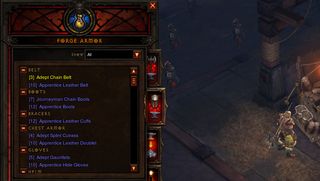 Horde Blue Items and Use Them Wisely
Crafting your own magical (or blue) items is a new addition to Diablo III. Early in the first act you will get the ability to break down blue items into their magical components and recombine those reagents into other magical items. So be sure to save all your blue items in Act I to break them down for crafting material. The new items have random magical attributes and pretty good base stats. You can also spend money to train the crafter, leading to better, higher-level gear and new crafting recipes.
This becomes a balancing act, however. If you break down too many items you won't have very much money. Also, if you spend too much money upgrading your crafter, you might not have the cash to pay them to make you the gear or expand your Stash.
So break down those blue items, just remember to sell them when you start hurting for gold.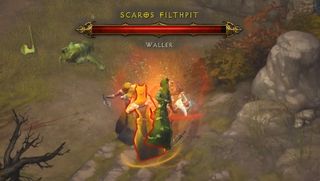 Your Guide to Monster Spotting
There are tons of monsters in Diablo III, some spit acid, some charge you and some spawn more monsters. But they all come down to one basic strategy to beat them: keep clicking!
There are a few rare and magical monsters you have to watch out for. There are blue champion monsters that come in packs and have some sort of ability. So far weve seen teleporters, Nightmarish monsters who cast fear spells on players and knockback monsters. There are Wallers that raise stone barriers to block you off or trap you in a three-walled prison. Also there are jailers who root players in place. These packs of champions are guaranteed to drop some decent magical loot.
Monsters with gold names are unique enemies that spawn randomly with random properties. They usually spawn with a couple minions that share their properties but arent as tough. Its a good idea to take out the minions before you start on the master, so you dont have a lot of special abilities procing all the time.
If you ever see a treasure goblin, kill it! Kill it as fast as you can! These little misfits will run around the stage dropping bits of gold as they go. They drop some nice blue items when they die, but if you wait too long they will summon a portal and disappear forever.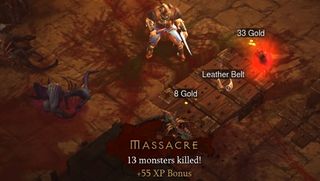 Racking up the Exp
There are plenty of ways to get a few extra experience points in Diablo III. Blizzard added a massacre exp bonus for chaining multiple kills together. As long as you are hitting enemies and keep the kill count going without stopping for a moment, scoring at least five kills. However, it usually takes more than 30 monsters to equal the exp of that normally gained from killing one. This system is more for fun than any serious exp grinding.
Keeping the kills coming and the body count high is much easier with a few pointers: Some monsters such as the Tomb Guardian and the Wretched Mother spawn weaker monsters, so you should give them time to raise little armies before you start attacking if you want get a high kill score. Also herding monsters into one big group can help ratchet up the massacre-o-meter. Melee characters might want to consider attacks that help them bridge long distances. The Barbarians leap ability is more than up to the job, and the Monks Fist of Thunder with the Thunderclap rune lets them teleport to enemy mobs.
Also if you are really serious about getting exp, equip some gear with the Adventurer prefix. It adds a few exp for each monster killed, and if you have a full set it can really start to add up.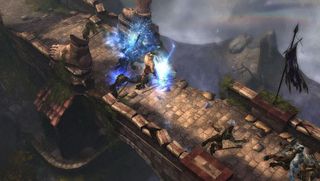 Use The Environment to Fight for You
There are many interactive and destructible elements in Diablo IIIs environment. Support planks bearing a load of heavy rock walls are primed to take out a group of menacing opponents. Players can also unchain a chandelier to stun monsters below its heavy iron frame. But dont fret too much if the circumstances dont line up perfectly you will get an achievement for using the environment against enemies, but no extra exp.
Shrines return in Diablo III, with all the bonuses and goodies we remember. Be sure to get ready to use those shrine buffs after you touch the poll, because they only last for two minutes. So dont be shy about tagging one right in the middle of battle for some extra gold, experience or protection. Also Shrines buffs are now shared between players, so no need to get competitive like in Diablo II.
Lastly be sure to explore every part of the map before moving on to the next area. Every map is randomly generated during every playthrough, with random dungeons, monsters and even quests. You never know what might be around the next corner. And it will make sure you activate the ever important Waypoints, which let you teleport back to the area. Often the game will send you back to earlier waypoints to open up previously inaccessible zones.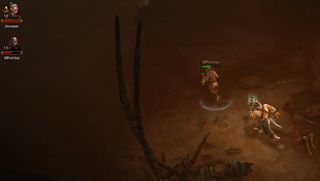 How to Play Well With Others
There are a few multiplayer additions in Diablo III. The biggest change is the loot separation. Each player receives their own gold and loot that others cant see. This will make other players seem kind of crazy as they zig-zap over ghost gold you cant perceive, but dont worry, cause you look crazy too. Also you wont feel greedy for snatching up all the blue items you want.
Though you wont be able to use the two-portal trick anymore, every player has a battle standard in town that lets other players teleport to that players location. Just click and port.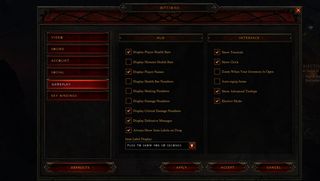 Play with Gameplay Options
There are some pretty awesome benefits that come with messing around with Diablos Gameplay options. You can have the game display damage being dealt to and by all on-screen parties, enemies health bars or how much you and your allies are being healed for.
One of the greatest advantages is checking the Show Advanced Tooltips option. It will show you exactly how much damage your spells do and how each of them works. It replaces a general statement like Haunts an enemy with a spirit, to Haunts an enemy with a spirit, dealing 575 percent weapon damage as Arcane over 12 seconds. It is really helpful and gives you exactly the information you need.
Also, if you dont like being locked down with what spells you can cast check out the Elective mode. It lets you map any spell you want to an open ability slot on your tool bar. Its really useful for those who like to kill outside the lines.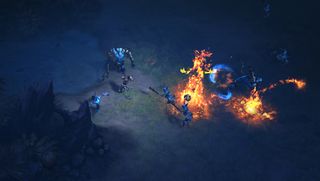 More Diablo Guide Goodness on the Way
Well that's all the tips we have for now. Check back over the next couple of weeks for out in-depth class guide, our boss guide and our crafting guide. Until then, keep on clicking.