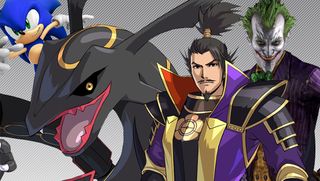 When worlds collide!
But then there are those crossovers that come completely out of left field the kind you could never see coming, and they may not make logical sense, but youre glad they exist regardless. Weve put together a list of the 15 most bizarre crossovers from gamings history the games that nobody would believe existed if you went back in time and foretold of them. Were excluding guest cameos and secret characters (though that list is in the works!) these games give the involved parties equal attention. Weve also included a handy formula, so you can deduce how each crossover, no matter how unusual, was envisioned.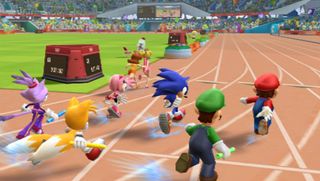 Mario & Sonic at the Olympic Games
It took generations, but the two key mascots of the 16-bit era finally buried the hatchet and that somehow meant it was time to take part in the worlds most celebrated sporting competition, to see which of them could best complete mini-games. Though we assumed Mario had jumping and Sonic had running locked down, there was no telling who would come out ahead in events like archery, table tennis, and fencing.
We never thought wed see the day when Mario and Sonic starred in an officially-licensed title, given the fact that Sega put out commercials proclaiming [if you are overly sensitive to sick burns, please look away now] Genesis does what Nintendont. We imagine that the fact this series is only available on the Wii, DS, and 3DS torments Sonic unendingly during his sleepless nights.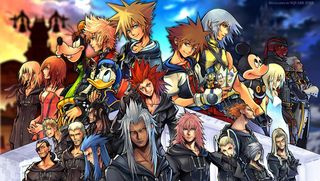 Kingdom Hearts
To say that Disney is... protective of their franchises would be an understatement so when they announced a collaboration with Square Enix, we were shocked. Not only was it difficult to picture the likes of Cloud Strife and Tidus in a Disney game, but we couldnt imagine what it would be like for the wildly diverse characters of the animation giants IPs to acknowledge each others existence. Goofy and Donald venturing into Wonderland, Agrabah, and Beasts Castle was already an outlandish crossover in and of itself.
Perhaps the most amazing thing about this crossover was how fantastic it turned out. Square Enix took great care to stay true to the look and feel of each film, even if some characters didnt warrant their own vistas, there were dozens of heartwarming cameos including the 101 Dalmatians, Chip and Dale, and Aerith. Also: in what other game could you possibly enlist Bambi or Dumbo to aid you during battle?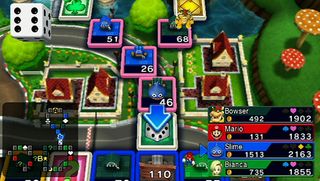 Fortune Street
Known in Japan as Itadaki Street, this series actually started way back on the Famicom but the first time the Super Mario roster joined the fun was on the DS in 2007. In a move we cant explain (but still appreciate), Nintendo brought this virtual board game to the states with the 2011 Wii iteration. Blending the property purchasing of Monopoly with the manic minigames of Mario Party, we thought Fortune Street actually turned out pretty good.
Were not quite sure how Nintendo justified localizing this Square Enix series Dragon Quest characters like Bianca and Angelo arent nearly as universally recognizable as Bowser and Toad, and it practically competes with Nintendos own Mario Party titles. But for fans of boardgame real estate or either game franchise, this makes for quite the pleasing party game.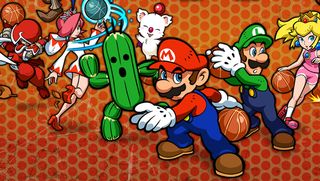 Mario Hoops 3-on-3
The Mario Bros. posse has always excelled at tackling various sports like golf and tennis but it wasnt until this 2006 DS game that they attempted to slam jam in our faces. Their opponents: none other than the classes and enemies of the classic Final Fantasy games. When Square Enix developed Mario Hoops, someone mustve finally got to live out their dream of designing how an earth a White Mage or a Moogle would look shooting a three-pointer from the top of the key.
With slam dunks and insane Special Shots that give NBA Jam a run for its ridiculous money, we actually ended up being okay with the whole situation. Controlling Mario as he dribbles past a Ninja then alley-oops to Dixie Kong may not make a lick of sense, but it is entertaining.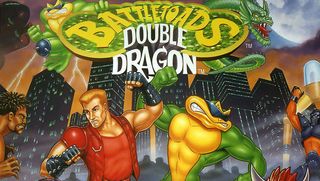 Battletoads & Double Dragon
Dont try to reason why two twin martial artists are teaming up with three anthropomorphic toads just know that this was essentially the fusion of beat-em-up superstars. When the sultry Dark Queen joins forces with the Shadow Warriors, its up to these five bros to keep the Colossus battleship at bay. We know what youre thinking, and yes: you can smash Abobo with the gigantic boot of a Battletoad.
Though they may be sharing the spotlight as part of The Ultimate Team, the trademark Battletoads difficulty was in full force here. The infamous rope-descent and jet-cycle levels are back, and just like the originals, they show no mercy. Also, its unclear how Billy and Jimmy were able to breath in space, but logic like that is for suckers.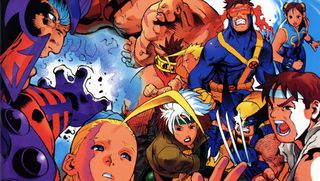 X-Men vs. Street Fighter
Even back in the 90s, Capcom was no stranger to one of Marvels most famous superteams, having made X-Men: Children of the Atom in arcades and Mutant Apocalypse on the SNES. But then, someone at Capcom had an idea so brilliant, we feel as though we owe them a piece of our souls as payment: why not pit the world warriors against the worlds most uncanny mutants? With that, X-men vs. Street Fighter tag-team fighting was born a concept so popular that it inspired the outstanding Versus series, which includes gems like Capcom vs. SNK and Marvel vs. Capcom.
We do have one issues with the game: why are heroes fighting heroes? It makes sense for Rogue to sap M. Bisons psycho power, or Ken to put the hurt on Juggernaut but Ryu and Cyclops are clearly shaking hands on the title screen, so why would they be trading blows and blasts of energy? On second thought, it doesnt matter were just happy it made for what the promo comic called an Earthquakin Inter-Media Crossover Extravaganza!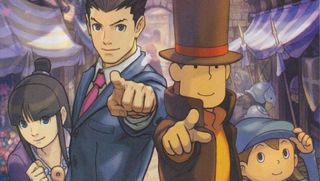 Professor Layton vs. Ace Attorney
In the criminal justice system, the people are represented by two separate yet equally important groups: the puzzle solvers, who investigate crime; and the fictional attorneys, who prosecute the offenders. These are their stories.
DUN DUN!
Level-5 and Capcom have come together to merge the worlds of Phoenix Wright and Professor Layton in a 3DS game that has two of our favorite handheld heroes meeting for the first time. While it's not the Superman vs. Batman of gaming titans, it's still good to see these two intellectuals teaming up, no matter how absurd it might seem. And yes, it's super-duper absurd.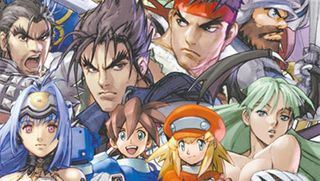 Namco X Capcom
Before there was Street Fighter X Tekken, there was Namco X Capcom. This Japanese-only 2005 PS2 release was a tactical RPG incorporating the best from both companies the day that Captain Commando, Klonoa, Huitzil, and Ogre co-exist in the same game is a grand day indeed. But Capcom and Namco mightve went overboard on the little-known references; some of the character inclusions are just flat-out nuts, hailing from games we barely know. Who here remembers The Tower of Druaga? Resident Evil: Dead Aim? Baraduke? Forgotten Worlds? Yeah, we dont either.
Still, we wouldnt mind giving the game a go and getting to know these characters; unfortunately, it was never released outside of Japan. But there was a similar game that made its way over to us, and incredibly, its even weirder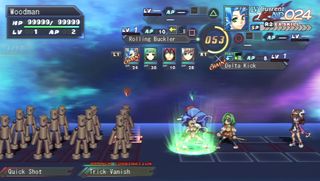 Cross Edge
Take Namco X Capcom, add the properties of Nippon Ichi (most famous for Disgaea), Gust Corporation (Atelier), and Idea Factory (Blazing Souls), and kick the already-off-the-charts obscurity factor to a million. What youll get is Cross Edge, a turn-based tactics RPG that, through some niche-market miracle, made it to our PS3s in 2009 courtesy of Koei. Truth be told, the only characters from this game that we could actually name were the Darkstalkers like Morrigan and Lilith, Disgaeas Prinny, and Tekkens training dummy Mokujin.
With PS2-grade 2D graphics and dialogue cutscenes galore, Cross Edge will only appeal to an infinitesimally small percentage of gamers but for the diehard JRPG fans, this game offers hours upon hours of grid-based, anime-style warfare. Perhaps its unsurprising that one of the games main selling points is the fact that you can dress the female party members up in a variety of costumes.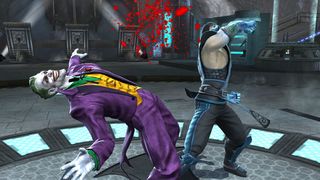 Mortal Kombat vs. DC Universe
With Marvel vs. Capcom already proven to be wildly popular, DC Comics and Midway Games were starting to feel left out in the cold. In an attempt to recreate that kind of success, they joined forces for a not-quite-canon crossover, introducing the Justice League to the Netherealm and Raidens entourage to Metropolis. In an undeniably cool twist, Darkseid and Shao Kahn merged to create one super-bad supervillain, aptly named Dark Kahn.
But there was one problem: how do you make a franchise thats most famous for spine-ripping and aorta-slicing fatalities fit in the teen-friendly DC setting? The solution didnt satisfy bloodthirsty, long-time MK fans: instead of Superman ripping his defeated opponent in two, he simply punched them really, really hard in a heroic brutality. We get that Supes and Batman have sworn not to kill, but cmon dudes like Scorpion are already dead!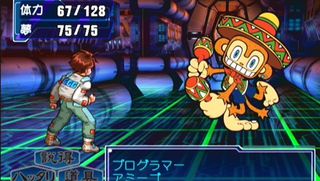 Segagaga
Segagaga is a game that sounds almost too strange to be real, both in name and concept, and is oddly prophetic about Segas dark post-Dreamcast days. The story takes place in the Sega Tower, where youre a young kid tasked with uniting the unruly Sega staff so they can win back more marketshare. Youll encounter scads of references to Sega games with every step as you explore Segas dungeon-like offices wrangling up developers and random employees. You dont beat the staff to death during battles; instead, you insult or provoke them into getting back to work.
Its no wonder that the game was never published outside Japanese shores the bizarre concept, Japanese games industry in-jokes, and obscure references could only be mentally processed by the most diehard Sega fans. The games director, Tez Okano, pieced together the game with a shoestring budget; weve got to applaud him for making such a heartfelt, albeit weird, sendoff games from the Dreamcast.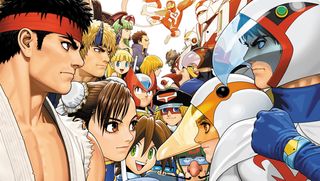 Tatsunoko vs Capcom: Ultimate All-Stars
Fan demand can be a beautiful thing. Without it, we mightve never had this already-improbable crossover to our stores, and American Wii owners would be left without one of its best fighting games. This game is what you get from mashing together fairly-recognizable Capcom icons like Ryu and Frank West, sprinkle in some lesser-known characters like Alex and Viewtiful Joe, then dump a gigantic vat of unknown substances in the form of the heroes and villains of properties put out by Tatsunoko Production. Chief among these was the Science Ninja Team Gatchaman (which, coincidentally, is also the name of our band), which included the eagle- and duck-helmeted folks you see above.
Despite not knowing who in the blue blazes half of these characters are, TvC was quite the enjoyable fighter, paving the way for work on Marvel vs. Capcom 3. The mere fact that you can pit a lighter-shaped mech named Golden Warrior Gold Lightan versus one of Lost Planets PTX-40As giant mobile suits justifies the existence of this game.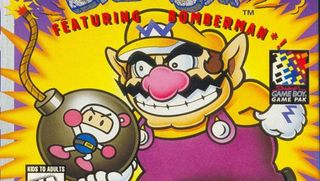 Wario Blast: Featuring Bomberman!
Warios proven that hes more than capable at handling his own games see Wario Land or WarioWare for examples but here, hes inexplicably stolen the spotlight in this Game Boy title thats 100% in Bomberman territory. Theres a reason for that this is actually a port of Japans Bomberman GB, which Nintendo artificially jammed Warios likeness into for the American and European releases. The gameplay is identical to Bombermans past; the only difference is the presence of Marios portly, villainous doppelganger.
We can only imagine the reasoning behind Hudson Soft letting Wario take the wheel of Bombermans own game. Perhaps Wario threatened to send them a mailbomb, or maybe he was holding the companys vault full of gold bricks hostage. Alternatively, Nintendo was trying to decide if Wario was the ideal front man for puzzle-like games, as Warios Woods was released that same year.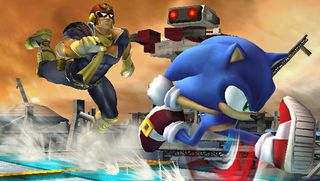 Super Smash Bros. Brawl
The Nintendo 64 Super Smash Bros. was a celebration of all things Nintendo, bringing together characters from every major Nintendo franchise into one brawl-filled fighter. Over the years, though, the series moved from honoring Nintendo mascots to popular game characters in general, climaxing in the Nintendo Wiis Super Smash Bros. Brawl. Brawl mixed and matched characters that we never, ever expected to see sharing a screen to create a shockingly strange amalgamation of gaming royalty.
And for as strange as it was to see characters like Solid Snake, Sonic the Hedgehog, and ROB the Robot in a Nintendo game, the real weirdness was when they showed up during the story mode. The Subspace Emissary linked each characters story together, finding ways to explain why theyd all be sharing a stage. It was absurd, and though it made no attempts to actually make sense, the fact that it was even presented in a somewhat serious way made it truly bizarre.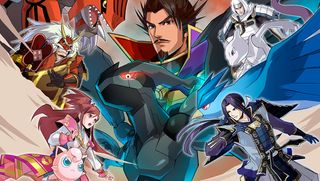 Pokmon Conquest
Pokemon is one of the most famous franchises on Earth, so you wouldnt think it would team up with a barely remembered strategy RPG series set in 1500s Japan thats only relatively popular in its native country. We were intrigued when Nintendo and Tecmo Koei were creating Pokemon's first ever strategy adventure, but instead of combining with the pocket monsters with the more popular Dynasty Warriors franchise, Pokemon met up with the ancient Nobunaga's Ambition.
Dating back all the way to the NES, Nobunaga's game is a complex tactics that most game publishers would think is a hard sell even without the setting. Despite all those obstacles (not the least of which its on the nearly dead DS), it came to America, which is good because we really enjoyed it, as you can tell in our Pokemon Conquest review.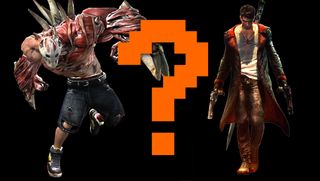 With your powers combined