What did we do before Netflix? Hit the video store, grab a couple of new releases, and pray that we'd made at least one good viewing choice, usually. Ah, those troublesome days are long gone now (*sniff*), with the advent of streaming. It's hard to imagine a time when thousands of movies and TV shows weren't at our fingertips, right there on our screens, waiting to be watched. But with so much available, just what should we be hitting play on?
Finding the true gems can be a challenge. You wind up spending hours scrolling through the selection and then resort to the first one you saw, anyway. Lucky for you, some very kind person took a trawl through the Netflix catalogue to pick out the must-see movies that should be on your watch list. There's a cracking selection of all genres. And if you'd rather catch up on some of the best TV around, here's the 25 best shows on Netflix right now.
25. Jackie Brown (1997)
Region: UK
The movie: Quentin Tarantino's most understated and underrated movie is an adaptation of Elmore Leonard's novel Rum Punch. It's nevertheless got Tarantino's stamp all over it, with lengthy monologues about mundane activities, but it feels somehow less interested in fancy narrative gimmicks and more concerned with telling a good story. Pam Grier stars as an air hostess who gets roped into a dodgy money-laundering scheme by Samuel L. Jackson's shifty gangstah, Ordell Robbie.
Why it's worth watching: Oh, that opening sequence - it's glorious! Watching Grier come down the moving walkway, coolly exiting the airport without a care in the world. It's a sign of what's to come.
24. Hot Fuzz (2007)
Region: US
The film: The juicy filling in the middle of Edgar Wright's Cornetto Trilogy brings back his trusted comrades Simon Pegg and Nick Frost as two cops in a quiet English 'burg. One is straight-laced, the other, more of a free spirit. Things inevitably go awry as they often do in quiet, idyllic movie villages.
Why it's worth watching: Imagine your favourite buddy cop movie. And now imagine it retold through the cheeky, meta-tinted eyes of Pegg, Wright and Frost. This is how you homage.
23. Whiplash (2014)
Region: UK
The film: Of all the movies out there about music - and there's loads - Whiplash is one that doesn't sugarcoat the hardships of becoming a solid musician. Miles Teller's jazz drummer pours his heart into nailing some damn tricky time signatures, all in the hopes of earning the respect of his instructor, played by J.K. Simmons.
Why it's worth watching: If you dug La La Land, then you'll get a kick out of director Damien Chazelle's prior film. Whiplash doesn't have singing and dancing per se, but dang, you won't care when Simmons is belittling Teller with some truly stinging put-downs.
22. Chasing Amy
Region: UK, US
The film: Kevin Smith followed up Clerks with a (slightly) more nuanced look at real-life in New Jersey, this time focusing on the romantic endeavours of comic book artist Holden McNeil (Ben Affleck) after he meets fellow comic scribe Alyssa Jones (Joey Lauren Adams). Their friendship is a corker; witty repartee, darts, beer, and before you know it, he's head over heels. She, on the other hand, is gay.
Why it's worth watching: Considering his love of toilet humour, Smith wrangles some mature observations from a set-up that's rather complicated. Sexual identities are a sensitive subject and this is one of the funniest, and most moving takes on the issue.
21. The Big Short (2015)
Region: UK, US
The film: A star-studded cast tells this behind-the-scenes story of the financial meltdown. It's both funny and heartbreakingly sad at times, as the likes of Steve Carell, Christian Bale, Ryan Gosling and (albeit in a large cameo) Brad Pitt reveal the truth about the people involved in the 2007-2008 crisis.
Why it's worth watching: The guy who directed Anchorman directed this. Yep, this is Adam McKay's work; an assured drama with flashes of wry humor you might not expect from the man who gave us Ron Burgundy.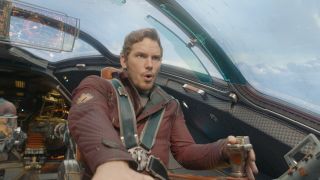 20. Guardians of the Galaxy (2014)
Region: UK
The film: Marvel took a risk in moving away from the Earth-bound adventures of the Avengers, and somehow managed to one-up those antics with this galactic tale. Chris Pratt's goofy scavenger Peter Quill bands together with a bunch of other misfits to take down the big bad who has his eye on an Infinity Stone.
Why it's worth watching: This is the most fun Marvel movie to date as director James Gunn lets loose with the comedy. That's really the best way to describe this film first and foremost, a comedy. Well, with a lot of space-set action.
19. Beasts of No Nation (2015)
Region: Worldwide
The film: One of Netflix's first steps into simultaneous streaming and theatrical releases, hails from True Detective creator Cary Fukunaga. Time is not a flat circle here, however. This is a harrowing tale of a young African boy enlisted into the dangerous ranks of a fearful militia crime lord played by Idris Elba.
Why it's worth watching: At times a brutal watch, it's nevertheless a solid piece of gritty filmmaking from a director with masses of empathy for the tragedy depicted onscreen.
18. Clueless (1995)
Region: UK, US
The film: The teen flick against which every new teen flick will forever be measured. Alicia Silverstone stars as Beverly Hills brat Cher, who discovers she's clueless in matters of the heart despite her like, totally awesome fashion sense. Director Amy Heckerling's film is still stupidly witty and hasn't aged a day, even though its over twenty years old.
Why it's worth watching: What's brilliant still about this amusing Jane Austen update is how its teenagers are both remarkably foolish and smart at the same time: the whole point of the movie, yes. The scene on the freeway in particular is evidence of Dionne's utter cluelessness.
17. Hunt for the Wilderpeople (2016)
Region: UK
The film: If you, like us, are excited for Thor: Ragnarok then you might want to scope out director Taika Waititi's comedy from last year. Shot on location in New Zealand, the film tells of a young boy (Julian Dennison) adopted by a couple out in the valley who befriends his foster dad (Sam Neill) when the pair end up on an adventure in the wilderness.
Why it's worth watching: Part-comedy, part-drama, Wilderpeople's got that unmistakable NZ humour throughout that prevents the flick from growing stale. Twin that with the gorgeous cinematography of the sweeping island valleys and forests, and you're in for a treat.
16. Zootopia (2016)
Region: US
The film: This is an absolute delight. I mean, who's not going to get drawn in by a movie about anthropomorphic animals that live in a bustling metropolis? Now that's got your attention, the main plot tells of a young bunny from the sticks who relocates the big bad city to live the life of her dreams: that of a cop.
Why it's worth watching: Disney's fun, colorful tale appeals to both youngsters and parents alike with a very funny, rather unusual plot that doesn't try too hard to mask its true message.