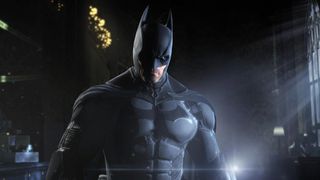 The hero we deserve
In case you haven't heard, there's a new game called Arkham Origins. It's about some rich guy named Wayne who likes to put on armor that makes him look some sort of Bat-Man. He fights tons of colorful characters, including a happy fella named The Joker.
With a Batman returning to gamers once more, we've assemble a timeline of Batman's triumphs and follies in the video game world. Yes, there was a time before Batman: Arkham Asylum, a time when criminally bad super hero games roamed the streets unchecked. They were a superstitious, cowardly lot...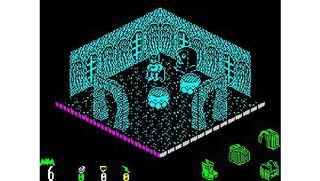 Batman - 1986 (Amstrad CPC, ZX Spectrum, MSX)
Before our hero fought crime in glorious Technicolor, he sported green and black visuals in this monochrome-ian adventure. Apparently, boy wonder Robin has been kidnapped and this slightly chubby Batman needs to fight through over 150 isometric rooms to locate him. Based off the comic license and campy TV show.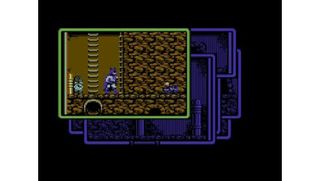 Batman: The Caped Crusader - 1988 (ZX Spectrum, Commodore 64)
Split in two parts - one for each villain, Penguin and Joker - our hero battles his way through an arcade-style beat-em-up. Not only does Batman appear just as he did in the comics (in color, no less), but every time he walked into a new doorway, the screen overlaid the previous like a comic book panel.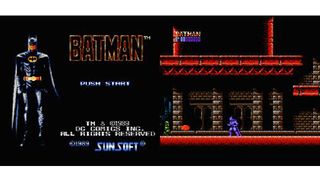 Batman: The Movie - 1989 (PC, NES, Genesis)
The Batman movie sold its license all over town - hence the reason why the caped crusader was on every system under the sun. Loosely based on the first film, the computer version varied in that Batman was able to use a grappling hook to scale levels and partake in Batmobile driving sections. The NES version enabled you to fight through five sidescrolling levels as a smaller Batman, donning a suit composed of two shades of purple. The game pitted you against mutants and robots as well as thugs. The Genesis version was just like the NES version, only with added Batmobile and Batwing sections. Fun fact: after you pummel the Joker into submission in the NES version, Bats literally chucks him off the cathedral rooftop in the games closing cutscene. Thats a bit out of character.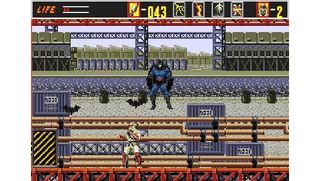 The Revenge of Shinobi - 1989 (Genesis)
Shinobi? Really? Yes - in early versions of this ninja thriller, you fought a likeness of Spider-Man, who upon defeat would turn into a purplish/demon-looking Batman. Equipped with actual bats and pure evil, you had to defeat him to clear the sixth mission. In later versions, Batman was replaced with an actual demon bat. Spider-Man was kept in the game because Sega still held the license to produce Spidey games. Interesting!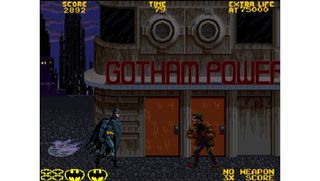 Batman: The Movie Arcade - 1991 (Arcade)
Again based on the film, this old-school beat-em-up featured actual voices and themes from the film. There were also first-person driving sections in the Batmobile and Batwing where you had to shoot cars and helicopters out the way. Of note - the batsuit is modeled exactly like the one worn in the movie - none of that cute purple nonsense.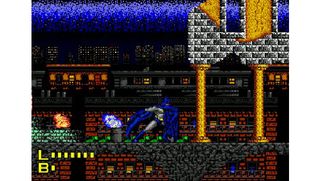 Batman: Return of the Joker - 1991 (NES, Sega Master System)
Strangely billed as a semi-sequel to the film yet primarily taking inspiration from the comics, the Joker is back and Batman needs to stop him - again. Side-scrolling action levels rule the roost here, with different weapon power-ups. Also known for having some of the best graphics ever seen on the NES as the actual Batman and character sprites were much larger than before. Inventive and also one of the last times wed see the Batman license based solely on the comics.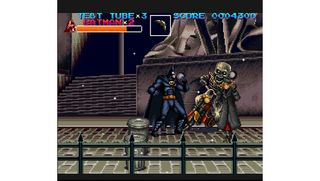 Batman Returns - 1994 (Super NES, Genesis)
Never mind the already saturated market in the early-mid 90s of Final Fight clones, Batman Returns was actually pretty damn good (at least on the SNES). Based on the dark Tim Burton sequel, you walked from left to right, beating the crap out of clowns, Catwoman and the Penguin in levels based on the film. The Genesis version contrasted wildly - with levels containing a darker color palette and overall resembling a more straightforward action game.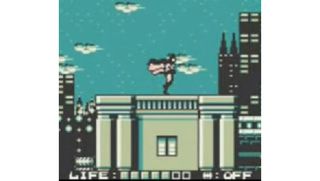 Batman: The Animated Series - 1992 (GameBoy)
The first game based off the amazing cartoon, you control Batman (and occasionally Robin) in another side-scroller beat-em-up. At the end of each level, you fight one of the main villains from the series - Joker, Riddler, Catwoman, Mr. Freeze, etc.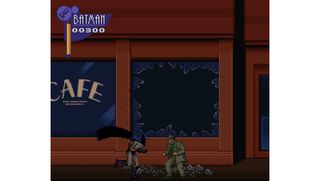 The Adventures of Batman & Robin - 1994 SNES (Genesis, Sega CD, Game Gear)
Two wildly different games. In the SNES version, only Batman is playable as he traverses environments faithful to the animated series and fights just about every main villain. The Genesis version on the other hand was notoriously frustrating (seriously, we hated that game), but at least Player Two got to play as Robin. Each boss fight was also played in a different style (Mode 7-like scrolling for Mad Hatter, use of jetpack versus Mr. Freeze). The Sega CD version was just like the Genesis one, except with added driving levels and animated custcenes made specifically for the game.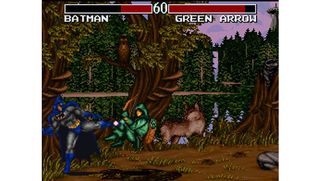 Justice League Task Force - 1995 (SNES, Genesis)
Evil badass Darkseid is about to take over Earth and its up to the Justice League to pound the crap out of each other. Wait - really? Apparently the only way to defeat the evil mastermind is through beating the pulp out of the other heroes in this generic, glitchy and unbalanced fighting game. Oh yeah, Batmans in the cast.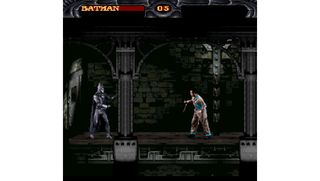 Batman Forever - 1995 (Super NES, Genesis, GameBoy)
Based off the neon pageant masquerading as the third film, this hideous beat-em-up featured motion-captured characters (think the Mortal Kombat digitized fighters) and had you punch and kick similar-looking thugs to death. At the end, you fight a mo-capped Tommy Lee Jones and Jim Carrey. We cant forget this one soon enough.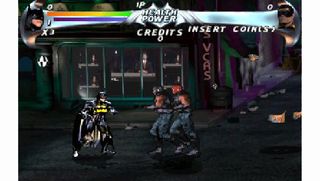 Batman Forever: The Arcade Game - 1996 (Arcade, PlayStation, Sega Saturn, PC)
Another beat-em-up, this time with foreground/background depth like Final Fight - Batman Forever: The Arcade Game enabled you to play as Val Kilmer and Chris ODonnell yet again. For this go around, you collected a ton of power-ups like screen exploding grenades or flaming batarangs. Naturally, you can cause a 400-hit combo on a random thug. Hes already dead, Batman. Hes already dead.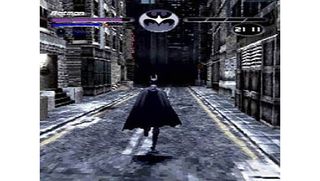 Batman & Robin - 1998 (PlayStation, Sega Saturn)
Mike Nelson of Mystery Science Theater 3000 fame called Batman & Robin not the worst movie ever made, but the worst thing ever made. By extension, a 3D beat-em-up starring George Clooney, Chris ODonnell and Alicia Silverstone that handles like a shopping cart and looks like crap based on the worst thing ever made probably isnt worth your time. Oh, Batman. You and your follies.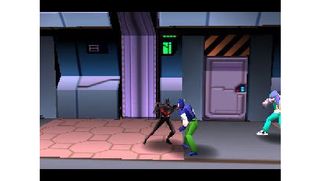 Batman Beyond: Return of the Joker - 2000 (N64, PlayStation)
Loosely based on the surprisingly awesome Beyond series (and direct-to-video film of the same name), Return of the Joker is one of the more horrible Batman games. Okay, graphics dont outweigh the terrible controls and the horrendous game length (some have finished it in 20 minutes!). Watch the movie (make sure to get the directors cut) - its a bit longer and way better than this atrocity.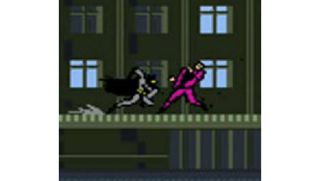 Batman: Chaos in Gotham - 2001 (GameBoy Color)
Chaos in Gotham is another action-adventure, which pits Batman and Batgirl in level after side-scrolling level against multiple thugs and villains from The New Batman Adventures. Surprisingly decent and the art style mimics that of the show. Win-win, really.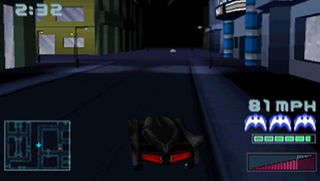 Batman: Gotham City Racer - 2001 (PlayStation)
Another game based on The New Adventures, Racer places you in the Batmobiles driver seat and tasks you with cleaning up Gothams city streets. That should be relatively easy due to the lack of vehicles, people or buildings found in this virtual Gotham City. Just try finding the one car containing bank robbers you need to shoot up (wait, why is Batman killing people?). At least you get cutscenes from the cartoon in between each level.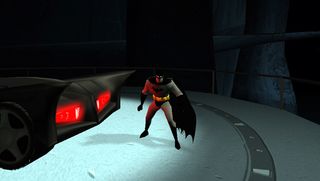 Batman Vengeance - 2001 (Xbox, GameCube, PS2, GBA, PC)
One of the better Bat games, Vengeances darker tone - in art style and story - was praised by fan and critic alike. The 3D action wasnt half bad either. Drawing from the comic and animated series (and even utilizing the same voice actors), you pummeled the series colorful villains in an attempt to clear your name from a conspiracy, while protecting Gotham City from impending doom.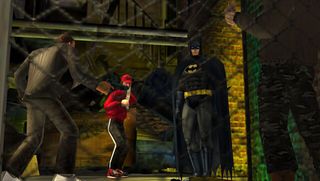 Batman: Dark Tomorrow - 2003 (Xbox, GameCube)
While Dark Tomorrow was praised for its cutscenes and morbid story (inspiration was drawn solely from the comic), DT was no good on everything else: namely terrible gameplay, repetitive missions and a horrible camera. Also known for its four endings based on whether or not you disarm bombs or defeat Ras al Ghul in a swordfight (three of which are bad endings that involve Bats dying or Gotham blowing up). At least DT involved villains that generally dont get that much screen time - Ratcatcher, Zsasz and Scarface to name a few.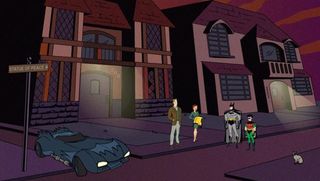 Batman: Justice Unbalanced and Batman: Toxic Chill - 2003 (PC, Mac)
Holy edutainment Batman! The Riddler and Mr. Freeze are about to destroy Gotham. Our only hope is children ages 7-10, who need to solve a bunch of puzzles to defeat them. We never played this. Most kids probably didnt either.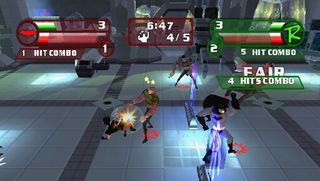 Batman: Rise of Sin Tzu - 2003 (GameCube, PS2, Xbox, GBA)
Developed by the same team behind Vengeance, this follow-up pits Bats and co. - Robin, Nightwing and Batgirl - against brand new menace, Sin Tzu. Even with co-op, Rise was criticized for its repetitive beat-em-up gameplay and lack of depth considering the teams previous effort was pretty good for a Batman game backthen. And whats with casting three B-villains - Scarecrow, Bane and Clayface - as the only bosses? If we cant at least battle Harvey Dent, then whats the point?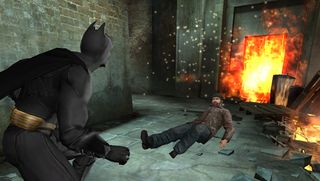 Batman Begins - 2005 (Xbox, GameCube, PS2, GBA)
Staying remarkably close to its source material - without question, the best Bat film in years - Begins pits dreamboat Christian Bale against the thugs of Gotham. Grounded in reality, you have to use fear and intimidation to beat the bad guys. Thats another way of saying this is a Splinter Cell clone with added Batmobile/Burnout-style levels. Kind of an average game. Probably the reason why theres no game based on The Dark Knight.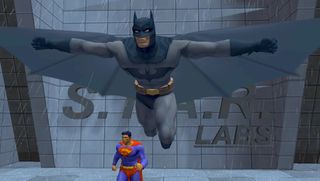 Justice League Heroes - 2006 (Xbox, PS2, PSP, DS, GBA)
Similar in play to X-Men Legends and Marvel Ultimate Alliance, JLH is an action-RPG that plays like the old Gauntlet games. Batman joins the other Justice Leaguers like Green Lantern, Superman and Flash as they fight through hundreds of thugs. Just like X-Men and Marvel, you can fight cooperatively with a friend and even customize your stats/armor/abilities on the fly. Also gets repetitive fairly quickly.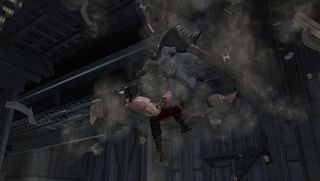 Mortal Kombat vs DC Universe - 2008 (PS3, 360)
For some reason the characters from Mortal Kombat duked it out with DC Comics superstars for the sake of well, something. Most gamers found it to not violent enough to be an MK game, and too odd and bloody to be a true DC Comics fighting game.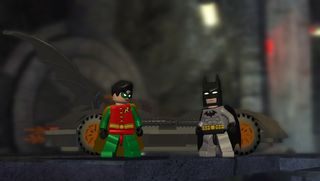 LEGO Batman - 2008 (PS3, 360, PS2, Wii, DS, PSP)
Who knew that LEGO-ificaton would become such a gaming phenomenon? Just like LEGO Star Wars and Indiana Jones, LEGO Batman had the same appealing, pick up and play up gameplay, and a world full of things to collect.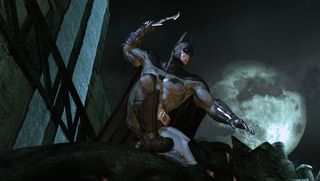 Batman: Arkham Asylum - 2009 (Xbox 360, PS3, PC)
The one that kicked Batman games into high gear, and raised the bar for super hero games everywhere. Rocksteady Studios made brawling as the Batman the bone-crunching battle against impossible odds that it should be. It also gave us our first chance to truly lurk like the Bat. His belt full of wonderful toys is at its best, too.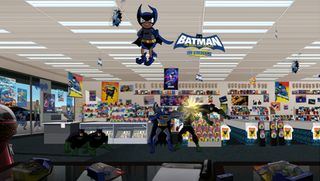 Batman: The Brave and the Bold - 2010 (Wii, DS)
Based the delightful, colorful Cartoon Network series, the Brave and the Bold proves that Batman doesn't need to scowl and snarl all the time to have fans. Visually, its a throwback to the Bat's campier days, but its style and tone is thoroughly modern and totally meta.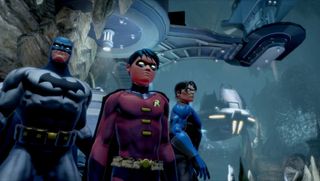 DC Universe Online - 2011 (PS3, PC, PS4)
DC Universe Online is the only MMO featuring Batman, but you can only play as him in Legends PvP, the game's take on an arena mode. However, he's integral to the game's far flung future plot. A heavily armored Bat from the future fights in a war against Lex Luthor and Brainiac that's reduced Earth to runis.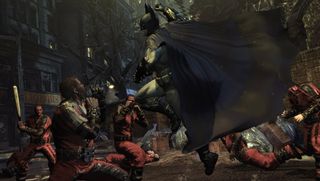 Batman: Arkham City - 2011 (Xbox 360, PS3, PC, Wii U)
Expectations were high after Arkham Asylum, and they were more than met with Arkham City. With block after block of Gotham transformed into a open-world prison, we got the chance to patrol the streets and skulk from the rooftops, just like the Dark Knight. It's the most that any game has truly made us feel like a super hero, and it left things open for a sequel (or a prequel), in a big way. Now we're left wondering how Rocksteady can up the ante one more time.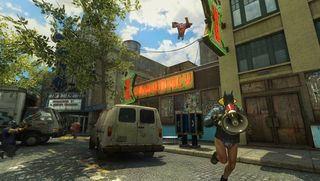 Gotham City Impostors - 2012 (PC, Xbox 360, PS3)
Remember those guys in The Dark Knight who put on hockey pads and ran around trying to fight crime? Well, imagine if they were colorful, cooky, packing big machine guns and starred in an online shooter from the creators of No One Lives Forever. They even battle gangs of heavily armed clowns. Full of unlockable equipment and customizable loadouts, Gotham City Impostors widened its audience once it went free-to-play.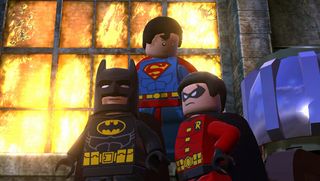 LEGO Batman 2: DC Super Heroes - 2012 (Wii, Xbox 360, PS3, PS Vita)
The LEGO machine keeps on chugging with LEGO Batman 2: DC Super Heroes. In addition to the caped crusader and his young ward, the sequel has a Justice League-worth of DC Super Heroes in the roster, along with their accompanying villains. Green Lantern, Wonder Woman and even Superman join the Bat in his fight against block crime, this time with an open world and fully-voiced cutscenes.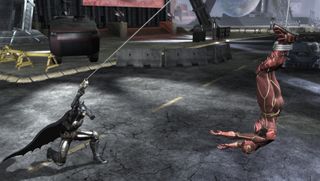 Injustice: Gods Among Us - 2013 (Wii U, PS3, Xbox 360, PC, PS4)
It's another crack at a DC Comics fighting game from the developers behind Mortal Kombat vs. DC Universe. This one limits the fights to DC super heroes and villains only. This one covered multiple realities, pitting the heroic Justice League against corrupted versions of themselves, along with extra hardened super villains. Honestly, the plot barely matters compared seeing a few rounds of Batman vs. Superman.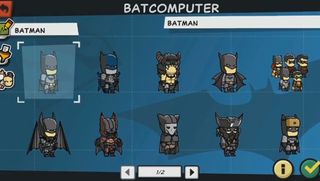 Scribblenauts Unmasked - 2013 (3DS, Wii U, PC)
Scribblenauts is like a dictionary come to life, and that goes for the DC Comics version of it as well. More than 2,000 characters or terms from the comic come to life, Batman included. In fact, when you want to conjure Bruce Wayne, you have more than a dozen unique ones to choose from.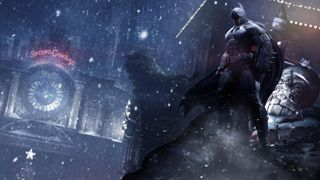 Batman: Arkham Origins - 2013 (Xbox 360, PS3, PC, Wii U)
Arkham got a new dev team in Arkham Origins, a game that takes Batman back to his roots. Taking place Christmas Eve night early in The Bat's career, he's being chased by eight assassins as well as The Joker in a frozen over Gotham. It looks like what we expect from an Arkham title, but what new features does WB Montreal have planned? (It's also accompanied by a portable spin-off subtitled Blackgate.)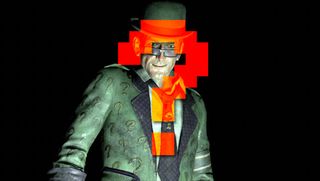 Riddle us this, Bat-fans