Frosthaven has finally arrived, and if you're based in the UK, you can actually get it for a lot less than the RRP… so long as you're quick.
At the time of writing, Frosthaven is £199.79 at Magic Madhouse instead of almost £250. Considering how wildly costs are varying between sites (up to £259.99 in some places), that's not an opportunity to miss. It's also one of your only options; the developer's official store is only shipping to the USA right now, with international sales coming later.
For the sake of transparency, it's worth noting that a few other sites are also offering Frosthaven at a similar rate. However, I don't have any experience with them so can't comment on their service. (For example, Gathering Games is selling it for £197.99.)
No matter where you get it, just be careful of resellers. Third parties on Amazon are attempting to push Frosthaven for £399, for instance, and it's simply not worth thinking about those options - it's possible to get Frosthaven for much less elsewhere.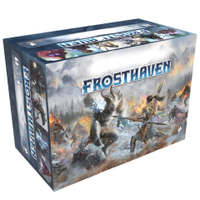 Frosthaven | £249.99 £199.79 at Magic Madhouse
Save £50 - Being able to save so much on one of the most anticipated board games for adults in 2023 is a pretty big deal, both literally and metaphorically. There's apparently limited stock right now, so it's unlikely that this offer will stick around long.

Should you buy Frosthaven?
I've now been hands-on with the game, and in my Frosthaven first impressions, I said it was "a slicker and smarter adventure" than its predecessor. Considering the fact that this is a follow-up to Gloomhaven, that's not light praise - the latter is often considered one of the best board games on shelves right now due to the depth of its mechanics and branching storyline.
If you're a long-term fan of the franchise, you'll find a lot to love here. Each new class offers something very different to get your head around, and everything just feels more… polished, or organised, than before. A lot of work has clearly gone into improving the original Gloomhaven experience, and it shows.
Newcomers can definitely get a kick out of trying this adventure in the frozen north, but I would certainly recommend dropping in to the prequel Gloomhaven: Jaws of the Lion first. That's a more accessible entry-point to the franchise, and drip-feeds the mechanics bit by bit.
More of today's best board game deals
Of course there are plenty more board game deals floating around the web right now. You'll find all the latest prices on our top picks just below.
---
We're also rounding up all the best tabletop RPGs, or check out these board games for 2 players. In terms of big-box launches, you should also take a look at our Monster Hunter World Iceborne: The Board Game preview.