The 7 most infuriating taunts in gaming history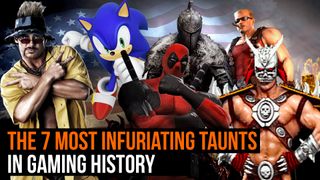 Some of the best moments in games are about immersion, pulling players into a fictional world where they can project themselves into the characters. That's why it's infuriating when that immersion ends abruptly when an obnoxious character speaks up to ruin the mood. An annoying taunt, especially when overused, can end up forever lodged in your memory.
Whether bellowed by an overpowered boss, or shouted by an azure rodent hiding on the opposite side of an arena, these sneering insults are lodged in the memories of anyone who has experienced them. These jibes can be infuriating to hear spammed in-game - though most will admit that theyre pretty funny when youre the one doing the spamming. Read on to see the annoying taunts that still echo in our heads to this day.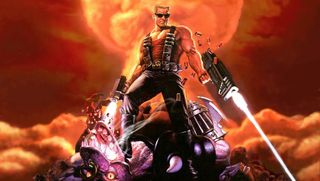 7. Duke Nukems I've got balls of steel.
Duke Nukem has aged pretty poorly in the decades since he premiered, going from macho funnyman to poster boy for a bygone era of brainless one-liners. Duke Nukem Forever may have doomed him to be a 90s footnote, but voice clips of the star of Duke Nukem 3D are hard to forget for players of that era. Dukes gruff threats are even more difficult to erase from memory if you chat online using audio clients like Ventrilo, because quotes like I've got balls of steel! are constantly spammed by any griefer with an active soundboard.
In what has become an iconic scene in gaming culture, a Duke Nukem soundboard typically invades team chat, harassing anyone that hoped to play in peace. Ventrilo harassment grew into its own subgenre of griefing, but the overuse of Dukes Balls of steel! remains the most memorably infuriating. No doubt the post-release infamy of his quotes is at least partially responsible for Duke Nukem Forevers premium version being called the Balls of Steel Special Edition.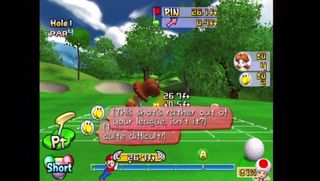 6. Mario sports' overly enthusiastic gripes
Nintendo sports titles like Mario Golf do a great job of recreating complex competitions as colorful events that the whole family can enjoy. Whether in a sand trap or on the putting green, the competition between Mario and his friends always looks cute on the surface. But anyone who played the N64 or GameCube entries know they have some of the most annoying taunts in gaming history, blasting the ears and eyes of anyone that dove into the multiplayer.
Despite all the rainbows and sparkles, Mario Golf is one of the most abusive games Ive ever played. It gets especially unsportsmanlike when each character has eight different sayings of praise or discouragement to shout when a player is lining up a shot. Sayings like Need a lesson, loser? are bad enough the first time, but they can be spammed incessantly until the moment you take your shot. And if that isnt distracting enough, a word balloon floats by the screen each time, just so youre crystal clear that Daisy said, Can you really make this?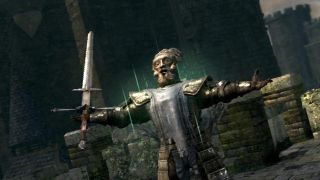 5. Dark Souls' Well! What is it?
The Dark Souls games take place in a harsh, challenging world that demands players respect and attention, but that doesnt mean theres no fun to be had. Developer From Software included gestures as a simple, nonverbal way of self-expression, and Dark Souls players took to it fast. But for some reason, even without using words, the Well! What is it? body language quickly stopped being fun and became one of the games most notorious PVP taunts.
In Dark Souls online multiplayer, its dangerous to waste valuable seconds to have your character indifferently extend their arms, but a successful Well! What is it? is worth it. The gesture is incredibly annoying if your enemy can complete it, handily kick your ass, and then do the gesture again over your corpse. This act can be the ultimate shame in Dark Souls, and few things can make you as angry as seeing another player pull this one off before/after taking you out.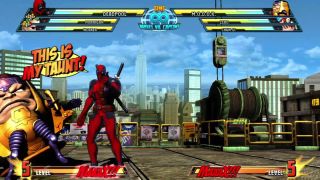 4. Deadpools Taunt button
Deadpool gained fame in Marvel Comics by growing from a jokey assassin into a post-modern, meta commentator on the entire genre of comics. Deadpool knows he's a fictional character - he's constantly talking to the audience, embracing the madness of the medium, and just in general acting annoyingly in-your-face. That all comes to life in his portrayal in Marvel vs. Capcom 3, right down to his screeching taunt of Taunt button!
Voice acting vet Nolan North plays it all to the hilt, shouting everything at top volume, bleating out self-aware statements like This is my taunt! all the live long day. It can get pretty annoying if youre on the receiving end of those insults, especially when knocking into his speech balloons can cause a sliver of damage. Believe it or not, Deadpools taunts are so bothersome, they can even fell a space deity like Galactus. I dont see Duke Nukems Balls of Steel pulling that off.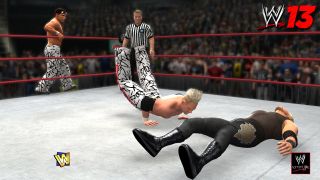 3. Scotty 2 Hottys The Worm
As a fan of pro wrestling, you learn to suspend your disbelief to enjoy the knowingly silly product. However, the late 90s saw the creation of a move so eye-rollingly bad that no one could take it seriously. Known as 'The Worm', this modification of a tacky dance move required a wrestler to stay still for about 20 seconds as Scotty 2 Hotty hopped around, then did a light forearm drop. And its even more infuriating when you have to experience it for yourself digitally as an incredibly stupid package of taunt and attack rolled into one.
When playing any WWE game that includes Scotty 2 Hotty, you pray that your opponent never builds up enough momentum to pull off their finisher. If they do The Worm, you have to sit and watch as a phony Scotty performs the most dated dance of all time, hits you with something a first grader would laugh off, and then wins the freaking match. Scotty and The Worm have been included as DLC in recent WWE games, but Id pay more to never see that move again.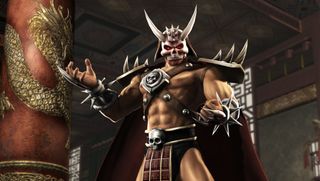 2. Shao Kahns Is that your best?
Fighting game experts quickly grow accustomed to facing incredibly unfair final bosses. Usually theyre merely frustrating by the virtue of having high endurance and unblockable moves that take two-thirds of your lifebar in one strike. Mortal Kombat 2s Shao Kahn has all those annoying attributes, and theyre only made worse by the condescending trash talk he spews at all times.
Getting hit with Kahns insanely cheap Wrath Hammer is bad enough, but does he have to follow it up with Dont make me laugh! and Is that your best? In later games, when Kahn became playable and more fairly balanced, these quotes would still annoying opponents because Kahn could sometimes heal a small amount damage every time he shouted them. Even when defeated with the emasculating Babality, Kahn is defiant in his taunting, spouting You suck! while standing proud in his diaper. Can anything stop his trash talk?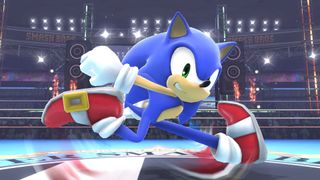 1. Sonics Youre too slow!
The original Super Smash Bros. gave each character a single taunt, though their range of trash talk tripled in the sequels. Silent characters express themselves with grunts and body language, so its the ones who grasp the English language that can really cause you grief in battle. Show me your moves! and C'mon! are certainly annoying when heard ad nauseam, but Sonics Youre too slow! taunt from Super Smash Bros. Brawl became the marquee troll within the game.
Sonics nasal voice is bothersome in normal circumstances, and the audio is just short enough that skilled griefers can execute a couple taunts before you get close enough to shut them up. Plus, Sonics cocky spouting of syllables is an annoying reminder to old school gamers of the Blue Blur's disappointing transformation in the post-Dreamcast era. Perhaps the developers realized just how obnoxious Youre too slow! had become, because the Wii U/3DS Smash games replace it with the shorter, friendlier Sonic Speed! - with the added bonus of completely ignoring the Sonic Boom redesign.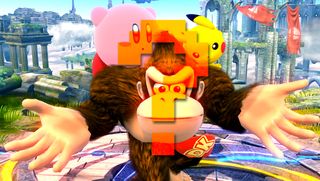 You mad, bro?