The 25 best Star Wars references in other movies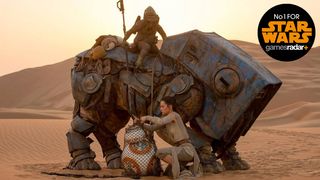 Feel the Force across the spectrum of cinema
It's typical for movies to receive industry accolades - usually in the form of little gold men - to recognise their excellence. But there's nothing typical about Star Wars. It relies not on the acquisition of awards and baubles to feel appreciated. Those same people who cast their votes come award season are often the same folk who honour The Force in another way. Directors, writers, producers and actors who get creative and drop loving nods to the trilogy into their own films.
And really, that's how you measure the brilliance of Star Wars: by its reflection in popular culture. It's a testament to the impact George Lucas' creation has had on the world. Whether it's a small easter egg for die-hards to spot, or a lengthy tirade in which characters debate the efficacy of the Empire's workforce, there's a lot of love for Star Wars in cinema. With The Force Awakens hitting theatres soon, kickstarting a whole new era, there'll no doubt be more to come in the future. Until then, here's 25 of the best movie moments that truly feel The Force.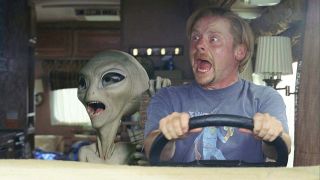 25. Paul (2011)
Simon Pegg's love of Star Wars echoes throughout his career. And while the best comes from Spaced, when Tim delivered a superb rant tearing down the prequel trilogy, Paul's subtle nod to the series is just as cool. When the Graeme, Clive and Paul duck into Roy's Roadhouse in Nevada, the house musicians fire up the song played by the cantina band in the first Episode Four. "They were a local New Mexico band," director Gregg Mottola told MTV, "and I asked if they could learn the song and they said, 'Oh, we played a wedding for a Star Wars freak. The cantina theme was the first dance.'"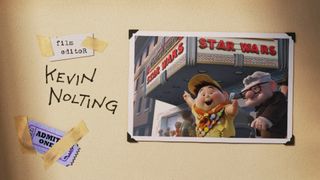 24. Up (2009)
You might not have spotted these two little hints due to torrents of tears obscuring your view of the screen. Remember the crew of fighter pilot dogs? Listen up when they're all signing in: their calls are identical to the Red Squadron's. The difference being, as they're all colourblind these airborne canines go by the name Grey Squadron. And keep your eyes peeled during the credits, as the camera lingers on a polaroid of Russell and Carl outside a theater showing Star Wars.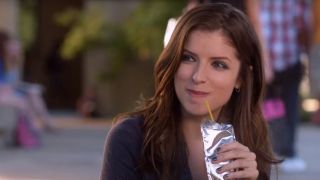 23. Pitch Perfect (2012)
"Vader' in German means 'father'. His name is literally Darth Father." So says Anna Kendrick's achingly-hip DJ Beca as justification for her tedium with movies. According to her, they're too predictable. Citing Star Wars works well to prove her point: Darth revealing himself to be Luke's dad is one of cinema's best jaw-droppers. Well, except she's wrong. Vader means father in Netherlands Dutch, not German. The German dub of the movie corrects this little snafu.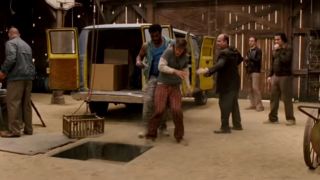 22. Pineapple Express (2008)
You're about to be thrown into an underground pit by the thuggish lackeys of the city's most powerful drug lord. Why not lay down your cultural savvy before your meet a potential grisly end? That's the thinking behind this choice quip from James Franco's verbose drug dealer Saul. "What's down there, a fucking Rancor?" he asks Matheson and Budlofsky as they attempt to shove him down the pit. Rancors are Jabba The Hutt's preferred beast to keep chained in dark, dingy holes and rolled out whenever he needs things 'disposed of.'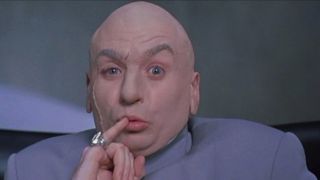 21. Austin Powers 2: The Spy Who Shagged Me (1999)
Dr. Evil's plans are rarely original, his tyranny oft-inspired by the evil schemes of villains throughout pop. culture. That doesn't stop him from taking great glee in unveiling those plans. The announcement for his latest effort to destroy Washington D.C. reveals that his latest weapon hails from a galaxy far, far away. "I've turned the moon into what I like to call a 'death star'," he tells the congregation. "Alright then, Darth," says his son Scott, mockingly.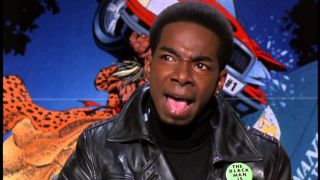 20. Chasing Amy (1997)
"Fuck Lando Calrissian!" shouts Hooper in response to Holden's assertion that the character is a positive African-American role model in the realm of sci-fi and fantasy. As any Kevin Smith fan knows, Star Wars isn't casually referenced in his movies. It's debated at length, spiels of comedic verve laced with foul language. They're all terrific. This back and forth banter is Smith at his best. Hooper, a comic book writer delivering a speech at a convention, lets loose his thoughts on the symbolism behind the "holy trilogy."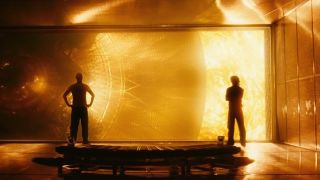 19. Sunshine (2007)
Danny Boyle confessed to this deliberate steal from The Phantom Menace, probably the only director to admit that the first prequel was worthy of pilfering. As references go, it's not as noticeable as other entries on this list, purely because the line itself isn't Star Wars-specific. The unhinged Icarus I captain Pinbacker asks Capa "Are you an angel?" which you may recall is the same question a young Anakin Skywalker asks Padme during their first meeting in Episode One.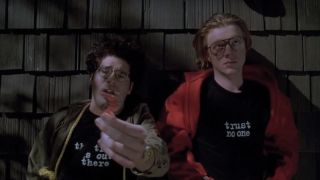 18. Can't Hardly Wait (1998)
No teen party movie is complete without a cluster of uninvited geeks. One enters the party, while the other two remain stranded on the roof with nothing to do but talk. The pair let their geek credentials be known whenever they're onscreen. Their impromptu lightsaber battle with flashlights changes a few key details of the epic father-son fight at the end of Empire "Hey, Luke doesn't push Vader!" cries one. "Well he should've," his buddy responds, "I mean, the guy cut his hand off."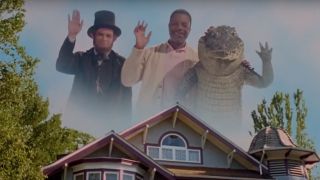 17. Happy Gilmore (1996)
The ending to Adam Sandler's golf comedy takes a fun jab at Luke's spectral vision from the party scene in Jedi. Happy sees three important figures from his own life just as Luke sees Obi-Wan, Anakin and Yoda as spirits looking on as the Rebels celebrate. Hovering above his grandma's house as everyone walks in, he spies his mentor Chubbs, Abraham Lincoln, and the crocodile which previously bit Chubbs' hand off, all waving from the clouds.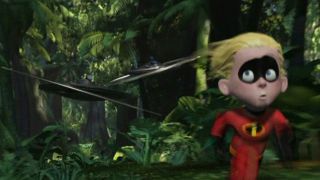 16. The Incredibles (2004)
In the Normanisan jungles Dash and Violet encounter a series of Syndrome's henchmen, who happen to be piloting aircraft. The two siblings plot to run rings around their pursuers, hightailing it over land and water. Their chase through the tropical foliage mimics the chase scene from Jedi where Luke and Leia commandeer a couple of Imperial speeders to track down fleeing scout troopers. And that's not the only wink to Lucas: one of the big bads The Incredibles fight is an Omnidroid.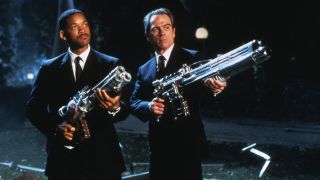 15. Men In Black (1997)
Agent Jay and Agent Kay's line of work steers them into plenty of dangerous scenarios. "There's always an Arquillian battle cruiser, or a Corellian death ray, or an intergalactic plague intended to wipe out life on this miserable little planet," Kay rants to his partner, as the pair question whether or not to use their weapons in public. Force fans might recognise the name of the death ray: Corellia is the planet where Han Solo was born, and his ship the Millenium Falcon is referred to as Modified Corellian Transport. George Lucas shouldn't mind: he nabbed the term Corellia from Isaac Asimov.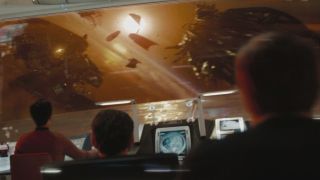 14. Star Trek (2009)
Years before he landed the sweetest of all directing gigs with The Force Awakens J.J. Abrams made no attempt to hide his love for Star Wars. Several eagle-eyed fans caught sight of a familiar droid flying past the USS Enterprise's bridge in Star Trek. Floating in the Starfleet wreckage is none other than R2-D2. You can spot him on the left hand side of the above image. He makes a similar re-appearance in the sequel.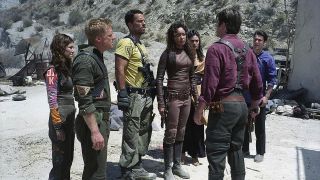 13. Serenity (2005)
Joss Whedon's band of space cowboys were die-hard Star Wars fans right from the start. Apparently the props team on the original series Firefly had an ongoing bet to see if they could insert a figurine of Han Solo in carbonite into the background of as many scenes as possible. That frivolity continued into the movie. At one point in the movie there's a reference to "rebel activity in the outer rim." The Outer Rim is, in the Star Wars canon, a large swathe of the galaxy that's relatively unexplored.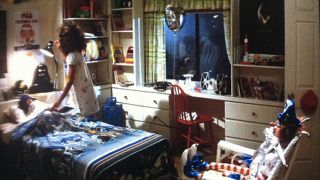 12. Poltergeist (1982)
Steven Spielberg pays homage to the trilogy by cramming tons of memorabilia and toys into Poltergeist. Aside from an Alien poster plastered to his wall, Robbie's bedroom is pretty much a commercial for Kenner's line of Star Wars merchandise. Bed sheets, posters, figurines, models, shirts, pins... you name it, this kid's got it. It's an impressive showcase for the type of original Star Wars gear that has now passed into legend. His room's worth thousands.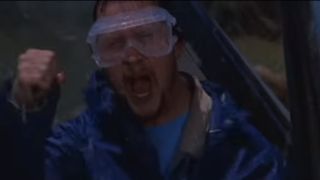 11. Twister (1996)
Quoting a line of dialogue from one of your favorite films that's suited to a situation is, in a word, rewarding. You might wait years for an opportunity to lay down a beloved one-liner in the perfect scenario. That's what makes this moment at the end of Twister so awesome: any film fan can relate. "That's no moon," cries one of the young scientists as torrents of data on the tornado flood his computer, "it's a space station!" An apt way to describe that you've figured something out.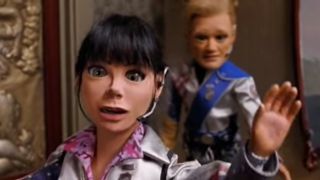 10. Team America: World Police (2004)
Two of the members of Team America have extra-sensory abilities that are very similar to the Jedi's use of The Force. Gary attempts to infiltrate Kim Jong-Il's palace decked out in a hooded cloak like Obi Wan's. He waves his hand and speaks in a deep, booming voice, convincing the guards that they don't need to see his credentials. Inside the palace, Sarah soothes the predatory black panthers and tricks them into believing their real enemies are the guards.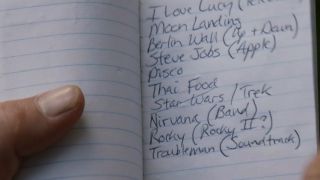 9. Captain America: The Winter Soldier (2014)
All those years buried deep in the ice changed a lot for Steve Rogers. His friends, the state of his career... in short, the whole world moved on. One thing that remains the same, however, is the importance of pop culture in society, so Cap carries with him a notepad for jotting down any references to things he's missed. A glimpse of his cultural catch-up list shows two popular sci-fi series: Star Trek and Star Wars..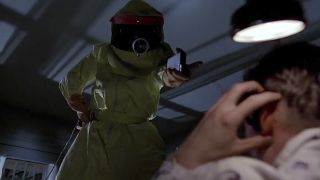 8. Back to the Future (1985)
Marty McFly plays fast and loose with contemporary culture to either blend in (adopting the name Clint Eastwood in the third movie) or in this case, to make sure his parents hook up. Wearing a radiation suit and wielding a hair dryer, he breaks into would-be dad George's room at night to scare him into asking his future mom Lorraine on a date. "Silence Earthling. My name is Darth Vader. I'm an extra-terrestrial from the planet Vulcan." Nice intermingling of sci-fi, McFly. He then threatens to melt his dad's brains if he doesn't comply.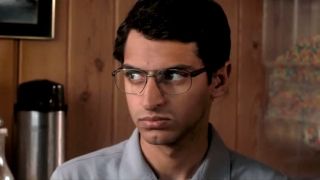 7. Safety Not Guaranteed (2012)
Future Star Wars director Colin Trevorrow planted his franchise expertise into his first movie. The topic of the Imperial henchmen stirs up debate between Darius and Amau. Darius repeatedly defends Jeff's technical ignorance over time travel and lasers - "How would he know, he's not a Stormtrooper" - while Amau rebuffs those comparisons. He states that Stormtroopers aren't the brains of the operation. "They don't know anything about lasers or time travel. They're blue-collar workers." Did Trevorrow's knowledge of Stormtrooper logistics help land him a place in the director's chair?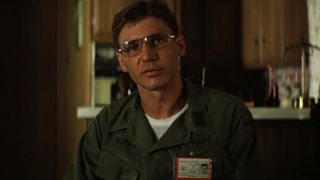 6. Apocalypse Now (1979)
Harrison Ford's big break is all down to George Lucas. The man plucked him from his carpenter's day job and awarded him the role of Han Solo. And so, Ford and director Francis Ford Coppola chose to reference him in Apocalypse Now by naming Ford's character Colonel Lucas. George himself was originally in line to direct the Vietnam flick but wound up too busy working on Star Wars. This throwback is a fitting tribute to what could have been.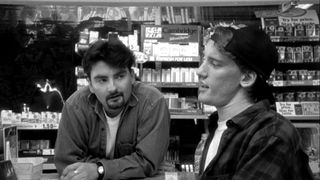 5. Clerks (1994)
Of all the Kevin Smith movies that reference the holy trilogy, this lengthy tirade from Randal is by far the most amusing to watch. It's a testament to Smith's intimate knowledge of the series. Randal argues that during construction on the second Death Star, the people aboard who were killed weren't just the expected villains. If the Empire had designs on getting the new one built quickly, that would have required additional contractors to complete it on time. They weren't part of the evil regime, just regular joes earning some extra cash.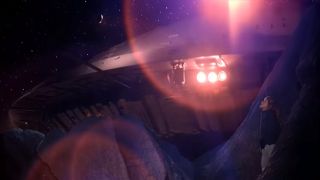 4. Close Encounters of the Third Kind (1977)
Given that this is a film that posits the existence of sentient entities from a place lightyears from Earth, it's fitting that Steven Spielberg snuck in a cheeky ode to Star Wars. Towards the end of the movie we see the mothership descend from the perspective of Jillian, who's hiding in the rocks. If you look carefully at the ship's edge, you can spot a little droid upside down. He's just to the left of the three round lights. R2-D2 really does get around.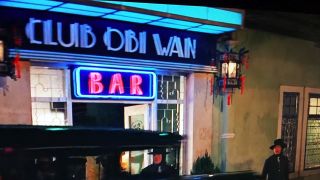 3. Indiana Jones and the Temple of Doom (1984)
A popular easter egg that's well-known in cinephile circles. It connects the world of archaeologist Indiana Jones to a galaxy far, far away by way of... inter-galactic branding? The movie opens with lounge singer Willie Scott belting away a showstopper onstage at a glamorous club. It just so happens that Indy is conducting business there too, which goes horribly wrong, and he winds up taking Willie with him. The name of the establishment? Club Obi-Wan.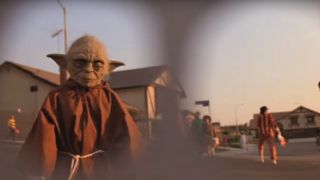 2. E.T. (1982)
Elliot is a massive Star Wars fan. His bedroom - like Robbie's in Poltergeist - is a shrine to the movies that doubles as a sort-of cinematic museum. Hardly any of the toys that he has are available any more unless you've got money to burn. The coolest items are Han Solo's blaster and a Greedo figurine that would fetch thousands today. And, of course, let's not forget the other big wink: during the Halloween sequence, there's a kid dressed as Yoda out trick-or-treating.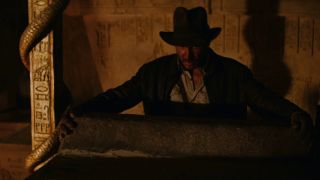 1. Raiders of the Lost Ark (1980)
Everyone's favorite pair of bickering droids appear in Raiders. In his early career, Spielberg could barely stop himself from dotting his films with subtle links to his buddy George Lucas' series, but this one outshines the rest. As Indy and Sallah retrieve the Ark of the Covenant, the Well of Souls features hieroglyphic carvings of C-3P0 and R2-D2, that can be spotted on a pillar to the right of Indy (the left side of the shot). It makes sense that Star Wars takes place "a long time ago." These etchings look ancient.