A PS5 external hard drive is perhaps the most important acquisition one can get to sit alongside your console. This is because it provides a solution to the very crucial and critical storage issue that the PS5's own custom SSD raises by being a relatively modest, 600-odd gigabytes in capacity.
With the PS5 being able to play the PS4 game library, it now means that a whole two generations' worth of games are going to accompany us as we go further into the life of the PS5. And this library only grows with each PS4 or PS5 game that one acquires. As a result, a PS5 external hard drive can get you out of a hole easily and simply, by being one of the best PS5 accessories you can add to your setup - if you've been lucky enough to find PS5 stock at least.
While an external drive could only originally store and play PS4 games - this is still an incredibly valuable job - what's made it more important is a system update that arrived in mid-2021, unlocking the ability to store PS5 games externally too. You have to transfer PS5 games back onto the system to play them, but this transferring process is way quicker than redownloading them.
The best PS5 external hard drive deal right now
WD Black P50 Game Drive SSD | 1TB | $250
WD Black P50 Game Drive SSD | 1TB | $250 $209.99 at Amazon
Save $40 - A good current price on our favourite PS5 external hard drive. The P50 has incredible performance, is robust and solid, and this discount offers great value to get it into your setup just in time for the holidays.
It's available in the UK for just £194.40 at the time of writing too.
The built-in PS5 SSD is super fast and works in mysterious ways to make our games run better and faster, but it's also quite small at 667GB, after the OS, and other bits and bobs chip away at the starting 825GB capacity. It really doesn't take long to cram it full of games. Particularly if one of them is a first-person shooter that rhymes with Small of Shooty... And now that the PS5's internal SSD expansion bay is finally now open for all to use and exploit following a firmware update, our storage options have expanded greatly - we can now consider the best PS5 SSD options for both inside and outside our machines.
But back to externals only: such is their quality, the best PS5 external hard drives are also some of the contenders for best external hard drive for any use. Whatever you need storage for, they'll do it with aplomb, but we prefer them when they're being simple and effective ways to play your PS4 games on your PS5 and to store media, saves, captures, and PS5 games you're not playing at the moment.
We'll be updating this guide over time, of course, and if you want to see what's available for the older generation of consoles then be sure to check in on our best PS4 external hard drive and PS4 SSD guides.
The best PS5 external hard drives for 2021
Image 1 of 5
Image 2 of 5
Image 3 of 5
Image 4 of 5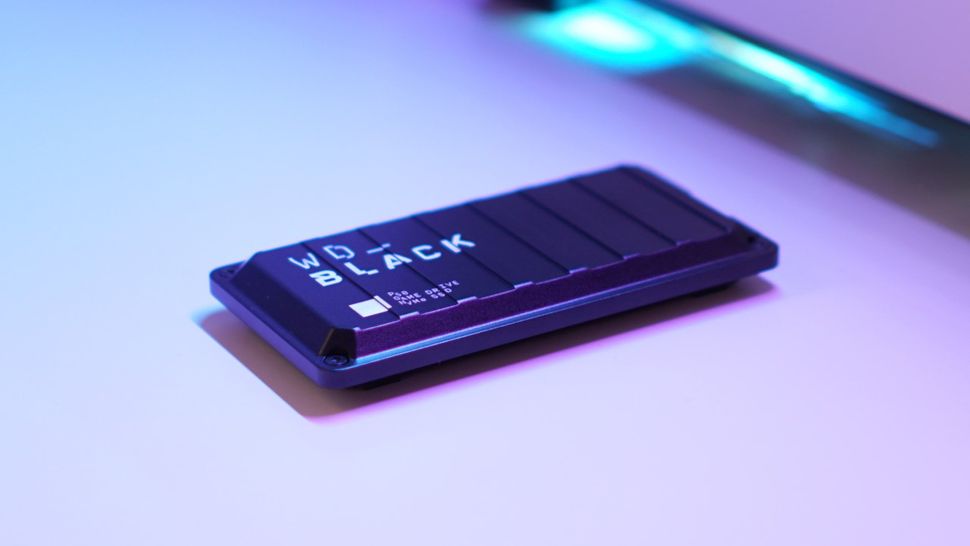 Image 5 of 5
The P50 is one of the best external drives for any device right now, particularly in a world that's moving slowly but surely toward SSDs ruling the roost. However, it's probably the best PS5 external hard drive outright now, offering speeds and performances often reserved for those drives within the best gaming PCs and on best SSD for gaming lists. All encased within a unit that has a quality, cool design, and a robust build.
Speaking of that unit, on its outside the P50 is military metal-styled, rectangular in shape, and features slick molded metal in black along with the traditional WD_Black aesthetics and markings. Its USB-C port can be used on your devices as either a USB-A or USB-C connection and in our testing, we got the same speeds through either port so it shouldn't matter which you have free or available, or if you change the device it's used with during its lifetime. There's a small but clear LED indicator on one of the short ends which is always a help, but one small downside is that it does get a little warm when in use so it'll pay to keep that in mind when positioning it.
When it comes to speeds, what you're told you're getting and what happens is pretty much bang on. It's incredible performance for an external SSD and the stated speeds of 'up to 2000MB/s' were on the money in our testing. Real-world performance-wise, the P50 gives you everything a high-quality external SSD should do: games were loaded incredibly quickly, files were retrieved in the snap of a finger, and the performance levels were incredibly consistent. It's a surefire SSD that will rapidly improve your gaming experience by far reducing the time looking at loading screens and increasing the time when you're actually playing. A true winner.
Image 1 of 4
Image 2 of 4
Image 3 of 4
Image 4 of 4
Even beyond being a top PS5 external hard drive SSD, the Samsung T5 series is just one of the top SSDs for gaming generally (in an external capacity, of course) and remains very popular across the board. It does retain a higher price for its premium nature, pedigree, finish, and performance, but it's certainly worth it. Plus, we are increasingly seeing great deals on them too.
The Samsung T5 is a technical beast, as it offers some of the best performance for a drive hands down - its speeds are top drawer. It's both compact and durable as well, making it ideal if you're carrying games and files between locations. It's chic too.
With all that in mind, it's no wonder that the best internal SSD for PS5 is rumored to be a top-grade Samsung model like this one when the drive and Sony's stamp of approval list come out.
Before we move on, it's worth mentioning that other variants are available in this range from Samsung. The slightly dearer T7 drive or even the T7 Touch drives will offer even better speeds and a few extra features, too.
Long having ruled over the external storage market in the PS4 and Xbox One generation, the My Passport drive from Western Digital is still one of the most reliable, convenient, and versatile HDDs you can buy. It's only bumped down to a 'lowly' third on this list due to our take that SSDs shade it over HDDs in the PS5 generation. However, for anyone looking for a standard, reasonably priced PS5 external hard drive that's an HDD this remains a top, top option.
It's a simple USB connection, it's small and sturdy - about the size of a smart phone - and the My Passport series' aesthetic is pleasing and brings further style to a quality HDD, meaning it'll slot seamlessly into your setup and be unobtrusive even if it's on show.
In terms of specific capacities, we'd probably go for the 4TB version. This is because we've seen the biggest savings on the 4TB, and you do get better value, generally, with the bigger drives. A 4TB HDD will provide easily enough space for 50+ games, and loads of saves, data, and media too.
An all-around excellent PS5 external hard drive, particularly if you're not fussed about an SSD or want to shave some dollar signs off the price tag of your external drive.
Image 1 of 3
Image 2 of 3
Image 3 of 3
External SSD options can get pretty pricey fast, even for smaller drives. But if you're after a cheaper option, with a decent capacity that will still thrash a traditional HDD for speeds then we think the Crucial X6 is a great pick.
You can get a 1TB version here for a similar price of SSDs with less than half of the storage. The Crucial X6 is fantastic for storing and playing PS4 games. So much so, you won't feel you have to transfer them to the PS5 to get fast loading times. Compared to running games on a standard external HDD we managed to decrease loading times on Resident Evil 7 from game selection to gameplay from around 90 seconds to just one minute. Storing PS5 games here is a great idea too as it only took us 3 minutes 48 seconds to move 30GB compared to 7:16 when using an HDD.
A USB-C connection means you'll have to plug it into the front of the PS5 and the Crucial X6 is left hanging and it'll only just reach the table (assuming your PS5 is vertical), but it's super light, so there's no risk of it getting loose. If you like the look of this one, but want an even faster version, you'll want to take a look at the Crucial X8.
Image 1 of 5
Image 2 of 5
Image 3 of 5
Image 4 of 5
Image 5 of 5
While the Samsung offers the best SSD option right now for your PS5 external hard drive needs, if you're looking at getting the best-protected SSD to keep that drive extra safe (and why wouldn't you?), then the SanDisk Extreme Portable is the one for you. If you've got one eye on the future, for when we can travel around more and take our game data with us to our friends and families, then this rugged drive will be able to withstand any sorts of accidents. It's the perfect contender for those of us who are accident-prone, or who prefer to make extra sure about the protection our devices have.
It's a genuinely rugged SSD too, as it is water and dust-resistant to the IP-55 standard. It's got a shock-resistant core for extra durability and retains a really compact design as well - it'll fit in your pocket with ease.
That safety and durability comes at a premium though, and adds a bit more to the price of the drive. But it's definitely worth it when all things are considered. It's no slouch either when it comes to doing the key job; its read speeds can challenge the Samsung T5's.
If you want some extra reassurance, you could even go for the Extreme Pro variant - but be prepared to see the cost rise significantly.
The Canvio Advance took over from the Cavio Basics last year as our best budget pick for PS4 external drives, and there's no reason to change that for PS5 external hard drives. It is superior to the Basics in every way and performs as well as most other HDDs, but often for a lower price.
This one's roughly the same cost as the Basics, but comes with a few extra tricks. The read and write speeds are marginally faster, there's a two-year warranty, and if you fancy turning the Canvio Advance into a PC drive it has password protection and automatic back-up, which is lacking from the Basics model.
Anyway, using it is still as easy as ever. Just plug it into your PS4 and format it as extended storage. As a result of this, the Advance doesn't require an external power source and just functions over USB.
Overall, it's a great device, and for the $50 mark, it's a steal.
Image 1 of 2
Image 2 of 2
If you have half an eye on versatility and multi-platform use down the road, then the WD My Passport SSD is a good offering - and of course, it is a great PS5 SSD in its own right, coming from proven manufacturers of quality units. The My Passport SSD will offer write speeds of about 300Mbps, and read speeds of 390Mbps - substantially faster than its HDD brother, the My Passport, which can offer larger capacity for your money but only gives read and write speeds of 120-130 Mbps.
The My Passport SSD's PC-pedigree does offer some flexibility and adds some versatility to this drive. For example, it's compatible with All The USBs, including being USB-C ready, and it has an automatic backup system and a handy password protection and hardware encryption security double whammy.
Generally, this is a quality SSD for your PS5 from a trusted maker of drives that we have no trouble recommending - and if you like the My Passport HDD range we've mentioned above, but want the SSD performance, then this drive is a no brainer.
You'll never have to worry about the sheer capacity of your external storage again (probably) with this ridiculously well-priced 6TB offering from Seagate. It's a unit, but maintains a slick and slim finish and size, and you can get capacities from 2TB upwards. But we think this 6TB monster represents the best value for money.
Setup is easy as you like, with a simple plug and play, but due to its thiccness, you will have a mains power to plug in as well as the USB 3.0. That latter connection offers great HDD speeds for transfers, and if you get a 6TB drive, you're probably looking at about 80-100 PS4 games.
Image 1 of 3
Image 2 of 3
Image 3 of 3
This is a super PS5 external hard drive from a reputable maker. The WD Black P10 hard drive is a solid semi-rugged portable option for external storage. It might not be totally bombproof but you certainly get sturdiness for your money here - and without paying through the nose for dust-resistant scores or crushproof limit numbers.
In terms of performance, the hard drive runs quiet and cool even when we set it off on a marathon session copying over and downloading a library's worth of games. The transfer and data speeds you get won't be the most outlandish, but in a world where quality HDDs still have a role to play in external console storage - particularly with everyone's large PS4 libraries, potentially - it's a reliable drive and offers great bang for your buck.
Image 1 of 3
Image 2 of 3
Image 3 of 3
For those of you looking to pick up something a bit more unusual and in line with one of the best PlayStation 4 games of the generation then Seagate's beautiful The Last of Us Part II limited edition external PS4 hard drive is for you. It comes with a laser-etched fern pattern design mirroring Ellie's tattoo and has a pleasing matte finish. To be clear though, this HDD does not include the game or any form of digital or physical extras; it's just A Very Nice Thing that will happily house your games and data.
Away from the exquisite branding, this is just a great HDD. It runs super quietly and you'll fit more than 50 games on here (assuming an average size of around 39GB). The Limited Edition nature of the design and branding of this PS5 external hard drive is what drives its price up a little, and arguably you'll find others offer slightly better value, but none of them will look as good or be as attractive to Naughty Dog fans.
Image 1 of 4
Image 2 of 4
Image 3 of 4
Image 4 of 4
If you're looking for a really safe pair of hands for your PS4/PS5 games or media, then the ArmorATD from G-Technology is a strong contender. It's seriously tough and feels incredibly solid in your hands, and can withstand much trauma and attempted damage. It's rain-resistant, dust-resistant, and crush-resistant (up to 1000lbs). The latter stat in particular means you can have total confidence in the drive even if it were to fall out of bags or pockets and have to endure a big and bouncy fall. Or even survive being driven over like one of my old HDDs experienced and only just survived (don't ask).
The shock mounts, solid aluminum enclosure, and protective rubber bumpers all combine to offer this excellent level of protection and - particularly for when we can travel freely once more - if you like to err on the side of caution or want to take a belt and braces approach to the safety of your data and PS5 external hard drive, then there aren't many tougher to go for. (Note: it's sometimes referred to as the 'G-Technology 4TB ArmorATD All-Terrain Drive'.)
Today's latest prices in one place
Is 1TB SSD enough for PS5?
We think that 1TB for an internal SSD is going to be the sweet spot for most players. This would give your PS5 just over 1.5TB of proper usable space, and also ensures you're not paying silly money for the 2TB and up variants of the SSDs - this is where prices can skyrocket (some 2TB models are about the same price as a whole PS5!).
Externally, you do get way more bang for your buck, and we'd say a 1TB model is probably a minimum, a starting point. Particularly in sales season, you'll find high-quality 2TB and up models - of SSDs - coming down to the same prices as their smaller counterparts. HDDs will get you even further and 4TYB and 5TB models will get you all the storage you'll ever need, for a low price - if you're happy with slower speeds.
And remember to look at other hardware means to kit out your PS5 setup such as the best TV for PS5, best gaming monitor for PS5, and the best PS5 headsets available too.