The best graphics cards on the market right now are full of numbers, acronyms, and 'series'. There's also even more going on in the marketplace given the arrival of new cards from both Nvidia and AMD  - if you're lucky enough to find one. However, now is a great time to look for the best graphics card for you given prices will tumble as part of the end of year/winter sales period. 
It's a given that the best graphics cards will be the center of attention for any gaming PC or build. However, the best graphics card going might not actually be the graphics card - for you. you'll come to see what we mean with greater clarity below, but the fact remains that the graphics card market is filled with such a range of strong performers that you can find a happy gaming spot with many a graphics card. Especially with certain new models like the RTX 3070 that are so aggressively affordable.
Be it a build-your-own or pre-built version of one of the best gaming PCs or even one of the best gaming laptops (which are worth looking out for during the Prime Day laptop deals), the best graphics cards will have that place on a pedestal. Not surprising given they are the (primary) thing that makes our games tick and how well they are presented to us and run. However, when searching for a new GPU it's wise to remember that the best graphics card, outright, is not necessarily going to be the right card for you, and for your build; while it might be tempting to follow the 'wine rule' - quality rising in line with larger prices - this is not always best practice case in finding the best graphics cards for you.
See more graphics cards at: Amazon | Best Buy | Newegg | B&H Photo
---
And, just as a last public service announcement, if you're trying to buy one of the recently released graphics cards - or a machine powered by one - then these pages are going to be of interest:
Graphics card stock
Buy RTX 3060 | Buy RTX 3060 Ti | Buy RTX 3070 | Buy RTX 3080 | Buy RTX 3090 | Buy AMD RX 6900 XT | Buy RX 6800
Laptop deals and stock
RTX 3060 laptop deals | RTX 3070 laptop | RTX 3080 laptop
PC deals and stock
RTX 3060 PC | RTX 3070 PC | RTX 3080 PC | RTX 3090 PC
---
It was highly anticipated, and the hype was real, but the performance of the 3080 is now proof that we are in the time of an exceptional leap in graphic card generations. It batters the 2080 Ti into a relative pulp in terms of sheer gusto, power, and oomph, and costs nearly (but not quite) half the price.
It's going to be the darling of any builds, pre-builts, and laptops in the months and years to come, and one of the main reasons why is that it represents the best value for money way into reliably speedy and smooth, ray-tracing gaming. Beforehand, you might well have had to go for the 2080Ti if you wanted ray-tracing to be enjoyable at any kind of decent framerate; now, however, the 3080 makes easy work of combining the two.
You might have to rethink some bits of your current build to get one of these bad boys ticking over safely and reliably - it's a thirsty card so a hefty PSU is going to be in order - but this is now the card to beat and, considering what stock levels are like for the rest of the year, the one to try and get or wait for.
The RTX 3070 caught our eye as soon as the new 30-series Ampere cards. It's the plucky underdog in the range of three big hitters and so was always going to be outshone, but it offers some exquisite performance levels at an exquisite price point. It might not share the brand new GDDR6X RAM of its 3080 brother but it can go toe-to-toe with the top tier 20-series card in the 2080Ti. This demonstrates the leap that this generation is offering, and is exaggerated by the fact that the 3070 costs a fraction of the price of a 2080Ti. This really is excellent value for money and represents a great way to finally upgrade and embrace this generation. 
However - and it's a big shame - you'll have to have good luck in your search as finding one is nigh-on impossible now. Just like every hardware launch of recent times. Sigh.
The new-gen offerings from AMD came out the blocks strong and made a decent riposte to Nvidia's 30-series cards, with the top pick from team red being the RX 6800 XT. It's in the same weight category as the RTX 3080 card and punches back hard - it really does go to tow with the 3080 on performance, and it too can give 4K gaming a proper go.
The RX 6800 XT does actually out punch the 3080 in some areas, such as an increase in VRAM and it offers quality 4K performance, and it costs a little bit less than the 3080 too! It's a very tempting package, though it still falls short of its RTX rival due to the latter offering DLSS, excellent ray-tracing performance, and slightly better 4K numbers.
Worthy of attention and consideration for all high-end gaming PC builds - hands down - this has really thrown the red cat among the green pigeons in the graphics card market now. (If only you could buy any of them...)
The brand new RTX 2080 Super is now the best card on the market now in terms of peak performance and price (not to be confused with the infamous $/frames ratio). While it's still an expensive proposition at a retail price of $700, Nvidia isn't charging a Founder's Edition tax for this latest refresh which means it's actually $100 less than it's predecessor (which it outperforms by 5-10%). While the step-up version, the 2080 Ti, remains more powerful, the additional $400-$500 isn't worth it for a relatively marginal increase in computing power (between 10 and 30 percent), especially considering the relatively limited use cases for ray tracing that exist at the moment. While we're seeing more ray-traced games out in the wild now like Wolfenstein: Youngblood, Call of Duty: Modern Warfare (2019), and Control, the current pool of games with DXR or Vulkan RT support remains relatively shallow. 
The RTX 2080 Super doesn't have any flashy new tricks up its sleeve. Instead, it feels like a mid-generation refresh, obviously targeted at taking the wind out of AMD's sails around the launch of Red Team's new RX 5000-series. While it's a counter-marketing success is a matter of much debate, one fact is undeniable: the 2080 Super is the best (borderline) mainstream graphics card on the market right now, delivering excellent 4K performance (and blistering QHD) for the best price point we've seen thus far for that level of performance.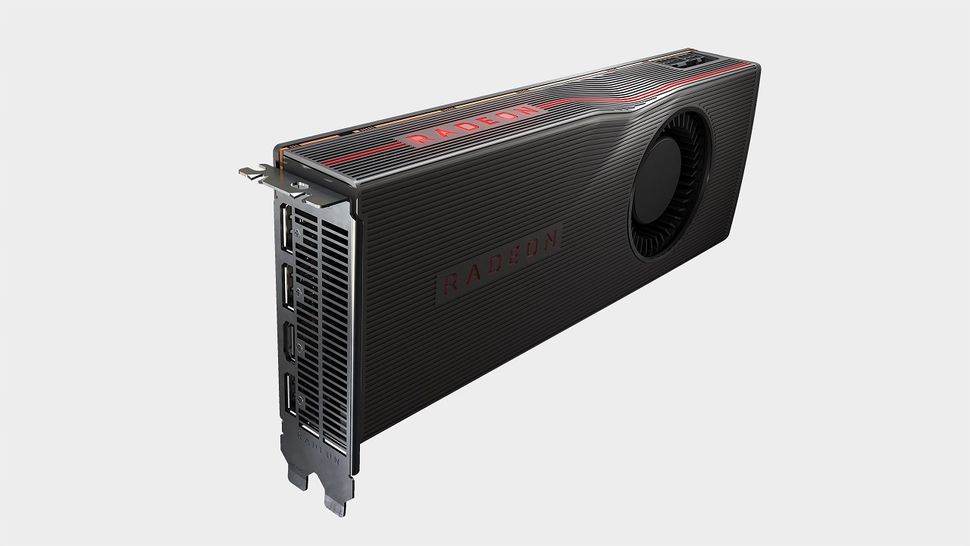 With a dramatic, pro-wrestling-style last-second price cut just days before launch, AMD managed to slightly undercut Nvidia's new Super launch. By shaving $50 off the price tag, AMD can now confidently claim their card outperforms the RTX 2060 Super but retails for the same price. 
Of course, what that kind of marketing jargon leaves out is that the RX 5700 XT lacks the RTX cards' ray tracing and Tensor cores. It's thus less well suited for games that employ ray tracing or DLSS, though in terms of pure horsepower, it jumps ahead of the 2060 Super by around 5-10%. It's also very power efficient as a result of AMD's 7nm process and the shiny new RDNA architecture. The RX 5700 XT also supports AMD's Radeon Image Sharpening, which AMD claims will sharpen graphics with almost no performance impact in games that support it. While at the moment it's more gimmick than feature, if it's adopted more broadly it could be a way for AMD to mitigate the lack of built-in RT and DLSS support on its parts.
The tip of the spear alongside the 2070 Super, the RTX 2060 Super is the cheapest way to prepare your rig for our ray tracing, DLSS enabled future. As well as packing Nvidia's much touted new features, the 2060 Super outperforms the card it's meant to replace, the vanilla 2070. It gets you everything packed into the 2070 Super's stable, just slightly less of each, but if you're looking to grab a card to handle 1080p and 1440p gaming the 2060 is the least expensive way to get onboard the ray tracing bandwagon.
If you've already got a card in the GTX 1070 range, the jump to the 2060 Super might seem premature, especially around launch when they'll be hovering near full price. But if you're looking to step up from a 970 or lower card, the 2060 Super is your best bet for great performance that will, to some extent, future proof your setup for the inevitable proliferation of DXR and Vulkan RT.
Although now well and truly in the shadow of Nvidia's 2020 graphics card release in the form of the in the shadow, the 5600XT is a fine, fine card to have in your arsenal. And probably the best for 1080p gaming.
The card is good on itself, by all means, but a firmware update came to boost clock speeds and memory performances (on a lot, but not all 5600XT cards, that is) which really made the difference, particularly in the face of Nvidia's 2060 having a price cut. Because not all the 5600XT cards got this bump, it's worth doing some homework before committing. As our friends over at PCGamer advise: "It's worth checking the downloads section for any card you're looking at to see if it's had the BIOS update to 14Gbps and higher GPU frequencies before you drop your cash."
For under $300, you could do a lot worse, and the bang for buck is incredibly strong here despite an awkward positioning around the 1660 Super and 2060 mark. (Though if this is your budget mark, you have a great 'problem' in choosing between these excellent cards.)
If you have yet to make the leap to a 4K display, spending a tremendous amount of money on an overpowered GPU may seem like an act of excessive decadence. While you're saving cash for a new 4K monitor/panel, the $200 the 580 shaves off the price of the next tier of cards is very significant, and AMD's budget option can easily cope with the tail of the 1080p era. 
For the budget-conscious and anyone looking to ensure your PC is keeping pace with current-generation consoles, the 580 is a great solution. And its 8GBs of GDDR5 is generous in comparison to Nvidia's similarly priced 1060 line, overhead that will be greatly appreciated as rendering demands continue to escalate.
If you're looking for a modern, entry level graphics card that provides reasonable performance at a sub $250 price point, the 1660 is the choice for you. Slotting into the space vacated by the GTX 1060, and providing something like 13-15% better performance at less cost, the 1660 takes advantage of the Turing architecture implemented in the RTX lineup but paired with the widely available (and thus inexpensive) GDDDR5 VRAM.
The 1660 is clearly Nvidia's play to get into that golden market below $250 where, according to Steam Hardware Survey results, the vast majority of PC gamers shop. It's a mainstream play, perhaps aimed in part at mitigating the slower-than-expected sales of the 20-series family, but it delivers exactly what you expect at a price you can live with. 
The Nvidia 2080 Ti is still one of the fastest graphics cards going - and thus one of the best graphics cards going in some eyes if we are measuring things by sheer power and numbers. Its price tag will still be a hurdle if you can find it - now that the 30-series cards are out, but if stock and availability levels out for those cards, then the price of the remaining 2080 Tis might drop to some delectable levels.
It might struggle to reach the dizzying heights of 4K, but if you want to run games on as high settings as possible and with ray-tracing then this is certainly a card still worth of your attention. However, and with little surprise, it's seriously hard to recommend hard to friends or readers given you can build quite a competent gaming PC that'll give you years of enjoyment for the cost of this one component - if the prices stay the same. If you have literally no budget problems or concerns or catch one at a reasonable price, then this is it, otherwise, go for something that's above on this list.
Coming in as the mid-tier card of Nvidia's new RTX Super stack, the RTX 2070 Super is the best of the bunch in terms of sheer dollars-to-frames. With the vanilla 2070 (and 2080) being phased out, the new Super version will be the only 2070 part available, and it's a worthy replacement. With performance that approaches the RTX 2080 but priced at only $499 (Nvidia has opted against a Founder's Edition premium on the new Super cards), it's hard to argue with the 2070 Super as a value proposition.
This is a card that delivers incredible 1440p performance in triple-A titles, even with ray tracing enabled in the games that support it. While games with GPU intensive ray tracing techniques like Metro's global illumination may stagger a little at higher resolutions, the 2070 Super does an admirable job even at 4K in most cases. This is especially true in games that also support DLSS, which is actually a frame saving technique Nvidia developed to downsample rendered images and then using artificial intelligence (powered by the RTX's cards Tensor cores) to add the pixels back in, without putting so much strain on the card's main processing capability. The result is an excellent card at an attractive price point, and an easy recommendation if you can afford it.