A Nintendo Switch carrying case may be one of the most important Nintendo Switch accessories you can get for your console. If you're going to be taking your handheld out and about, the best Nintendo Switch cases will make sure it's protected no matter what scrapes it may take. Switch cases are so important that many Nintendo Switch bundles include cheaper pockets for free, but it's worth investing in a harder shell if you're going to be on the go a lot.
The question is, what's the best Nintendo Switch case for you? You're not short of options. There are traditional carry-cases, lightweight pouches, rubber shells, and branded merchandise. That's to say nothing of the Switch Lite and Switch OLED equivalents, either (be sure to check which kind of Switch you're buying for - your case may not fit otherwise).
The best Nintendo Switch cases will offer up excellent protection while also offering up storage space for controllers, games, earbuds, cables and perhaps Nintendo Switch SD cards as well. Not only that, but you'll find plenty that offer a snug fit so that they don't take up your whole bag.
To get you started, we've gathered some recommendations for the best Nintendo Switch carrying cases we've seen. In addition, you'll find those suggestions accompanied by the lowest prices; our bargain-hunting software is updated every 30 minutes with the latest discounts.
Best case for Nintendo Switch
Image 1 of 2
Image 2 of 2
Orzly has given their case the kitchen-sink approach, and we love it; it'll fit your console along with extra Joy-Cons, cables, games, SD cards, and more. That makes it perfect for everything from the commute to vacations. Happily, the Orzly case can also fit a Switch with a Mumba protective shell (see below) as well as the Nintendo Switch OLED. That means you're covered for both consoles straight from the off.
Another cool Orzly feature is the neat internal flap that covers the screen in transit. This makes sure that nothing scratches the screen, which is definitely half the battle when it comes to portable consoles.
If you don't want the bulk of a full-storage case weighing you down on your travels, the TomToc slimline Nintendo Switch carrying case offers up a svelt form factor that still manages to pack enough space for ten games. That's impressive, especially considering the military grade protection built into this hard shell case. You're also getting indented thumbstick and button cushioning on the top to make sure everything is secure in transit as well.
Image 1 of 2
Image 2 of 2
This tough shell gives your Switch console some much-needed protection while in use; it'll help the system withstand many a knock and bump. It's also very grippy, meaning it won't fly out of your hands during play (just remember, it must be taken off to dock your Switch).
Coming in a variety of colors, this is a handsome and practical alternative. Not that you should forgo those. Because the Mumba lacks a screen-protector, it's worth picking up a carry case like the Orzly model above as well. That way you're prepared for any eventuality.
The Nintendo Switch doesn't boast a particularly strong battery life, which is why grip cases that can boost your juice when you need it most are so popular. Whether you're looking at a particularly long journey, or you just want that extra peace of mind, this 10,000mAh charging case from Newdery can certainly get you out of a jam.
This isn't a protective Nintendo Switch carrying case, which means we'd recommend storing your device in another case and grabbing this one as needed. However, you are still getting two slots to store game cards on the back.
There are times when you need to take your whole setup on the road, which is where the Zadii Hard Carrying Case comes in. With foam insert pockets for everything from the Joy-Con grip to a full Pro Controller, dock, and AC adapter you can store everything you need in one handy box. By virtue of its excellent storage capacity, this is a larger Nintendo Switch case, which means it's not an everyday affair. Still, with 21 slots for game storage, those taking their gaming on the go should certainly take a look.
Best Nintendo Switch OLED case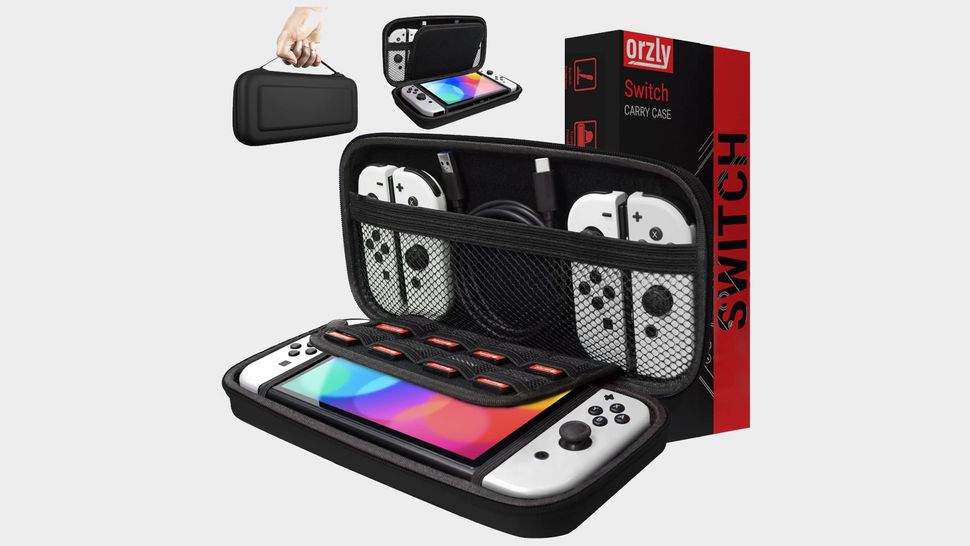 A familiar face! The Orzly Nintendo Switch case is also compatible with the OLED model, thanks to the extra wiggle room the brand built into the shell itself. Your Joy-Con will all still neatly fall into the indented hard shell, with plenty of room leftover up top for accessories, cleaning cloths, and headphones. You're also getting space for eight games in the screen cover as well.
Overall, this is an excellent choice and one that covers you for both hard shell protection while carrying plenty of kit without bulking out your bag.
If you had your eye on the TomToc Nintendo Switch carrying case further up the page but you've recently picked up the OLED model, then fear not. You'll also find the slimline hard case available for the larger dimensions of the upgraded console. You're getting the same excellent protection with a screen cover in place to keep that shiny panel pristine, as well as plenty of storage for games as well.
The bumper protection provided by the ProCase Flip Cover Case for Nintendo Switch combines with a magnetic front plate to provide drop and screen protection in a minimal design. That's perfect if you don't want to bulk out your bag with all the accessories and games you own, but it does mean there's no storage on board here. Still, this a particularly unique case design, and even comes with two tempered glass screen protectors as well.
Best Nintendo Switch Lite carrying case
Image 1 of 2
Image 2 of 2
If you've just picked up a Nintendo Switch Lite deal, you'll know that the system's main selling point is its portability. That means it's a good idea to grab something that'll keep it safe while you're out and about. Fortunately, Orzly have created a Lite-specific version of their already-excellent Switch carry case. The slightly reduced size of this option means that you won't fit any extra Joy-Con into the mesh pouch, but there's plenty of space for headphones and cleaning cloths.
You may have put some considerable thought into the color of your Nintendo Switch Lite, so why cover it up with a boring case. The Hori Duraflexi shell is clear, allowing your console's natural beauty to shine through. While it's providing basic bumper protection (there's nothing keeping the screen or thumbsticks safe in your bag), this is a particularly cheap Nintendo Switch Lite case and you're still getting peace of mind against drops and scuffs.
There aren't many Nintendo Switch Lite carry cases designed to improve your tabletop gaming experience. However, if you prefer using your handheld with an additional controller, the PowerA Play and protect Kit is well worth a look. The case essentially consists of a portfolio-style screen cover, folding out into a stand for your console. That's perfect for setting up shop wherever you are, though it's worth noting there's no drop protection in here.
More Nintendo Switch carrying case deals
Not found the right match in our selection above? Don't worry, there are plenty of cheap options available in our comparison chart below. Multiple retailers are included, so you're sure to find something that'll suit you.
In need of something else for your console? Don't forget about our guide to the best Nintendo Switch accessories. It's packed with everything from SD card offers to the best Nintendo Switch chargers. As for game offers, be sure to visit our page on cheap Nintendo Switch game sales.