Sometimes it's pleasant - nay, downright delightful - when you don't have to make one more decision in life. Tonight's entertainment included. I get it. While it's impossible for me to make your exact decision for you (I've got stuff on, sorry), I have whittled down the best movies on Amazon Prime Video to a very manageable 30. Considering there are thousands to choose from, this should make it a smidgen easier picking a flick.
Whatever you're in the mood for there's something on this list to assuage your cravings. Comedy, sci-fi, action, drama, horror, or a glorious mash of all of the above, the best movies on Amazon Prime Video have got the lot. Updated every week to make sure these listings are fresher than fresh, across both US and UK regions, you can't go wrong with these top 30 picks.
Best shows on Amazon Prime | Best movies on Netflix | Best shows on Netflix
30. Hell House LLC
Region: UK, US
The movie: Injecting new life into the found footage genre, Hell House is one of the creepiest darn horrors of recent years. After running a couple of successful Halloween scarehouses in New York, a bunch of friends purchase an abandoned small-town inn and prepare to dress it up, get a bunch of actors in there, and give locals the fright of their lives. Unraveling after the fact, the movie follows a documentary crew out to discover what went wrong on opening night, as 15 tour-goers die along with several members of the Hell House team.
Why it's worth a watch: Want to never sleep again, but in the best way possible? Say what you will about found footage horror - as long as it's not along the lines of "It's not original anymore!" - Hell House LLC packs in plenty of fresh takes on the style, leaving you with many, many images that will linger in your mind for days. They may involve clowns.
Read more: The 10 best found footage horror movies
29. The Conversation (1974)
Region: US
The movie: Between work on The Godfather and its sequel, Francis Ford Coppola dove straight into this low-fi espionage thriller, that stars Gene Hackman as surveillance expert Harry Caul. Hired by an unseen client through an intermediary (played by a pre-Star Wars Harrison Ford), Caul is tasked with tailing a couple and records a rather cryptic conversation between the two. Oft-seen as Coppola's reaction to the Watergate scandal, whatever you make of it, it's a damn fine paranoia parable.
Why it's worth a watch: One of the few times that a director has lost to himself at the Oscars! Yep, two of Coppola's movies were nominated in 1975, The Conversation and The Godfather Part 2, with the latter scooping up the Best Picture gong. It's chilling to watch a film that's nearly half a decade old and realise the tensions at its core remain the same today.
28. Lady Bird (2017)
Region: US
The movie: Greta Gerwig makes a flawless transition behind the camera in her directorial debut. Bringing the witty banter she often infuses her scripts with to this tale of '90s teen angst, it's simply one of the best movies of the year. On the cusp of heading to university, Lady Bird (Saoirse Ronan) tries to figure out life in all its forms in her hometown of Sacramento, California. All of her relationships go through the ringer. How she deals with her mom (a superb Laurie Metcalf who was robbed of an Oscar), how she figures out the truth about her first boyfriend (you will cry) and how to maintain her best friendship. It's simply one of the best movies of the last year.
Why it's worth a watch: Much like this year's Eighth Grade, Lady Bird feels like this is the first time we're seeing this particular coming-of-age experience on screen. It's funny as hell right off the bat, as Metcalf and Ronan take verbal sparring to the next level, and takes sharp swerves into emotional, tear-jerking terrain with ease. You'll laugh, you'll cry and you'll love these characters.
27. Dog Soldiers (2002)
Region: US
The movie: Neil Marshall's Dog Soldiers takes place in the Scottish Highlands, a location that boasts plenty of natural beauty, yet in this instance they're also home to something else. Something with teeth. A group of British soldiers tasked with a nighttime training exercise against a Special Ops team in the Highlands quickly discover their training has been derailed when only one person remains of the Special Ops crew. The rest, ripped apart by unseen beasts. Luckily, there's a farmhouse nearby where they can wait out the Full Moon.
Why it's worth a watch: Vampires had a major resurgence in the last 20 years. Werewolf movies? Not so much. Dog Soldiers remedies that, playing like a fantastic '80s genre flick loaded with gross-out, bloodied action and one-liners galore. A glorious mash of horror, thriller and action, you can't go wrong with this R-rated gem.
26. Logan Lucky (2017)
Region: UK, US
The movie: With the Ocean's trilogy Steven Soderbergh established that he's got the skills to pull off numerous heist movies. Logan Lucky finds him in similar territory, albeit with a polar opposite cast of characters, led by Channing Tatum and Adam Driver as brothers Jimmy and Clyde Logan. Hardly the brightest of the bunch, the pair make a desperate grab for a better life by plotting to rob the Charlotte Motor Speedway.
Why it's worth a watch: The script, from newcomer Rebecca Blunt, could easily have been worked over by the Coens and moulded into their quirky oeuvre, yet instead Soderbergh keeps things simple. It's an entertaining action comedy from start to finish, proving yet again that Tatum and Driver are equally as riveting when playing dolts as they are playing serious brooding leading men.
25. The Guest (2014)
Region: UK
The movie: There's been a resurgence in John Carpenter-inspired movies in the last several years, and Adam Wingard's The Guest is one of them. Downton Abbey's Dan Stevens rids himself of the niceties of that quaint British drama to play David Collins, a former military man who tracks down the Peterson family. Reeling from the death of their son, one of Collins' fallen comrades, they welcome David into their home, unaware what his promise to their son involves. They're not exactly ecstatic that this loose cannon has turned up, threatening to make their lives more troubled than they already are.
Why it's worth a watch: A lo-fi thriller throwback with echoes of Carpenter and early James Cameron, the cinematography and editing make you feel you're watching some remixed '70s slasher. Throw in the score, synth-heavy and pounding, and this is like taking a trip back through time.
24. Coherence (2013)
Region: US
The movie: Proof that you don't need a million dollars to create suspense and genuine character interactions, writer-director James Ward Byrkit delivers one of the best low-budget genre movies of the last decade. Eight friends meet for a dinner party on the same night that a comet passes through Earth's atmosphere. On an ordinary evening, that might provide a conversational spark, but on this night all bets are off, as the group start to experience some seriously strange occurrences. Side effects of the celestial event, or, is there something else at play?
Why it's worth a watch: It's hard to say why you should see Coherence without utterly spoiling it. Like The Invitation, another superb dinner party movie that changes course, this movie is best watched with very little knowledge of what's about to happen. This is glorious filmmaking, proof that a shoestring budget and no script can lead to excellence.
23. The Big Sick (2017)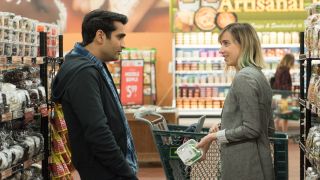 Region: UK, US
The movie: Silicon Valley's Kumail Nanjiani writes and stars in this comedy based on his own marriage. The trials of cross-cultural romance come under scrutiny as stand-up comic Kumail falls for an American student at one of his shows. Not exactly the life his Muslim parents had in mind for him, but that's the least of his concerns; shortly after they start dating, Emily falls into a coma, leaving Kumail to have to deal with her parents. Not exactly the perfect way to meet your future in-laws, right?
Why it's worth a watch: Billed as a traditional romantic comedy, it's got a lot more heart and edge than the posters and trailers would have you believe. The chemistry between Nanjiani and Holly Hunter and Ray Romano - as Emily's parents - providing most of the real grit. Realistic, and proof that there is still a lot of originality left in the genre, The Big Sick is one of the best movies on Amazon Prime Video.
22. Mission: Impossible - Ghost Protocol (2011)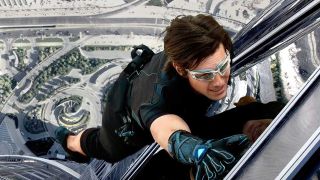 Region: UK
The movie: Even the best franchises need a breather. Ghost Protocol is the fourth in the Mission: Impossible series, following a 5-year break, presumably during which Tom Cruise spent time figuring out how to best give the studio palpitations. Yep, Ethan Hunt returns to scale heights and throw caution to the wind - typically at the same time - with his IMF crew in tow. This time the gang are in hot water after being framed for blowing up the Kremlin.
Why it's worth a watch: Let's get this out of the way now - no-one watches the Mission: Impossible series for its strict adherence to reality. No. We watch for the bombastic stunts and seemingly, ahem, impossible feats of action bravura. Cruise and co. blow the entire franchise wide open by cranking things up to 11 and re-establishing the series as arguably the best ongoing action franchise.
21. A Quiet Place (2018)
Region: US
The movie: Following an alien invasion, the world has moved on. A race of scuttling extraterrestrials sensitive to sound now permeate the Earth, making human lives a different proposition. Just ask the Abbott family, led by Evelyn (Emily Blunt), her husband Lee (John Krasinski), and their children Regan, Marcus and Beau, who have lived in near-silence for years as a way to keep the beasts at bay. What begins as a normal day trip for Lee and Marcus quickly turns to a monster fight.
Why it's worth a watch: Oh, aside from the fact that everyone and their mother and their mother's tennis partner were talking about it last year? A horror that will shred your nerves and have you hardly breathing, nevermind talking, Krasinski's directorial debut is a superb exercise in terror-filled set pieces. Oh, and we're getting a sequel soon...
Continue to Page 2 for more of the best movies on Amazon Prime Video