The press conferences were shorter, the business jargon was ceaseless, and the leaks were as abundant as ever, but those sneaky publishers still managed to find a way to surprise us with unexpected reveals and better-than-expected debuts at E3 this year. It's quite astonishing that, in the information age, where it feels as though everyone knows what to anticipate from gaming's biggest trade show before it's even begun, we can still be left with our jaws on the floor after catching mere glimpses into the future of the medium. From the craziest announcements to the most ridiculous revelations, I've catalogued the very best and biggest surprises from E3 2017 (opens in new tab) below.
A Way Out comes from nowhere to steal the show at EA
A rare, genuinely pleasant surprise from the EA press briefing, this. Nestled among the likes of Fifa 17 and Star Wars Battlefront 2, A Way Out (opens in new tab) is Josef Fares' new project after Brothers: A Tale of Two Sons, and places a similar mechanical and thematic focus on the tight-knit relationship between two playable characters, though the format (not to mention the budget) has evolved into something else entirely. Either online or via local couch co-op, two players must step into the shoes of Leo and Vincent; a duo of jailbirds who team up with the specific goal of escaping their maximum facility confines. And co-op is the name of the game here, without a doubt. A Way Out plays entirely in split-screen, and uses that design choice as the defining cornerstone of the experience, determining every aspect of the gameplay. The co-op only barrier might work against it from a business standpoint, but it's this same artistic commitment to the form which makes A Way Out so appealing as a new kind of split-screen experience like nothing you'll have seen before.
No Season Pass For Battlefront 2
Did you read that correctly? Be sure to read it again to really soak up the satisfaction of the news. After selling a $50(!) season pass for the original Battlefront, EA came on stage to announce that nothing of the sort will be hampering down the potential of its sequel. Instead, all post-launch content will be free to every player of Battlefront 2 (opens in new tab), arriving in the form of "seasons" - the first of which will be inspired by the upcoming film, Episode VIII: The Last Jedi. There will be micro-transactions, of course (sigh), but don't let this distract from how significant a turnaround this is for EA, and indeed for the industry at large. Could this be the beginning of the end for stingy season passes? Maybe, maybe not, but it undoubtedly represents good short term news for Battlefront fans this year, who can jump into the sequel right away without feeling like they're missing out on what's to come.
Scorpio is called the Xbox One X, and it's worryingly pricey
No meandering for Microsoft this year. The first thing Phil Spencer and his team did was dive headfirst into a deep hole of details about the Xbox One X (opens in new tab), details including the much awaited release date and cost figures for "the world's most powerful console." While the November 7th announcement was a spot of good news for the more impatient souls tuning in, the $499 price tag was less enlivening, turning the world's most powerful console into the world's most expensive at the same time. E3 began this year with the ball in Microsoft's court but, after all that's been revealed, the PS4 Pro is now left looking as the more viable and cost-effective upgrade option next to the Xbox One X, at least for the time being. That was not the assumption going into E3, and this surprise leaves the future of Microsoft's new console up in the air for now.
Anthem looks like a return to form for BioWare
After the controversy of Mass Effect 3, the fairweather impact of Dragon Age: Inquisition and the development woes of Mass Effect: Andromeda, BioWare has taken a bit of a beating over the last half decade or so. There were reserved expectations going into the anticipated reveal of the studio's new IP at E3 this year, then, but thankfully Anthem (opens in new tab) arrived with a confident bang to remind people why BioWare is the best at what it does. A visually breathtaking multiplayer universe of tropical sights and sounds, Anthem has got it all. Flying, swimming, shooting, squadding up with friends...we've only seen a fraction of the game so far, but it's already left a big footprint. There's still skepticism as to whether Anthem can live up to the promise of the gameplay slice shown at Microsoft's press briefing last week, but the on-screen potential was enough to spellbind the audience for all seven minutes of its runtime.
Miyamoto makes a cameo at Ubisoft
After a litany of leaks, it's true that we all knew Mario + Rabbids Kingdom Battle (opens in new tab) was going to debut at some point during E3, but the way in the announcement played out was still a wonderful surprise nonetheless. Shigeru Miyamoto himself, Nintendo senior bigwig and Mario's creator, emerged from plumes of billowing smoke to join Ubisoft CEO Yves Guillemot on stage, before the two posed together for what is sure to be the photo of E3 2017. Mario + Rabbids Kingdom Battle also had a few surprises up its sleeve, revealing itself to be the child-friendly XCOM game that we never realized we wanted till now. There's even a roomba with bunny ears, for goodness sake, how can you not be impressed?
Beyond Good and Evil 2 is happening? Beyond Good and Evil 2 is happening!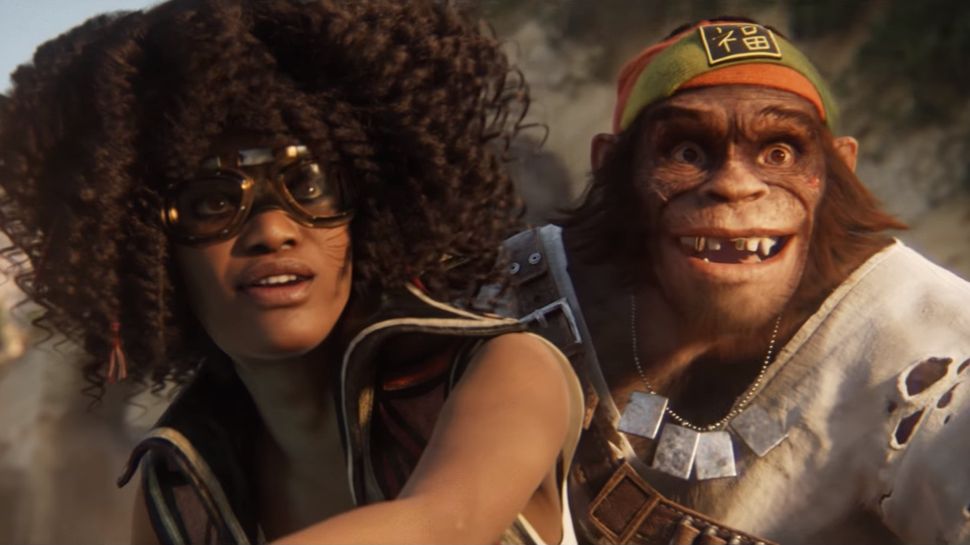 E3 is populated with so many CGI trailers that they sometimes fall in the danger of amalgamating into one hazy cinematic, but no one will be forgetting Beyond Good & Evil 2 (opens in new tab)'s amazing reveal promo anytime soon. Profanity-spewing pigs, Londoner monkeys, and a thumping East Asian soundtrack, the four minute sequence was a treat for the eyes, even for series neophytes who had no idea what was going on, story-wise. To then see a teary-eyed Michel Ancel come on stage to finally announce what fans had been waiting on for so long was the icing on the cake of an E3 dream coming true. When's it coming out? Who knows, probably not for a while, but for now we can just savour the moment for what it is. And sign up to the Space Monkey program, obviously.
Shadow of the Colossus is getting a remake... wait, what?
Sony's press conference was a fairly muted affair this year, showcasing a solid line-up for the PS4 but missing that tangible impact of shock announcements from previous briefings. Nevertheless, team PlayStation still dealt a few unforeseen cards, the most surprising of which was the announcement that Shadow of the Colossus (opens in new tab) - Team Ico's critical darling - is getting a full remake, built from the ground up. Bluepoint Games, the studio responsible for the recent Uncharted remasters, are on the case for this project, which is slated to arrive at some point next year. It wasn't exactly a curtain draw as revelational as God of War or The Last of Us 2, but this Shadow of the Colossus news was an unexpected pleasantry all the same, especially as nothing whatsoever had been heard about it up till now.
Nintendo doubles down on Metroid
After years of radio silence about the possibility of a new Metroid game (a proper new Metroid game, not any of this Federation Force rubbish), Nintendo came out and announced not one, but two titles in the works. First up was the biggie; Metroid Prime 4. Despite seeing no gameplay, no footage of anything other than a brief logo reveal, this announcement came out of nowhere during Nintendo's E3 Direct stream, instantly bringing great jubilation to the hearts of Metroid fans around the world. Then, as if to catch everyone off guard again, Metroid: Samus Returns was announced casually by Reggie Fils-Aime as part of Treehouse Live! For a 3DS title, the game doesn't appear to be revolutionary or phenomenal by any stretch of the imagination, but it looks like a decent experience to tide people over until Metroid Prime 4. Taken together, this doublet of Metroid reveals represents one of the best shocks of E3.
Make sure you check out our full E3 2017 schedule (opens in new tab) to stay tuned for all the details as they arrive, and check out our roundup of all the E3 2017 trailers (opens in new tab). For more E3 2017 highlights, check out our Nintendo E3 2017 recap (opens in new tab), PlayStation E3 2017 recap (opens in new tab), and Xbox E3 2017 recap (opens in new tab).