It's summer. It's slightly inconveniently not-that-long-since-E3. That can mean only one thing: It's time for Gamescom 2016 (opens in new tab). And lo, the world's game devs, publishers and press are descending upon Cologne, Germany, for another week of hype, previews, hands-on sessions, and exhaustion only just held off by a gross intake of bratwurst.
But the most important thing is the games. Which ones are going to be there, which ones are going to be the most exciting, and which ones, fundamentally, should you be keeping an eye on as news and impressions float merrily out of the convention centre? These games. These are the ones. Keep it turned to GamesRadar+, and we'll bring you everything you need to know just as soon as we know ourselves.
For Honor
Swords. Bloody, relentless combat. Vikings vs. samurai vs. medieval knights. For Honor (opens in new tab) is the historical stab-nerd's dream, pitching humanity's greatest groups of blade brawlers against each other to find out who is the strongest (the samurai; it's always the samurai). But this is no mere historical Smash Bros. For Honor looks like a serious attempt to blend puristic, weighty, high-stakes sword duelling with a substantial campaign and lightly MOBA-ish multiplayer. With a legitimate, magic-bearded warlock heading up the project, the odds are that this could turn out to be one of early 2017's most off-kilter hits.
Battlefield 1
First there was the World War Two shooter. There were a lot of them. People got a bit sick of them after a while. Then there was the modern military shooter. There were even more of those, and people got sick of them too. But while the likes of CoD – and ex-CoD devs at Titanfall studio Respawn – are now moving to the future to shake things up, the original poster-boy for historical warfare is going right back to the start. Set in World War One, Battlefield 1 (opens in new tab) is stripping weaponry back to the (relative) basics, though its structure is going anything but. With 64-player multiplayer, six classes – including the new Tanker designation- and a campaign promising huge, open environments full of choice, it could just be the (sort of) modern Battlefield to reclaim the series' greatest glories.
Titanfall 2
Titanfall's mix of mechs and parkour made for a hell of a good multiplayer game in 2014. But alas the game's quality was inversely proportional to its longevity, its lack of campaign and its console exclusivity to the then-struggling Xbox One greatly hampering its potential success. All that, thankfully, has changed in Titanfall 2 (opens in new tab). There's a campaign (opens in new tab), which looks every bit as fast, kinetic, and dynamic as the multiplayer game, blending shooting, arena combat, and a fair amount of platforming and traversal puzzling. There's a cross-platform release, taking in PS4 as well as Xbox and PC. Everything is in place to make Titanfall 2 the hit the first one should have been. Cross everything that its Gamescom showing is promising.
Prey
Fresh off its first proper showing at Quakecon 2016, Arkane Studio's Prey (opens in new tab) is suddenly very, very hot indeed. Looking to blend BioShock's dark, first-person action-RPG conceits with Dishonored's endlessly malleable, free-form abilities, we're likely to hear more about its hidden depths and spiralling weirdnesses at Gamescom this year. Fight with a shotgun, build your own custom platforms and sneak past, or turn into a coffee cup and hide in the sink. The choice is yours. And the choice is always ridiculous.
Dishonored 2
As for Bethesda's games that are actually going to be out this year, Dishonored 2 (opens in new tab) is looking more and more exciting all the time. Effectively the scaled up, creatively unbound, experimental theme park version of Dishonored, the sequel is playing with and reworking the series' concepts in every way it possibly can. Clockwork mansions that can be rebuilt and reconfigured on the fly. Levels that take place in two timelines at the same time. Targets who need to be killed twice in one day. Skill trees that give non-lethal versions of every power, and a game design that doesn't even demand you use a single occult ability at all. Arkane's ambitions for his one are ridiculous, but we're confident that the studio will pull it off. Because Arkane, basically.
Gears of War 4
Gears of War 4 (opens in new tab) sounded promising from the off. A return to the original game's tight, scary, intimate combat. A reduced co-op limit, capping out at a far less chaotic two. A big time-jump forward, clearing the decks for a fresh story with minimal baggage to handle. And now we've seen that its action is not messing around. Familiar, aggressive, tense and exciting, yet altogether fresher, and with a renewed sense of dynamic, cinematic spectacle, Gears 4's campaign looks to be shaping up very well indeed. But we'll know even more after we've seen it at GC.
Resident Evil 7
Fighting with God of War at this year's E3 for the 'Holy crap what the hell most exciting franchise reinvigoration' award, Capcom's distinctly more intimate, distinctly more atmospheric, distinctly more frightening and distinctly more first-person Resident Evil 7 (opens in new tab) might finally, finally deliver Resi fans exactly what anyone with any sense has known the series needed for the last seven years. That said, while the game's concept is strong, its exact form is shrouded in mystery, a mystery cleared up in exactly no way by the game's demo earlier this year. Keep an eye on Gamescom, where we'll hopefully be able to shed a bit of light upon things (without being immediately smashed to pieces by a murderous hillbilly redneck).
Sea of Thieves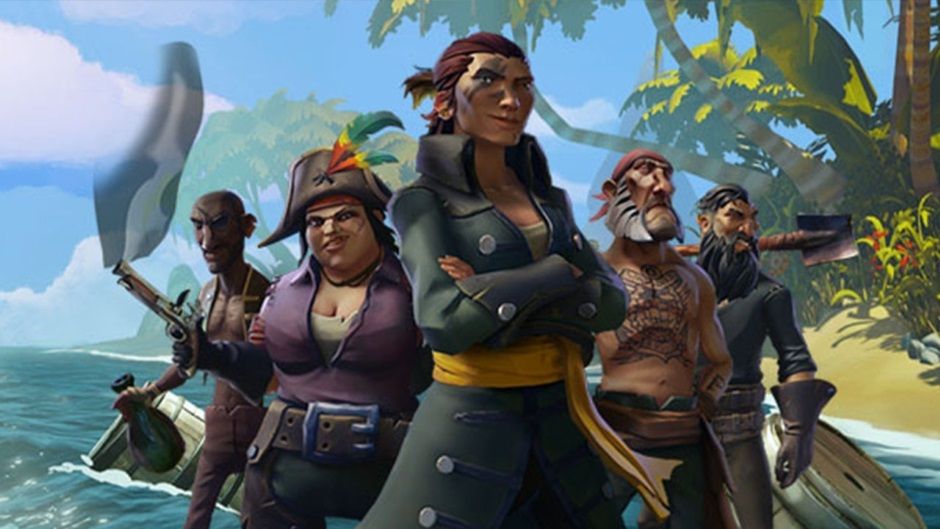 Pirates. Open-world action. Massively multiplayer, cartoon plunder. Ships crewed by bumbling mobs of real, actual players. Rare's Sea of Thieves (opens in new tab) has the potential to be something really, really special. Like Elite: Dangerous, but set on the sea, with the lasers replaced with cannons and the asteroid belts swapped for really confused people laughing and shouting as their third ship that day inevitably collapses and sinks. It sounds great. We're going to be seeing it at Gamescom. We'll tell you exactly how great it (hopefully) is.
Scalebound
Scalebound (opens in new tab) is cocky. Scalebound is spectacular. Scalebound is exciting. Scalebound is weird, a bit confusing, and ever so slightly unashamedly cheesy. Thus, Scalebound is very, very Platinum. And that's always a situation of great potential. Can Scalebound wrangle Platinum's typically deep, complex, gratifying third-person combat alongside four player – and four dragon – co-op? It remains to be seen, but we'll see more at Gamescom.
ReCore
One of the lower-key Microsoft exclusives, ReCore still has a lot going for it. Developed by staff responsible for both Metroid Prime and Mega Man, the platform action-adventurer – which also has a score composed by the man behind the Pokemon Symphonic Evolutions and Zelda: Symphony of the Goddesses live shows – has the potential be the closest in spirit to a Gamecube classic that Gamescom will have on show. Well, it might be if Yooka-Laylee wasn't around, but more on that one later. Either way, the blend of bright visuals, enigmatic, alien landscapes, grappling hooks, air-dashes, and a reconfigurable robot dog is definitely a reason to be hopeful. Keep an eye on it. We'll report as soon as we know how it's looking.
Want to keep up with the biggest news from the show? Click to see all of our coverage and watch the best Gamescom 2016 trailers.