Call of Duty: Black Ops 4 is, by the default luxury of being a Call of Duty game, one of the most anticipated titles of the year, and developer Treyarch is holding a closed beta both this and next weekend in the lead up to its full launch on October 12. The beta will provide players with a sizeable portion of multiplayer content to try out, and a chance to give Activision the feedback it needs to make Black Ops 4 the best game it can be by the Holiday season.
Sadly, as is always the case with these kinds of things, it's not as simple or easy as hitting up the online store of your chosen platform to log in and start playing just like that, but there's certain parameters you ought to know about beforehand if you aim to maximise your playtime in the Black Ops 4 beta. Here's the important stuff that's worth keeping in mind for the next two weekends of Call of Duty madness.
What's in the Call of Duty: Black Ops 4 multiplayer beta?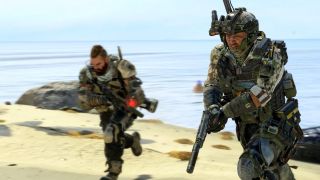 Let's get the bad news out of the way first; this month's private beta won't include access to Blackout, Black Ops 4's battle royale mode, as that's getting it's own separate beta sometime in September. Instead, the multiplayer beta will include access to three multiplayer modes (including the brand new Control mode), three multiplayer maps, and up to sixteen different weapons, depending on how far you're able to progress during the limited-time event.
Unfortunately, any progress you do achieve during the Black Ops 4 beta will sadly not transfer over to your account upon purchasing the full game, so try not to get too attached to all those shiny new weapons. Needless to say, players will not have access to any of Black Ops 4's story-based or Nazi Zombies content in the beta either, which is firmly locked away until October 12.
When does the Black Ops 4 multiplayer beta start?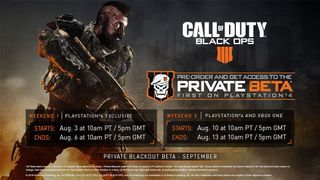 If you're a PlayStation 4 owner, you'll have early access to an exclusive weekend of the beta from today, which is live right now, ending on August 6 (10:00 PST/17:00 BST).
The beta will then open up to the PC and Xbox One community alongside PS4 players on the following weekend, from August 10 (10:00 PST/17:00 BST) to August 13 (10:00 PST/17:00 BST). For the PC crowd, the beta will be open to everyone - and not just those who pre-ordered the game - from August 11 (10:00 PST/17:00 BST).
How do I get into the Black Ops 4 multiplayer beta?
This beta is private, meaning that you'll have to pre-order Call of Duty: Black Ops 4 if you want to gain access to it. If you pre-purchase the game digitally through the PlayStation Store, Microsoft Store, or Blizzard's Battle.net (where the PC version will be distributed), you don't need to do anything, as you'll be automatically signed up for the beta, ready for when it goes live.
If you pre-order the game from an actual shop, with actual humans, or from an online retailer like Amazon, you'll find a beta redemption code on your receipt or email confirmation. Once you've got the code, head over to the Black Ops 4 website and log in (or create) a Call of Duty account to redeem it, picking your platform of choice for playing the beta. This will get you registered, and Activision will email you a Beta Token just before the beta kicks off, which can then be used to access the game itself once everything's up and running.
Can I pre-load the Black Ops 4 multiplayer beta?
Yes, and you can do it right now. The beta is available to pre-download from the PlayStation Store now, and will likely be available on the Microsoft Store and Blizz.net around the same time next week.
Any other outstanding questions you might have about the Black Ops 4 beta can hopefully be answered by Activision's own support page, which has a detailed FAQ for any more specific queries.
For more updates about the biggest titles on the way, read up on our guide to the best new games for 2018 and beyond.