If you're looking for other games like Hogwarts Legacy, you're not alone. The open-world magical RPG impressed in our Hogwarts Legacy review, but it's just one title out there that gives us the wizarding education we've always wanted. But there are plenty more video games that let you play as a witch or wizard – and we've gathered 10 of the best right here.
Some of the games on this list offer an adorably mystical spin on the best farming games, allowing you to cultivate beautiful gardens, form friendships, and learn spells with your new pals. Others offer a darker look at the historical implications of the occult. Can you keep your powers a secret, using them for good as you struggle against wicked compulsions, or will you be found out by the townsfolk and meet a fiery demise?
Whatever kind of magical mayhem you're in the mood for, this list of the best games like Hogwarts Legacy involves caring for supernatural creatures, spellcasting, zombie-making, and plenty of arcane goodies in between. Ready to find your perfect alternative to the Potterverse? Let's take a look.
Little Witch In The Woods
Developer: Sunny Side Up
Platforms: Xbox One, Xbox Series X, PC, Mac
This charming life sim puts you in the shoes of Ellie the apprentice forest witch. In Little Witch In the Woods, you'll have to keep the villagers happy by building your friendship level and strengthening your bond. This will eventually unlock more interactions with other townspeople, and bring Ellie one step closer to her goal. Using the magic Ellie has learned at Witch School, you will use her powers to improve the lives of others, spread happiness, and help Ellie grow into the best young witch she can possibly be! Although the game is still in early access, the thoughtfully-designed world and plotline will keep you entertained.
Black Book
Developer: Morteshka
Platforms: PS4, Xbox One, Nintendo Switch, PC
Set in the dark and desolate landscape of a Slavic folk tale, Black Book is an adventure RPG with card-based combat systems. Faced with difficult decisions that will shape your journey, evil entities trying to sway your powers, and fighting to stay hidden from the townsfolk that both fear and despise the occult, it's a much darker premise with far higher stakes than many other games on this list. That being said, with humans living alongside fabled mythological creatures, Black Books won't let you miss out on anything from Care of Magical Creatures either. It's a story-driven tabletop-like adventure that will keep you guessing – and looking over your shoulder, too.
Witchbrook
Developer: Chucklefish
Platforms: PC
If an RPG set in a magic school is really what you're going for, Chucklefish's upcoming life sim Witchbrook is one to keep an eye out for. The Stardew Valley developer is no stranger to cute pixelated RPGs, and this time it leans into the quirky magical realm of Mossport. Your character will be the newest witch in town, needing to balance the demands of everyday life alongside their academic commitments to the magical arts. With its focus on navigating a wizarding school (and offering romance options as well), Witchbrook sounds like an ideal option for anyone searching for a slightly different take on Hogwarts Legacy. Witchbrook College is not yet open for enrolment, but you can wishlist the game on Steam (opens in new tab) if you want to await further updates from the developer.
Tiny Witch
Developer: Creative Hand
Platform: PC
For a witchy life sim with a hint of restaurant management stirred in for good measure, you should wishlist Tiny Witch on Steam (opens in new tab) and check out the free demo, too. You'll be in charge of running a minion store, having to follow precise instructions to create the ideal familiars for your witchy clientele. However, these creations aren't your run-of-the-mill black cats or toads. From zombies to ancient bandaged mummies, there's a lot more to your spooky little shop than meets the eye. Sure it's a more management based witch game than an RPG, but Tiny Witch has all the ingredients to make one enchanting indie gem.
Pillars of Eternity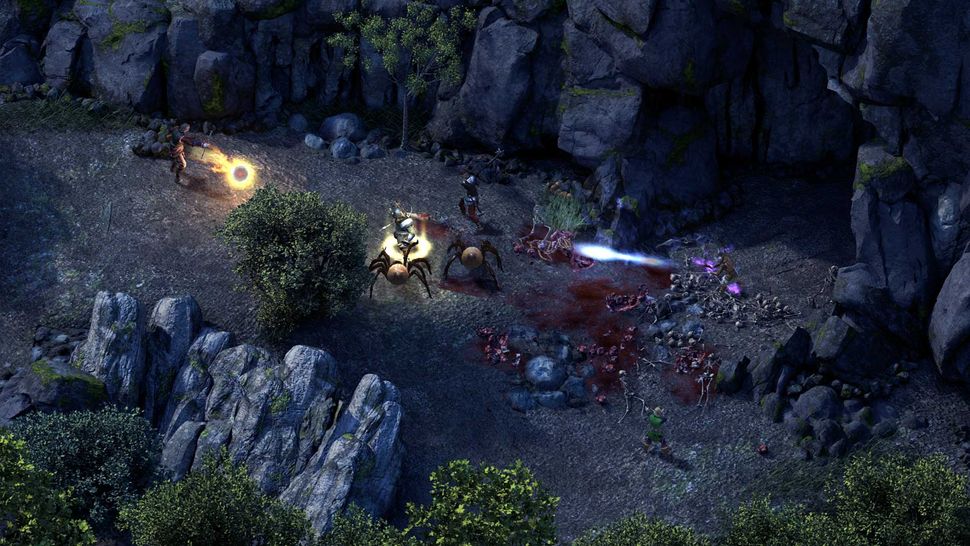 Developer: Obsidian Entertainment
Platforms: PS4, Nintendo Switch, Mac, PC
If a grand-scale RPG involving sorcerers, a rich storyline, and spellcasting combat systems sounds like your idea of a good time, Pillars of Eternity has you covered. Fallout: New Vegas developer Obsidian Entertainment went out of its way to weave an enchanting and diverse magical universe, one that bends and shifts according to the in-game choices your character makes along the way. What's more, there are six character classes to choose from, as well as five core skills to hone in accordance with your preferred playstyle. Sure, Hogwarts Legacy will let you be a dark wizard if you want to, but Pillars of Eternity is an in-depth odyssey into a world of magic far larger than the confines of a magic school.
Wylde Flowers
Developer: Studio Drydock
Platforms: Nintendo Switch, Mac, PC
This half-farming sim, half-witchy RPG puts you in the magical shoes of Tara. She leads a double life, tending to her grandma's family farm on this idyllic remote island by day, and zooming around on a broomstick by dusk. An average day in Tara's life is anything but ordinary; you'll be caring for cute creatures, learning new magic spells, and even controlling the weather if you dare. By getting to know your neighbours and completing side quests for them, you might even unlock a romance option or two. As far as the best magic games out there, the sheer volume of possibilities to explore in Wylde Flowers makes it a standard as far as the best Steam games go.
Disney Dreamlight Valley
Developer: Gameloft
Platforms: Xbox Series X, PS5, Nintendo Switch, PC
Okay, so Disney Dreamlight Valley might not be the first thing that comes to mind when you think of games like Hogwarts Legacy. There's no magical school, and can't cast any Unforgivable Curses here. However, Dreamlight Valley is brimming with powerful witches, wizards, and the magic of childhood dreams. The semi-open world RPG allows you to create your character and explore a fantastical realm, complete friendship quests, banish The Forgetting, and restore peace to the Valley by bringing home all of your friends. The game is still in early access, but with plenty of new content still to come this year, Disney Dreamlight Valley is one of the most magical games you can play right now.
Potion Permit
Developer: MassHive Media
Platforms: Xbox One, Xbox Series X, PS4, PS5, Nintendo Switch, PC
Potion Permit is a rural farming and medical sim, set in the peaceful town of Moonbury as the townsfolk welcome the new medic – yes, that's you – despite their wariness of the wealthier city folk and their government. You will have to prove yourself an adept doctor if you want the citizens of Moonbury to trust you, meaning lots of potion-making and ingredient harvesting will be in order. There may not be any magic spells in store for you, but the crafting and consumption of quirky tonics is not uncommon in the wizarding world; it just so happens that this time, your patients are human.
The Sims 4: Realm of Magic
Developer: Maxis
Platforms: PS4, PS5, Xbox, Xbox Series X, PC, Mac
EA's Sims franchise is 23 years old, and is showing no sign of slowing down. The Sims 4: Realm of Magic is a unique game pack that (literally) brings with it a whole new world of magic and mischief. It expands upon the occult lore from the Sims 4 Vampires, fleshing out the rivalry between Spellcasters and their bloodsucking counterparts whilst taking time to turn Spellcasters as a Sims class into a unique league of their own. Not only will your Sim's magical bloodline grow stronger as they build their family's legacy, but the powers and abilities that they unlock along the way will grant them control over life itself. Pair all of this with The Sims' expansive customization and build mechanics, and you have one hell of a detailed magical sandbox to play in. Besides, you can pair Realm of Magic with The Sims 4: High School to construct your very own wizarding academy. Harry who?
Nightingale
Developer: Inflexion Games
Platforms: PC / TBC
Although a release date has not been officially announced, Nightingale is shaping up to be a magical RPG shooter with an edge. Its Victorian steampunk aesthetic has a look of BioShock Infinite, but the faerie magic-laden world is predominantly all about crafting and survival. Lovers of all things witchy and fantastic will be up to the task of becoming skilled Realmwalkers, navigating the dangerous lands of the fae as part of humanity's final push for survival in the barren yet beautiful wastelands. It might not be Hogwarts School of Witchcraft and Wizardry, but Nightingale's otherworldly plains are going to be nothing short of magical when it launches sometime in 2023.
The release of Hogwarts Legacy has been the subject of criticism and debate due to J.K. Rowling's public stance on gender identity, which continues to challenge the inclusivity at the heart of the Harry Potter community. Here is our explainer on the Hogwarts Legacy controversy.